Honey Cranberry Chevre (or Cheese Log, Shhh)
Honey Cranberry Chevre blends tart cranberries, sweet honey and earthy goat cheese for a perfect holiday cheese log appetizer.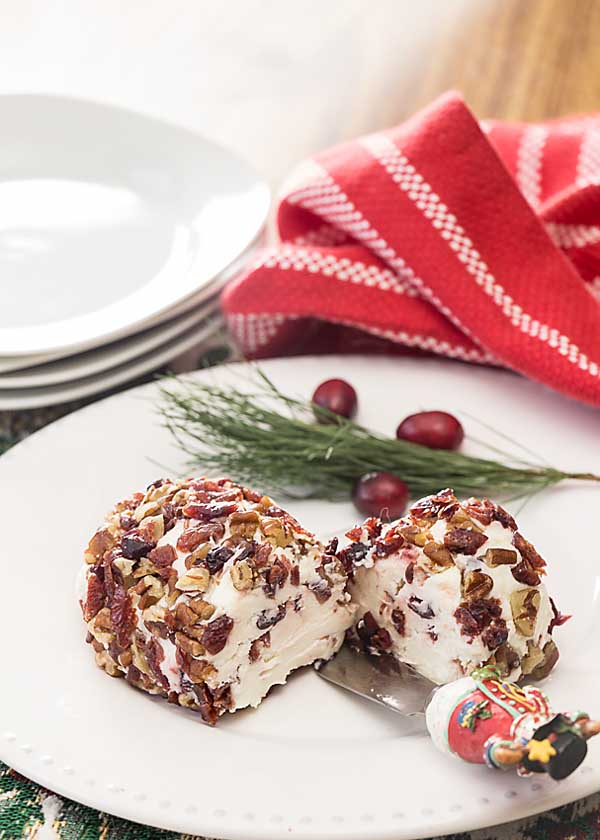 Back in the day, cheese balls were in.  So in, in fact, they came to feel overdone and eventually went the way of casseroles and jello molds.  And mostly disappeared.
Fortunately for us, cheese balls and logs are having a renaissance.  It's a good thing because, while processed swiss covered in soggy walnuts deserved extinction, a good cheese log can be delightful. Like this Honey Cranberry Chevre!
I created my Honey Cranberry Chevre recipe while winging appetizers for an impromptu dinner party last October.  Some friends stopped by with wine and pizza for my birthday and I threw together a couple appetizers–based on ingredients I had on hand.
I posted the first, a smoked whitefish chevre at the time.  But this Honey Cranberry Chevre seemed so right for the holidays, that I decided to save it. 
When it comes to the holidays, do you enjoy the blending of tradition and new ideas as much as I do?  For me, it all contributes to  the joy and festivity (and beautiful food!) of the holiday season.  'Cause why not take the best of all? 
And everything old is new again. 
Honey Cranberry Chevre (or Cheese Log, Shhh)
Ingredients
Cheese Log:
5.5 - 6 ounces of chevre (soft goat cheese)
1 Tablespoon honey
2 Tablespoons chopped dried cranberries
Coating:
2 Tablespoons chopped nuts
1 Tablespoon chopped dried cranberries
Instructions
Blend chevre with mixer until smooth. Add honey and cranberries and beat until combined.
In a sheet of wax paper, roll up cheese mixture into a log. Chill until firm
Mix chopped cranberries and nuts, Roll log in mixture. Chill, covered, until ready to serve.