Combining fresh lime tartness and creamy sweetness, the key lime martini is a variation on key lime pie. This fun and tasty beverage is perfect for lots of events from cocktail parties to drinks on the deck.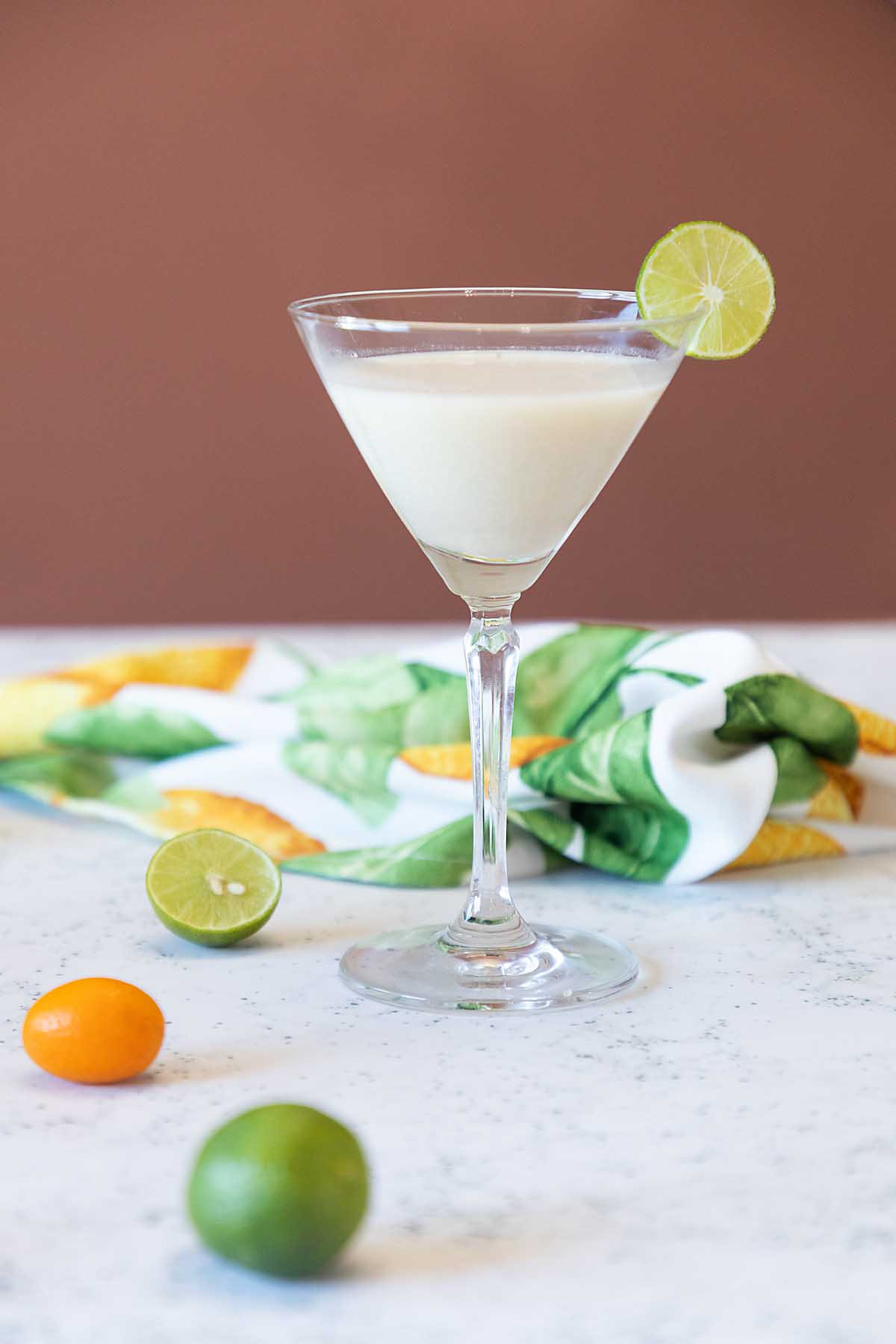 This post is sponsored in conjunction with #SpringSweetsWeek. I received product samples from sponsor companies to help in the creation of the #SpringSweetsWeek recipes. All opinions are mine alone.
Gotta love fancy martinis. They add fun to any occasion, even a simple event like let's celebrate surviving the week!
And who wouldn't like a drink modeled after a favorite dessert? It's easier, just as tasty and better at relaxing you.
So if you're a key lime pie lover… Cheers!
What is a Key Lime Martini?
A key lime martini is a vodka-based martini inspired by key lime pie. Not surprisingly it is sometimes called a Key Lime Pie Martini. It is usually made with key limes, but people sometimes use regular (Persian) limes as well.
Key Limes vs Persian Limes
Persian limes are large, thick-skinned, and readily available. Key limes are petite, spherical, thin-skinned and have what I think of as a more "herbal" flavor. Bur most importantly, key limes can be a challenge to find.
This is why, in any discussion of a recipe using key lime juice, the substitution of regular (Persian) limes needs to be covered. Unless you have a great source of produce like Melissa's Produce (who sent me these key limes plus a lot of other yummy fruit), key limes can be difficult to locate. And so the question comes up—is it okay to use Persian limes in a recipe calling for key limes?
My answer to this is "yes" especially if your only alternative is bottled (versus fresh squeezed) juice. Depending on the amount of lime juice in the recipe, most people won't even be able to tell the difference. In a recent key lime pie test, my super taster daughter and I could taste the difference side by side, but neither of us thought we'd notice if just served one or the other option.
For a key lime martini, the percentage of juice is higher (especially in my "more juice" variation) so the differences may be greater. But, rest assured, it will be a delicious drink even as a plain Lime Martini!
Why You'll Love This!
Tasty. Everyone loves key lime pie, and the drink version is just as good.
Fun. There's nothing like an exotically flavored martini to set the stage for a fun event. Or to cap off a great dinner!
Simple. Who wants to knock themselves out when serving drinks to your guests! This drink is quick and easy, so you'll be drinking your own, deep in conversation, in minutes!
What You'll Need
Ingredient Notes
Key Limes. This provides the lime flavor. You can use Persian limes if you don't have key limes. I don't recommend using bottled juice.
Sweetened Condensed Milk. This adds a creaminess and caramelized flavor. You can use a sweetened coconut cream like Coco Real if you prefer.
Vanilla Vodka. This adds a boozy kick and a hint of vanilla. You can use plain vodka if you don't have vanilla vodka.
Simple Syrup or Sweetener. This adds some extra sweetness and balances the bitter in the lime juice. I used an allulose based simple syrup that is calorie free (not that this is remotely sugar free with the sweetened condensed milk). See the Tips and FAQs section for how to make simple syrup from sugar and water.
Special Tools
An approximately 7 ounce martini glass. This will be the right size to hold the drink.
A cocktail shaker. You need to shake vigorously to get the sweetened condensed milk to combine.
Step by Step Directions
Juice limes.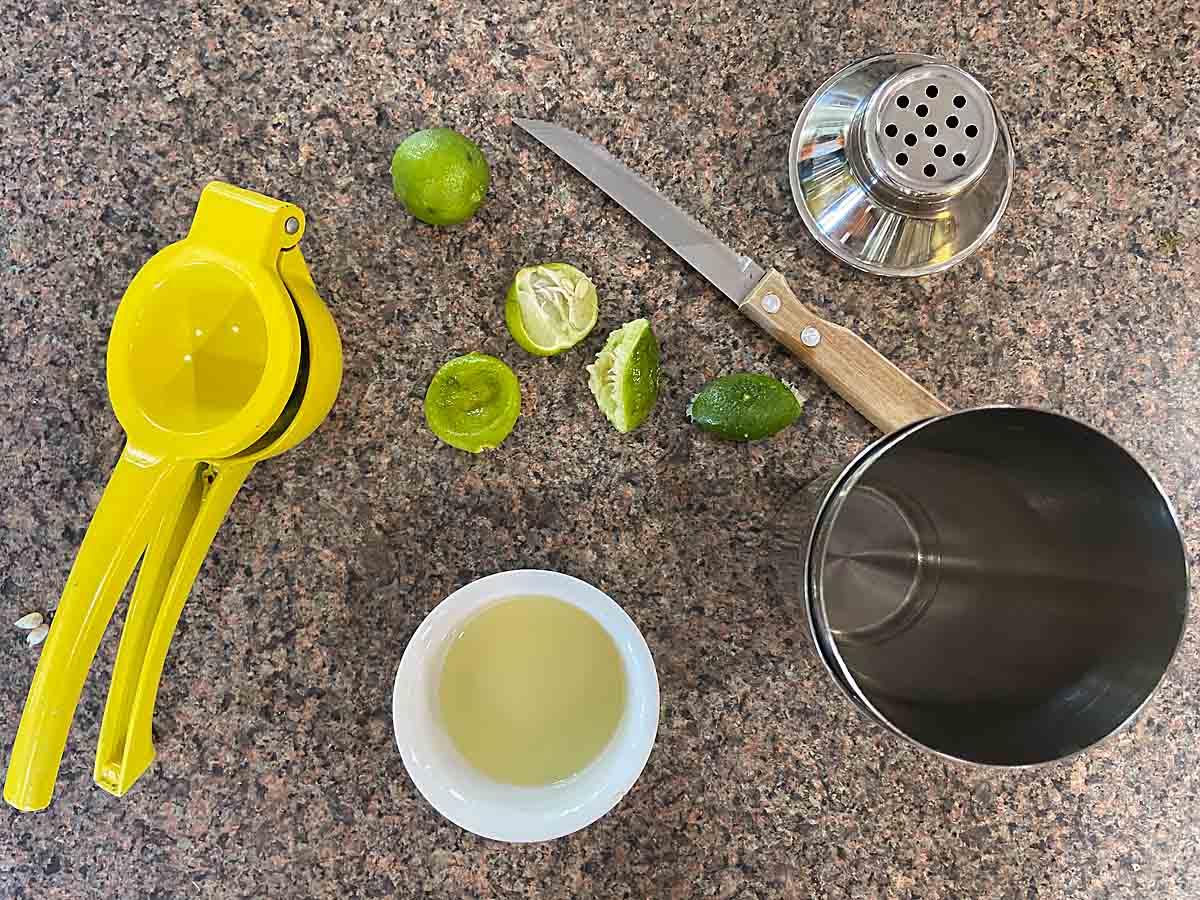 Measure ingredients into a shaker.
Top with ice.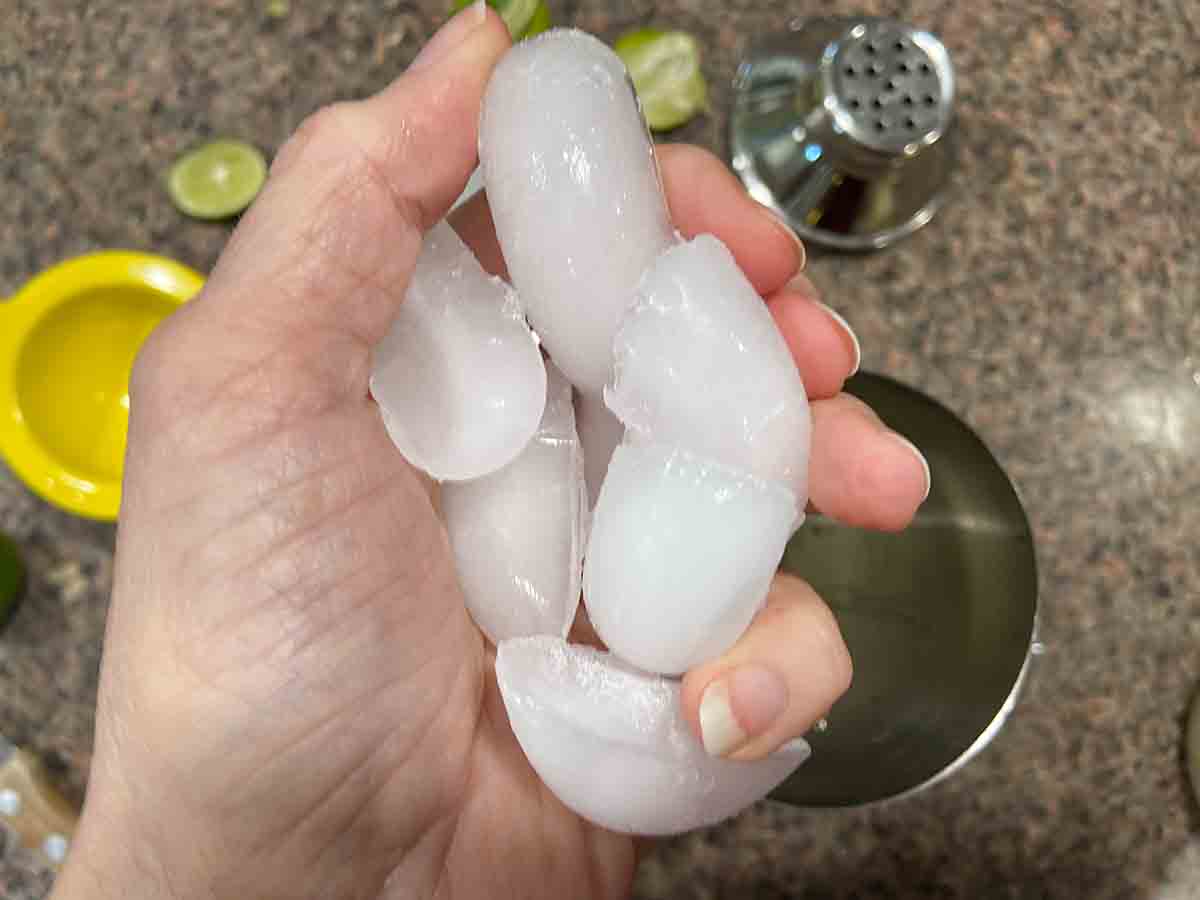 Shake vigorously. Sweetened condensed milk is thick!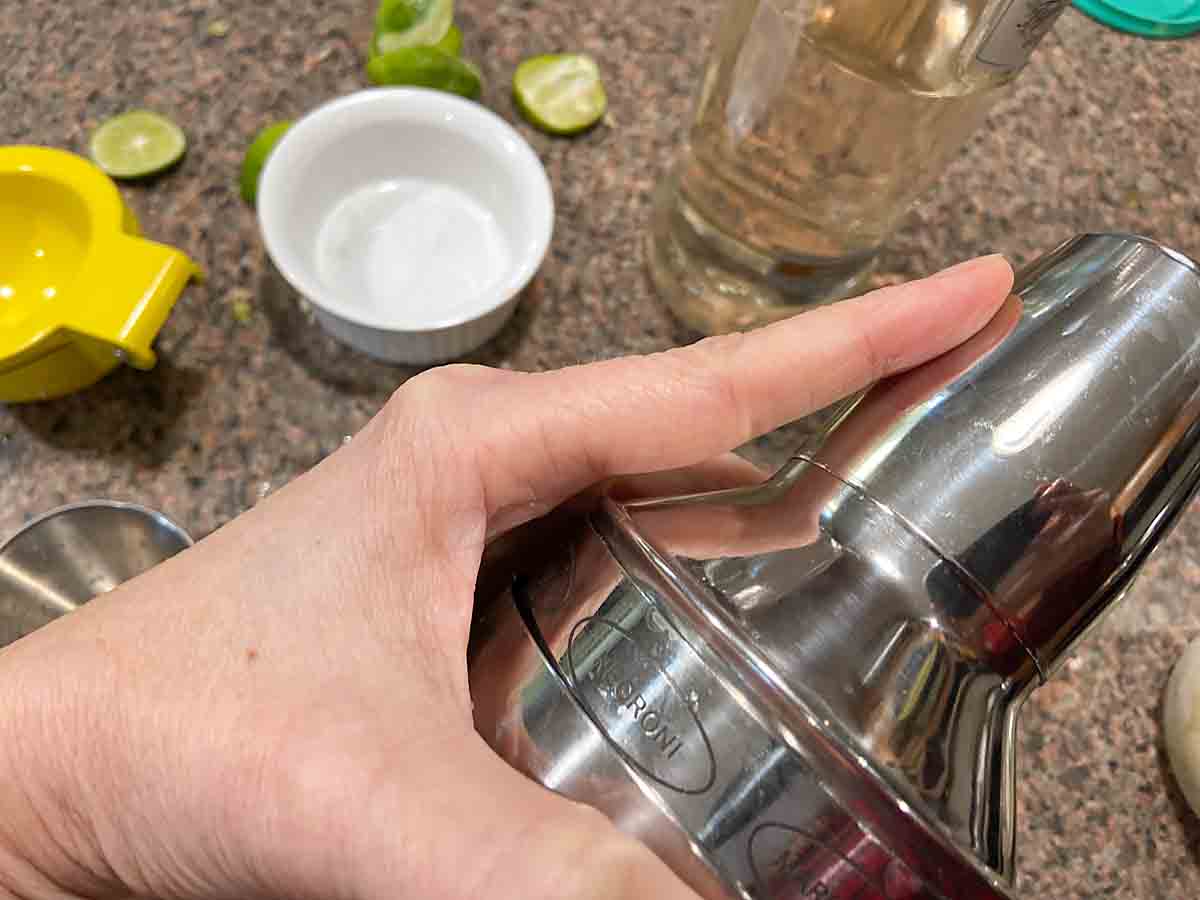 Strain into a martini glass.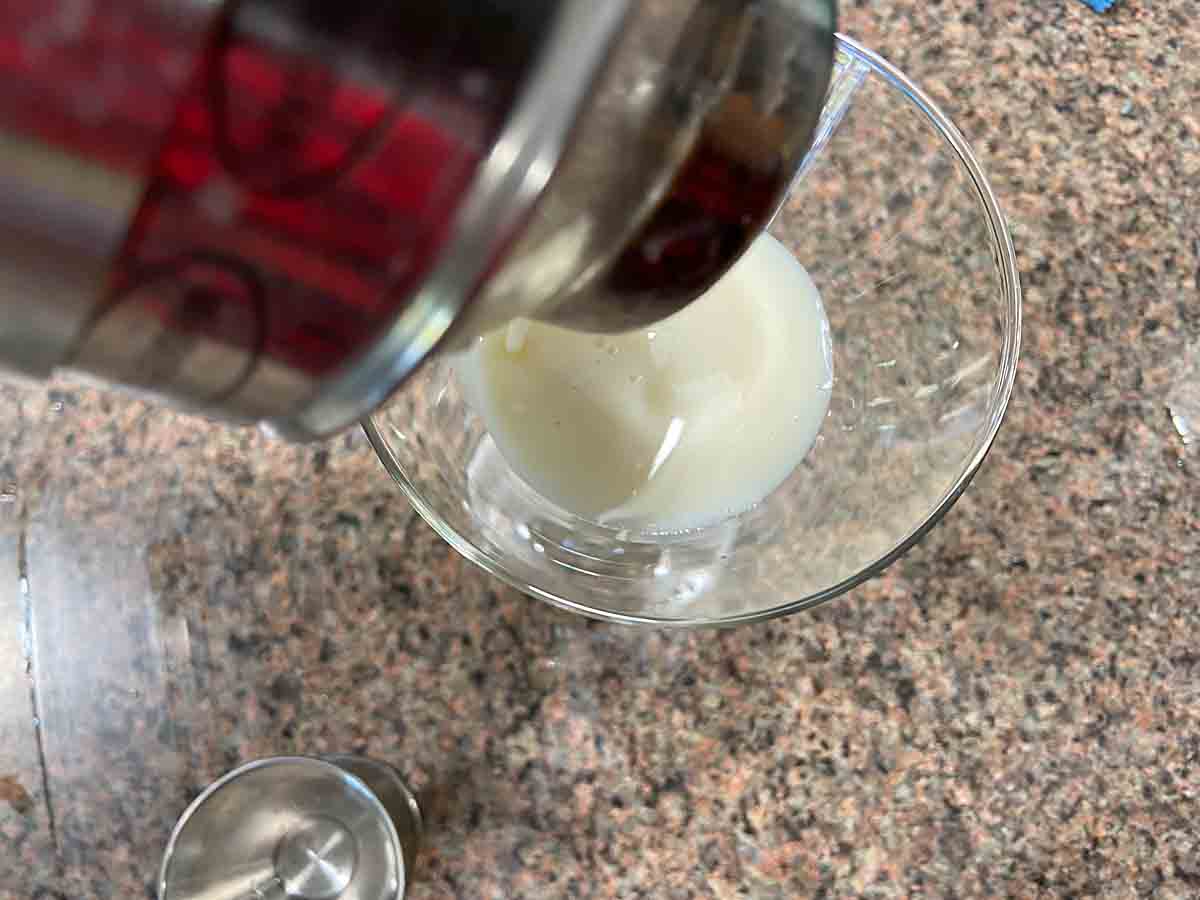 Garnish with a lime slice (optional) and enjoy!

On Martini Glass Sizes
I finally did it. Bought smaller martini glasses to hold a (more) classic martini. The glasses in the photos hold 7 ounces which I think is perfect for this 5-6 ounce drink. Especially if you want to be able to walk while holding it!
My usual method of dealing with large martini glasses has been to create a recipe with extra cream or juice, then top with whipped cream, so you aren't in the bag after one drink. So I'm excited at the extra flexibility these new glasses provide.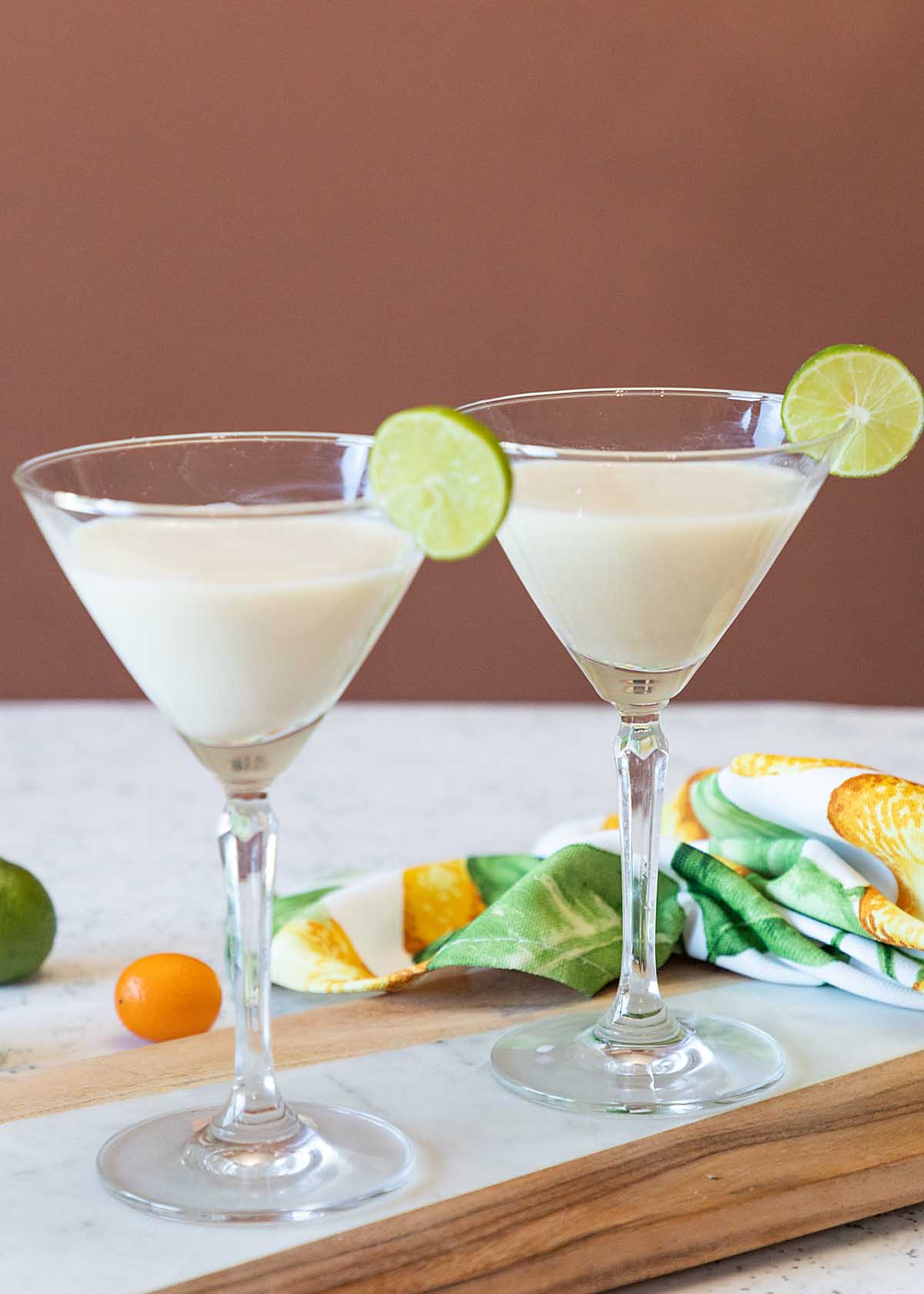 How to Serve
These would be fun at any summer party, especially outdoors. Serve before dinner for cocktail hour or after dinner as dessert.
Garnish options
I like to serve a this drink, garnished sparely, with just a slice of lime. It's an almost universal garnish when serving these. The other look that you'll find is to rim the glass with graham cracker crumbs. It's cute but more work so I took a pass today for the clean lines of a plain edge.
Since key lime pie is typically served with whipped cream, I was surprised that I didn't see many key lime martinis topped with whipped cream. But since the martini has a slightly cleaner, sharper taste, I figured this made sense. But you wouldn't have to twist my arm to get me to drink one with a dollop on top!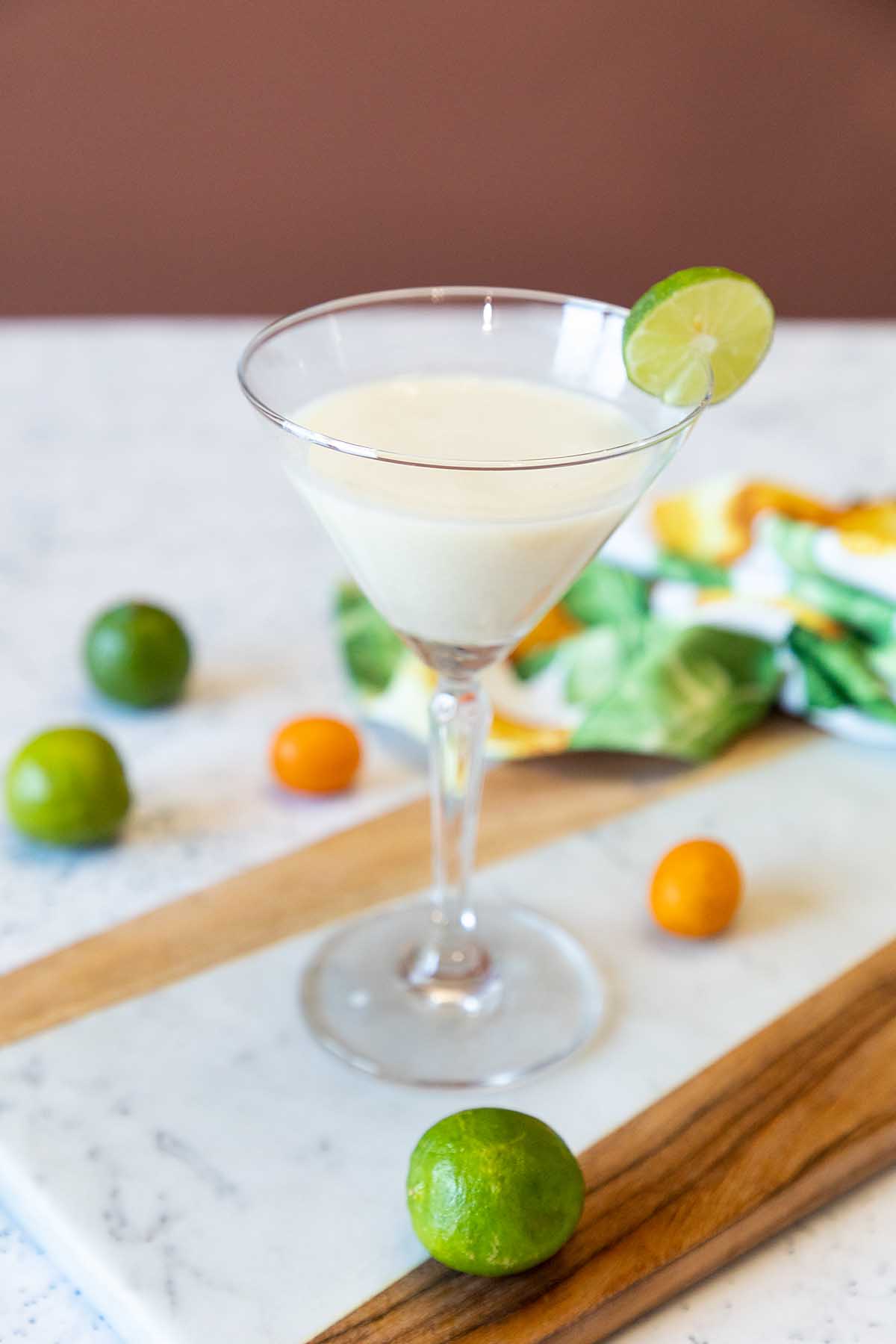 Variations: The Taste Tests
The biggest variation in recipes for key lime martinis is the type of cream (or milk) they use. Most use sweet cream of coconut—by which I mean the Coco Real type product, not the creamy top from a can of coconut milk. Others use sweetened condensed milk or even cream with (extra) sweetener added.
I decided to try all three, and then my husband and I ranked the results. Coming in first was the sweetened condensed milk version. We both loved the caramel tones it provided, which made sense since this is an ingredient in most key lime pie. A close second was the Cream of Coconut. It was good but we missed those caramel notes. The cream version was a hard pass. It just didn't have the richness of the other two.
The one other variable was the amount of lime juice. I preferred one ounce for more intensity, my husband liked a half ounce (which is probably most common) for a little extra mellowness. You'll need to decide that one yourself!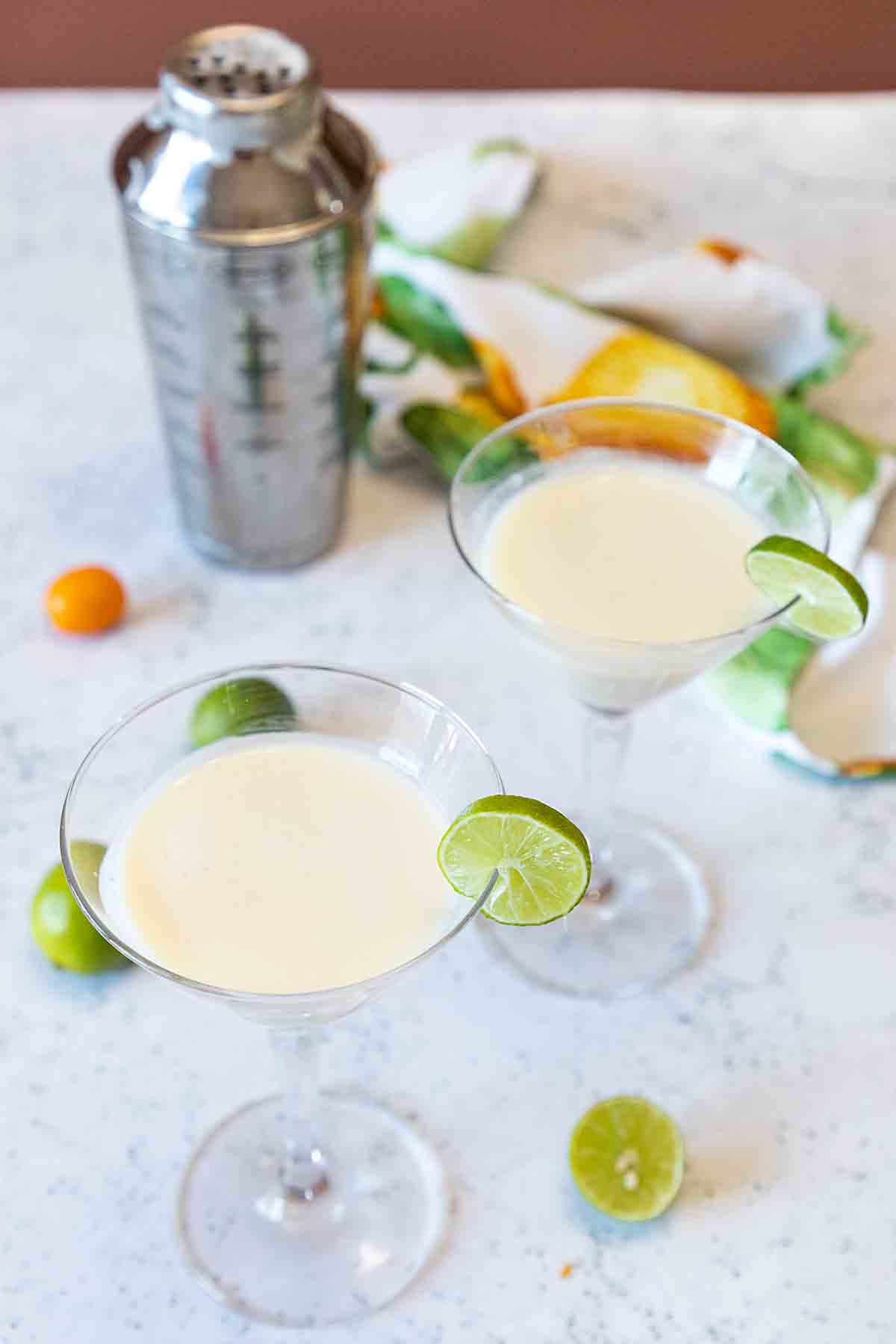 Tips & FAQs
Can I use bottled lime juice? Since so much of the flavor comes from the lime, I recommend avoiding bottled lime juice. Bottled is great for canning (where their controlled acidity is important) or when you need just a splash of juice. But I think the flavor suffers some, in both preservative and preservative free varieties, which can be a problem for very lime-forward recipes.
If you need an alternative to fresh lime, however, freezing is a close second to fresh. I always keep a variety of lemons, limes and oranges in the freezer in case I have a citrus emergency! Just pop some into a sealed container of bag before freezing. I'll even zest a frozen lime after running it under a little hot water to slightly thaw the outer surface.
How do I make simple syrup? To make simple syrup, you combine equal parts sugar and water, then heat and stir until the sugar is dissolved. I've also heard of putting the sugar in a blender with the water and blending until its dissolved, which is logical since sugar is water soluble.
Simple syrup can be made calorie free with allulose sweetener, which has less tendency to crystalize than other sweeteners. This will be slightly less sweet than sugar, so I'd add a few drops of stevia to bump it up.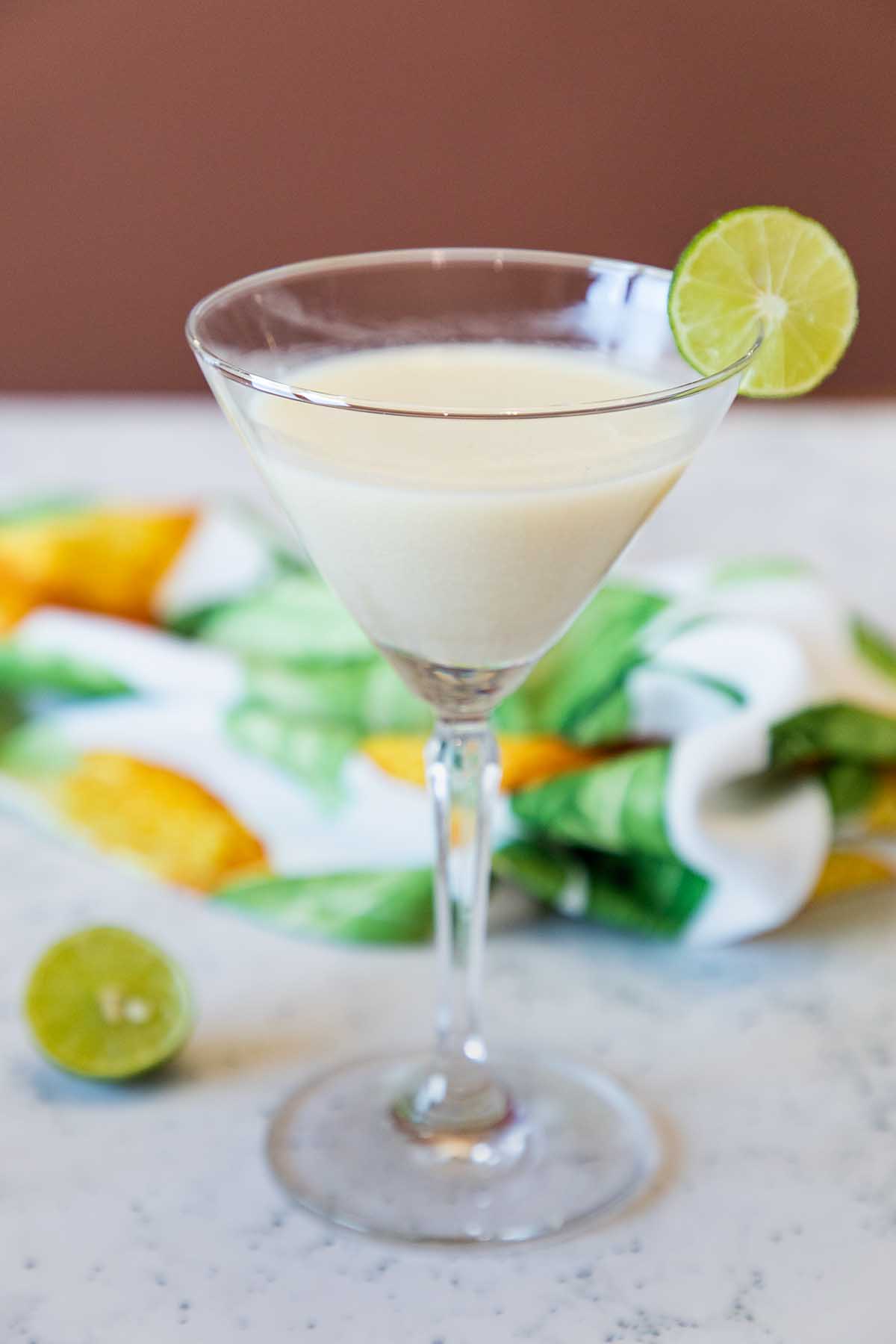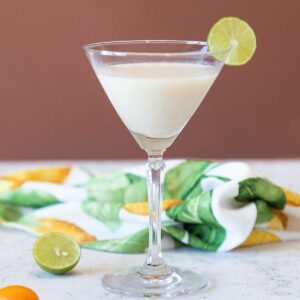 Key Lime Martini
Combining fresh lime tartness and creamy sweetness, the key lime martini is a variation on key lime pie.  This fun and tasty beverage is perfect for lots of events from cocktail parties to drinks on the deck.
Ingredients
2

ounces

vanilla vodka

½ - 1

ounce

key lime juice

½ ounce = approx 2 key limes

1

ounce

sweetened condensed milk

1

ounce

simple syrup

or to taste, but highly recommended

1

key lime slice as a garnish
Instructions
Place ingredients in a cocktail shaker. Top with a handful of ice. Shake vigorously until sweetened condensed milk has dissolved into the rest of the drink.

Strain into a martini glass and serve with a slice of lime.
Notes
Note: 1 ounce is equal to 2 Tablespoons or 1/8 cup. My favorite measuring cup sets have a 1/8 cup size which I find easier to use than a shot glass
Nutrition
Calories:
309
kcal
Carbohydrates:
40
g
Protein:
2
g
Fat:
3
g
Saturated Fat:
2
g
Polyunsaturated Fat:
0.1
g
Monounsaturated Fat:
1
g
Cholesterol:
10
mg
Sodium:
54
mg
Potassium:
173
mg
Fiber:
0.2
g
Sugar:
37
g
Vitamin A:
97
IU
Vitamin C:
14
mg
Calcium:
90
mg
Iron:
1
mg
I am not a health professional and nutrition data is calculated programatically. Accuracy may vary with product selection, calculator accuracy, etc. Consult a professional for the best information.
This recipe is intended for individuals ages 21 & up. Please drink responsibly.
Thursday #SpringSweetsWeek Recipes
We share recipes from #SpringSweetsWeek on Pinterest! Make sure you follow the board to see all the delicious recipes shared this week.
Welcome to #SpringSweetsWeek 2023 hosted by Heather from Hezzi-D's Books and Cooks! This year 20 food bloggers from around the country are sharing over 75 sweet recipes that are perfect for spring. So get ready to enjoy amazing spring treats like cupcakes, cookies, pies, jams, and even a few beverages! Thank you to Melissa's Produce, Anolon, Taylor and Colledge, and Selefina Spices for your generosity and support.