Lemon Parmesan Herb Beans 
Layered onion, garlic and herb flavors blend beautifully into a rich sauce, lightened by a lemon vinaigrette to make Lemon Parmesan Herb Beans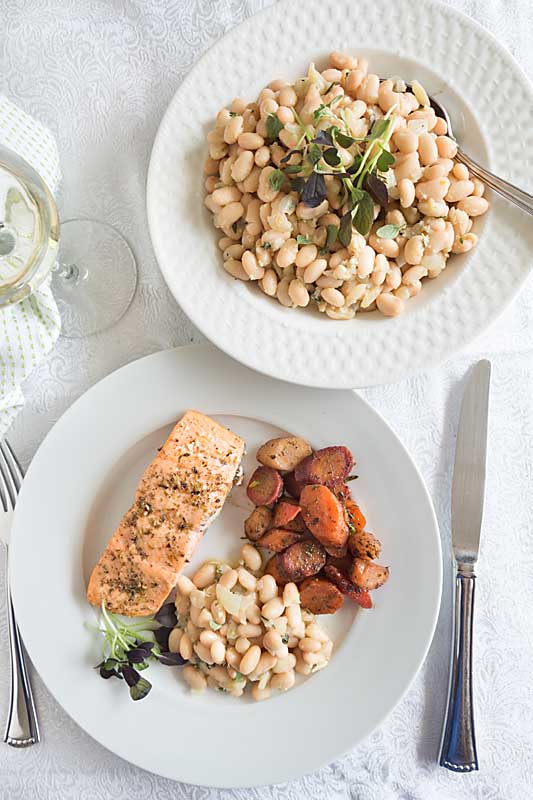 If I have a weakness when it comes to recipes, it is side dishes. I don't mean that I can't stop making them—quite the opposite. I NEVER seem to have good ideas for sides.
I think this might date back to my "corporate Mom" days. Back then, dinner meant a varied entrée, unique fresh vegetable, green salad and (get ready) whole wheat bread. Rye bread if I wanted to live large. Yes, when you come home from work tired, something has to give. For me it was sides.
The practice made an imprint on the whole family. To this day, if an out-of-state daughter visits, I load up on bread for snacking and make sure there are a couple loaves in the freezer to take home.
Now that I am beyond the desperate Mom days, I branched out a little on rice (like this Curried Rice Salad), courtesy of a "eating local" experiment last year. But beans stayed pretty much an ingredient that goes into soup.
And so, I was excited when my "blogging friend" Karen of Back Road Journal posted an herbed bean dish. It looked good and tasted even better. Who would have thought that beans could be like little flavor sponges!
Layered onion, garlic and herb flavors blend beautifully into a rich sauce that is lightened by a lemon vinaigrette. I made a few small changes, based mostly on what I had on hand and now have a dish that comes together in a snap.
Lemon Parmesan Herb Beans my not be as quick as slicing bread, but they're super tasty and certainly more unique!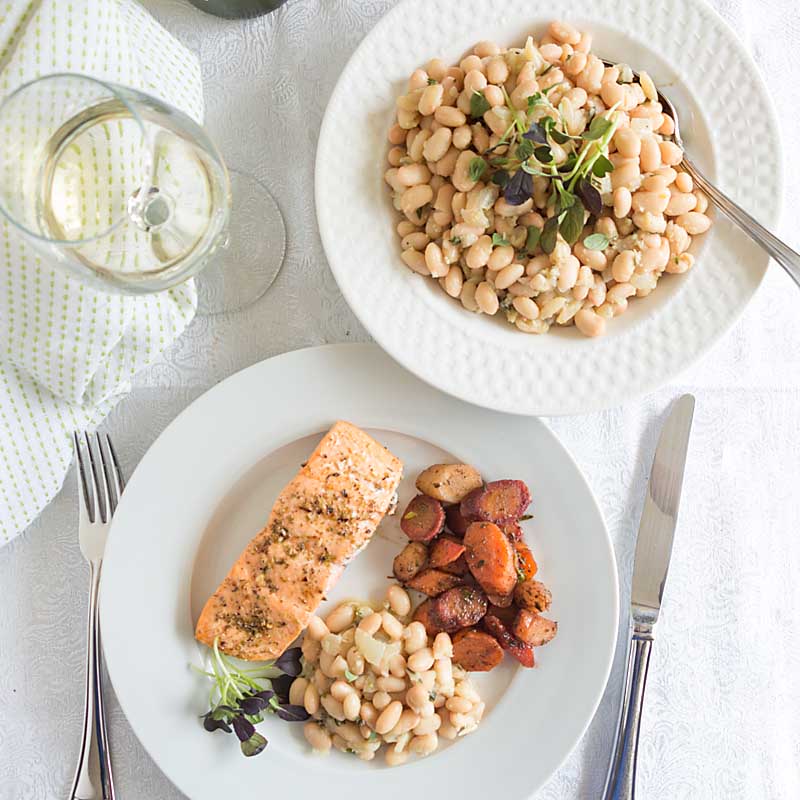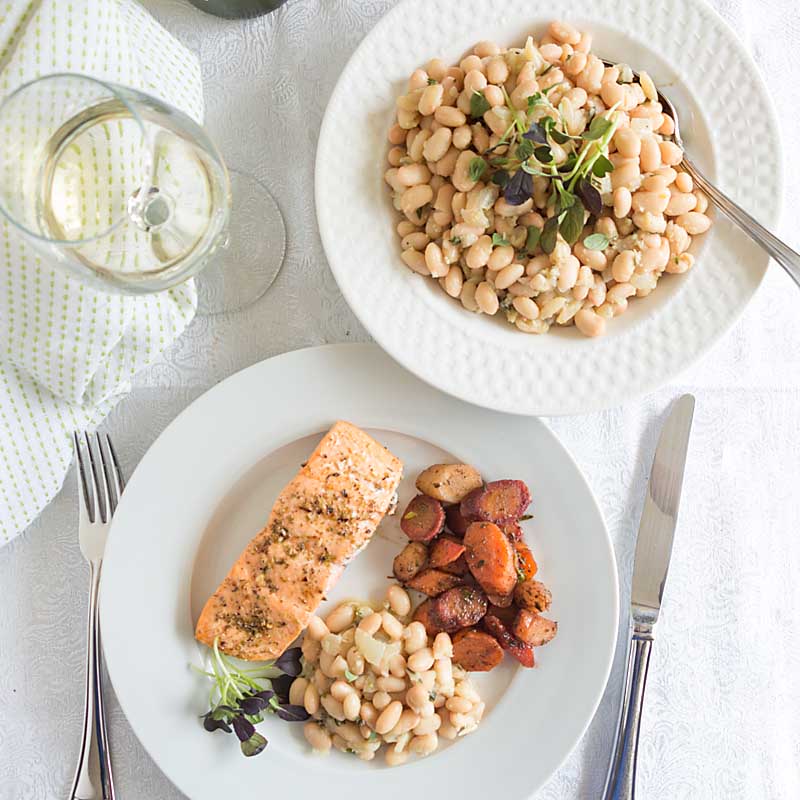 Lemon Parmesan Herb Beans
2019-04-04 15:57:14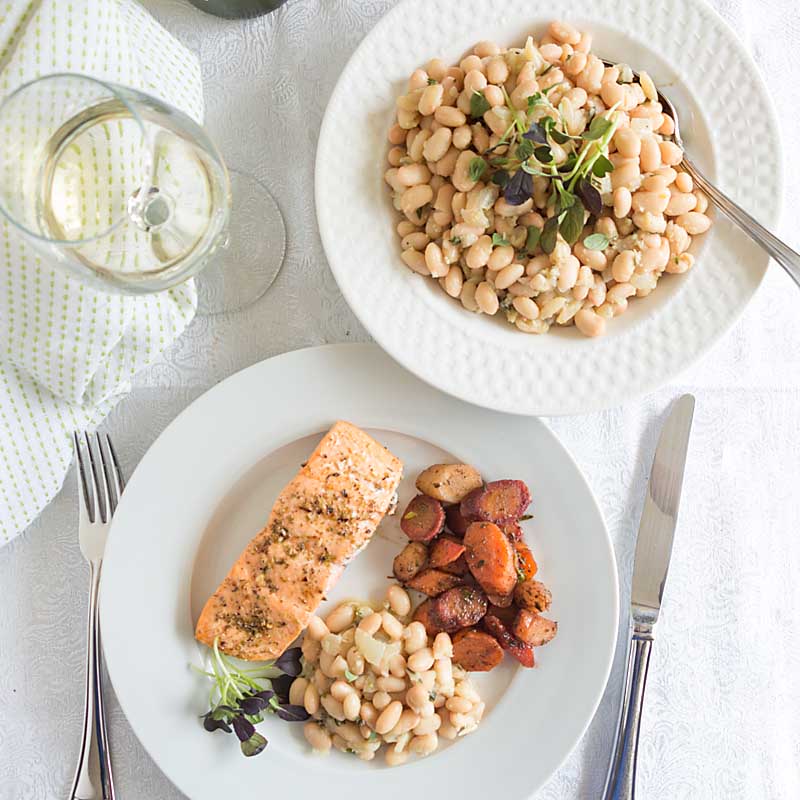 Serves 6
Layered onion, garlic and herb flavors blend beautifully into a rich sauce, lightened by a lemon vinaigrette to make Lemon Parmesan Herb Beans 
Nutrition Facts
Amount Per Serving
* Percent Daily Values are based on a 2,000 calorie diet. Your Daily Values may be higher or lower depending on your calorie needs.
Beans
1 Tablespoon. olive oil
1/2 cup chopped onion
3 large garlic cloves, minced
1 teaspoon chopped fresh rosemary
1 teaspoon chopped fresh thyme
1/4 cup vegetable or chicken stock (see note)
3 15oz. cans cannellini beans or great northern beans, drained and rinsed or 3-4 c. home cooked white beans per your favorite recipe
salt and pepper to taste
Lemon Parmesan Vinaigrette
1 t lemons zest, no white
2 T lemon juice
3 Tablespoon extra virgin olive oil
1/2 teaspoon dijon mustard
1 teaspoon anchovy paste or 2 t fish sauce or soy sauce
¼ cup finely grated dairy or vegan Parmesan or nutritional yeast
Salt, pepper to taste
Instructions
Combine vinaigrette ingredients, except Parmesan and whisk until emulsified.
Heat 1 Tbsp. oil in a large sauté pan then add the onion and cook until translucent. Add the garlic, rosemary and thyme then cook for another minute.
Add the stock and beans to the pan and simmer until warmed through.
While still in the pan, pour the vinaigrette over the warm beans and gently fold until the beans are well coated. Toss with the Parmesan, being careful not to mash the beans.
Serve warm or cold.
Notes
When I need small quantities of broth, I use Organic Better Than Bouillon rather than open a can or thaw a container of homemade broth.
Art of Natural Living https://artofnaturalliving.com/