Low-Carb Creme Brulee #SpringSweetsWeek
This post is sponsored in conjunction with #SpringSweetsWeek. I received product samples from sponsor companies to help in the creation of the #SpringSweetsWeek recipes. All opinions are mine alone.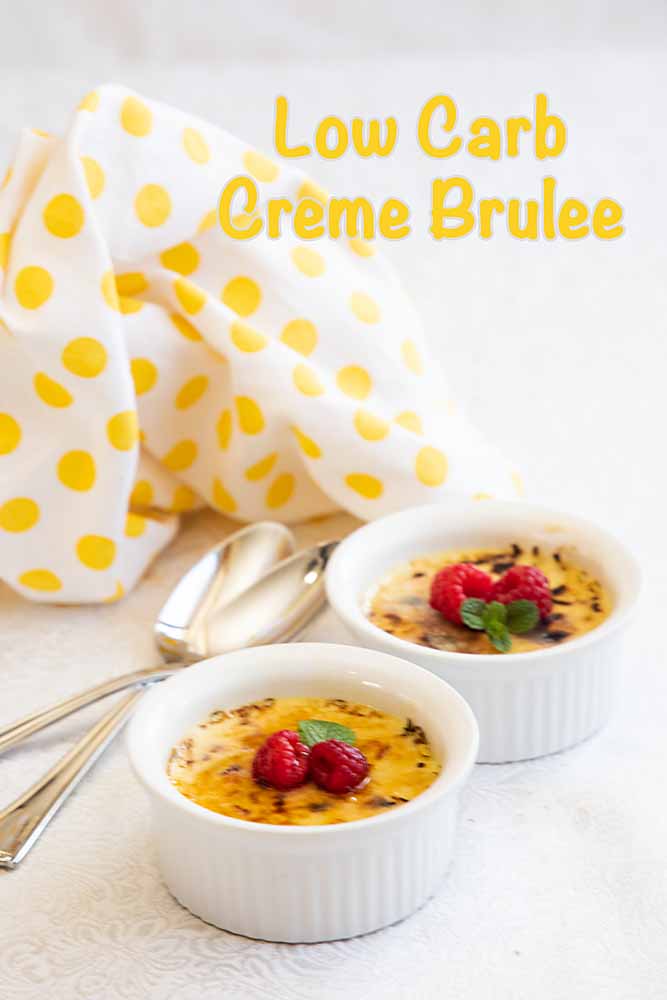 Low-Carb Crème Brulee is every bit as delightful as the original. Creamy, sweet and easier than you'd think, it may just get you through your diet.
Low-Carb Crème Brulee
This week, I am happy to be celebrating "Spring Sweets Week" with some of my blogging friends.
Dessert is something to be celebrated, even on a special diet. Yes, after I started eating low carb/keto, telling myself this really helped keep me going. Especially knowing that Low-Carb Crème Brulee could work.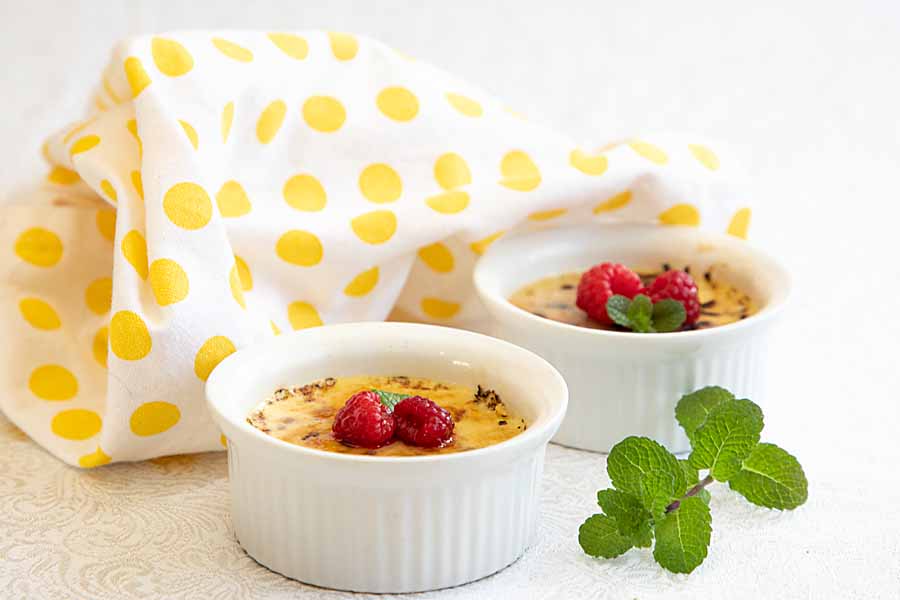 A silky custard topped with a crunchy sugar topping, Crème Brulee is a family favorite. Happily, Spring Sweets Week gave me the push to try to make a low-carb creme brulee.
First, I set out to eliminate the sugar. For the custard was easy–just use any sweetener that measures like real sugar.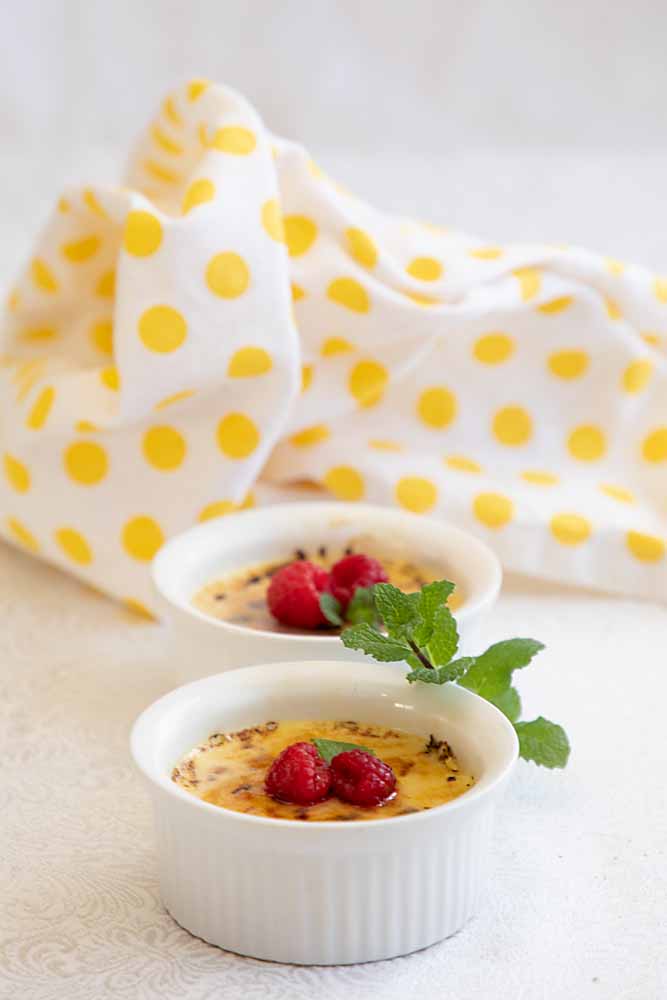 The crunchy topping was another story. Would sweetener brown like sugar? The answer was not that straightforward. I tried an erythritol/ monkfruit combo that didn't brown. But Straight erythritol (I used swerve) did, albeit not quite as nicely as real sugar (see tips in recipe). Ding, ding, ding!
I also experimented with using some unsweetened almond milk in the mix. Since almond milk is lower carb than cream and way lower than milk, it seemed promising. Unfortunately, this failed twice (one was too runny, the other was too eggy), so I gave up and used all heavy cream.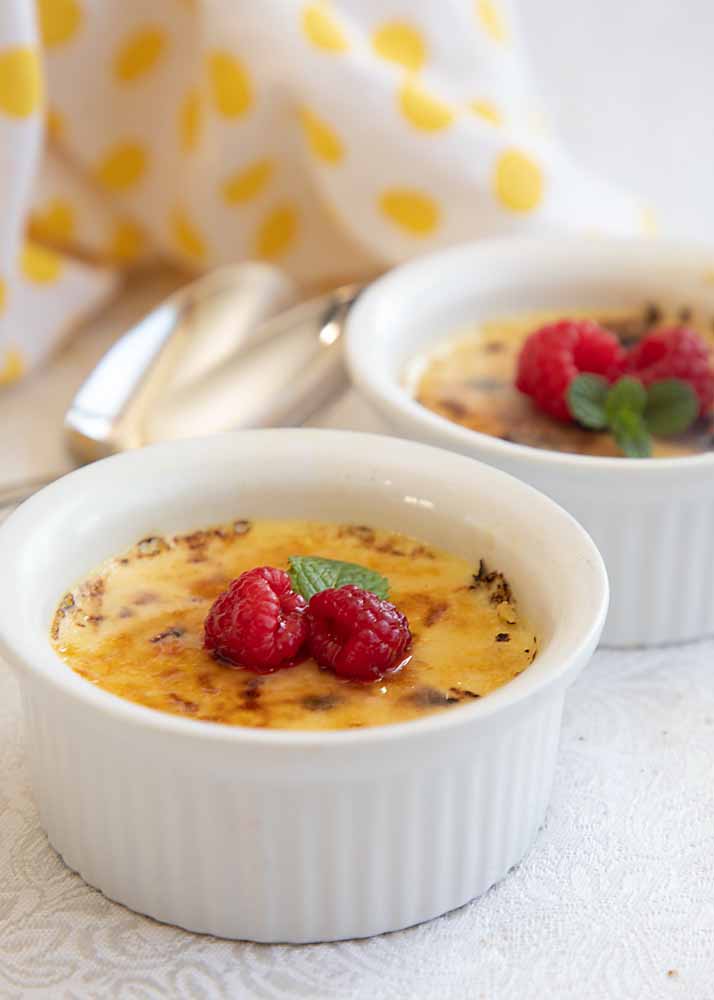 Regular or Low-Carb Crème Brulee Cooking Tips
Now I do have a couple important tips for making crème brulee—low carb or not. And this is where some great tools I got from Deiss Kitchenware were perfect!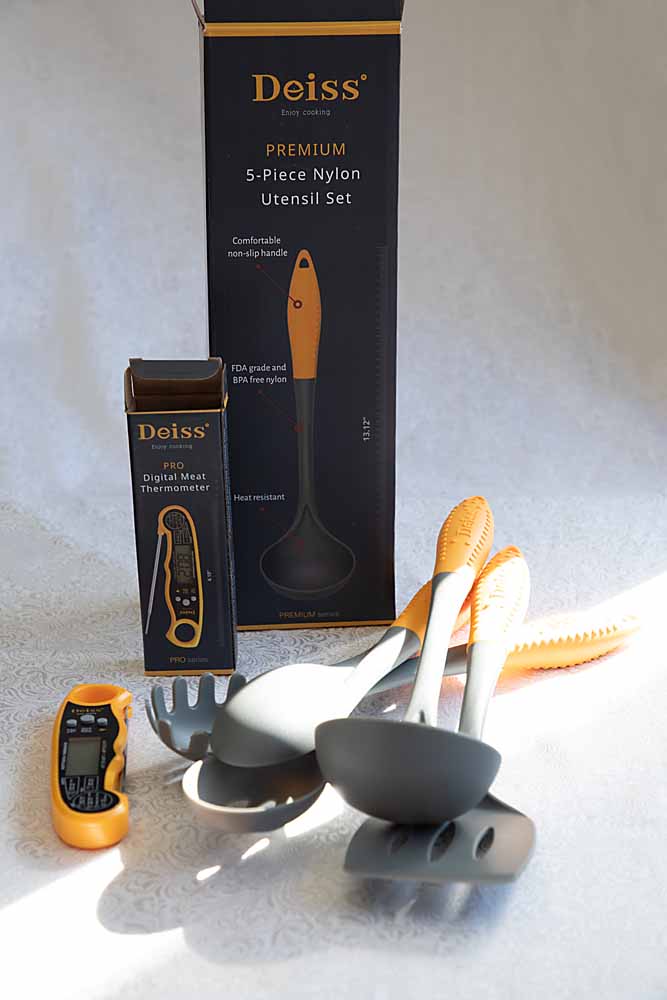 First, most crème brulee recipes suggest that as you near the end of cooking, you jiggle your custard to tell if I's done. IMHO, this is rather imprecise—especially if you're a crème brulee newbie. So I like to use an instant read thermometer, like the one from Deiss to check the temperature. At 175 F, you will have a custard that is consistently set and creamy. If you haven't bit the instant read thermometer bullet yet, it really makes cooking easier.
The second is an adaptation that makes it safer to get the custard out of the water bath it cooks in. Yes, don't ask me how many times, I've sloshed water into my custard removing the pan from the oven! Now I turn the oven off and leave the pan on the rack, lifting the custard dishes out of the hot water using a slotted turner. Like the turner in the Deiss 5-piece utensil set.

I was very impressed at the value of the Deiss Kitchenware products I received. When I learned they are a small, family-driven German company, I guess I wasn't surprised to get good quality for a good price. They'll get a first look the next time I go kitchen shopping!
A collection of Deiss products (details here) are one of the Sweets Week prizes. Enter below.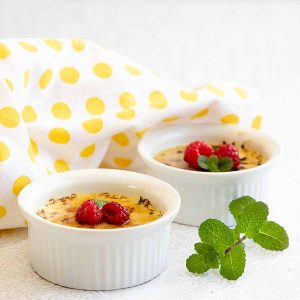 Low-Carb Creme Brulee
Low-Carb Crème Brulee is every bit as delightful as the original. Creamy, sweet and easier than you'd think, it may just get you through your diet.  
Ingredients
4

egg yolks

2

cups

heavy cream

1/3

cup

Swerve

1

teaspoon

vanilla extract

2

Tablespoons

Swerve

1 teaspoon/serving to brulee (see note)
Instructions
Preheat oven to 325°F.

Place cream and sweetener in a small saucepan and heat until warm but not hot, stirring to dissolve sweetener.  

In small bowl, slightly beat egg yolks with wire whisk. Add cream mixture and
vanilla and stir until well blended. Strain into a pouring vessel. Pour cream mixture evenly into six ramekins.

Set ramekins into a 9 x 13 pan and place in oven. While in oven, carefully pour boiling
water into pan, until water covers two-thirds of the height of the ramekins. Be careful not to splash water into ramekins.

Bake 25 to 40 minutes until the custard reaches 175 F or the center of the custard isset but jiggly.

Carefully transfer ramekins individually to cooling rack—I found that lifting with a slotted
turner worked best. Refrigerate until chilled, approximately 2 hours.

Sprinkle about 1 teaspoons of sugar or sweetener over each chilled custard. Brown with a kitchen torch.

Refrigerate until rechilled, about an hour.
Notes
Tip: to brown erythritol (Swerve), experiment with the torch's heat settings and maybe go a little lower. 
The mixture briefly caught fire a couple times (it's a sugar alcohol and alcohol burns) so I wouldn't brown this under a broiler. 
But even where the sugar wasn't brown it had a nice crunch, so maybe decorate with extra berries while you perfect it. 
Nutrition
Calories:
308
kcal
Carbohydrates:
3
g
Protein:
4
g
Fat:
32
g
Saturated Fat:
19
g
Polyunsaturated Fat:
10
g
Trans Fat:
1
g
Cholesterol:
213
mg
Sodium:
27
mg
Sugar:
2
g
I am not a health professional and nutrition data is calculated programatically. Accuracy may vary with product selection, calculator accuracy, etc. Consult a professional for the best information.
And For More Great Ideas…
Thursday #SpringSweetsWeek Recipes