This thick, fruity and tropical Mango Pineapple Smoothie has just 4 ingredients. Tasty and refreshing it's perfect for summer—or anytime!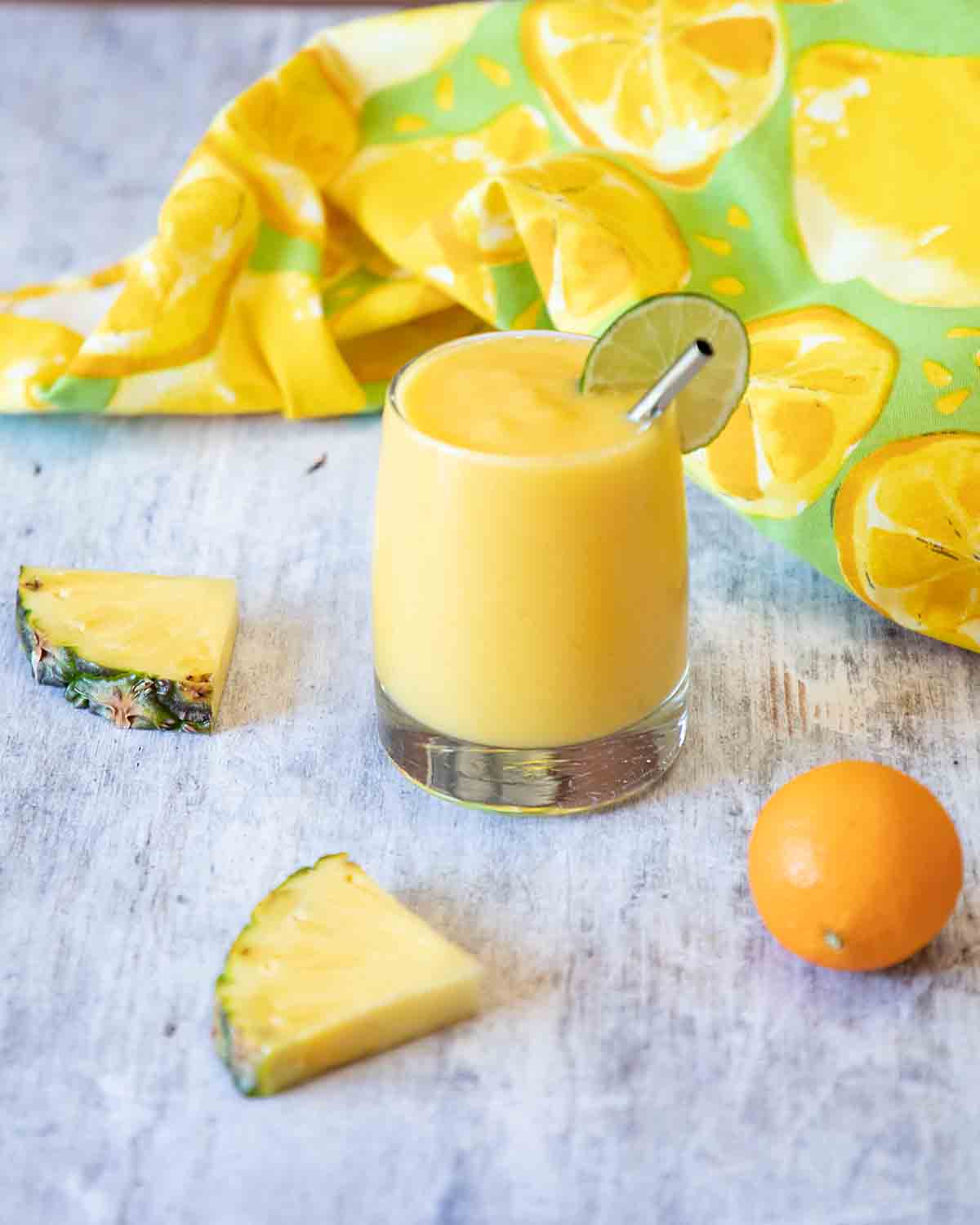 I guess I'm officially on a smoothie kick!. Last week I made a Strawberry Yogurt Smoothie and today I'm having a Mango Pineapple smoothie. Yum!
Yes, I'm thanking our recent trip to France for putting me in the spirit. We snacked regularly on Mango Passion Fruit smoothies and it always felt like starting the day right! (Be sure to follow on Instagram if you want to see my travel pics!)
And of course, summer's another excuse. Warm days seem to call for something light and refreshing–and I finally realized I could meet my fruit requirements and have a treat all at the same time.
Yes, doing a little happy dance!
Why You'll Love This!
Tasty. This Mango Pineapple Smoothie is full of bright, tropical flavors—plus it's cool and refreshing! How good is that!
Easy. All you do is cut up some fruit, process it in the blender and you're done.
Healthy. Isn't it great when tasty snack meets healthy food! Especially a food that most Americans fall short on.
No Pre-freezing needed. While I (normally) love the fact that smoothies are great for frozen fruit, I appreciate that this one is thick and frosty using just fresh fruit and ice.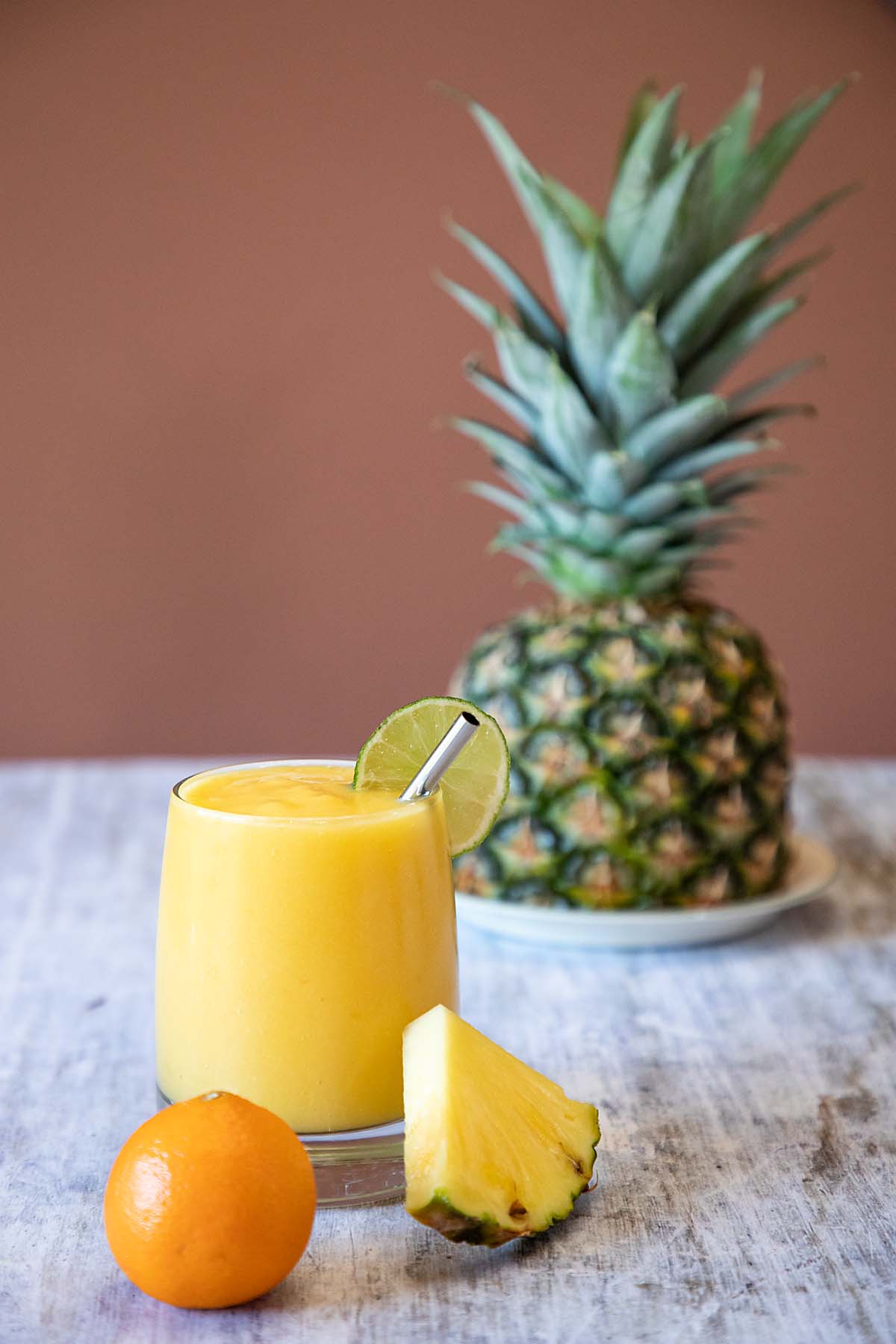 What You'll Need
Ingredient Notes
Mango. This adds nutrition and great mango flavor. I used fresh mango, not frozen, but if you use frozen, omit the ice and add extra liquid as needed.
Pineapple. This adds nutrition and great pineapple flavor. I again used fresh, but if you use frozen, omit the ice and add extra liquid as needed.
Orange juice. This provides flavor, nutrition and more liquid to help the drink puree. You can use another juice or water if you prefer.
Ice cubes. This helps cool and thicken the drink. Omit if using frozen fruit.
Special Tools
You'll need a blender—and if it's a quality high speed blender that's always a plus.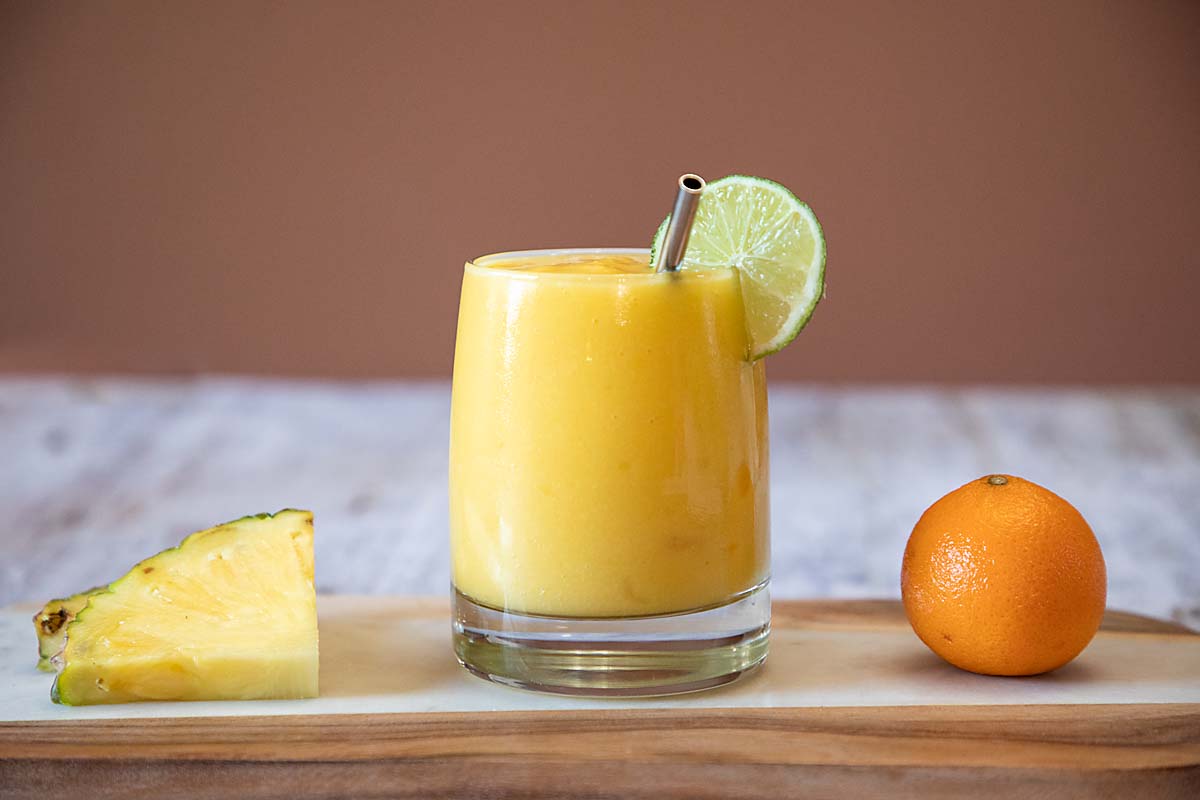 Step by Step Directions
Cut up fruit as needed.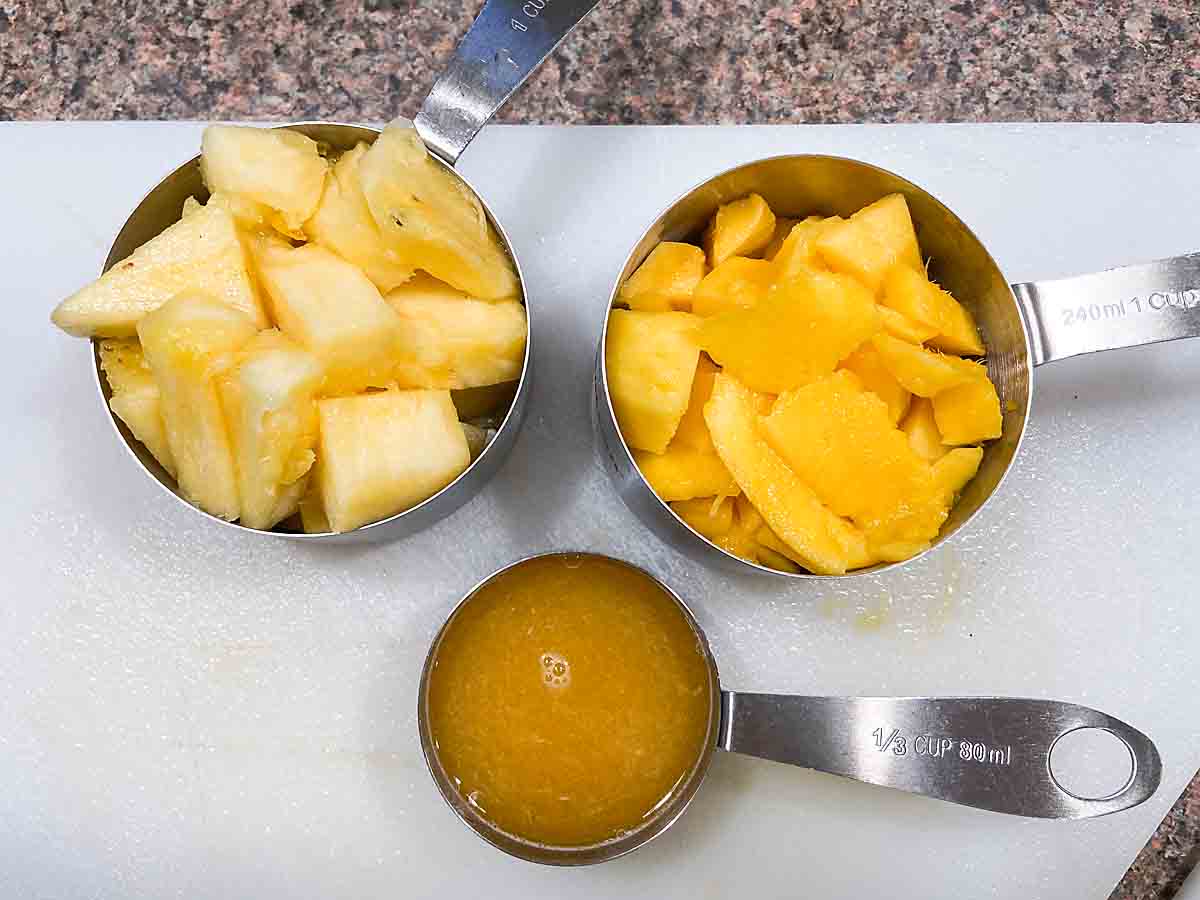 Place ingredients in blender, then blend, pulsing to break up ice as needed.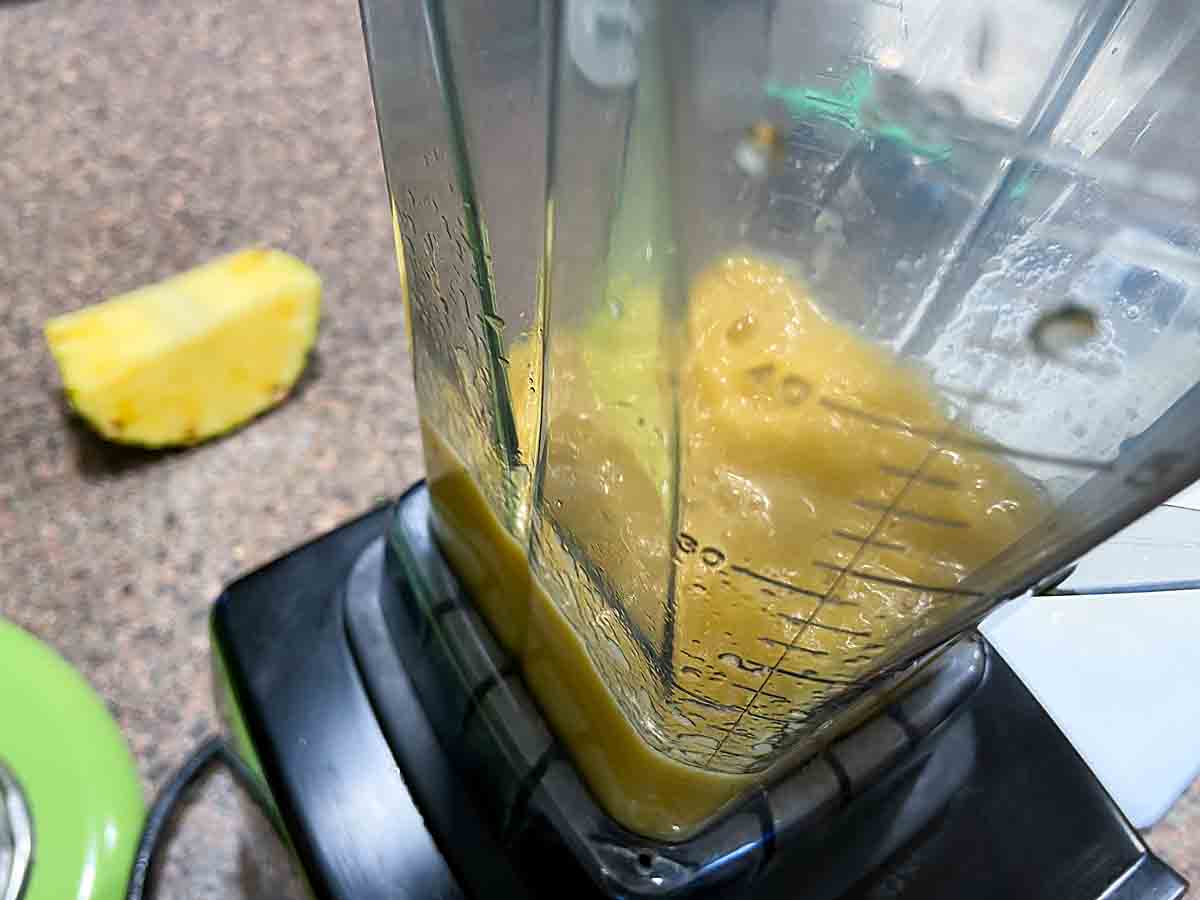 Serve immediately.

How to Serve
I like having a Mango Pineapple Smoothie as a tasty snack or beverage. It's a great pick me up when the mid-morning hungries strike, especially in the heat of summer. (Though, truly, in winter a hint of the tropics can be just what you need…)
Now while smoothies can be popular to serve as a quick breakfast, this one is really too simple to go it alone. But just add a piece of cheese on the side for some protein (and fat) and you're there. I've been having it with some smoked string cheese lately, so it's still a simple and fun meal.
This drink is pretty enough to simply pour into a glass and serve. But for something fancier, feel free to garnish. I love to slip a slice of pineapple or citrus onto the rim. Or even dangle a sprig of mint.
Straws are always nice, though try to avoid plastic. Better yet, go with reusable (clean immediately and look for one of those cute tiny cleaning brushes) for the greenest option.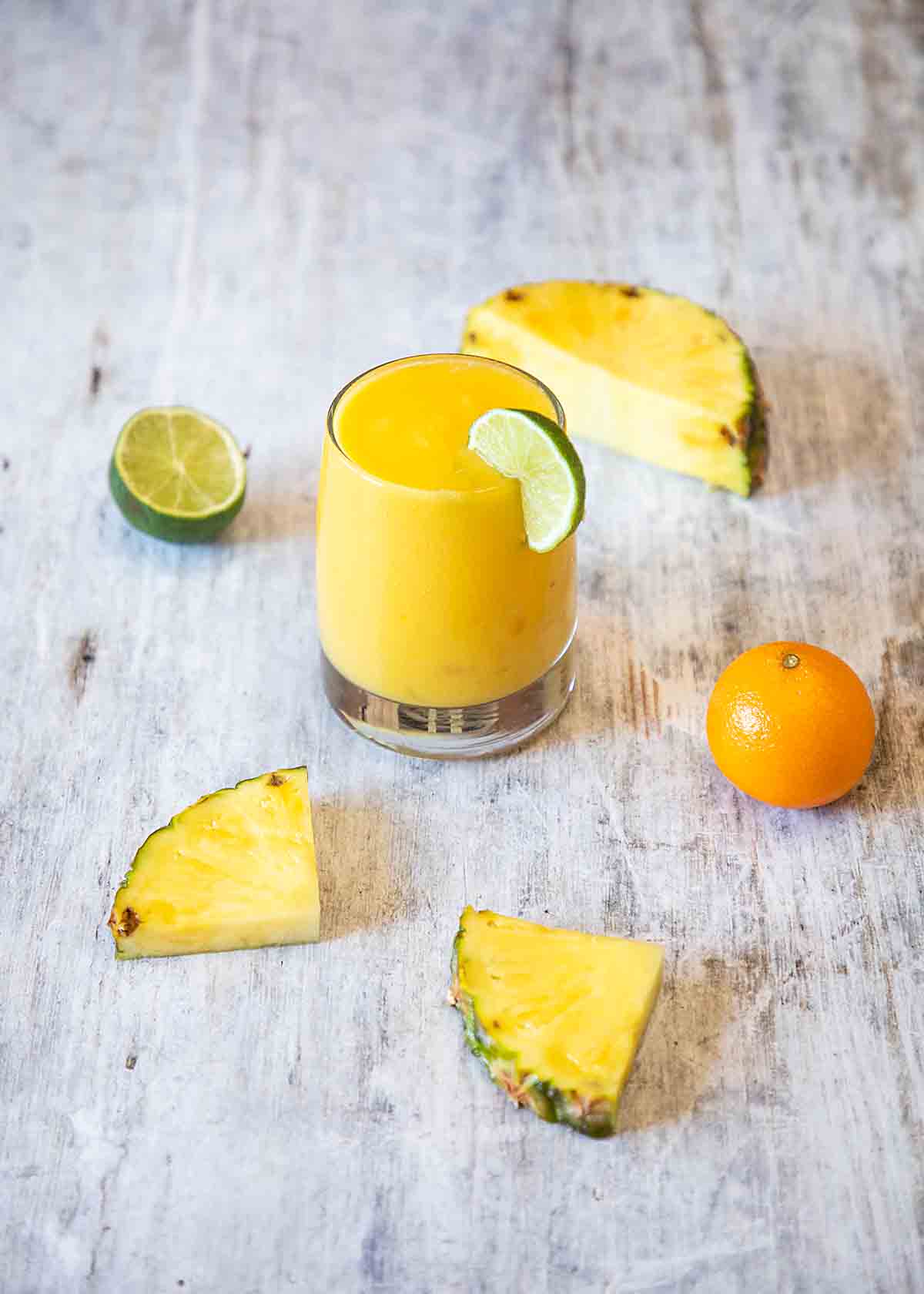 Variations and Special Diets
A Mango Pineapple Smoothie would also make a delicious cocktail. In that case, you could add 1 ½ ounces of vodka, tequila, rum, or your favorite alcohol.
Still pushing that calcium? While I haven't tried it, I'll bet this would also be good with yogurt—maybe even a coconut yogurt! If you do use coconut or another plant-based yogurt, double check that it's calcium fortified if that's your goal.
Looking for a completely different flavor combo? Just follow the formula of 1 cup each of two different fruits, ¼ cup juice and ½ cup ice and I'll bet you can come up with some other wonderful combinations. Adjust the OJ (or add water) as needed if you use fruits with a lower water content.
And for even more nutrition, consider adding a tablespoon of ground flax seed.
Tips & FAQs
I made this completely with fresh fruit. If you are using frozen, omit the ice cubes and add extra orange juice or water as needed.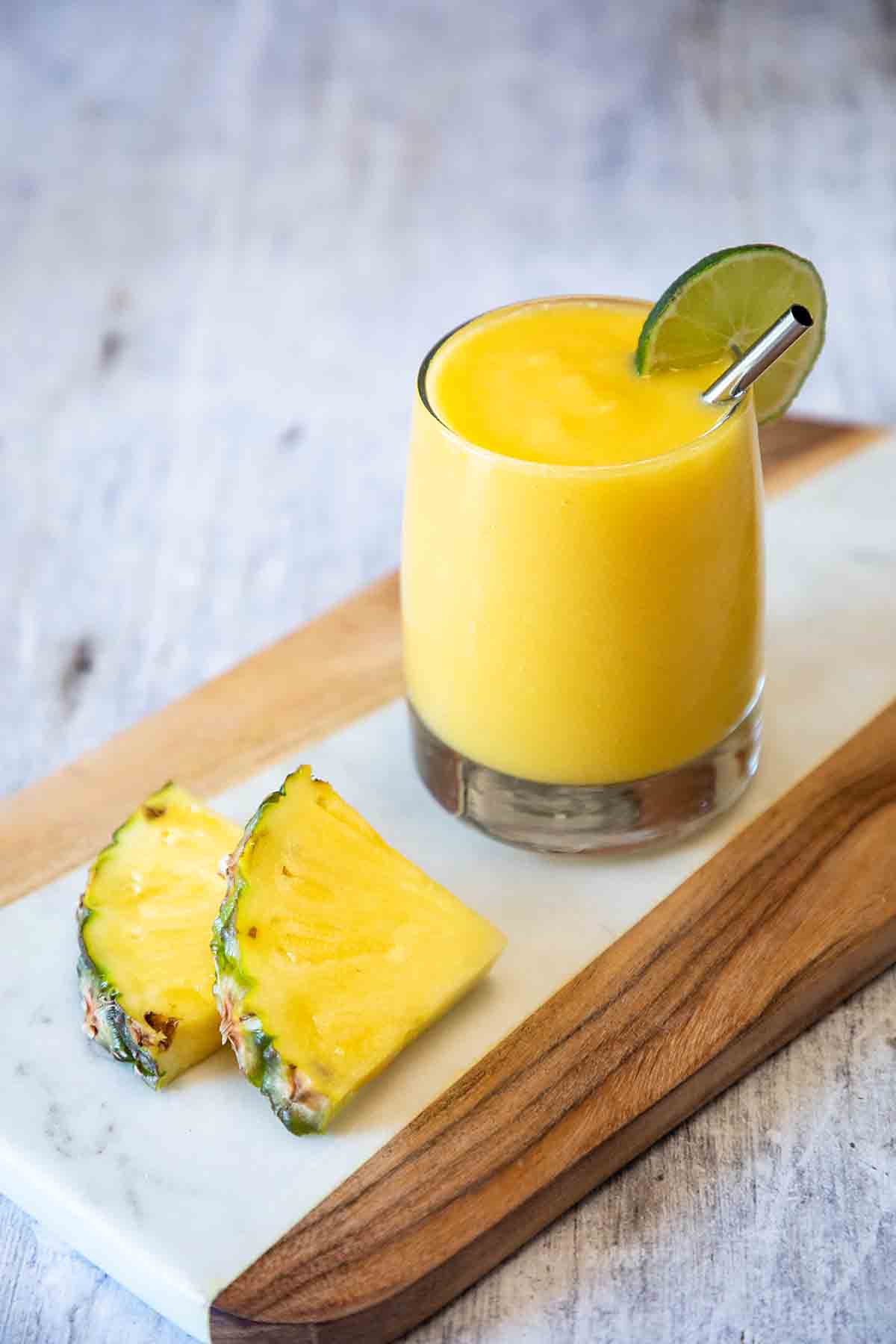 Perfect Pineapple Recipes
We share Recipes From Our Dinner Table! Join our group and share your recipes, too! While you're at it, join our Pinterest board, too!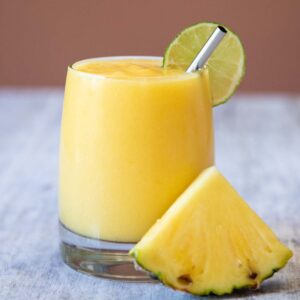 Mango Pineapple Smoothie
Thick, fruity, and tropical, this Mango PineappleSmoothie has just 4 ingredients.  And didI mention it's tasty and refreshing! 
Ingredients
1

cup

mango

cubed

1

cup

pineapple

cubed

1/4

cup

orange juice

1/2

cup

ice cubes
Instructions
Place all ingredients in a blender and process until smooth, pulsing as needed.
Nutrition
Calories:
209
kcal
Carbohydrates:
53
g
Protein:
3
g
Fat:
1
g
Saturated Fat:
0.2
g
Polyunsaturated Fat:
0.2
g
Monounsaturated Fat:
0.3
g
Sodium:
10
mg
Potassium:
581
mg
Fiber:
5
g
Sugar:
44
g
Vitamin A:
2005
IU
Vitamin C:
170
mg
Calcium:
50
mg
Iron:
1
mg
I am not a health professional and nutrition data is calculated programatically. Accuracy may vary with product selection, calculator accuracy, etc. Consult a professional for the best information.