Easy Manhattan Clam Chowder
With clams, bacon, potatoes and veggies swimming in a rich tomato broth, Manhattan Clam Chowder is a perfect first course or entree soup.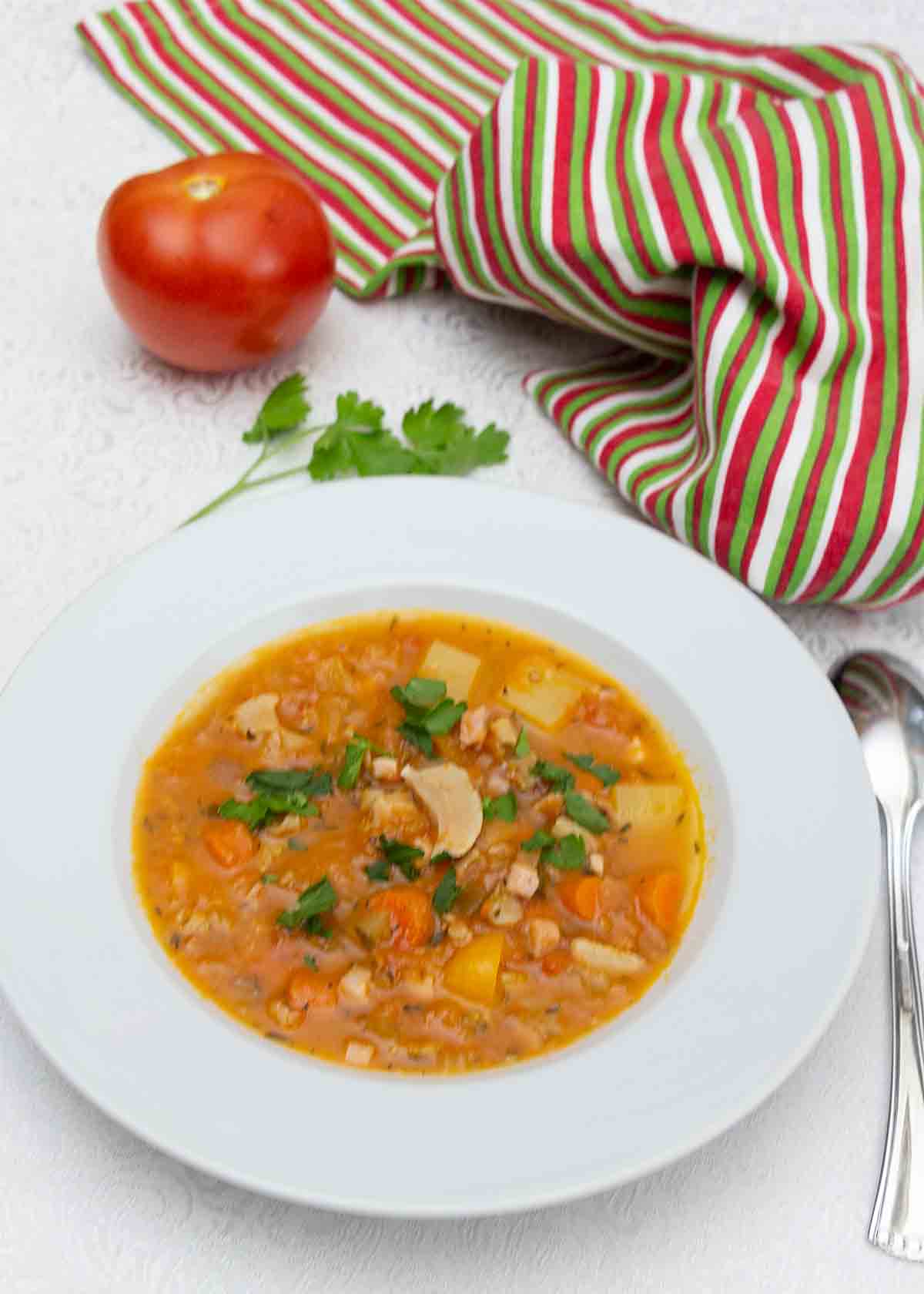 Everyone's heard of creamy New England Clam Chowder, but did you know it has a healthier cousin? Manhattan Clam Chowder, the "red clam chowder", swaps a tomato broth for the cream and can even include a few more veggies. But they both have some things in common including tasty clams, chunky potatoes and savory bacon.
I first posted this recipe in 2014, to celebrate my second trip to Manhattan (New York City)—and to use up an abundance of tomatoes. That Manhattan Clam Chowder recipe was modified from one in the Milwaukee Journal and this time I added a couple more changes. Now I include chopped pancetta (I found this already minced at Trader Joe's) or bacon, along with celery and yellow pepper for a flavor boost and to well, to "add a veggie!"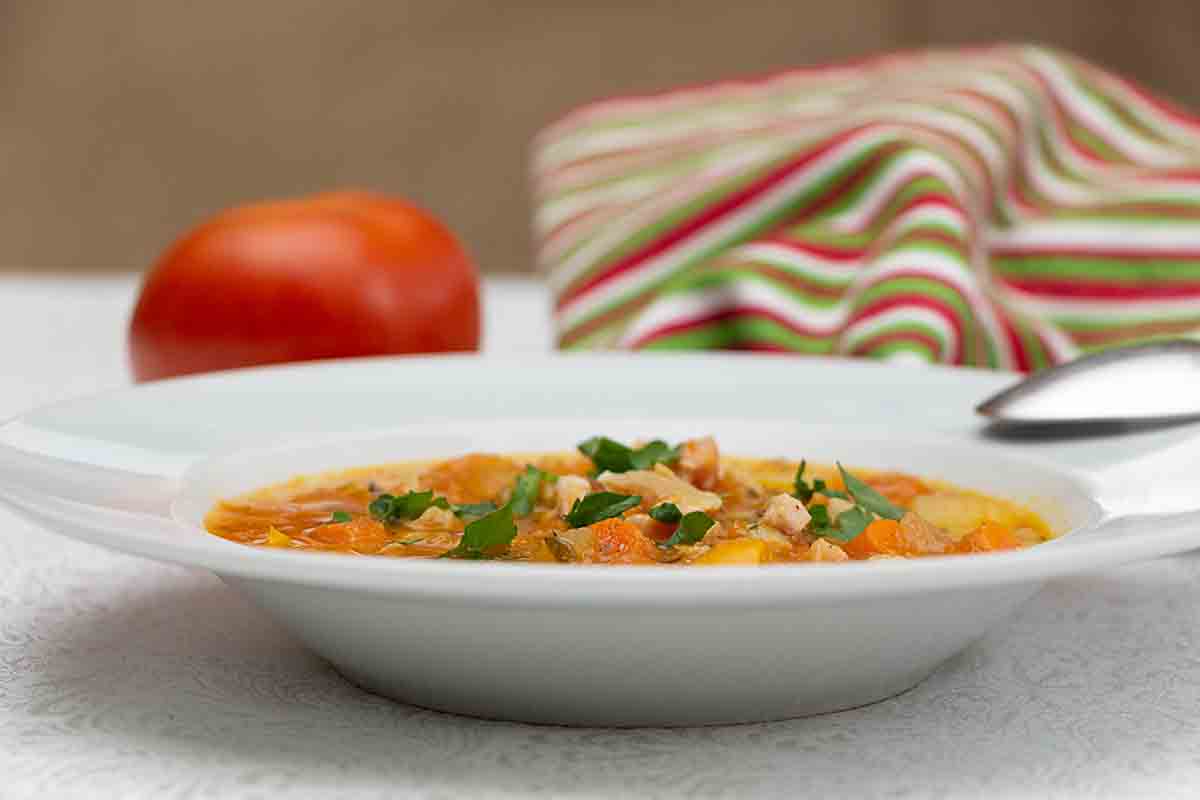 Step by Step Directions
To start, sautee the pancetta or bacon, then the onions and celery.
Add the tomatoes, herbs, and remaining veggies and cook until tender.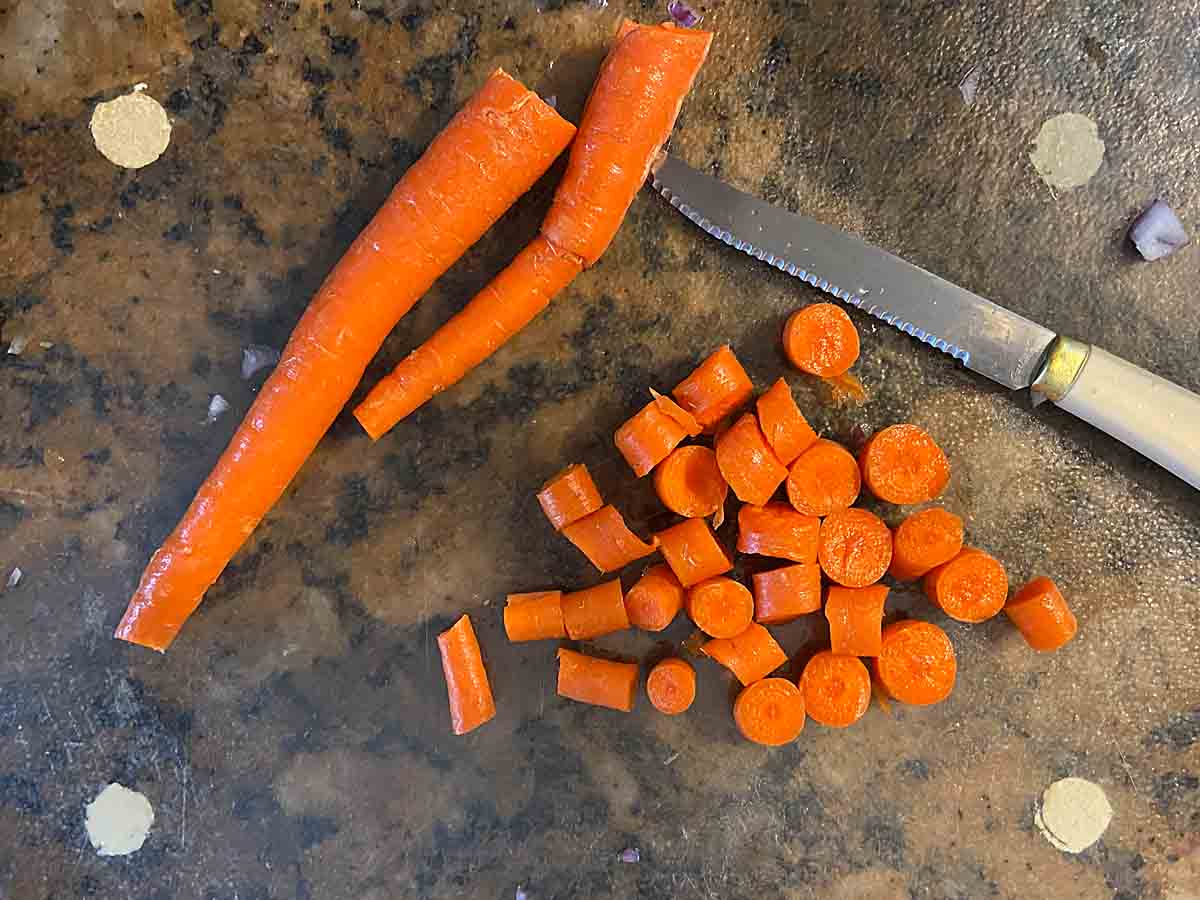 Add the clams and clam juice, then thin with wine or both if too thick, or thicken with tomato paste (or if you simply want more tomato flavor) and bring back to a simmer.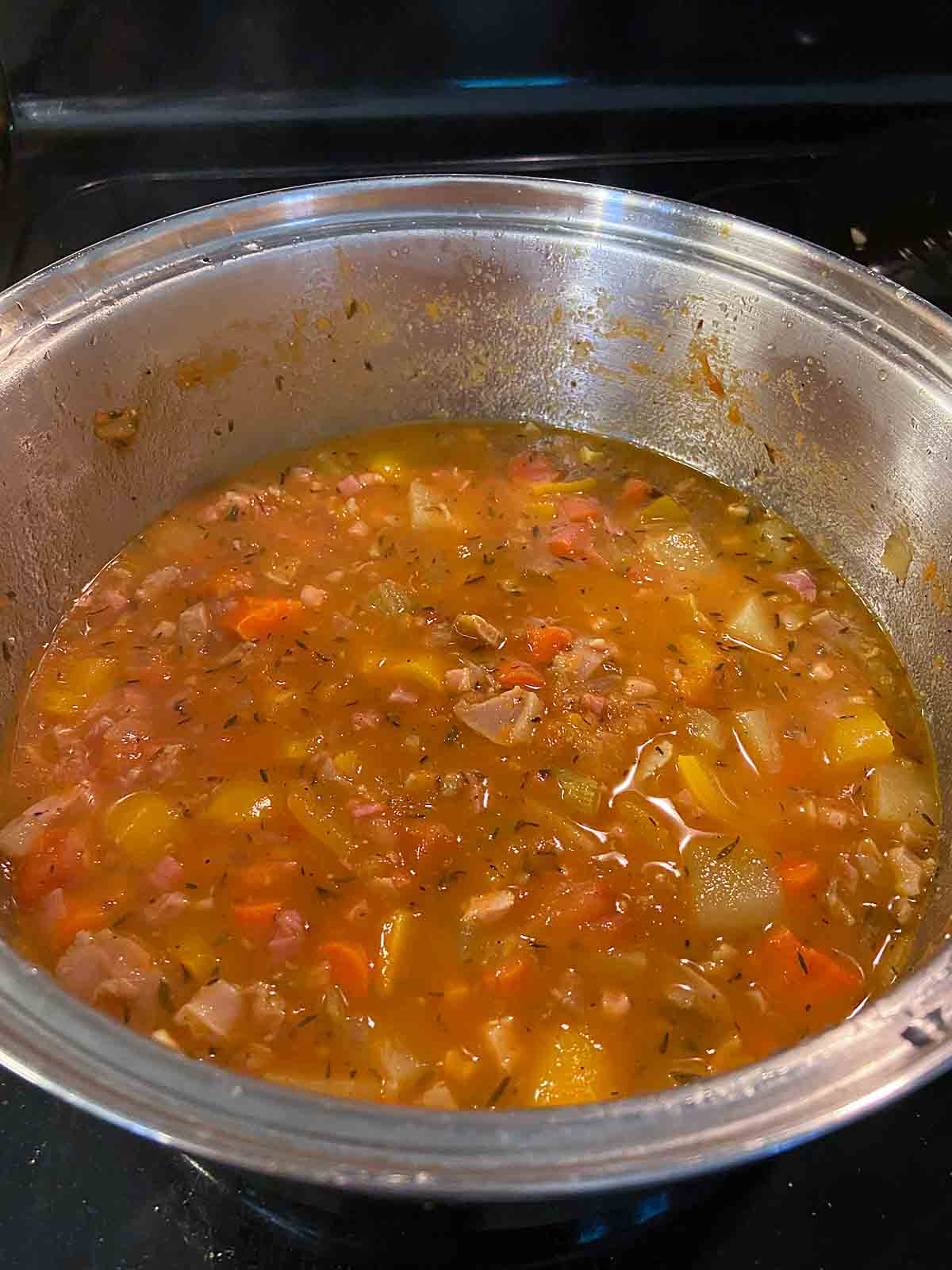 Serve warm.
Notes and Tips
I was focused on creating a dish that could go into regular rotation, so I went for the readily available canned clams rather than fresh. Canned clams come minced, chopped or whole. I used chopped clams to have some pieces of substance yet minimize the risk of hitting a rubbery piece. Not to mention the risk of grossing out my youngest (aka my picky daughter). Definitely a rec. if serving kids, but otherwise it's a matter of personal preference.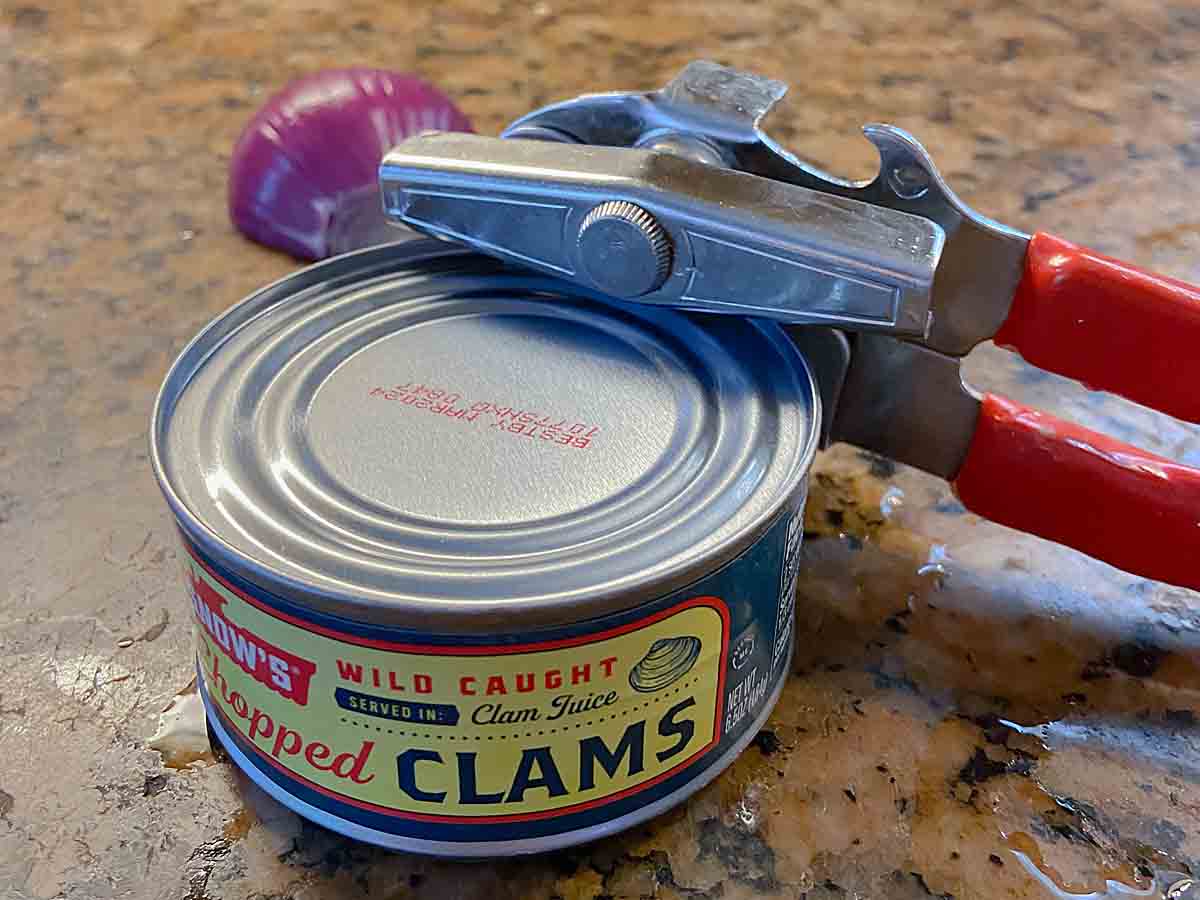 It is possible to make the soup using fresh clams, but you do need to know how to work with them (not covered here). Many years ago, my father had an unpleasant surprise on a business trip to France when he ignored his waitress's counsel and pried open a closed mussel to see a putrid liquid spill out.
Your tomato options are many here. Fresh, canned or frozen! Canned can go in right from the can, but for fresh, be sure to remove some of the seeds and surrounding liquid so there is less liquid. Ditto for frozen, but in that case, you can just squeeze out excess water after they are thawed (see below).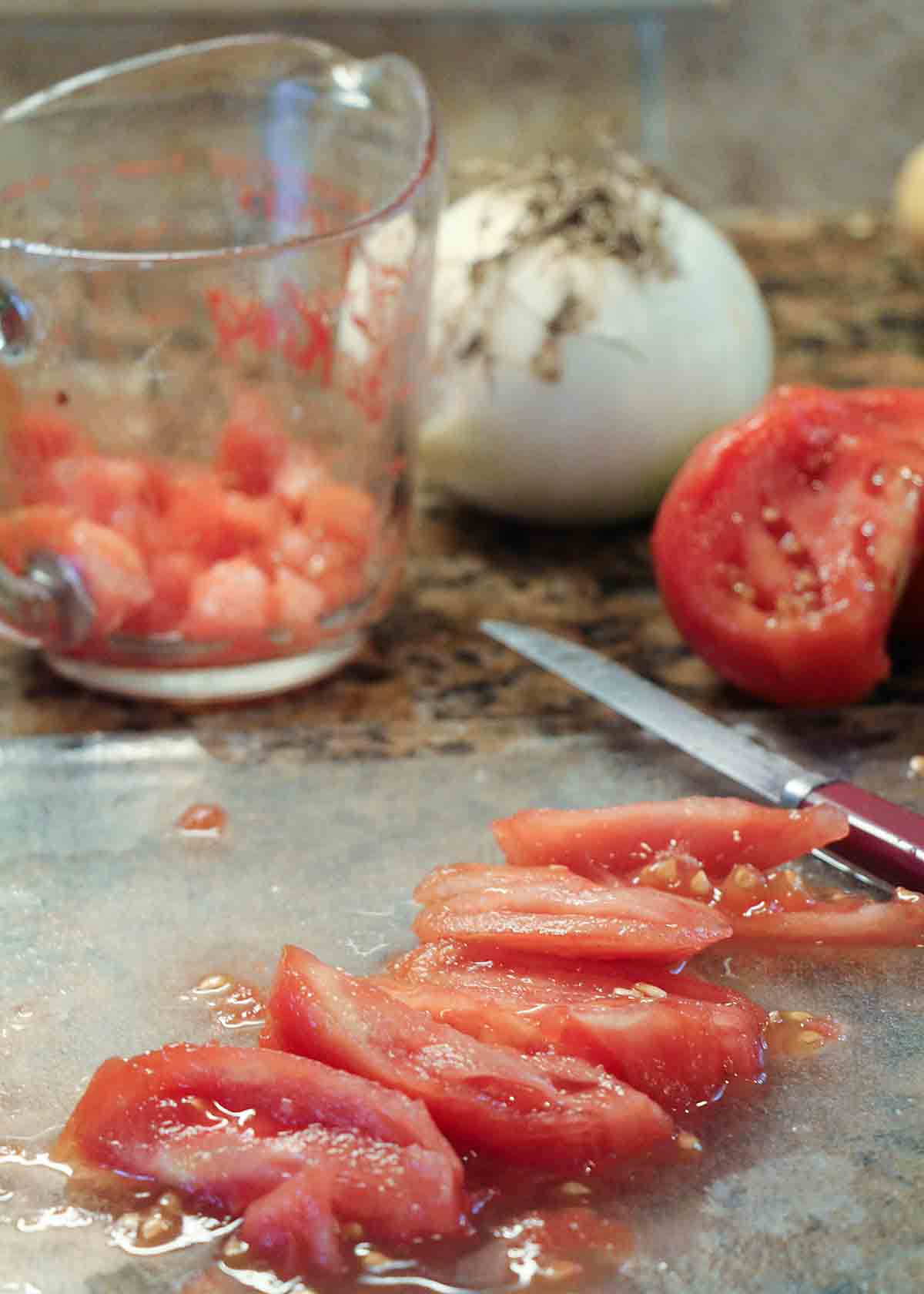 If you don't know how to freeze tomatoes, it is super easy. Just core them by cutting off the stem scar and pop in a container or plastic bag–no peeling or blanching needed! To thaw place briefly in warm water; when thawed the skins will slip off and you can even squeeze out excess water, which I recommend for this soup. I do bagfuls every fall!
What to serve with clam chowder
Manhattan Clam Chowder works as a tasty first course that can begin any dinner. It is especially nice before Friday night seafood meals.
But this Manhattan Clam Chowder recipe has all the components of an entrée soup and makes a lovely light supper. Consider serving with a salad like this Berry Salad for even more nutrition! Or add a nice crusty bread to please even the heartiest eaters!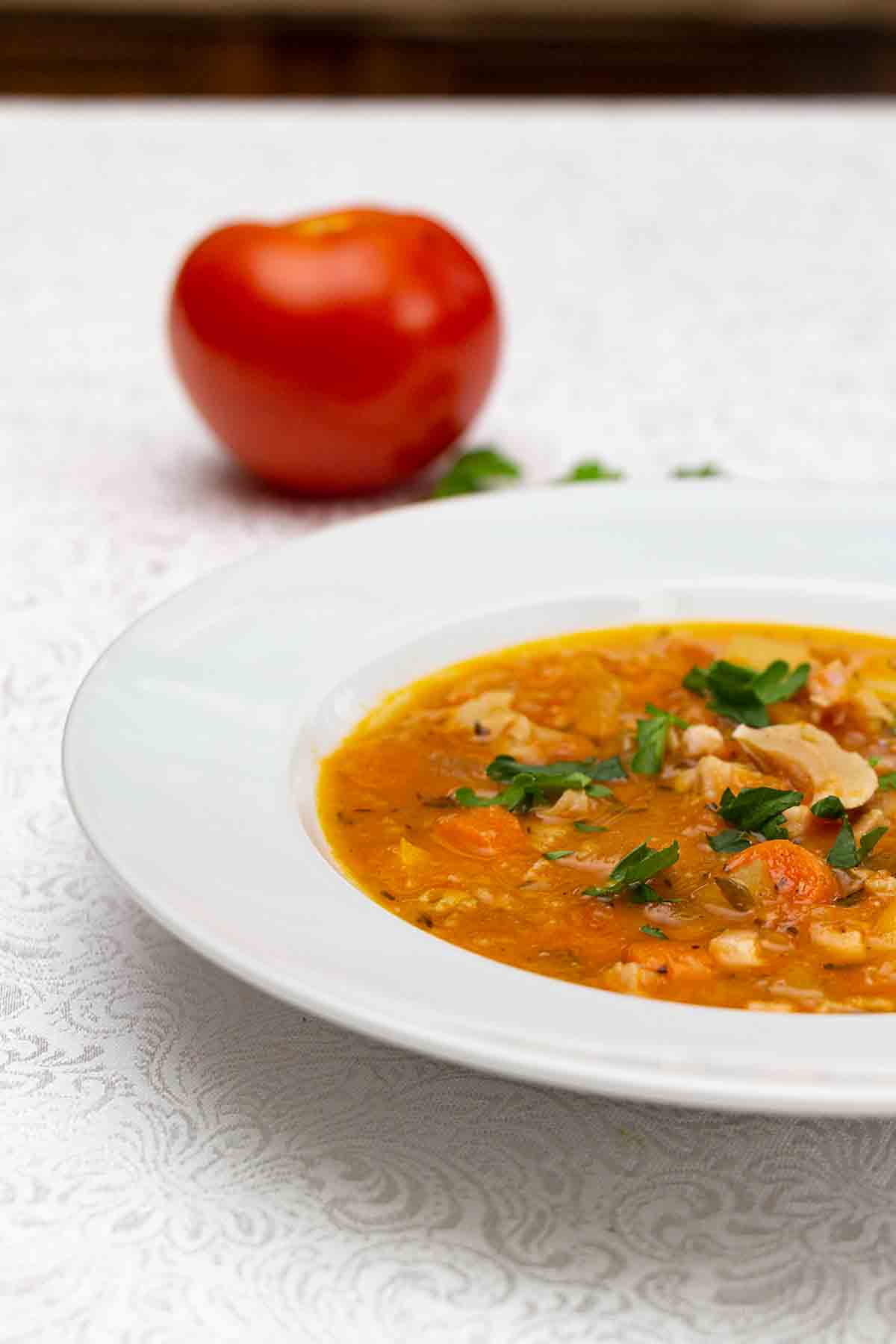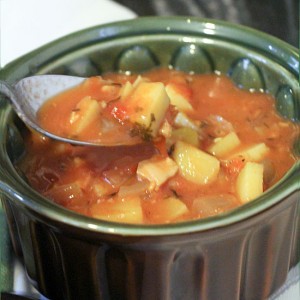 Easy Manhattan Clam Chowder
With clams, bacon, potatoes and veggies swimming in a rich tomato broth, Manhattan Clam Chowder is a perfect first course or entree soup.
Ingredients
4

ounces

chopped bacon

see note 1

1

Tablespoon

butter if needed

1

onion

finely chopped

2

ribs of celery

finely chopped

1/2

cup

diced carrot

2

cups

chopped seeded tomatoes

or a 14.5 oz can of diced tomatoes

2

teaspoons

dried thyme

1

teaspoon

dried parsley

0-1

cup

dry white wine

see note 2

½

cup

chopped yellow pepper

1

cup

diced potato

2 6.5

ounce

cans of clams

including juice

4

Tablespoons

of tomato paste

optional

Fresh parsley for garnish
Instructions
Chop pancetta or bacon, then fry on medium high in a large saucepan or stock pot. Remove from heat when pancetta starts to sizzle or bacon is crisp. If using bacon, remove all but 1-2 Tablespoons of fat from the pan. If using pancetta, add 1 Tablespoon butter.

Place the pan back on medium low heat and add the chopped onion and celery. Cook until tender.

Add the tomatoes (canned or fresh), thyme and carrots. Cook until tomatoes start to break down and carrots are just tender, about 10 minutes. Add the potatoes and yellow pepper. If sauce looks very thick, you can add some wine now, but remember that you are adding clam juice later. Continue cooking until everything is tender.

Add clams and their juice. Add (additional) wine if needed to achieve desired thickness. Season with salt & pepper to taste. Bring back to a simmer, then serve.

Notes
Chopped pancetta is a lovely alternative to bacon
You can use vermouth or broth in place of the white wine. Use the amount you need to thin the soup to your liking.
Nutrition
Calories:
304
kcal
Carbohydrates:
32
g
Protein:
32
g
Fat:
20
g
Saturated Fat:
7
g
Polyunsaturated Fat:
10
g
Cholesterol:
94
mg
Fiber:
4
g
Sugar:
14
g
I am not a health professional and nutrition data is calculated programatically. Accuracy may vary with product selection, calculator accuracy, etc. Consult a professional for the best information.