No-Bake Strawberry Yogurt Pie
This No-Bake Strawberry Yogurt Pie blends Greek Yogurt, fresh or frozen berries & maple syrup for a pie that's healthier than many recipes. Shhhh!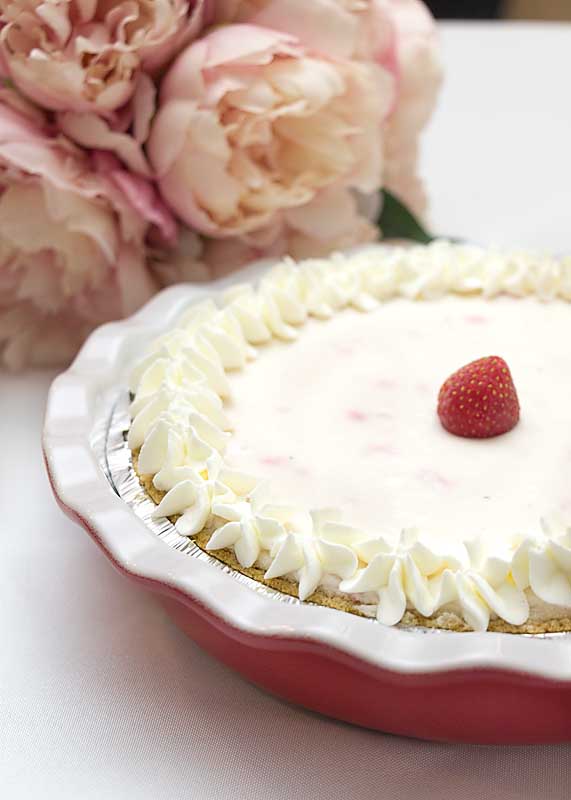 Do you ever feel caught between being healthy and enjoying life? Ummm… like all the time?
I am still (still!!) trying to take off my holiday weight gain. Every time I get close, I go out to dinner or make Key Lime Meringue Pie Tartlets and I have to start over. Aarrgh!
Yes, that's how this recipe got created. I wondered if I could make a dessert that gave me some calcium, some fruit, and was relatively low in fat and sugar. PLUS, it had to actually look like dessert.
You see, no one in my house is going to buy the suggestion that a smoothie is dessert.
And with spring brunch season coming on, I decided to try to make something healthier that might even work for Easter or Mother's Day.
Improved Strawberry Yogurt Pie
Now yogurt is always a go-to healthy dessert base and there are yogurt pies all over the internet. Problem is, many of them are thickened with ingredients like cream cheese (tasty & natural, but mostly fat with little protein or calcium) or (breathe, Inger, breathe) commercial "whipped topping."
Lately, I have started using gelatin as a thickener more. It's high in protein and does a good job of thickening without breaking the calorie or chemical bank.
Now when it comes to yogurt, did you know that packaged fruit yogurts may have a fair bit of added sugar? A healthier option can be starting with plain yogurt and adding your own fruit along with less sweetener. This pie filling tasted truly sweet with a mere ¼ cup of maple syrup for eight servings. You could even use stevia if you wanted.
Of course here I must confess to a couple concessions to that whole dessert concept. I lightened the mixture by folding in a little whipped cream. And I stuck with a commercial graham cracker crust for ease of preparation. (Brilliant pie crust makers, feel free to convert me in the comments section!) .
Someday to really go healthy, I might perfect a super healthy homemade crust or increase the gelatin for a thicker crust-less pie.
But this was sooooo easy. And for today, I'm good.
No-Bake Strawberry Yogurt Pie
Total Time:
5 hours
20 minutes
This No-Bake Strawberry Yogurt Pie blends Greek Yogurt, fresh or frozen berries & maple syrup for a pie that's healthier than many recipes. Shhhh!
Ingredients
1/4 cup nonfat milk
2 ¼ tsp powdered gelatin (1 packet)
1/2 cup whipping cream
1 ½ cups plain nonfat Greek yogurt (see note)
¾ cup roughly chopped fresh strawberries (see note 2)
¼ cup maple syrup
Graham cracker crust, commercial or your favorite homemade crust
Instructions
Fill a small bowl with the milk. Sprinkle the gelatin over and soak for 5 minutes to soften.
Heat the gelatin mixture in a microwave about 10 seconds at a time, stirring in between, until very warm. Do not allow the milk to boil. Stir until gelatin is dissolved, then set aside to cool slightly
In a medium bowl beat cream until thick peaks form.
Combine the yogurt, maple syrup and gelatin mixture and whisk until well mixed. Fold in the whipped cream trying not to deflate, then fold in the fruit.
Pour the filling into the crust and smooth the top. Refrigerate 5 hours or overnight.
Enjoy!
Notes
I have done this successfully with regular yogurt as well, though not the very thin styles.
If using frozen berries, only thaw enough so they can be chopped, chop, then place back in freezer

Nutrition Information:
Yield:

8
Serving Size:

1 grams
Amount Per Serving:
Calories:

227
Total Fat:

11g
Saturated Fat:

5g
Trans Fat:

0g
Unsaturated Fat:

6g
Cholesterol:

19mg
Sodium:

133mg
Carbohydrates:

25g
Fiber:

1g
Sugar:

13g
Protein:

7g
Nutrition data accuracy may vary with product selection, calculator accuracy, etc. Consult a professional for the best information.
And for more great Mother's Day brunch ideas, check out these recipes from some of my blogging friends!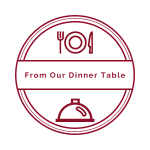 Brunch Ideas for Mother's Day
We share Recipes From Our Dinner Table! Join our group and share your recipes, too! While you're at it, join our Pinterest board, too!