Pear Gingerbread Upside-Down Cake
With sweet pears and spicy gingerbread, this Pear Gingerbread Upside-Down Cake is a perfect holiday treat. Even better with ice cream and caramel sauce!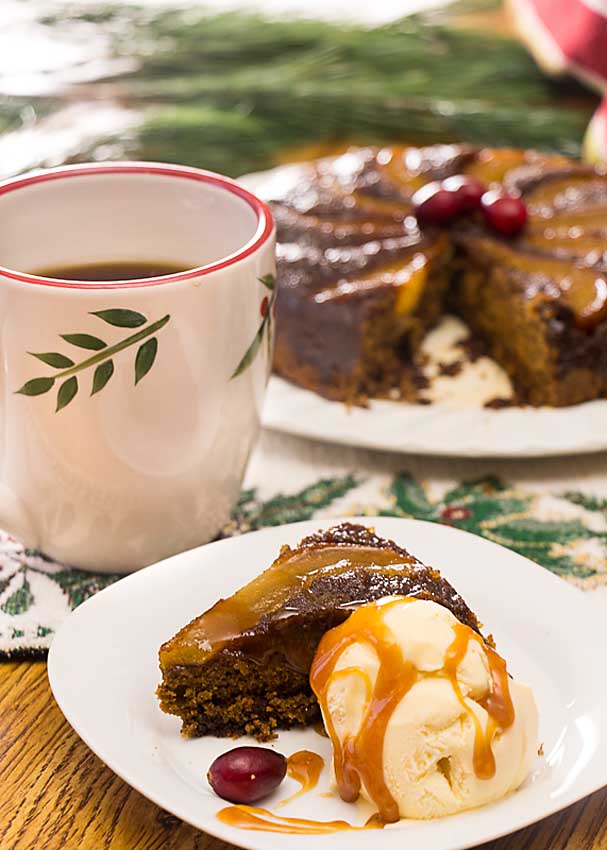 Life has been crazy. In some ways bad, in some good. Like this pear gingerbread upside-down cake. Absolutely delicious.
And I so needed the indulgence.
The backstory
You see, November was a killer month for my family. It revolved around my mother who had been living independently in a senior residence under a life care contract. Under this arrangement we expected that if she someday needed additional care she would get extra services there at a reduced rate
There had been a large entry fee. And high "rent" for years. A big investment, all right. But no problem if it made her happy and financially secure! So, when she started forgetting things, we figured she would simply move to a higher level of care. What good planning!
Um… nuh-uh.
What they did, instead, was kick her out. Saying they couldn't care for her. What? You do "life care" but can't handle my mother's dementia?
So the entire month of November was spent emptying her two-bedroom apartment and dealing with "stuff" (physical stuff and not). Not the best start to the holidays. (And yes, more to come.)
But as things wound down the past week, the beauty of the season started to push through. Gift shopping, the beauty of decorating, a couple of lovely Christmas parties…
And then there's nothing like taking your frustrations out in the kitchen.
The Pear Gingerbread Upside-Down Cake
Enter the pear gingerbread upside-down cake. I first made it last year, too late to post, and was afraid my perfect first experience wouldn't be repeated. But it turned out great again. Popped right out of the pan and looked beautiful. Both times.
I slightly modified the original post and cut it in half to fit an 8-inch cast iron skillet. Per that, double the amounts should work in a 10 or 12-inch pan—in case you want a larger cake. I should note that even this smaller cake cuts nicely into 8 pieces. And the pear slices fit into a perfect 8 inch circle.
If you don't have a cast iron skillet, Lodge is a well-rated and reasonably priced brand, currently under $20. They aren't sponsoring this post–I just remember being a cast iron newbie myself not too long ago 🙂 .
The cake is rich and flavorful, just as is, and you don't need to do more than serve. But with ice cream and my recent easy caramel syrup, it is over the top!
Yup, when life is tough, it's nice when something goes right!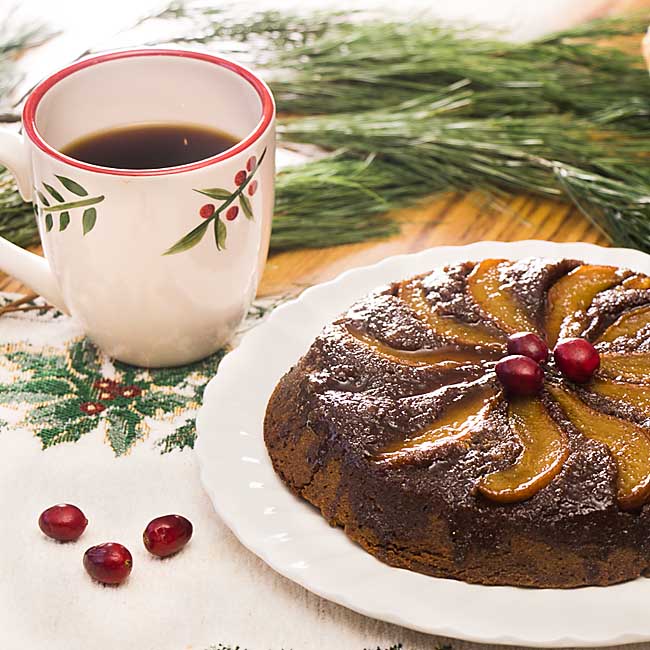 Celebrate with Pear Desserts!
Pear Gingerbread Upside-Down Cake
2018-12-09 14:28:26
Serves 8
With sweet pears and spicy gingerbread, this Pear Gingerbread Upside-Down Cake is a perfect holiday treat. Even better with ice cream and caramel sauce!
Nutrition Facts
Amount Per Serving
* Percent Daily Values are based on a 2,000 calorie diet. Your Daily Values may be higher or lower depending on your calorie needs.
For topping
1 firm pear (I used a Bosc)
2 Tablespoons butter
1/3 cup packed light brown sugar
For cake
1 ¼ cups white whole wheat flour (or all purpose)
1 teaspoon baking soda
1 ½ teaspoons ground cinnamon
1 teaspoon ground ginger
½ teaspoon ground cloves
1/8 teaspoon salt.
1/3 cup molasses (preferably mild)
1/3 cup boiling water
¼ cup butter, softened
¼ cup packed light brown sugar
1 egg, lightly beaten
Optional accompaniment: ice cream, caramel syrup, whipped cream
Make topping
Core pear and cut into 10-12 wedges. Peeling isn't needed.
Melt butter in well-seasoned cast iron skillet over moderate heat and cook until foam subsides. Reduce heat to low, then sprinkle brown sugar over bottom of skillet. Cook, undisturbed, 3 minutes. Arrange pears evenly over sugar and cook, undisturbed, 2 minutes. Remove from heat.
Make cake
Preheat oven to 350°F.
Whisk together flour, baking soda, cinnamon, ginger, cloves, and salt in a small bowl. Whisk together molasses and boiling water in another small bowl.
Beat together butter, brown sugar, and egg in a large bowl with an electric mixer at medium speed for 2 minutes. Alternately mix in flour mixture and molasses in 3 batches at low speed until smooth.
Pour batter over topping in skillet, spreading evenly and being careful not to disturb pears. Bake until a tester comes out clean, 30-40 minutes. (40-50 if you double recipe).
Cool cake in skillet on a rack 5 minutes. Run a thin knife around edge of skillet. Place a large plate over skillet and, using pot holders to hold skillet and plate tightly together, invert cake onto plate. Replace any pears that stick to skillet. Serve warm or at room temperature.
Notes
I haven't tested it, but the original recipe was made with (approximately) double the ingredients in a 10 or 12-inch skillet.
Art of Natural Living https://artofnaturalliving.com/