Pear Gingerbread Upside-Down Cake
With sweet pears and spicy gingerbread, this Pear Gingerbread Upside-Down Cake is a perfect holiday, or any day, dessert. Serve it plain or with ice cream and caramel!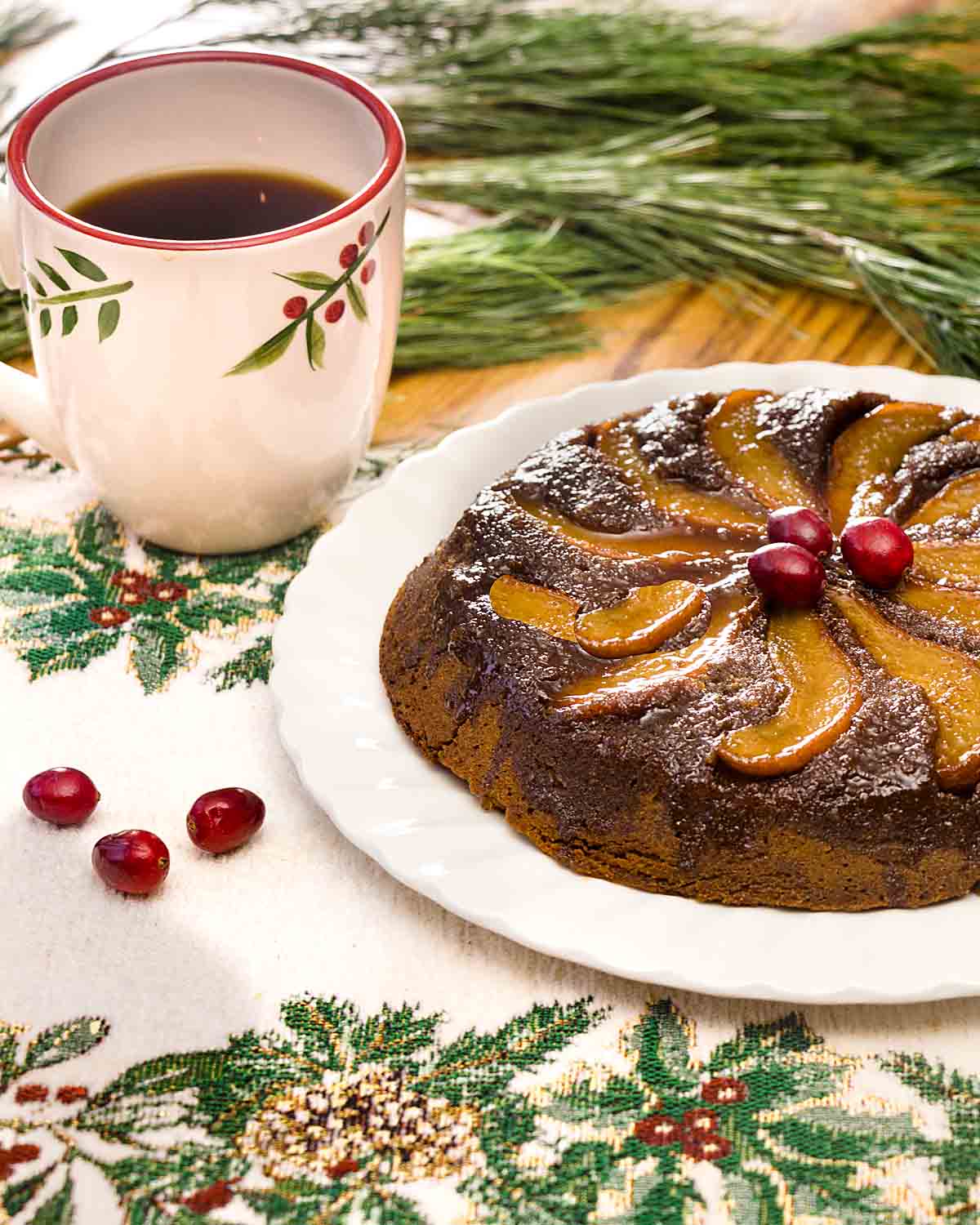 I am a big pear fan. And especially when it's time for holiday desserts or salads! So when my blogging group decided to cook with pears, I knew it was time to update my 2018 Pear Gingerbread Upside-Down Cake post.
Pears and gingerbread go together like… peanut butter and chocolate… or cookies and milk. They're each good separately but put them together and you get something truly special!
What is an Upside-Down Cake?
In case you aren't familiar with upside-down cake, I thought I'd give you a little background.
Per Wikipedia " An upside-down cake is a cake that is baked "upside-down" in a single pan, with its toppings at the bottom of the pan. When removed from the oven, the finished upside-down preparation is flipped over and de-panned onto a serving plate…Usually chopped or sliced fruits — such as apples, cherries, peaches, or pineapples— butter, and sugar are placed on the bottom of the pan before the batter is poured in, so that they form a baked-on topping after the cake is inverted."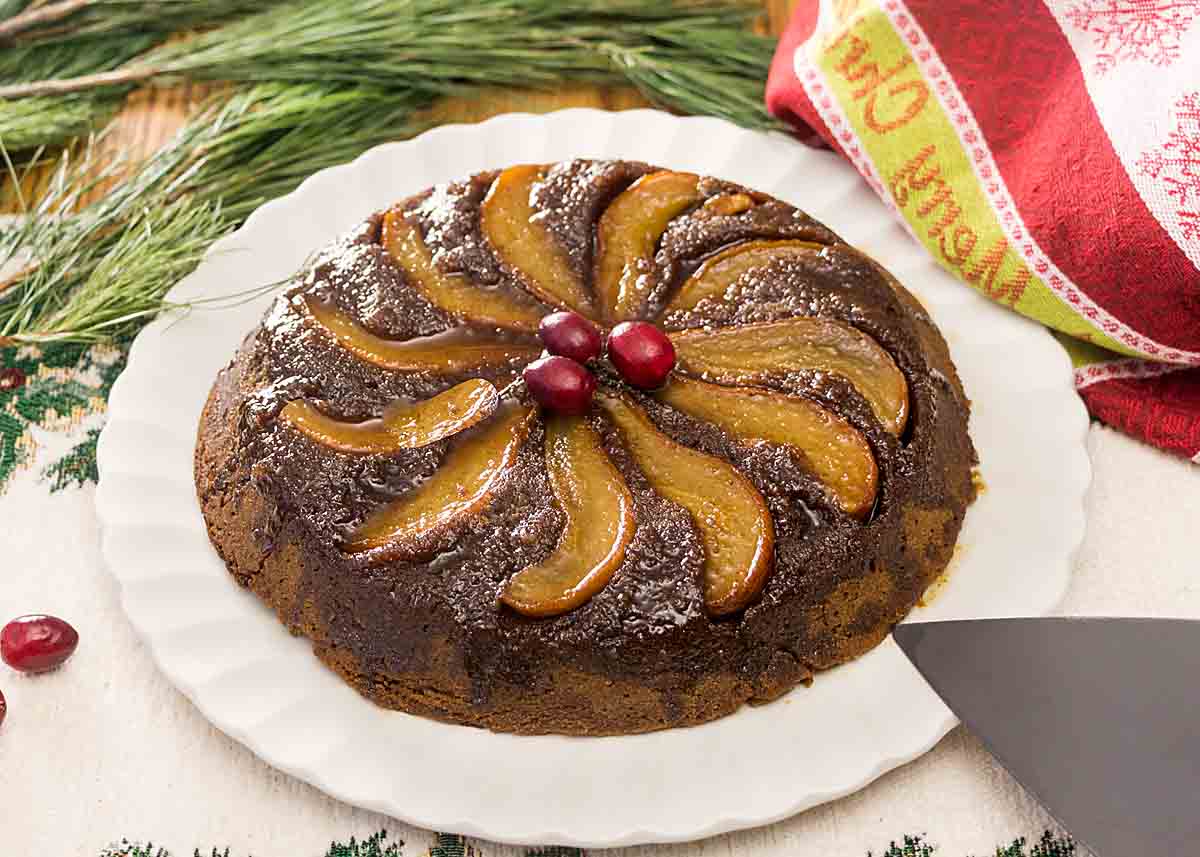 The cake is notorious for stressing out bakers who fear disaster when the cake is flipped. Too soon and the hot, liquified topping can run off. Too late and the whole cake can remain stuck to the pan.
It worked beautifully the first time I made it but I am still fearful that that perfect experience won't be repeated. Luckily it's popped right out of the pan and looked beautiful every time.
Knocking wood as I type!
Yes, a good upside-down cake is glossy and impressive so it's not surprising that they are made in many countries. The most traditional American version is the Pineapple Upside Down Cake, topped with pineapple slices with cherries filling the holes. And the French are known for an apple version called a Tarte Tatin.
Step by Step Directions
You start by cooking the butter and sugar for the topping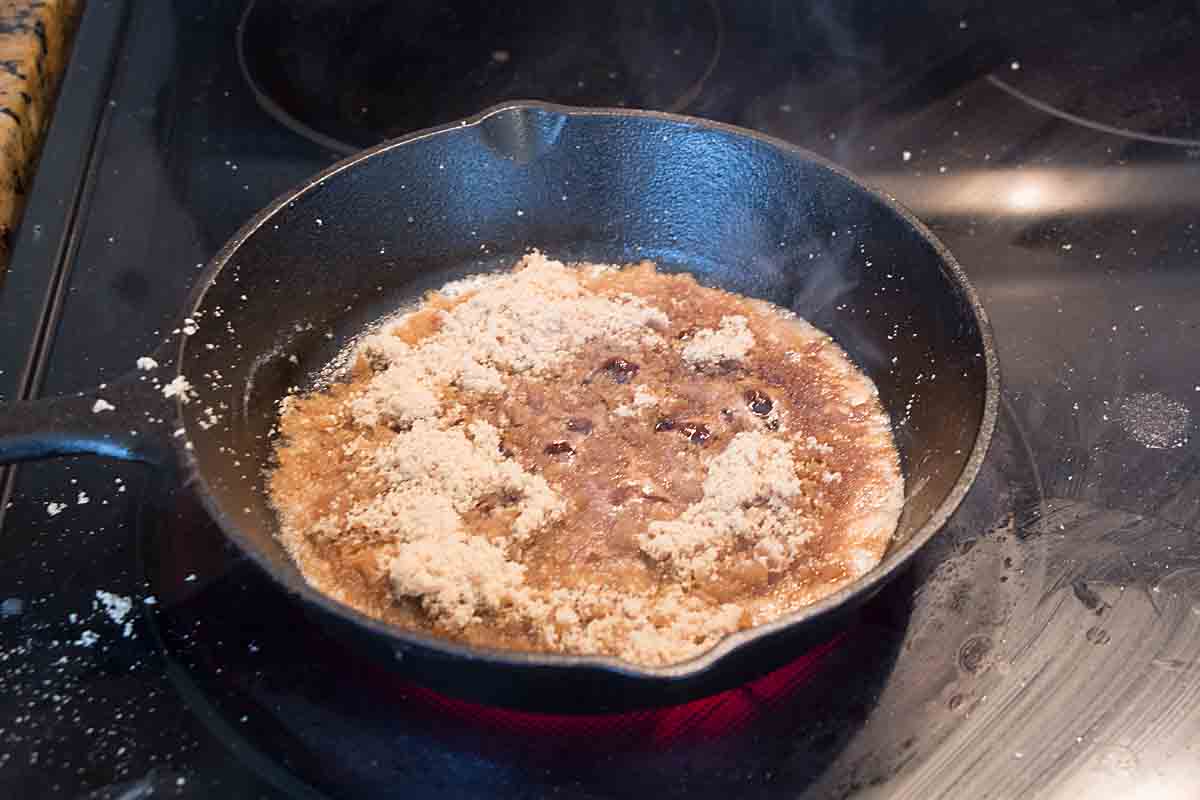 Add pears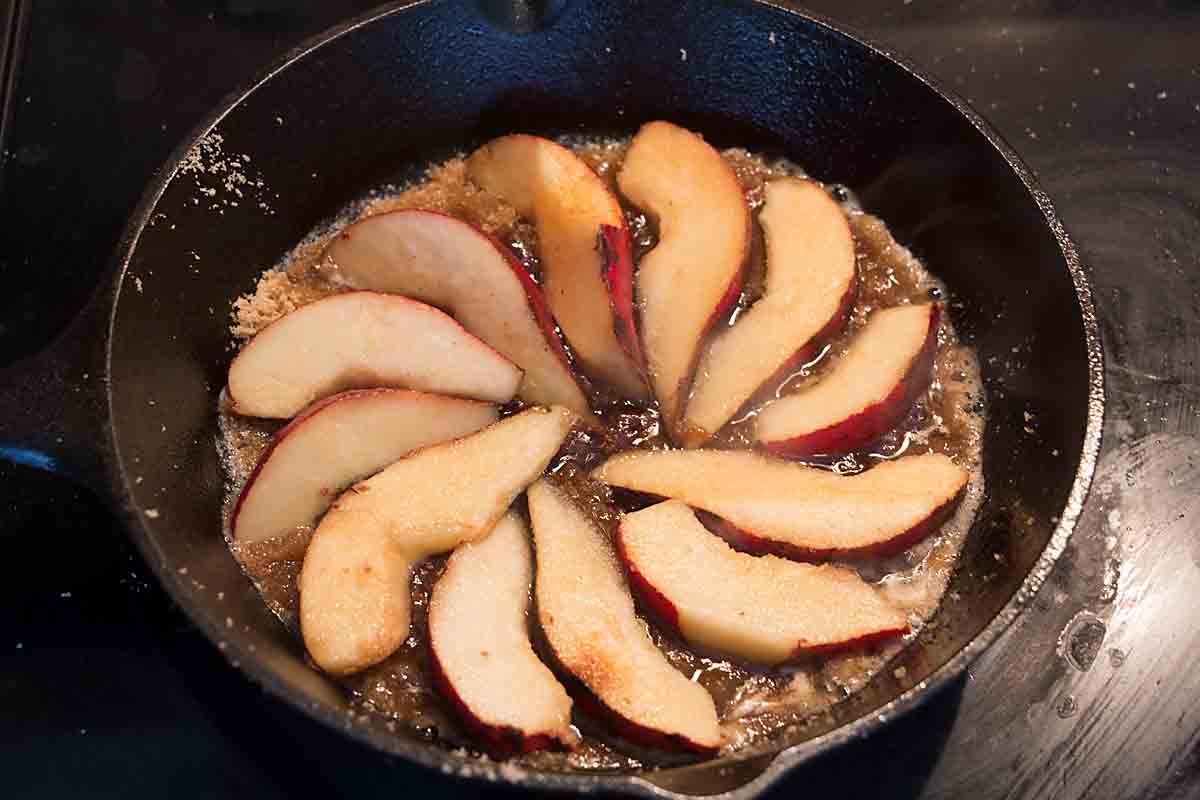 Mix gingerbread cake then pour over pears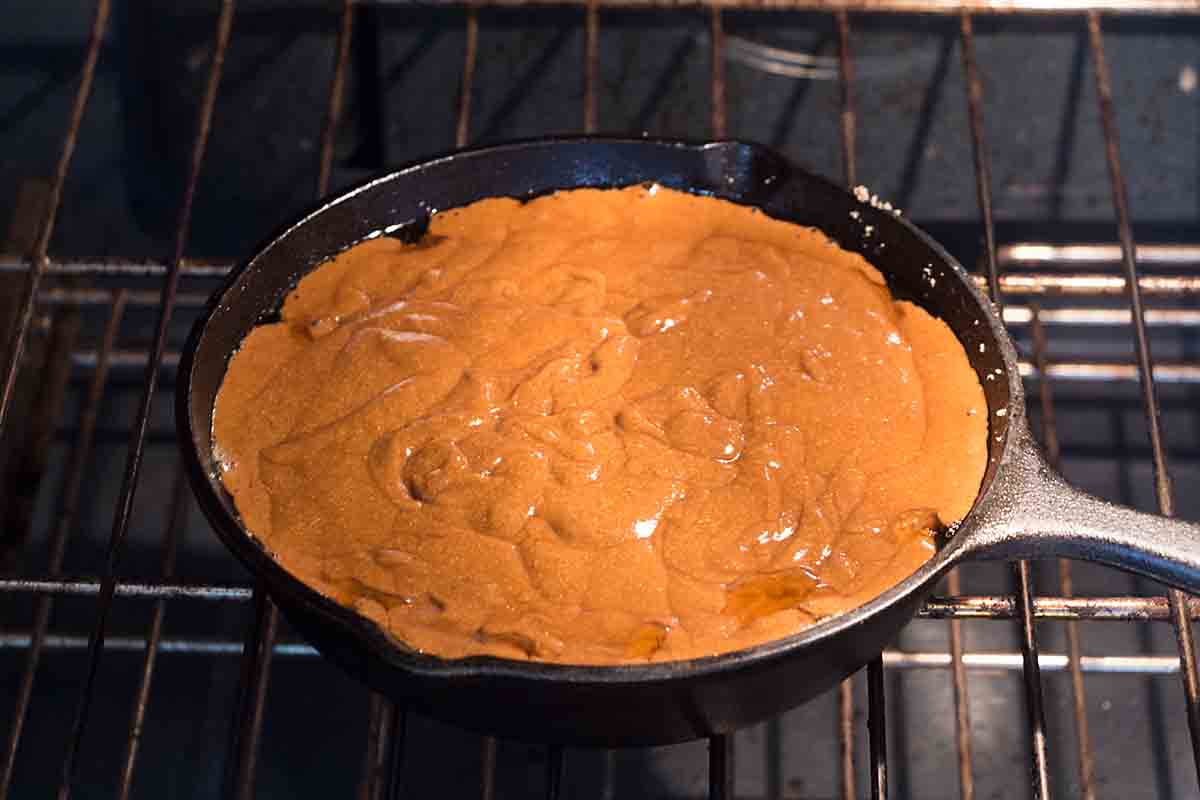 Bake, cool briefly, then flip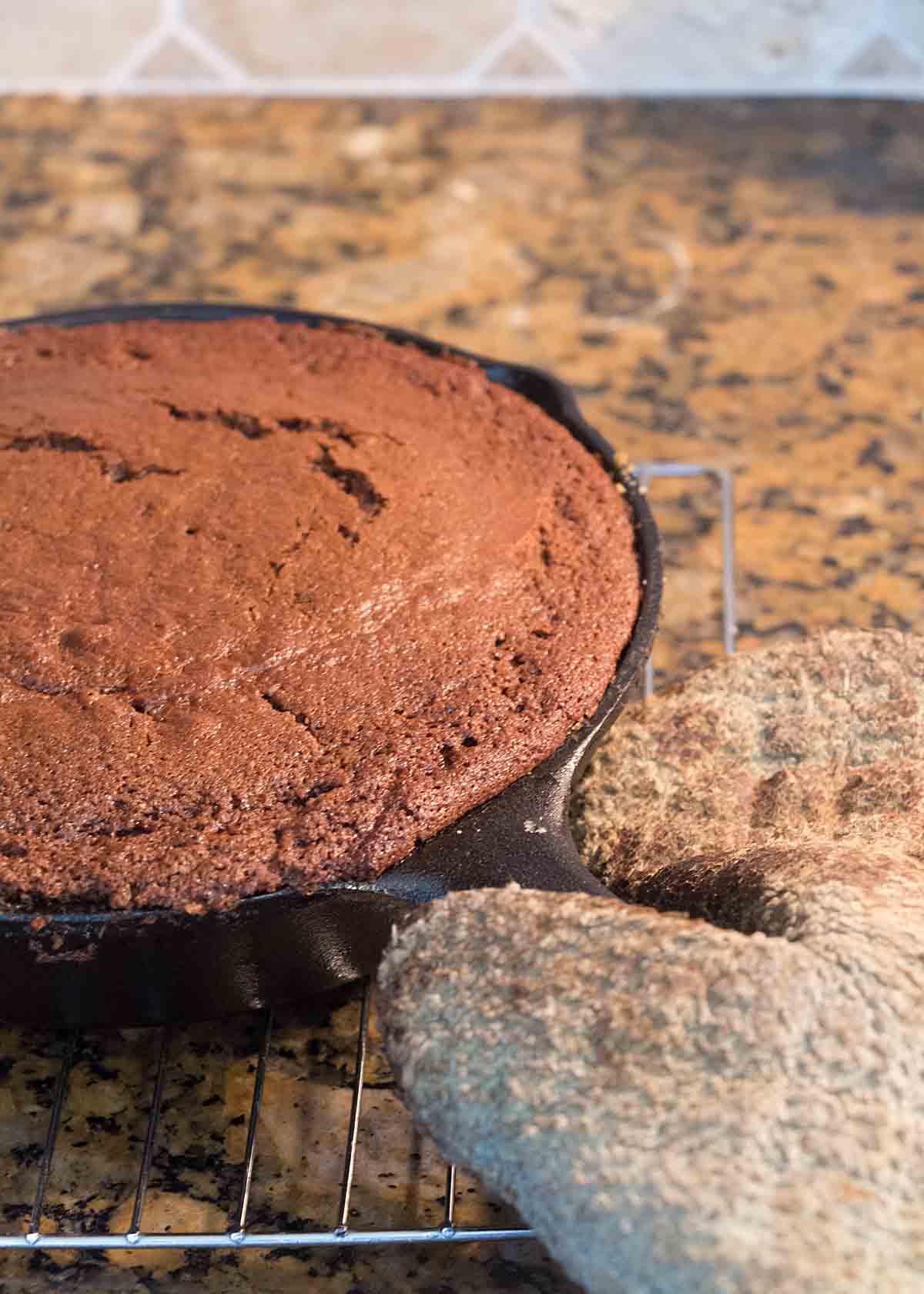 Enjoy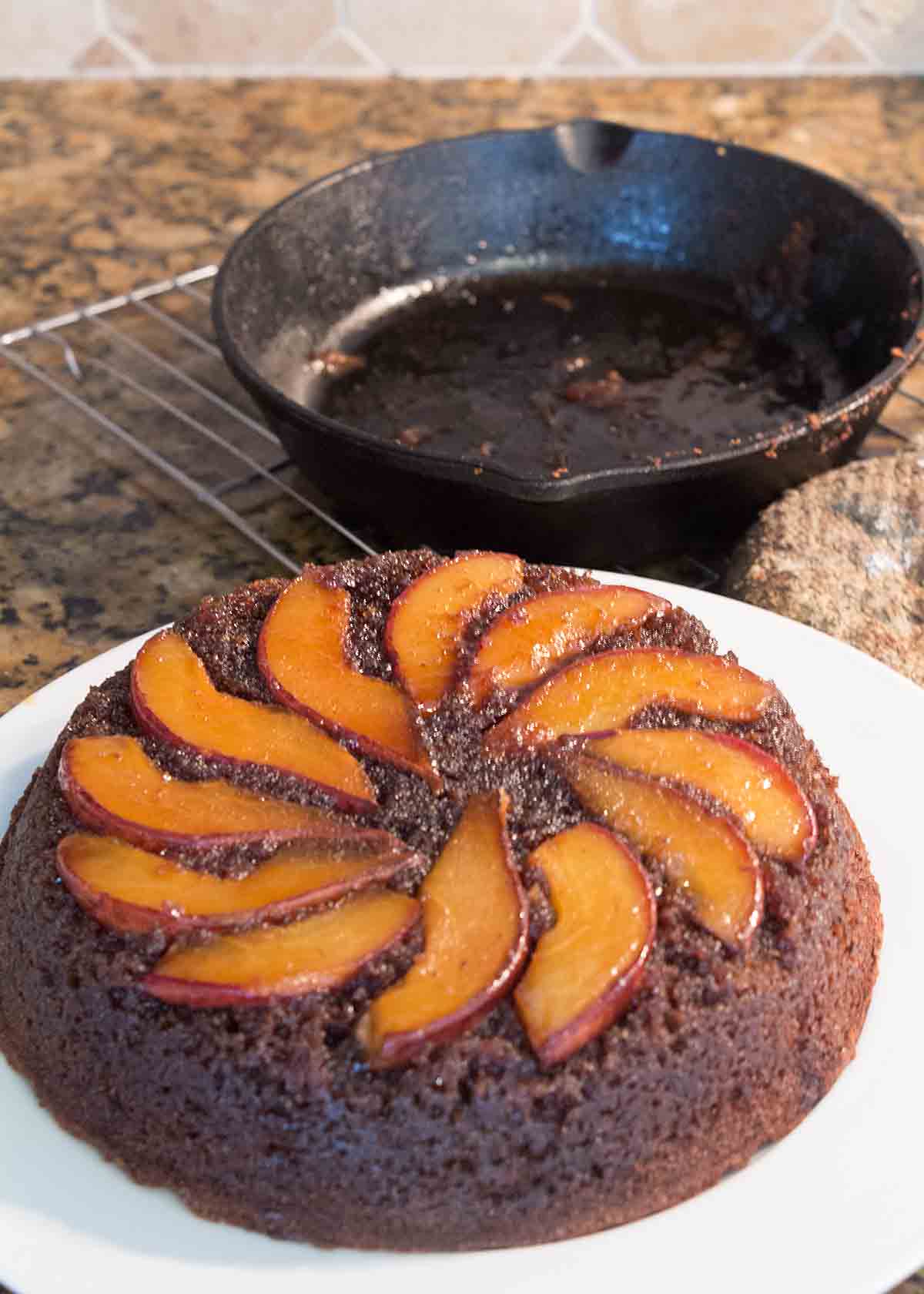 On Types of Molasses
The first time I worked with molasses, on a recipe I got from my mother, I just grabbed one I found at the grocers. The recipe was a disaster.
When I complained that it turned out dark and bitter my mother finally mentioned I needed to use mild molasses.
Thanks Mom.
So a word to the wise–err on the side of milder molasses unless specified by your recipe.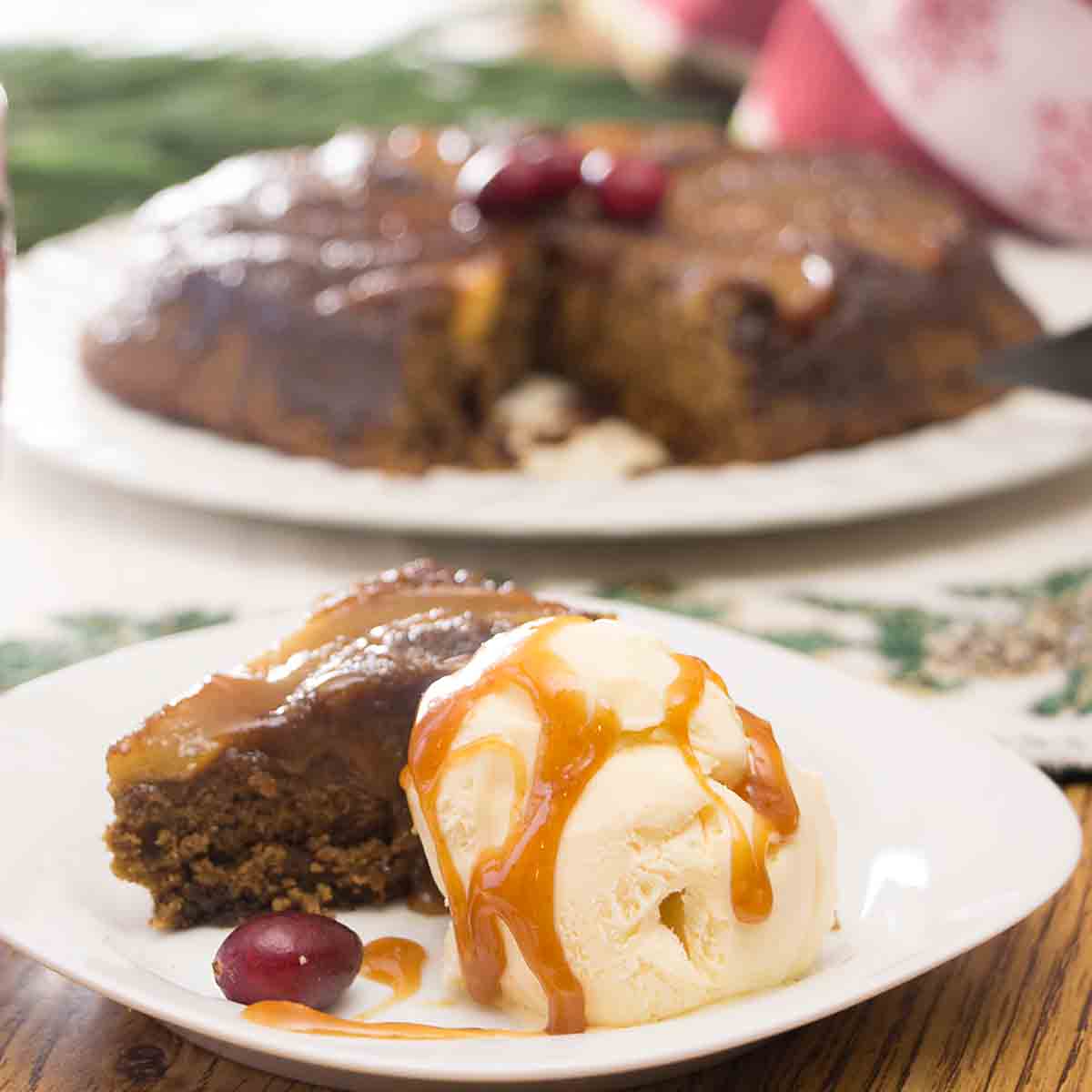 Cast Iron Skillets
This recipe is made in a cast iron skillet and, as a food blogger, I hate to admit that I was afraid of cast iron for years. I think I finally got over it when my mother gave me the family's old camping skillet and I had to re-season it. Turns out that wasn't so hard after all.
Of course, modern cast iron comes pre-seasoned so it's easy and there is real beauty in being able to take a pan from stove top to oven like in this dish.
I have only tried making Pear Gingerbread Upside-Down Cake in a cast iron pan. But I have seen similar recipes where the topping is cooking in a sauce pan, then transferred to a non-stick baking dish. So that should be possible, but I can't personally attest.
If you don't have a cast iron skillet, Lodge (not sponsored) is a well-rated and reasonably priced brand—I've picked up a few (in different sizes) at TJ Maxx stores. And really, I should never have waited as long as I did!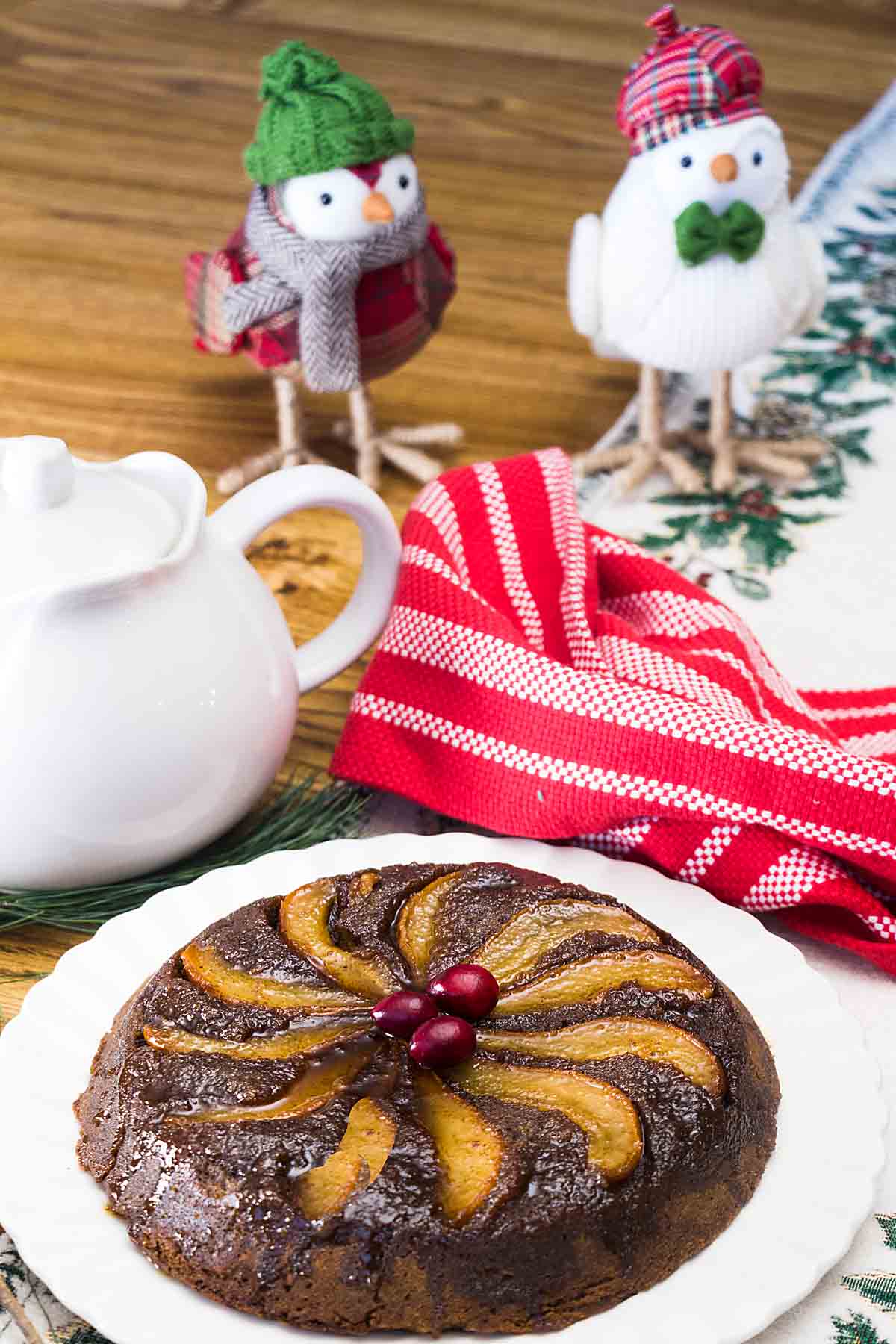 On Cake Size
I made this cake in an 8-inch skillet and it cut nicely into eight pieces. Plus the pear slices fit beautifully into a circle.
The post from the Blog Of Muses and Meringues that this is based on was designed for a 10-12 inch pan. Per this, if you want a very large cake, doubling the amounts should work in the larger size (you'd also need to increase baking time). Again, I haven't tested this.
How to Serve
Pear Gingerbread Upside-Down Cake can be served warm or cool. It is rich and flavorful, even plain, so you don't need to do more than serve.
But with ice cream and my recent easy caramel syrup, it is over the top! Other people enjoy it with whipped cream as well.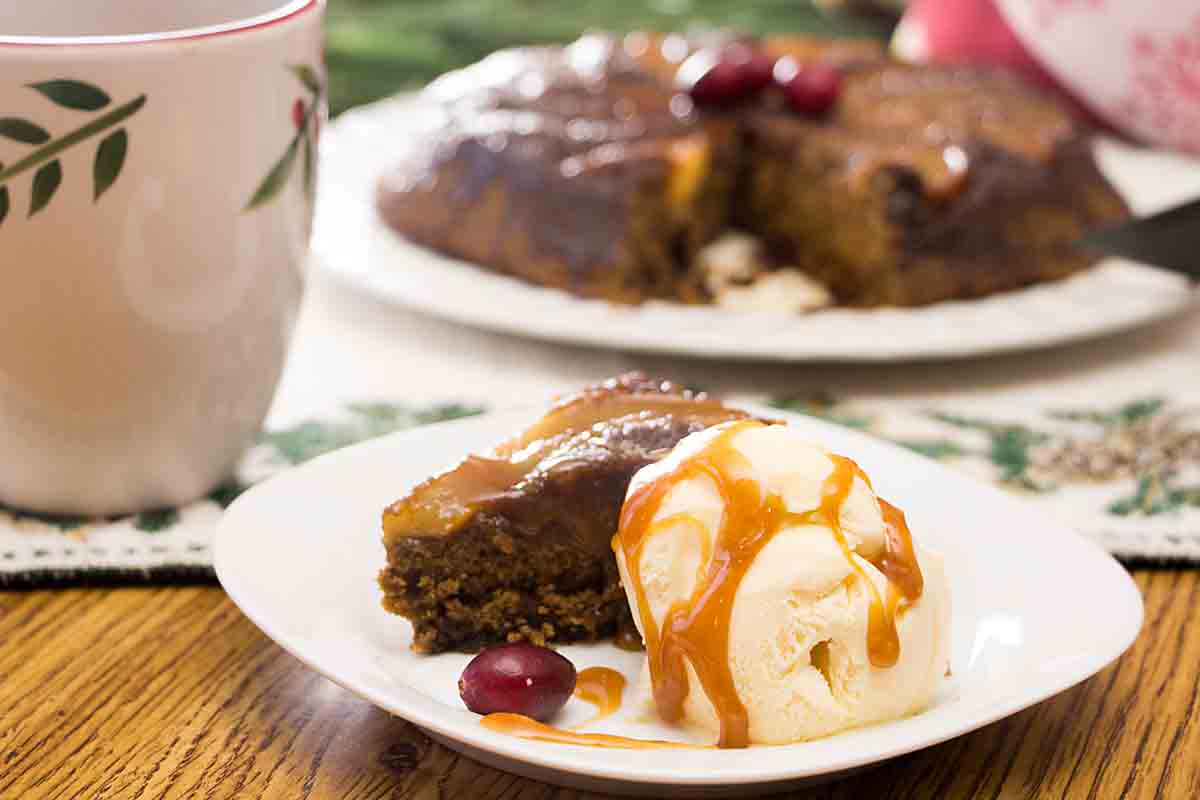 Pear-fect Recipes
We share Recipes From Our Dinner Table! Join our group and share your recipes, too! While you're at it, join our Pinterest board, too!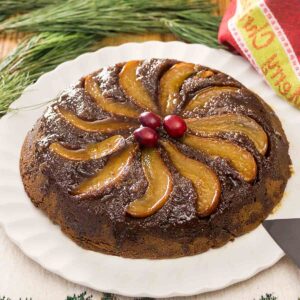 Pear Gingerbread Upside-Down Cake
With sweet pears and spicy gingerbread, this Pear Gingerbread Upside-Down Cake is aperfect holiday, or any day dessert.  Serve it plain or with ice cream and caramel!
Ingredients
Topping:
1

pear

firm, I used a Bosc

2

Tablespoons

butter

1/3

cup

brown sugar
Cake:
1 ¼

cups

white whole wheat flour

or all purpose

1

teaspoon

baking soda

1 ½

teaspoons

ground cinnamon

1

teaspoon

ground ginger

½

teaspoon

ground cloves

1/8

teaspoon

salt.

1/3

cup

mild molasses

1/3

cup

boiling water

¼

cup

butter

softened

¼

cup

brown sugar

1

egg

lightly beaten
Optional accompaniment: ice cream

caramel syrup, whipped cream
Instructions
Prepare Topping
Core pear and cut into 10-12 wedges. Peeling isn't needed.

Melt butter in well-seasoned 8-inch cast iron skillet over moderate heat and cook until it stops foaming. Reduce heat to low, then sprinkle brown sugar over bottom of skillet. Cook, without stirring, for 3 minutes.

Arrange pears evenly over sugar and cook, undisturbed, another 2 minutes.
Make Cake
Mix flour, baking soda, cinnamon, ginger, cloves, and salt in a small bowl. Whisk together molasses and boiling water in another small bowl, maaking sure molasses is dissolved.

With an electric mixer, beat together butter, brown sugar, and egg in a large bowl. Beat for 2 minutes.

Alternate adding flour mixture and molasses to butter mixture in 2 batches each, mixing at low speed until smooth.

Gently pour batter over pear topping in skillet. Spread evenly without disturbing the pears. Bake until a tester comes out clean, 30-40 minutes. (40-50 if you double recipe).

Cool cake in skillet on a rack 5-10 minutes. Run a thin knife around edge of skillet. Place a large plate over skillet and, using pot holders to hold skillet and plate tightly together, invert cake onto plate. Replace any pears that stick to skillet.

Serve warm or at room temperature.


Nutrition
Calories:
263
kcal
Carbohydrates:
43
g
Protein:
3
g
Fat:
10
g
Saturated Fat:
6
g
Polyunsaturated Fat:
0.5
g
Monounsaturated Fat:
2
g
Trans Fat:
0.4
g
Cholesterol:
43
mg
Sodium:
259
mg
Potassium:
289
mg
Fiber:
3
g
Sugar:
28
g
Vitamin A:
301
IU
Vitamin C:
1
mg
Calcium:
67
mg
Iron:
1
mg
I am not a health professional and nutrition data is calculated programatically. Accuracy may vary with product selection, calculator accuracy, etc. Consult a professional for the best information.