Vegan Breakfast Tacos with Pomegranate Salsa
With a bit of spice and a hint of sweet, Vegan Breakfast Tacos with Pomegranate Salsa will please vegans, vegetarians and meat lovers alike!
A few weeks ago, Big Mountain Foods sent me a little present–some of their vegan products. Happily this dovetailed with a holiday goal I have.
You see every year, my cooking challenges increase. Besides high expectations, guests arrive with all kinds of dietary restrictions. And of course I want to be able to feed everyone–well! These products are vegetable based (no "better living through chemistry") so I don't have to compromise my mission to eat real foods in meeting their needs. Plus they're gluten free and more!
So I decided to work on a recipe for vegan breakfast tacos with pomegranate salsa. This would be appealing to my meat-loving husband, my almost vegetarian "I don't even like meat" daughter and even my fully vegan niece.
Even better, adding pomegranate salsa would make it festive for the holidays and add a little extra nutrition. And come summer, if I can't find pomegranate there's always mango salsa!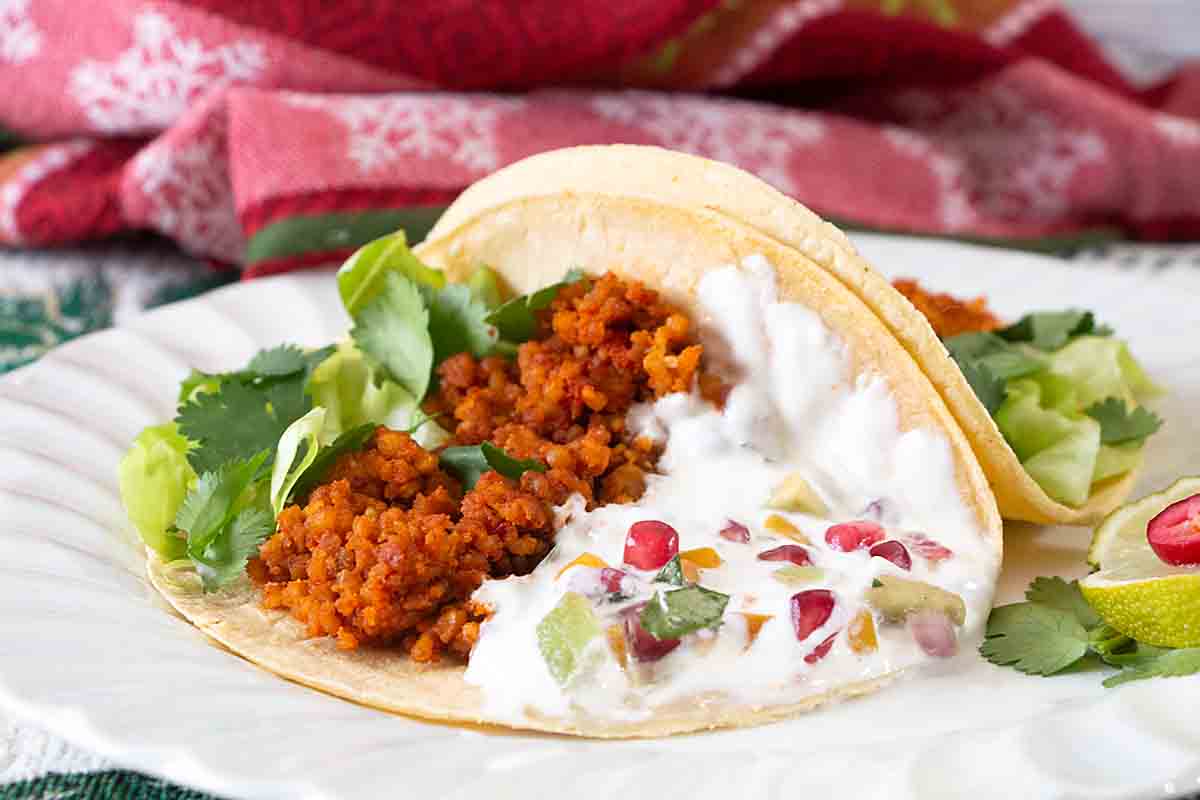 What is a Breakfast Taco
I've had breakfast tacos before (even in the Southwest), but I figured a person can learn a lot from a formal definition!
Wikipedia says that "the breakfast taco, found in Tex-Mex cuisine, is a soft corn or flour tortilla filled with meat, eggs or cheese, and can also contain other ingredients."
San Antonio's News 4, describes it as "One flour tortilla (or corn), a serving of refried beans (or filling of your choice) and some cheddar cheese. A hint of lime, some pico de gallo, salsa verde, … The breakfast taco is a work of art that you put together. No other skills are necessary."
And although my Wisconsin roots make me no kind of expert, the fruitiness of this salsa seemed perfect for breakfast, when lighter can be more appealing.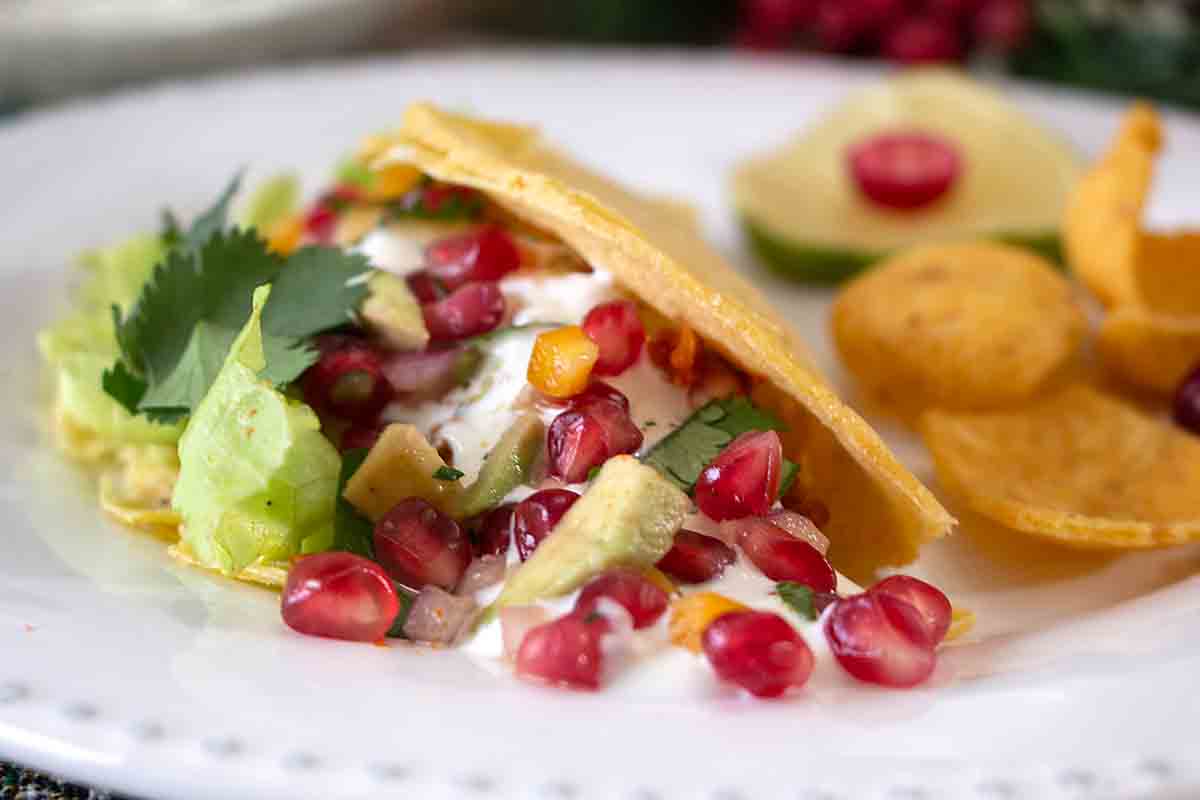 Don't You Need (Vegan) Eggs in Breakfast Tacos?
I used to think that breakfast or brunch tacos had to have eggs but the above definitions set me straight–and the answer is "no." Just when I was all set to learn vegan eggs! But this is easier (who likes easier!) and truthfully it might have dulled down the flavor.
Now out of an abundance of caution, I did offer a few extra items like refried beans and jalapeno slices that people could use to embellish their breakfast tacos. But in the end, these tacos were so flavorful, I didn't add anything else!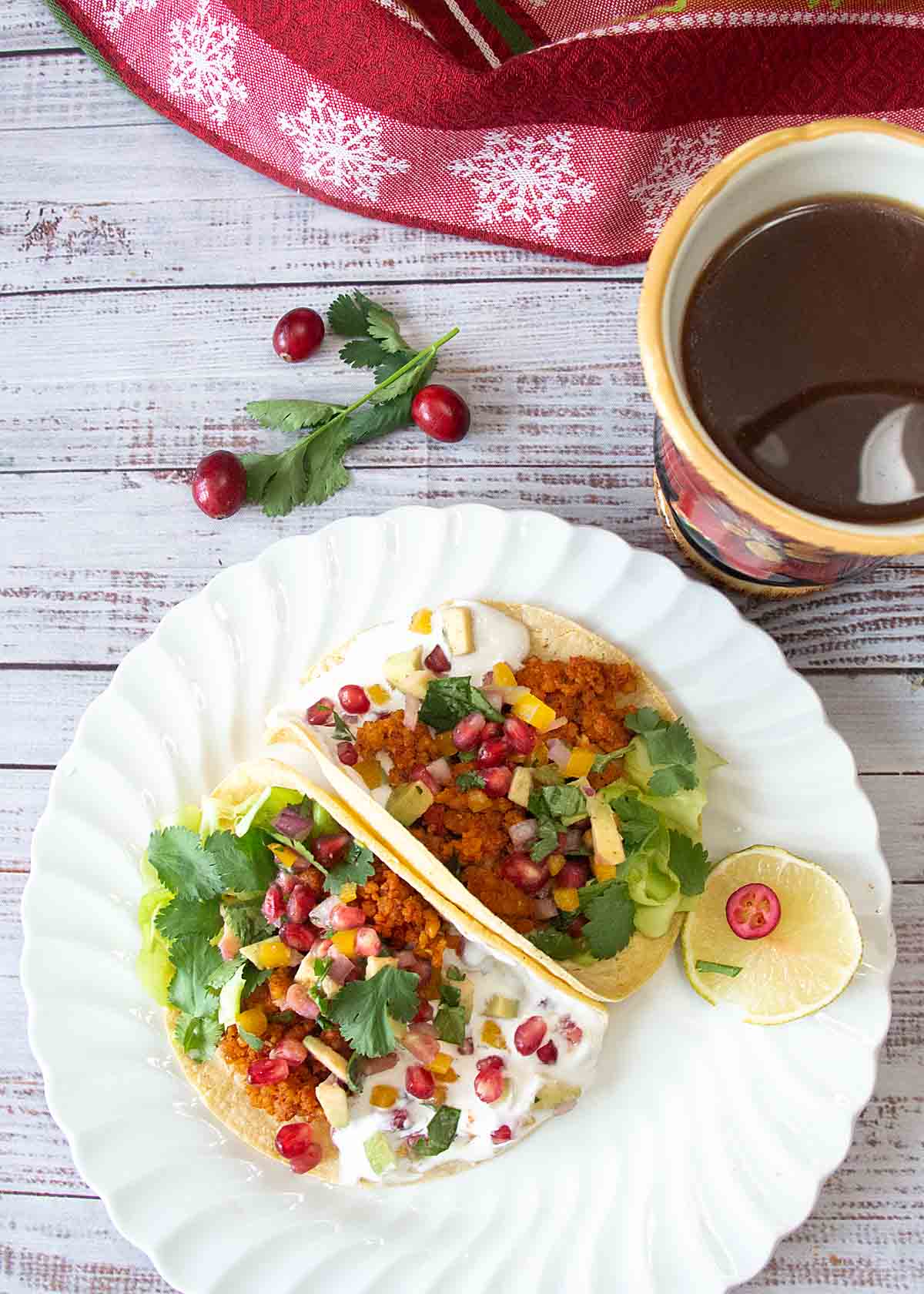 What Makes This a Winner
This recipe truly exceeded all of my expectations. Yes, this is from a girl who just sent back her restaurant breakfast burrito for lack of flavor! That's because these Vegan Breakfast Tacos are:
Tasty. The Big Mountain Foods CauliCrumble Veggie Grounds season up just like ground beef and even have a similar consistency. After the addition of taco seasoning and a little tomato paste, I had to stop myself from eating it straight out of the pan. The pomegranate salsa adds a bright fresh note and makes them feel extra special.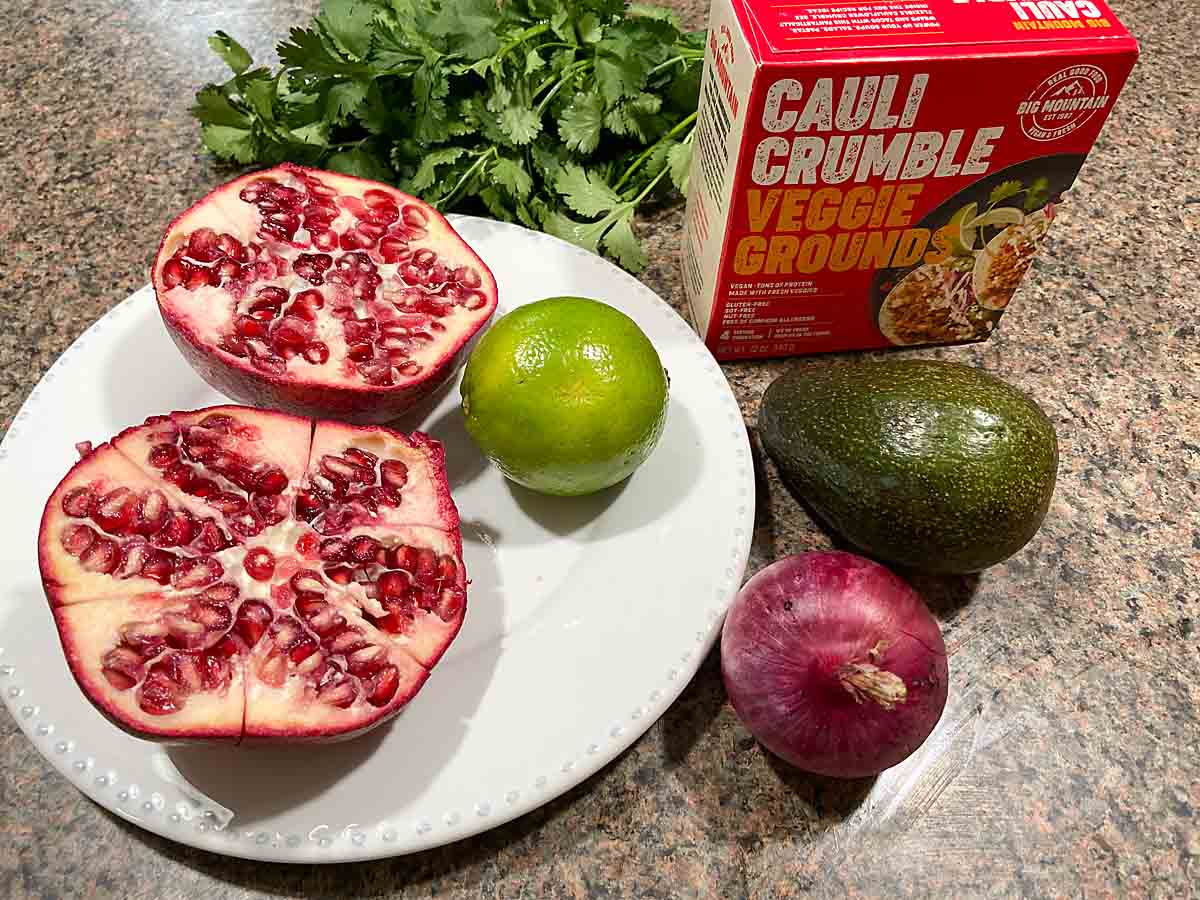 Easy. True confession—I detest browning ground beef. With the Veggie Grounds, all I did was heat a little oil, open the package and stir it in. It took just minutes. I would use these for that reason alone.
Healthy. I expected the Veggie Grounds to deliver healthy breakfast tacos but what really surprised me was the amount of fiber–43% of the daily recommendation per serving! And the lettuce and pomegranate salsa add another boost. How's that for starting your day right!
Ingredient Notes
The only unusual ingredient in my vegan breakfast tacos is the CauliCrumble Veggie Grounds that take the place of the meat. This product is produced by an award-winning, women-owned, Canadian company called Big Mountain Foods (Facebook, Instagram, Twitter). And it is also gluten-free, nut-free and soy-free!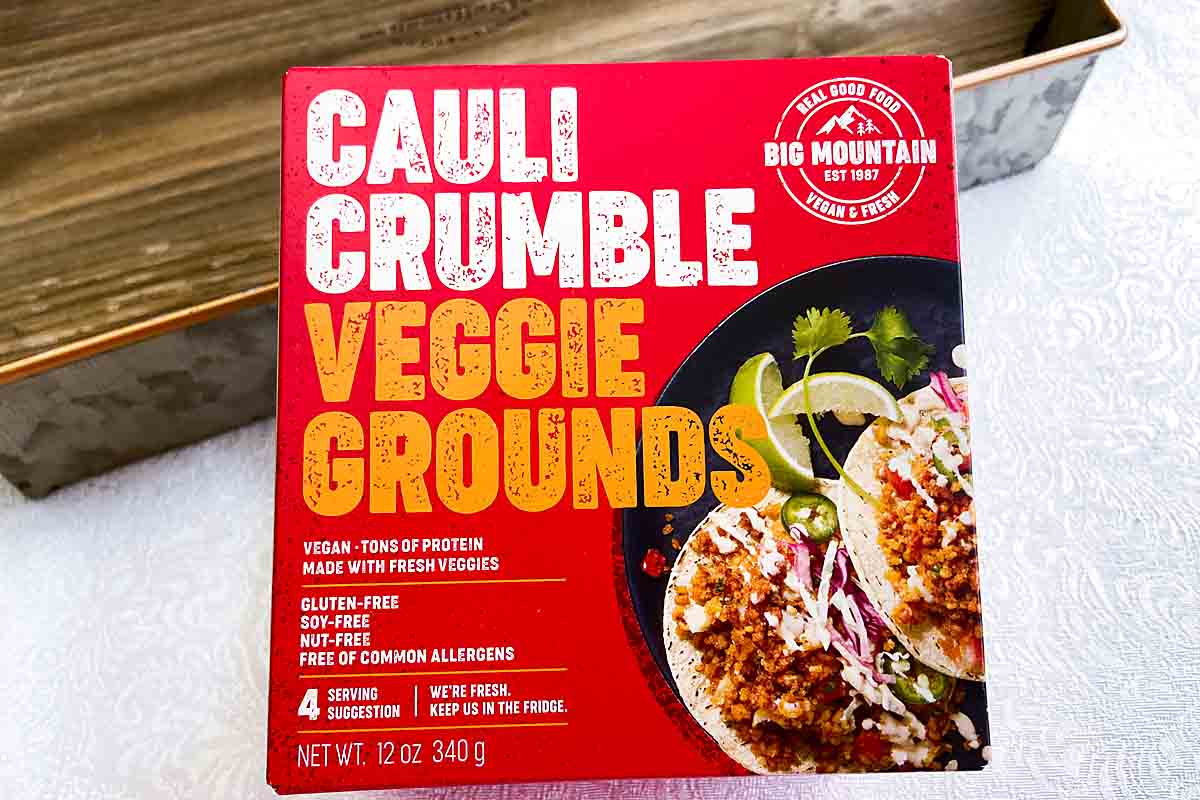 In case you aren't used to working with Pomegranates, I include some instructions below. These cover how to remove the arils, or juice-covered seeds, which is the edible portion of the fruit. Or your grocer may carry the arils already extracted.
You can serve this with soft corn or flour tortillas. I usually have both and let my guests pick whichever they prefer.
Step by Step Directions
These Vegan Breakfast Tacos are easy to put together. You start by mixing the salsa ingredients.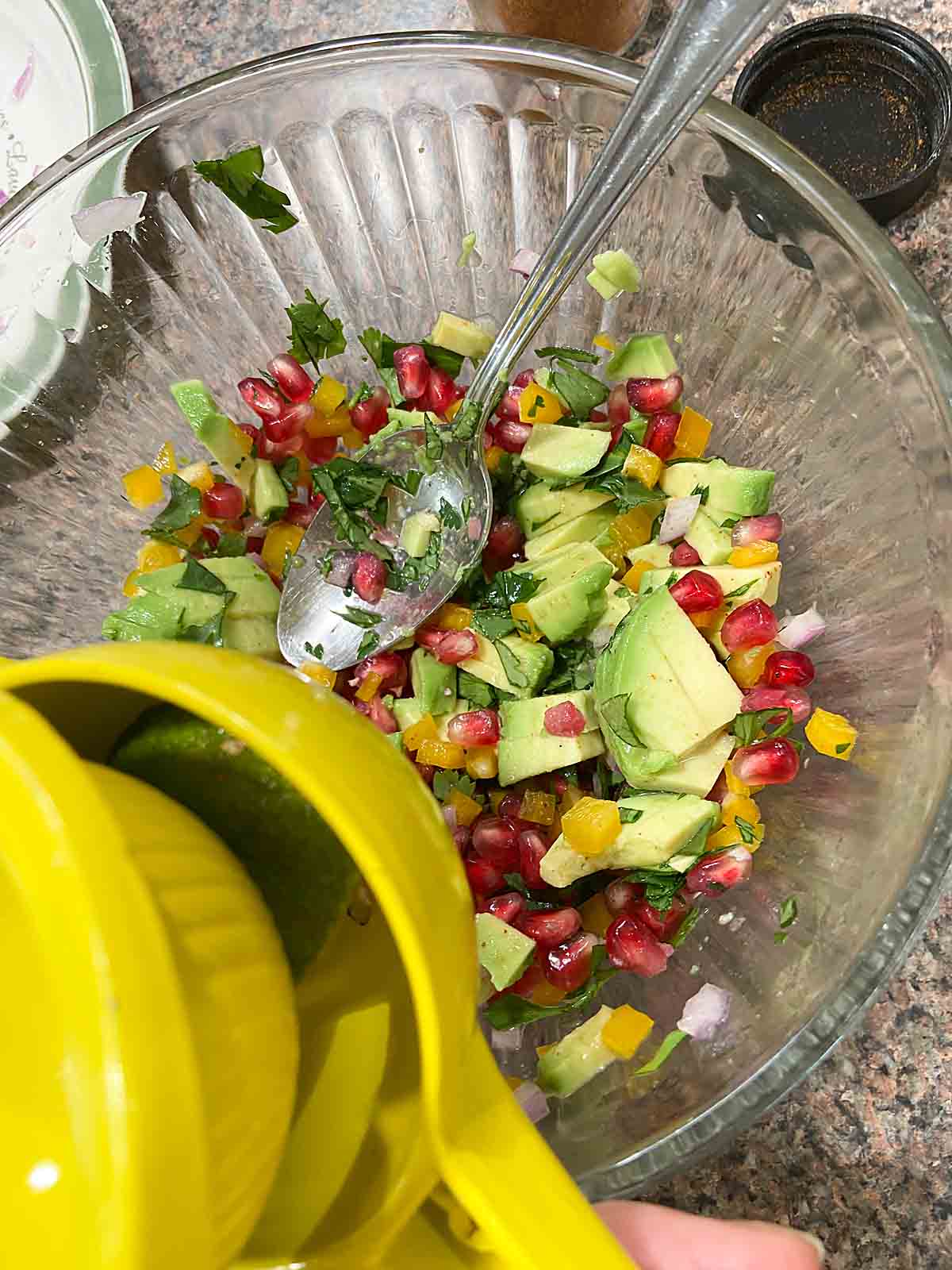 Heat the veggie crumbles in a little oil.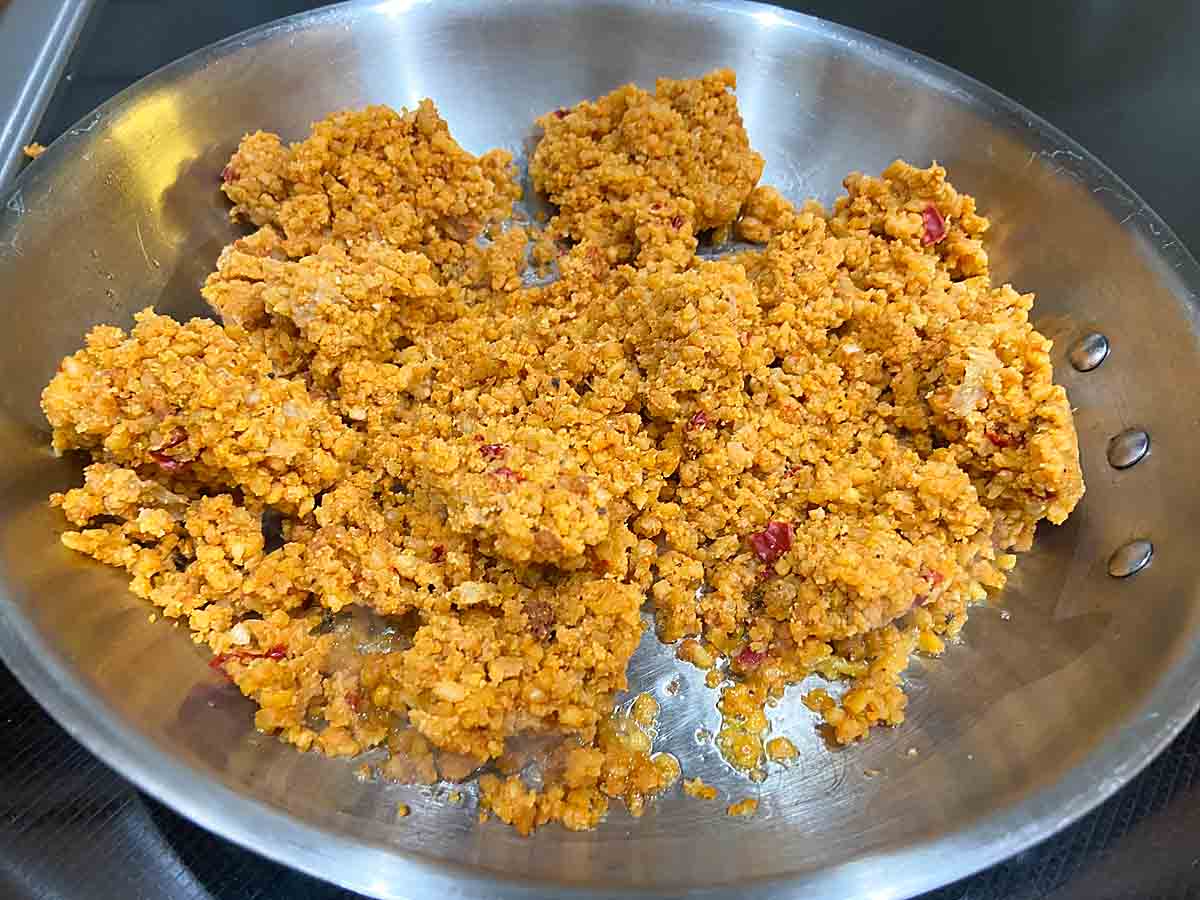 Then add tomato paste, taco seasoning and a little water and cook until thickened.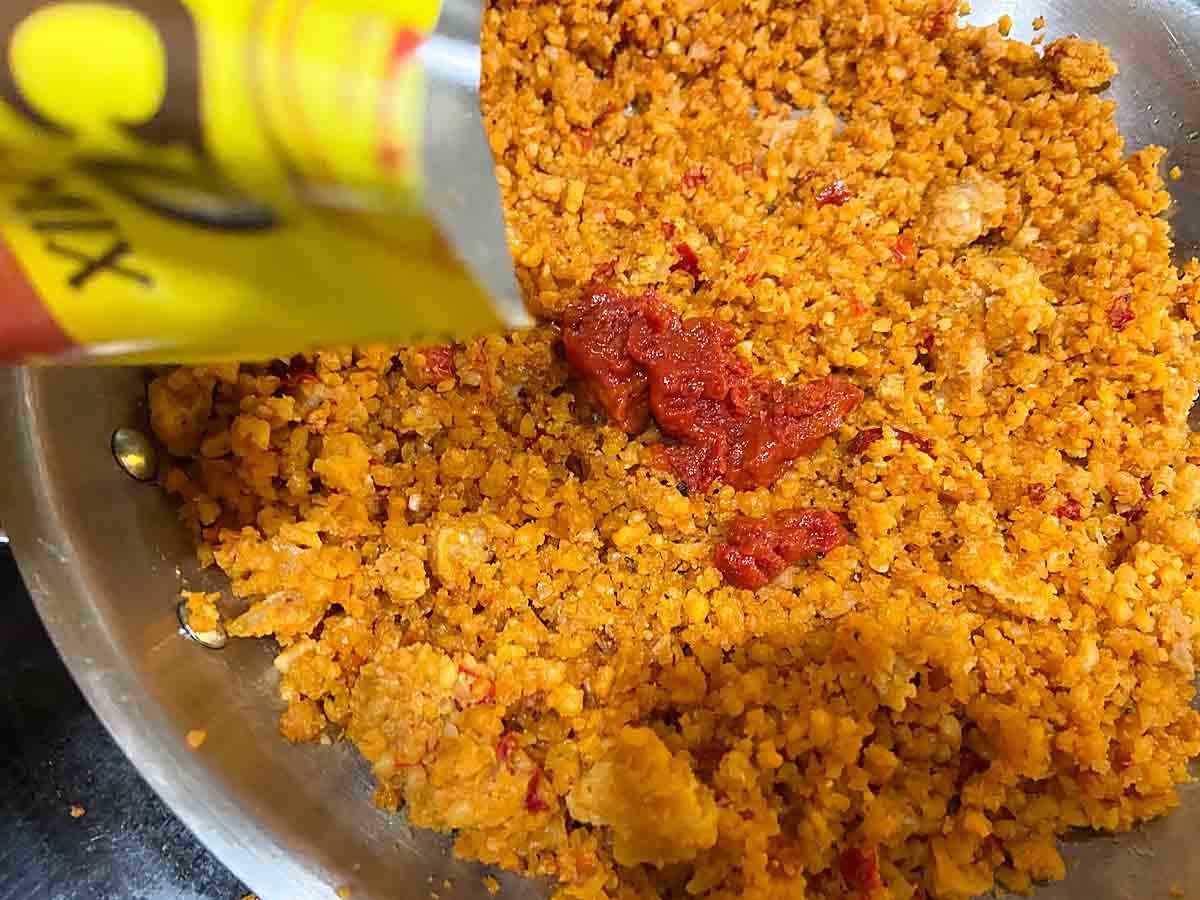 Assemble tacos and serve–or let your guests make their own.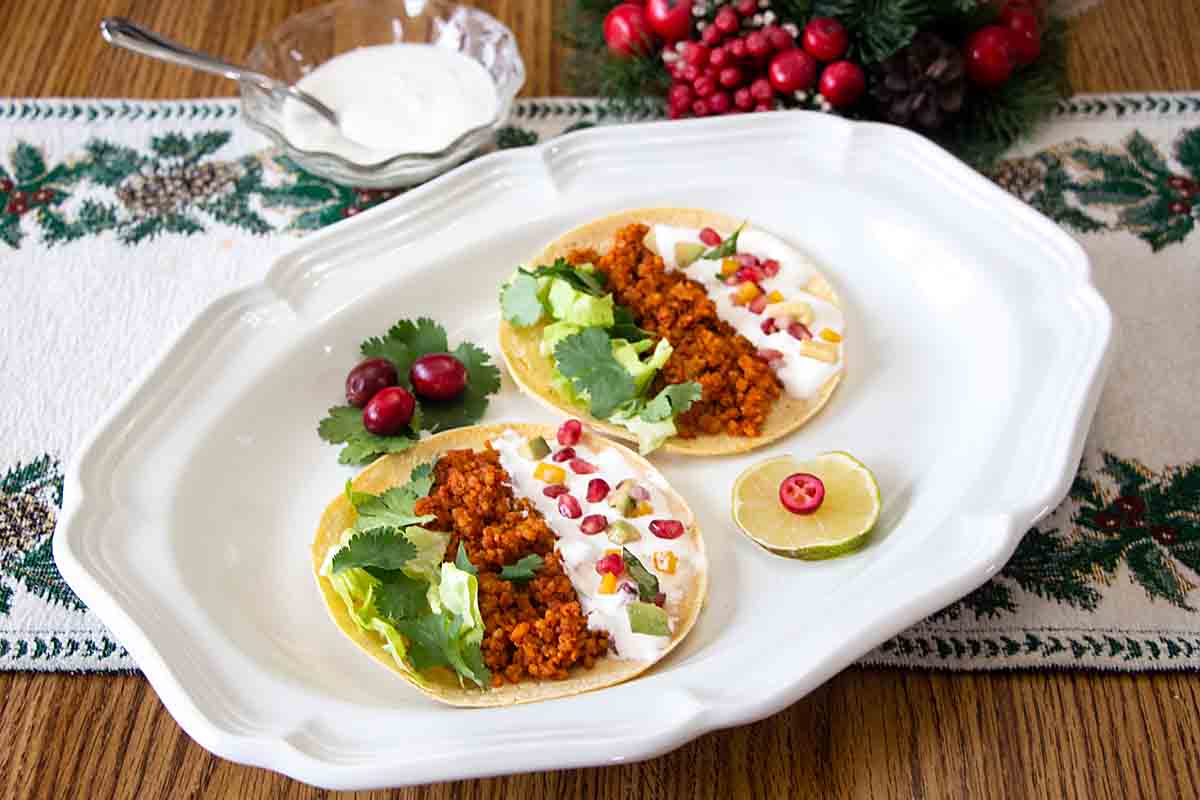 How to de-seed a pomegranate
The easiest way to get pomegranate arils/seeds is to buy them already extracted. Now because I like to work with pomegranates all season, I usually buy mine whole and seed them as needed.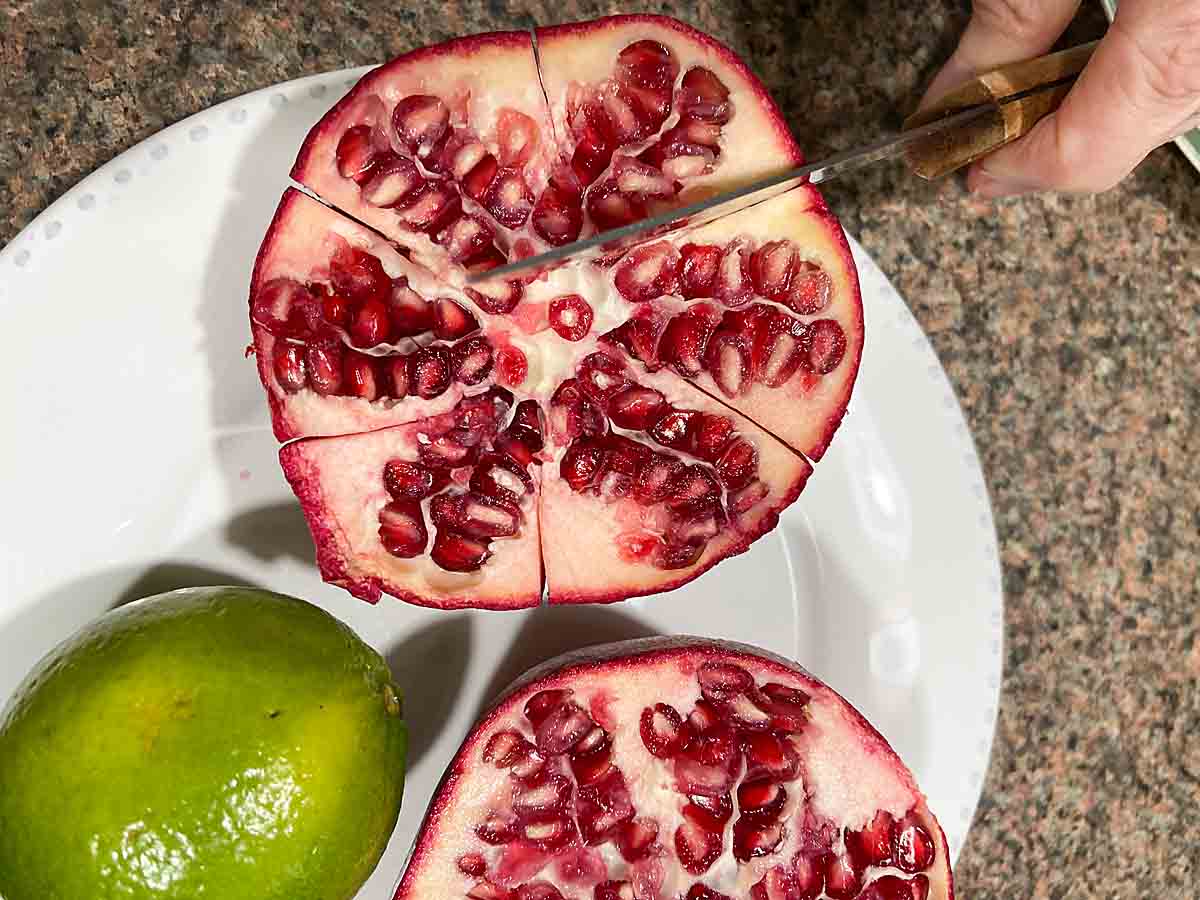 You can buy a pomegranate deseeder and using this may be the easiest approach. You cut the pomegranate in half then slice down the sides like the picture above. Then set the deseeder over a bowl, invert the cut pomegranate half on it and whack it (I like using a one piece ice cream scoop). The seeds/arils will drop through the deseeder into the bowl.
But when I don't have a seeder handy, I have taken a similar approach using a small plate. You have to be careful not to hit the plate as you whack and you need to remove some seeds at an intermediate point. But it's a reasonable substitute if you're not too violent 🙂 .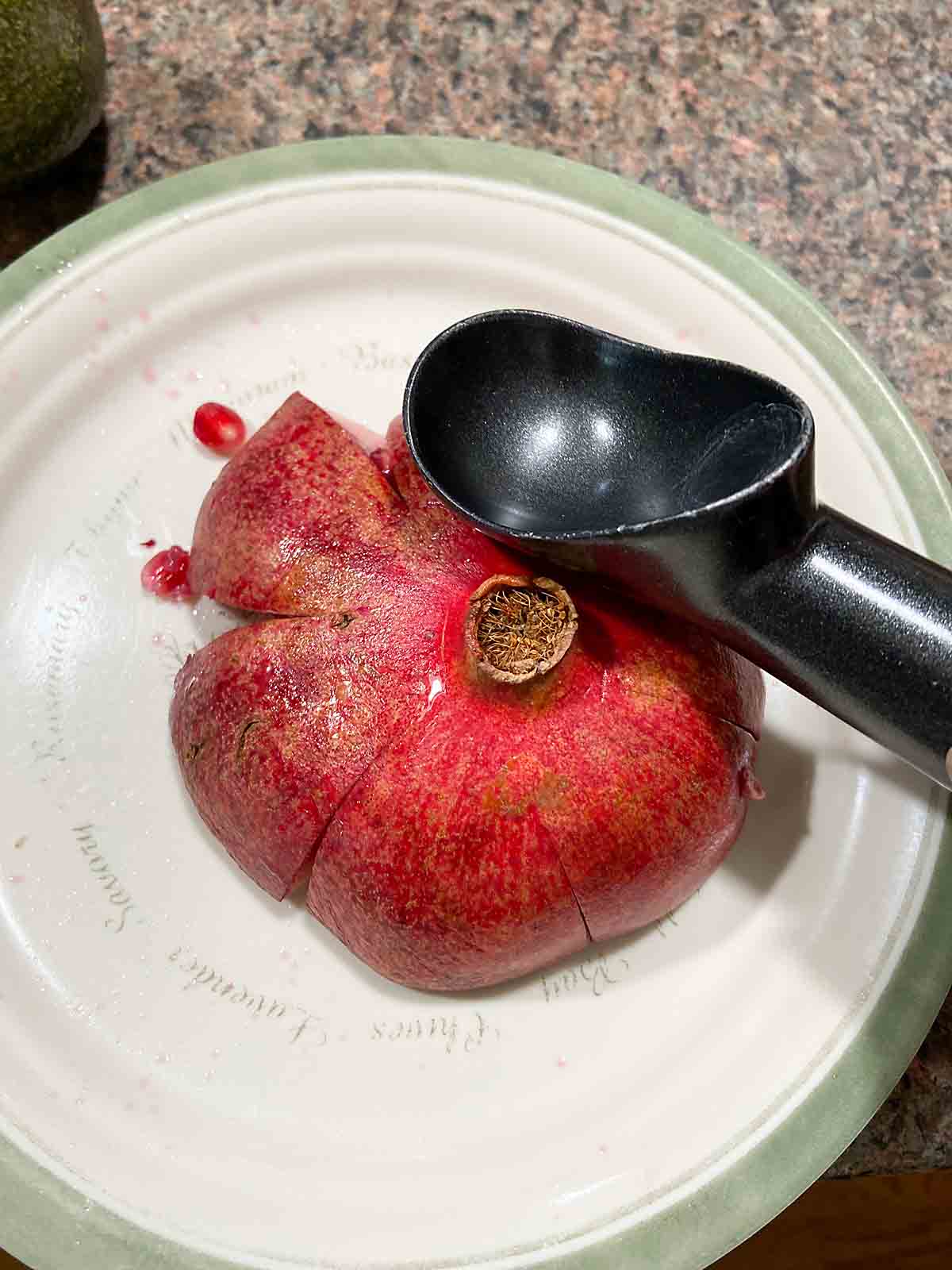 How to Serve
There are so many things that go well with tacos. But somehow my Vegan Breakfast Tacos with Avocado Pomegranate Salsa didn't seem to need much extra other than lettuce, a little extra cilantro, (vegan) sour cream and the salsa.
But if you want to add more, consider setting out guacamole or more avocado, jalapeno slices, chopped tomatoes and/or grated (vegan) cheese. Then let everyone indulge as they wish.
Refried beans and rice are also very tasty as side dishes—or can go right in the taco! And since we're talking breakfast, some fried or roasted potatoes could also go into or alongside these tacos!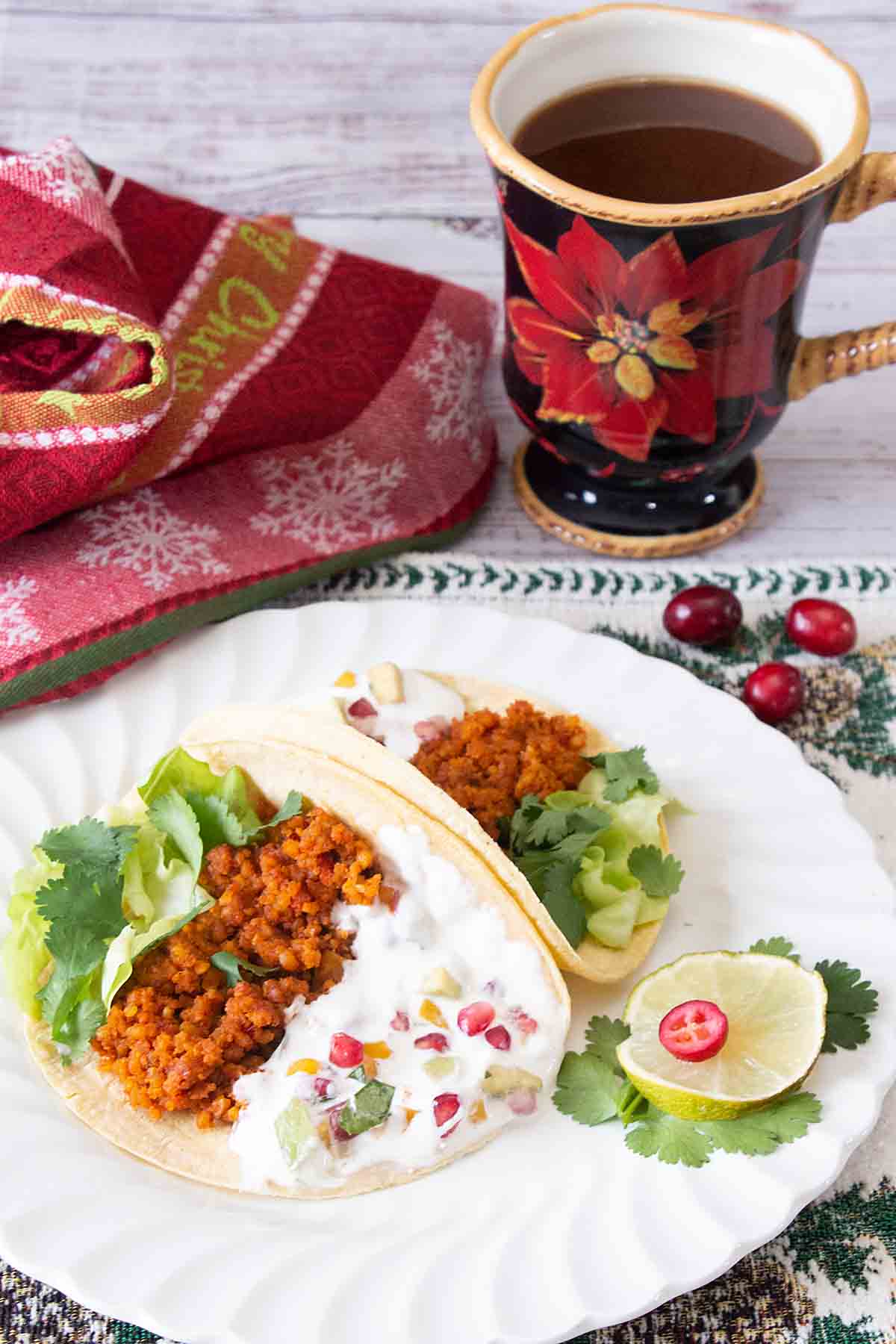 Variations
If you prefer to substitute a homemade taco seasoning mix, you may want to add a little water and thickener (cornstarch, tapioca starch or your favorite thickener) to help create a small amount of "sauce". This will make it more equivalent to commercial taco seasoning which contains thickeners.
Unlike most fruit salsas that you see, mine has a touch of cayenne powder added instead of diced jalapeno. I think the heat from cayenne is more consistent (unless it's getting old) and controllable than that from fresh jalapenos and you don't need to wear gloves to dice it! I love the fruitiness followed by a gentle hit of heat. And even my spice adverse husband could handle the small amount in here.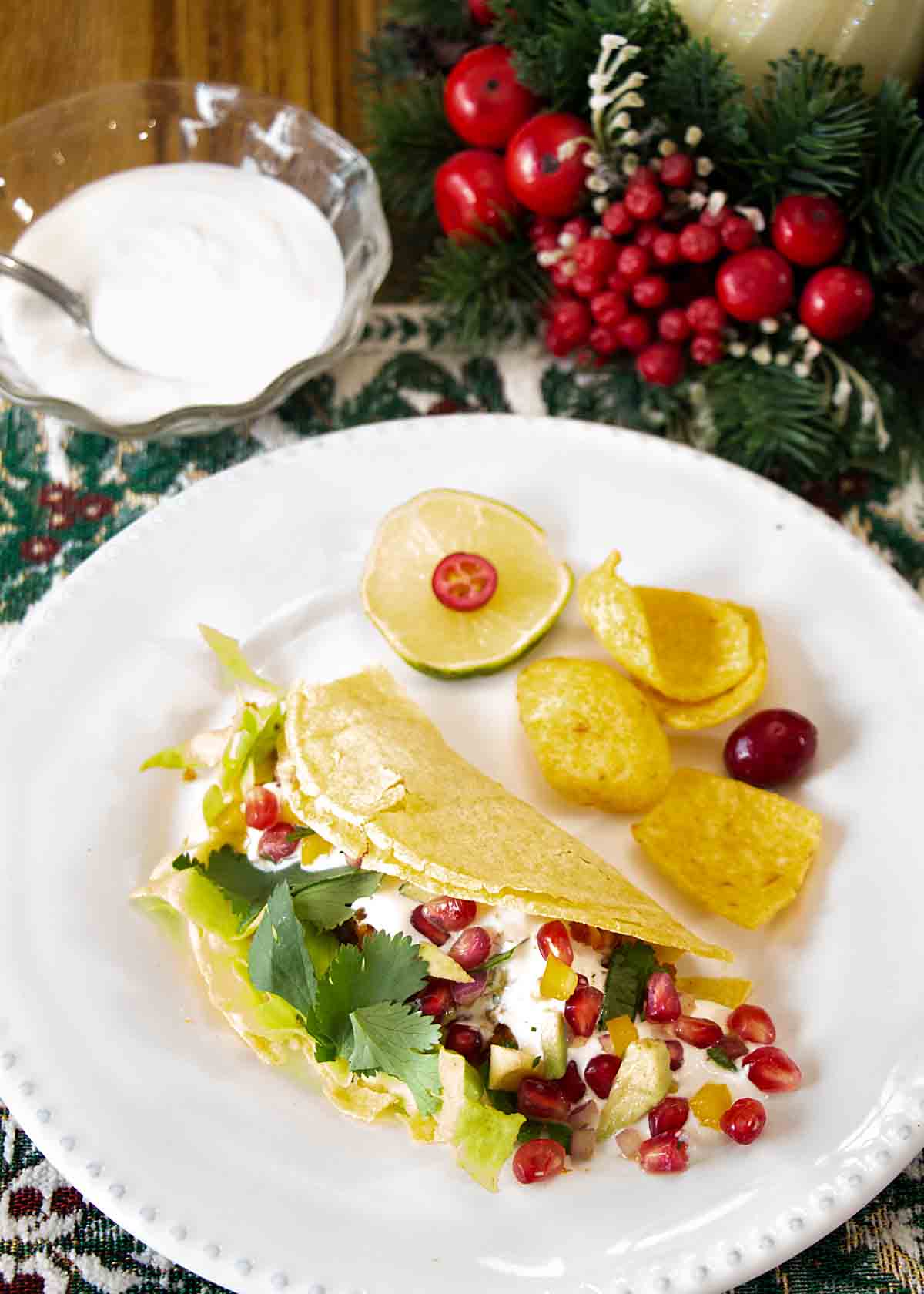 Serving Outside of Pomegranate Season
Believe me, you're going to want to eat this all year round! If pomegranate isn't in season, just substitute another fruit. Mango Salsa is one of my favorites and I have also used kiwi.
If you want to keep the holiday colors, but can't get pomegranate, you can use kiwi instead of pomegranate and red mini-peppers instead if yellow and you'll still have the red and green!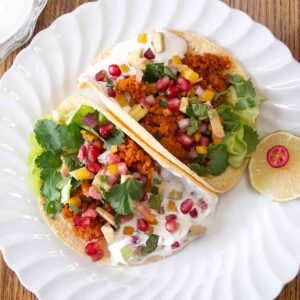 Vegan Breakfast Tacos with Pomegranate Salsa
With a bit of spice and a hint of sweet, Vegan Breakfast Tacos with Pomegranate Salsa will please the vegans, vegetarians and meat lovers alike!
Ingredients
Pomegranate Salsa:
1

pomegranate

seeds only (about 1 cup)

¼

cup

chopped cilantro

¼

cup

diced red onion

1

avocado

diced ( about 1 cup) drizzled with juice from ½ lime

2

yellow mini peppers

diced (about ½ cup)

¼

teaspoon

cayenne powder

or to taste
Taco filling:
1

Tablespoon

vegetable oil

I used high oleic sunflower

1 12-

ounce

package Big Mountain Foods Cauli Crumble Veggie Grounds

2

Tablespoons

tomato paste

1

package Taco seasoning

About 1/3 c water

I used half of what the package recommends
For serving:
chopped lettuce

vegan sour cream

tortillas

8-12, depending on size

extra chopped cilantro & avocado
Instructions
Mix together chopped salsa ingredients. Set aside.

Heat oil in a large skillet. Add veggie grounds and stir until heated.

Add tomato paste and taco seasoning mix. Add half of the water recommended on the taco seasoning package. Reheat to thicken. If needed, add additional water up to package recommendation to create slight "sauciness."

Assemble tacos by spooning on a few tablespoons (more for a larger tortilla) of taco mixture onto a tortilla. Top with lettuce, (vegan) sour cream and pomegranate salsa. Or set out the taco mixture, salsa, tortillas and toppings and let your guests make their own.

Notes
This makes aa generous amount of salsa. If there are leftovers, they are delicious served with tortilla chips.
I am not a health professional and nutrition data is calculated programatically. Accuracy may vary with product selection, calculator accuracy, etc. Consult a professional for the best information.
#BigMountainFoodsRecipeChallenge, #BigMountainFoods, #Veganrecipes