If ice cream is made for summer, is fruit sorbet—like this Pear Riesling Sorbet–made for fall?
Last summer I had a great time testing ice cream recipes from Jeni's Splendid Ice Creams at Home (not sponsored). I made a few from the book (like this chocolate), then took her how-to-avoid-hard-icy-homemade ice cream theories and started innovating (pumpkin anyone?). It was so much fun—and my kids thought I was the best mom ever!
25 degrees down in temperature, I decided it was time to try making a fall flavored sorbet.
I ended up at her Pear Riesling Sorbet because I recently found a great source of organic pears. Eating them was easy, but cooking with them has been more challenging. The fruit has a delicacy, both in texture and flavor which means finding the right recipe is critical. I can't tell you how many disappointing pear pies I've tried.
Not a problem with this Pear Riesling Sorbet. Or in my case, Pear Chardonnay Sorbet, since I had a bottle open (though wine snobs would probably say Riesling is a better pairing). I was afraid the simple mix would be underwhelming, but it was lovely. The sweet pear flavor came through clearly and was well highlighted by the sophisticated notes of the wine.
When I served some guests, I tried an alternative presentation to the one shown above. Instead of adding a cookie, I placed a scoop on top of a swirl of strawberry curd, with a sprig of thyme. Rave reviews!
Besides tasty, this recipe was a snap to make. Just cook up all the ingredients together, strain (Jeni strains after chilling, I prefer staining before), chill (I place the saucepan in the freezer and stir periodically, Jeni cools the mix bagged in ice water), then freeze. And the staining meant I didn't even need to peel my pears!
Pear Riesling Sorbet… fall happiness in a dish?
Celebrate with Pear Desserts!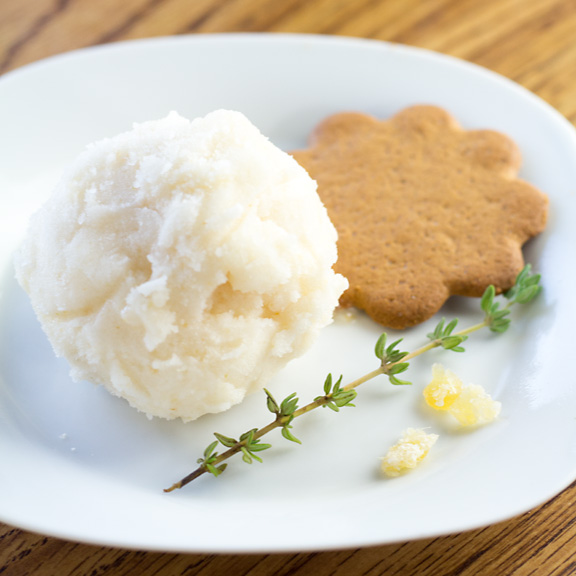 Pear Riesling Sorbet
2016-10-30 11:05:58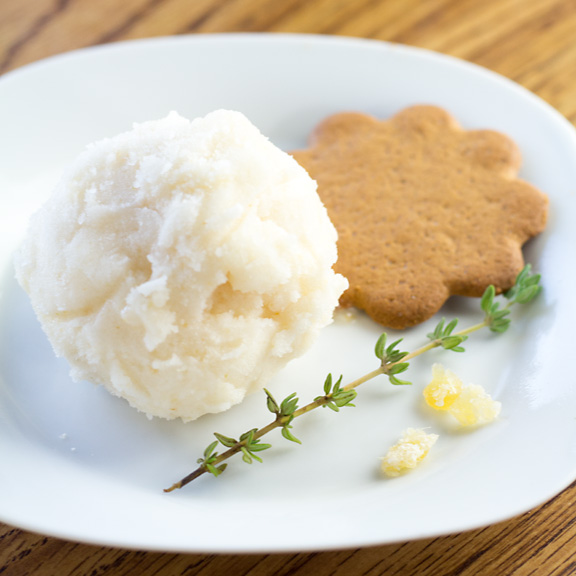 Serves 8
If ice cream is made for summer, fruit sorbet, like Pear Riesling Sorbet is made for fall--with a sweet pear flavor and sophisticated hint of white wine.
Nutrition Facts
Amount Per Serving
* Percent Daily Values are based on a 2,000 calorie diet. Your Daily Values may be higher or lower depending on your calorie needs.
Ingredients
• 6 medium pears, unpeeled, cored, and cut into 1-inch pieces (approx 1 3/4 lb)
• ½ cup sugar
• ½ cup Riesling (or other white wine)
• ¼ cup water
• ¼ cup light corn syrup
Instructions
Combine the ingredients in a medium saucepan. Bring to a boil over medium-high heat, stirring to dissolve the sugar. Lower the heat and simmer until the pears are soft, 5-10 minutes. Remove from the heat and let cool slightly.
Puree the pear mixture in a blender one batch at a time until completely smooth. Strain, pushing pulp through the strainer. (I re-pureed whatever didn't go through with fresh pulp until the last batch, then discarded the solids that were left)
Chill mixture in the freezer stirring occasionally until cool (or cool in the refrigerator or a bag in ice water).
Freeze in an ice cream freezer according to manufacturer directions.
Transfer to a storage container and freeze until firm, at least 4 hours.
Notes
Makes about a quart.
Adapted from Jeni's Splendid Ice Creams at Home
Adapted from Jeni's Splendid Ice Creams at Home
Art of Natural Living https://artofnaturalliving.com/
Save