Spiced Honey Pear Bread (Canned, Frozen or Fresh)
Spiced Honey Pear Bread is a delicious and easy sweet bread. And it works with canned or frozen pears for a treat that is budget-friendly, even in winter!
I love the holidays–and especially the week between Christmas and New Year's. The pressure is off and the leftovers plentiful. Talk about merry!
One of my easy-living adaptations is to only do two meals/day—even with my husband and kids home. But dining lite has one important prerequisite: leaving ample snacks around. Healthy, of course.
This year I made a spiced honey pear bread inspired by a jar of home canned pears I found in my pantry. What a refreshing blast from summer!
Have you heard that we are eating (almost) all local this year? That means a lot of cooking from preserved ingredients. But this was hardly a hardship when it came time to serve this honey pear bread!
And even if you're not dining local, canned or frozen fruit can offer seasonal cost savings!
The honey pear bread was a big hit and half the loaf disappeared while still warm. More tomorrow I guess!
Celebrate with Pear Desserts!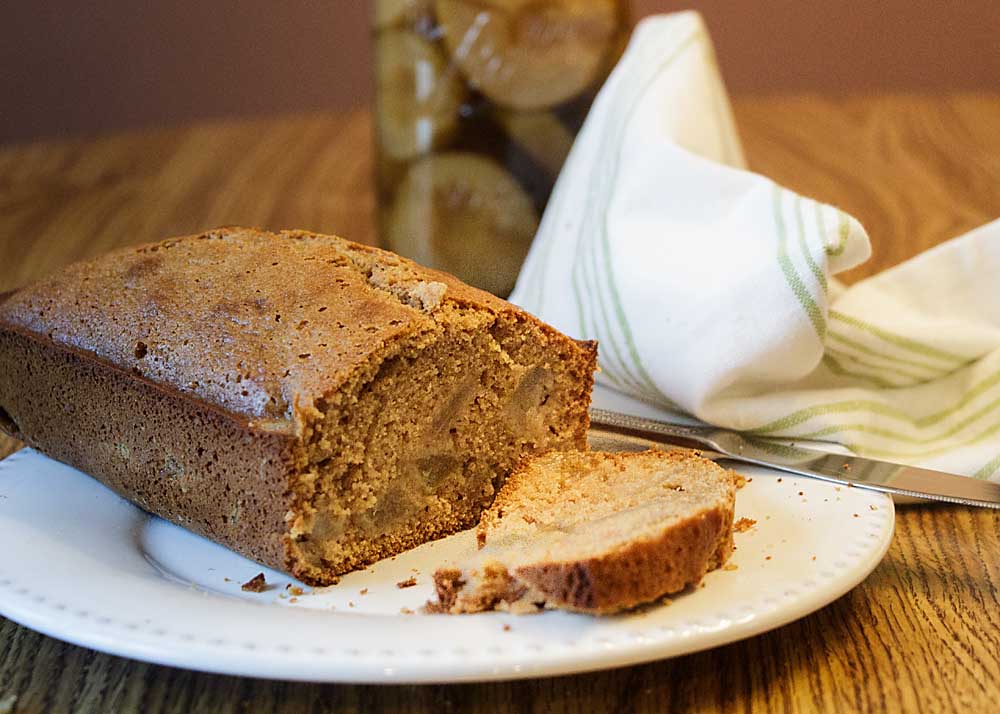 Spiced Honey Pear Bread
2017-12-29 12:23:23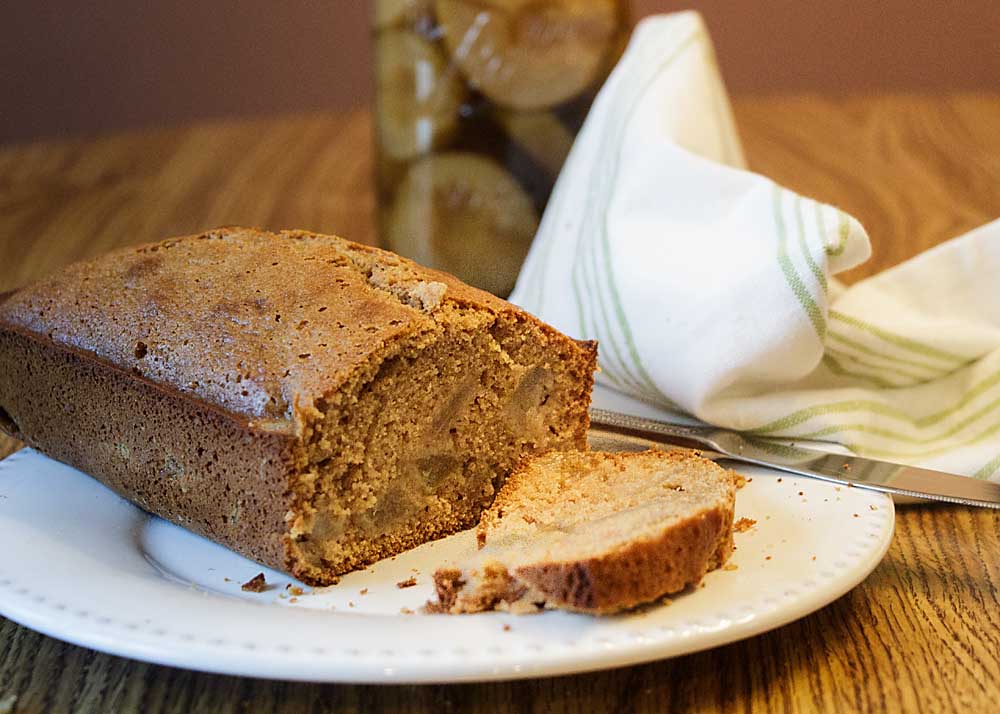 Spiced Honey Pear Bread is a delicious and easy sweet bread. Good with canned, fresh or frozen fruit!
Nutrition Facts
Amount Per Serving
* Percent Daily Values are based on a 2,000 calorie diet. Your Daily Values may be higher or lower depending on your calorie needs.
Ingredients
• 1/4 cup oil of your choice, (melted if a hard oil)
• 1/2 cup honey (can substitute sugar and 1 T extra juice or milk)
• 1 teaspoons vanilla
• 2 eggs, beaten
• 1/4 c fruit juice (from can) or milk (or 2T juice + 2 T rum)
• 2 c whole wheat pastry flour (or half whole wheat, half all purpose)
• 1/2 teaspoon baking powder
• 1 teaspoon baking soda
• 1/4 teaspoon salt
• 1 teaspoon ground ginger
• 1 t cardamom (optional)
• 1 t cinnamon
• 1 can (15 ounces) pear halves, drained & chopped, or 1 1/2 cup cored and chopped fresh or frozen pears
Instructions
Combine honey, oil, vanilla and fruit juice. Add beaten egg and combine well.
Mix dry ingredients (except pears) and combine with wet ingredients.
Fold in chopped pears
Grease or spray a loaf pan and flour the bottom.
Bake at 350F until bread tests done with a toothpick--about an hour.
Wait 5 minutes, then remove from pan and cool on wire rack.
Art of Natural Living https://artofnaturalliving.com/