Red Cabbage, Apples and Kielbasa
Last week I had a red cabbage crisis. With no red cabbage left from my (somewhat limited) CSA supply, I came acress a recipe for Red Cabbage, Apples and Kielbasa in a Midwest Living magazine. It looked so good that I couldn't bear to wait for next year's harvest to give it a try.
So I made a special trip to the grocery store, where they didn't have organic. Even worse, it cost me $4 for a single cabbage.
What?! I have sauerkraut to make, sweet & sour red cabbage to freeze, Easter eggs to dye! So when my buying club had a ginormous case of organic red cabbage for $29.95, I jumped.
Now I wouldn't do this for just any vegetable but red cabbage is seriously healthy. According to the World's Healthiest Foods website, "The rich red color of red cabbage reflects it concentration of anthocyanin polyphenols, which contribute to red cabbage containing significantly more protective phytonutrients than green cabbage. Interest in anthocyanin pigments continues to intensify because of their health benefits as dietary antioxidants, as an anti-inflammatory, and their potentially protective, preventative, and therapeutic roles in a number of human diseases."
Even more importantly, I love red cabbage. Especially in ethnic based dishes like Red Cabbage, Apples and Kielbasa–full of flavorful broth, fruity sweetness, and hint of caraway. I decided to serve it over mashed potatoes, adding to it's comfort food appeal. Even my youngest (aka my "picky daughter") said it was good–after she got done wrinkling up her nose.
I am lucky to have a ready source of organic kielbasa—which I suspect is also lower in fat than typical commercial. If you can't get a kielbasa you are comfortable using, I would recommend going with another form of sausage rather than skipping the dish entirely.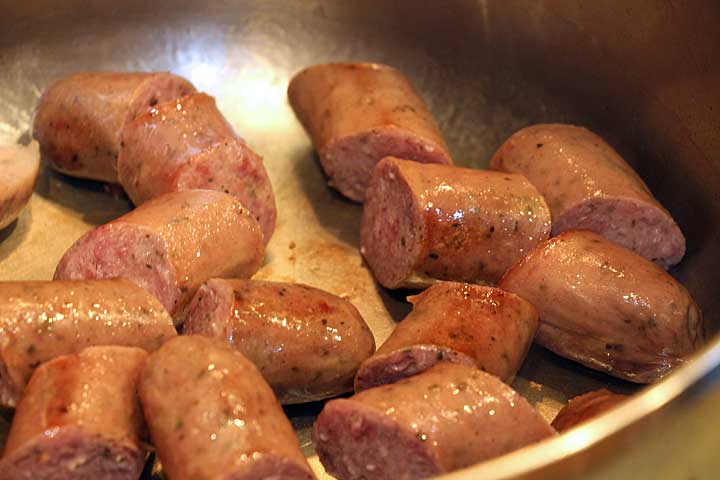 I did modify the recipe slightly, mostly to make it a tad easier. I adapted the "two-step" technique from my recent Pork & Mushroom Ragout with Carrots, and browned the sausage, fried onions and garlic, then dumped everything in the pot to finish cooking. Prep tip—a mandolin is a low tech way to simplify cutting the red cabbage. (what ever did I do before I had one…).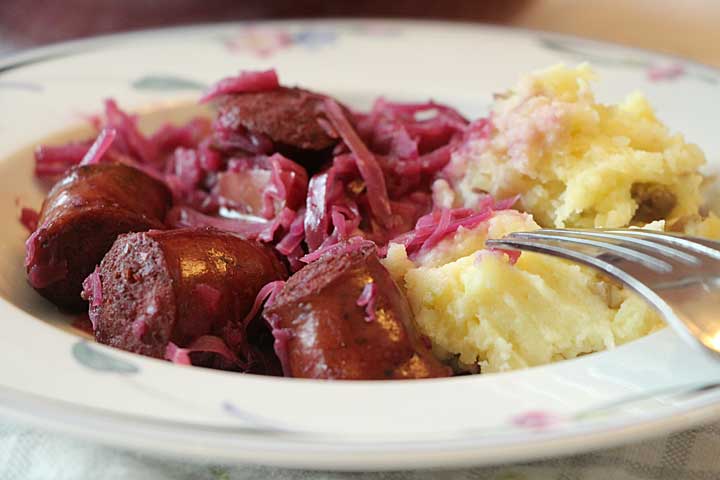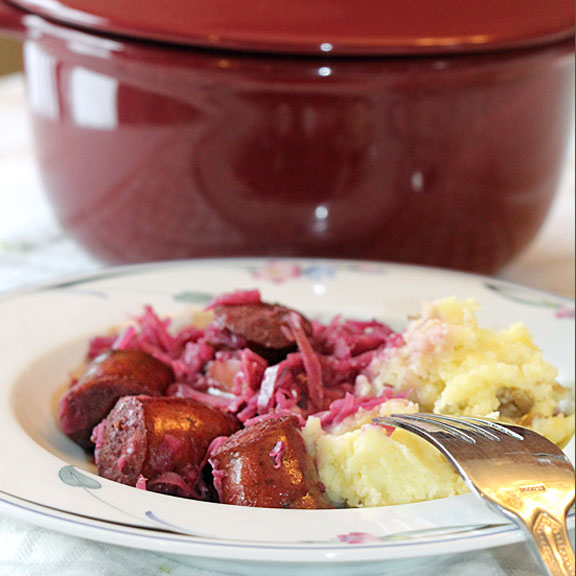 Red Cabbage, Apples and Kielbasa
2016-01-17 16:57:05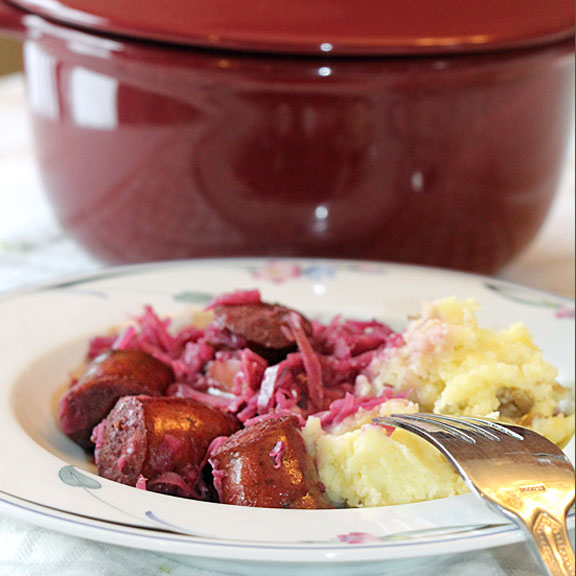 Serves 4
Full of flavorful broth, fruity sweetness, and hint of caraway, Red Cabbage, Apples and Kielbasa becomes healthy comfort food served over mashed potatoes.
Nutrition Facts
Amount Per Serving
* Percent Daily Values are based on a 2,000 calorie diet. Your Daily Values may be higher or lower depending on your calorie needs.
Ingredients
• 1 pounds smoked kielbasa, bias-cut into 1 inch thick slices
• 3 teaspoons olive oil, divided
• 1 medium head red cabbage (1 1/2 to 2 1/2 pounds), cored and thinly sliced
• 1/2 cup chopped onion
• 2 cloves garlic, minced
• 1 1/2 cups apple cider or apple juice
• 1 cup dry red wine
• 1 tablespoon packed brown sugar
• 1 teaspoon caraway seeds, lightly crushed*
• 1/2 teaspoon salt
• 2 medium apples, cored, but unpeeled, and cut into 1-inch chunks
• 1 tablespoon balsamic vinegar
Instructions
In a Dutch oven, cook the kielbasa in 2 teaspoons hot oil over medium-high heat until browned, about 5 minutes. Transfer to paper towels with a slotted spoon and set aside. Drain partially if there is excessive fat in the pan (there was none in my pan)
Add remaining teaspoon of oil, onion and garlic to the pot. Cook until onion is tender, 5-10 minutes.
Deglaze the pan with the red wine, then return the kielbasa, stir in the remaining ingredients and bring to a boil. Reduce heat and simmer, covered, until cabbage wilts down, about 15 minutes. Continue cooking, uncovered, until cabbage is tender and liquid is reduced, about 20 minutes.
Art of Natural Living https://artofnaturalliving.com/