S'mores Panna Cotta starts with creamy chocolate panna cotta, topped with vanilla meringue and graham cracker crumbs for a fun and elegant summer dessert.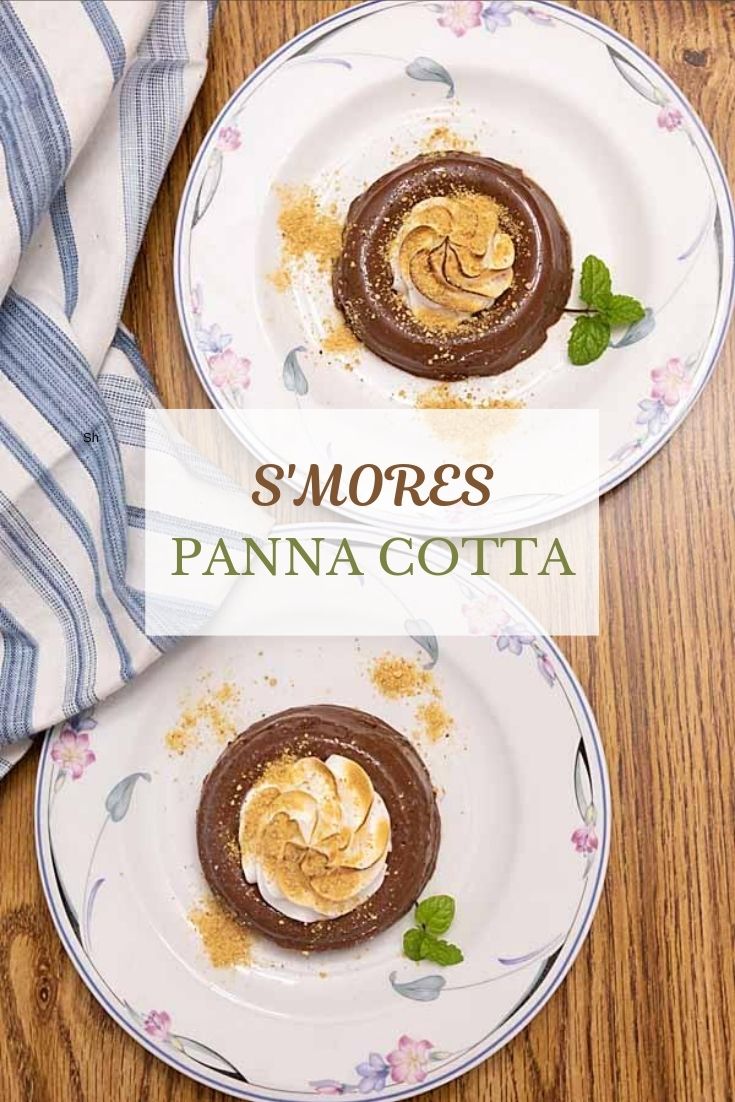 When my Sunday blogging group decided to do a s'mores theme, my gut told me to bow out. Right now, I'm trying to eat lower carb and that makes s'mores pretty tough.
Not to mention, I hate to ignore the rest of the world and do a dessert that must be done keto.
But then I saw a chocolate panna cotta and the wheels started to turn. What if I did a panna cotta but topped it with marshmallow-y meringue and just a dusting of graham cracker crumbs. It could be prepared with sweetener for low-carb eaters or sugar for everyone else.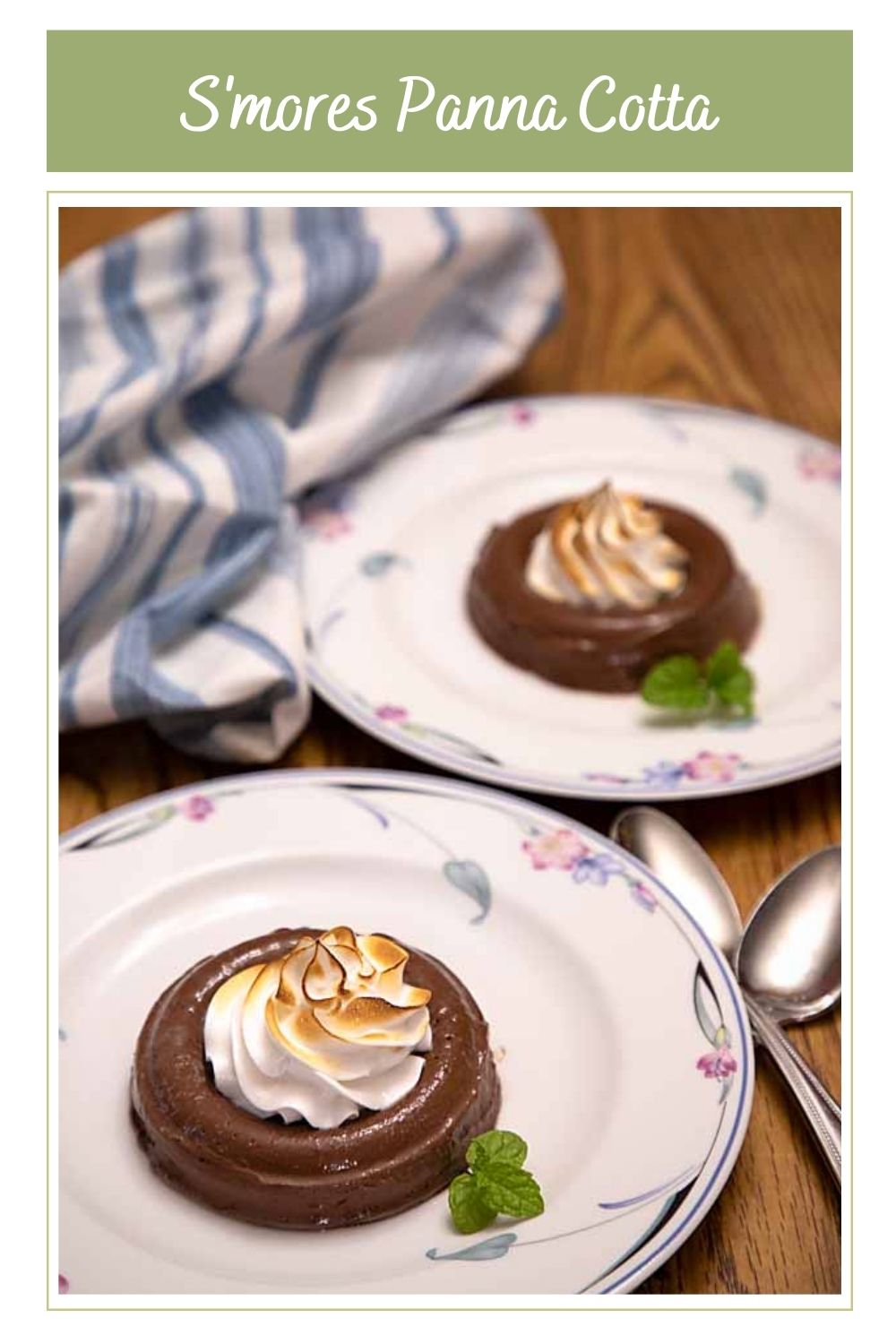 In the end, it proved easier in theory than practice. I made the panna cotta in wreath-shaped circular molds. But I kept having trouble unmolding it to get to the next step. If you have time to let these sit overnight, it comes out beautifully, but I didn't have that much time. (Not that I was late on this post or anything…)
In the end I cooled the panna cotta, then popped it into the freezer for an hour or two. Then I dipped the mold in hot water and ran a thin knife along the edges. A few hard shakes later, they slipped on to a plate.
Happily, the meringue worked perfectly the first time. I had decided to experiment with the sweetener allulose because it's supposed to brown like sugar. I made an Italian meringue (pour boiling sugar into beaten egg whites), piped it onto the panna cotta and it worked just like I had hoped!
Finally, I served my kids who gobbled it down without even realizing it was sugar free (ny husband and I were full up eating the unmolding failures)
Victory!
I will consider one change, however, the next time I do this. If I don't have time for a lengthy wait, I may pour the panna cotta into a small tart pan, let it set, then top with meringue rosettes. Served like a pie or scooped would be make for a nice dessert too!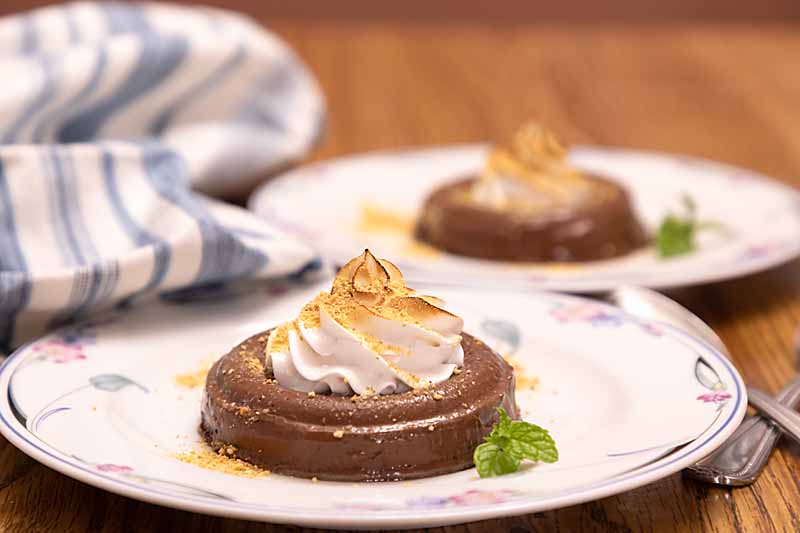 S'mores Panna Cotta
Total Time:
4 hours
40 minutes
S'mores Panna Cotta starts with creamy chocolate pannacotta, topped with vanilla meringue and graham cracker crumbs for a fun andelegant summer dessert.
Ingredients
Panna Cotta:
2 Tablespoons milk
2 teaspoons plain gelatin
1 1/4 cups heavy cream
3 Tablespoons zero calorie sweetener (see note)
Pinch of salt
3 oounces unsweetened chocolate, finely chopped (see note)
½ teaspoon vanilla
Meringue/Marshmallow:
1/3 cup allulose sweetener (see note)
2 T water
1 egg white
Pinch cream of tartar (optional)
½ teaspoon vanilla
2 Tablespoons (or more) graham cracker crumbs
Instructions
Sprinkle 2 Tablespoons milk with the gelatin and let sit for at least 5 minutes. Microwave in 10 second increments until warm. Stir to dissolve gelatin,
Heat cream, sugar/sweetener, chocolate and whisk until chocolate dissolves. Add vanilla.
Pour into four 1/2 cup molds or a small tart pan. Let set at least 4 hours, but ideally overnight. (It may help to freeze for the last hour if you plan to unmold the panna cotta in the shorter time frame).
To make meringue, beat egg white, cream of tartar and vanilla until stiff. Heat water and sugar or sweetener until it reaches 240 F on an instant read thermometer. With mixer running, gradually pour the syrup over the beaten egg white and keep beating until very stiff and cool.
Unmold panna cotta if desired by dipping mold into hot water, running a knife over the edge, placing a plate on top and flipping.
Transfer meringue into piping bag. Pipe rosettes onto the panna cotta. Brown the meringue rosettes with a torch and top with graham cracker crumbs.
Notes
Sugar can be used instead of sweetener
You can substitute semisweet chocolate and reduce sugar by 1 Tablespoon or combine 6 Tablespoons cocoa and 2 Tablespoons cocoa butter or coconut oil.
Nutrition Information:
Yield:

4
Serving Size:

1
Amount Per Serving:
Calories:

425
Total Fat:

39g
Saturated Fat:

24g
Trans Fat:

1g
Unsaturated Fat:

12g
Cholesterol:

85mg
Sodium:

93mg
Carbohydrates:

13g
Fiber:

4g
Sugar:

5g
Protein:

7g
Nutrition data accuracy may vary with product selection, calculator accuracy, etc. Consult a professional for the best information.
Scrumptious S'mores Recipes
We share Recipes From Our Dinner Table! Join our group and share your recipes, too! While you're at it, join our Pinterest board, too!