Isn't it fun to have friends who cook? For me, this includes one of our "up north" neighbors–and we always are excited when we get a dinner invitation! This recipe is based on one she served us, adapted some to use things I needed to use up, so thank you Lolly!
My kids always feel that other people cook "normal" food while at home they are relegated to "hippie" food. Pretty sure that my recent Strawberry Meringue dessert and Steak Diane aren't "hippie" food, but once you get a reputation…
As I was cooking the filling for this, my youngest leaned over the pan and wrinkled up her nose, "that looks like another one of your strange foods."
"The recipe is from Lolly," I countered, "you liked it at her house…" She immediately brightened and dinner was gobbled down that night.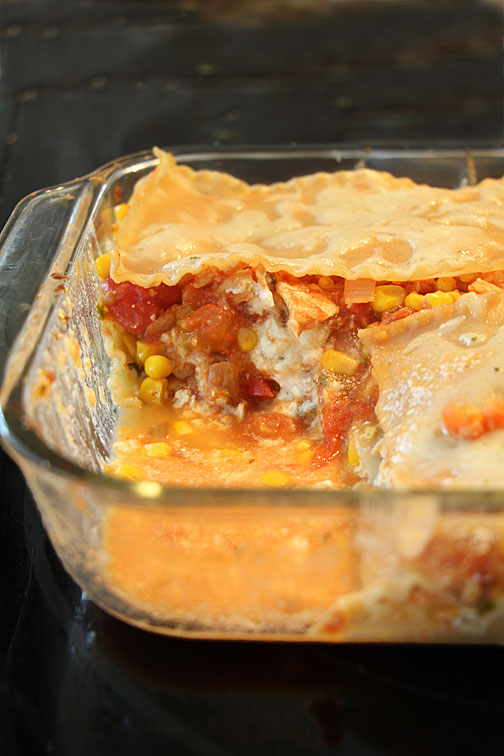 Hmmmm, perhaps I'm on to something.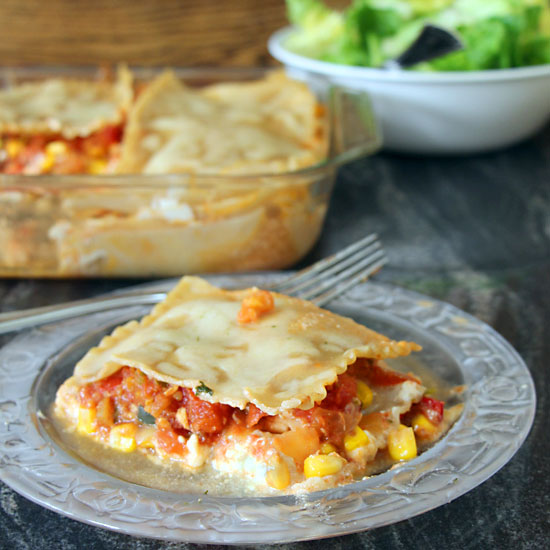 Southwest Lasagna
2014-05-16 13:40:09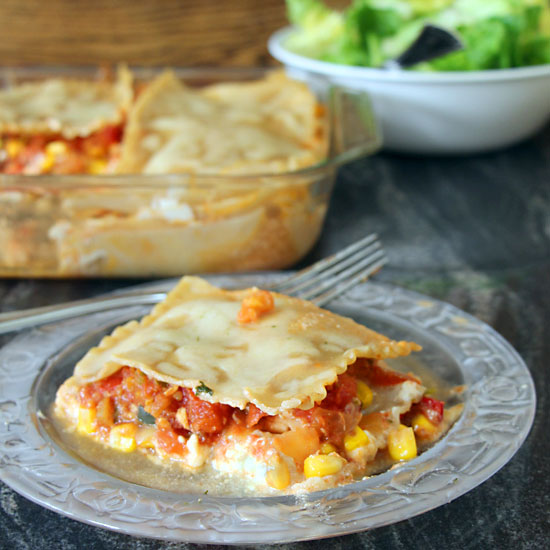 Serves 8
Nutrition Facts
Amount Per Serving
* Percent Daily Values are based on a 2,000 calorie diet. Your Daily Values may be higher or lower depending on your calorie needs.
Ingredients
1 T olive oil
1 onion, diced
3 cloves garlic, minced
15 oz can diced tomatoes (or 1 qt fresh or frozen tomatoes, thawed, peeled and roughly chopped)
2 c salsa, drained
3 T tomato paste
1 c corn
½ t cumin
¼ t. cayenne pepper
1/2 c chopped bell pepper
1 lb Chicken Breasts, precooked, or Tempe
1 c cilantro, chopped
6 oz whole wheat lasagna noodles (to fit pan, will vary by brand)
15 oz. ricotta cheese (or vegan ricotta)
2 c. shredded Monterey Jack cheese (or vegan cheese)
Instructions
Saute onion and garlic in olive oil, 2 min. Add tomatoes, salsa, tomato paste, corn, cumin and cayenne. Bring to a boil. Cut chicken or tempe into chunks and add to sauce. Simmer 15 min (you may need to simmer longer to thicken if you use fresh or frozen tomatoes), then add cilantro. While sauce is cooking, prepare noodles according to package directions.
Layer noodles in lasagna pan with ½ sauce mixture, ½ ricotta and ½ hard cheese. Repeat, then top with final layer of noodles.
Bake at 350 for 30 min.
Notes
For a homemade vegan ricotta, take a look at this cashew version: http://thesimpleveganista.blogspot.com/2012/10/cashew-ricotta-cheese.html
Art of Natural Living https://artofnaturalliving.com/