Green Your Mother's Day & Prosciutto Wrapped Asparagus
A tasty appetizer or vegetable side, Prosciutto Wrapped Asparagus is a crowd pleaser that's easy & perfect for dinner, lunch or brunch.
Mother's Day is coming up–do you have special plans? Now that spring is finally here (we sat out on the patio for Margaritas last weekend!!), I am especially keen on making my celebration green.
So I whipped up a "test" batch of a planned appetizer, Prosciutto Wrapped Asparagus, and started to think about some things I could do for my "other" mother while I am celebrating.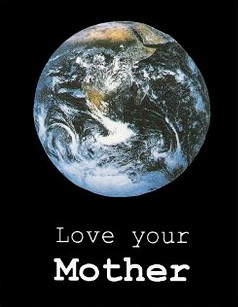 Give a Green Gift (or get yourself a green gift)…
I like to give a gift that gets "used up" like natural bodycare products (see giveaway here), chocolates or specialty foods, flowers, clothing or even a fun event. There are gifts that are both personal and don't encourage the unfettered accumulation of "stuff." I just took my mother out for a movie and dinner (my sister is getting her company for actual mother's day) and gave her flowers that I arranged in a reused container: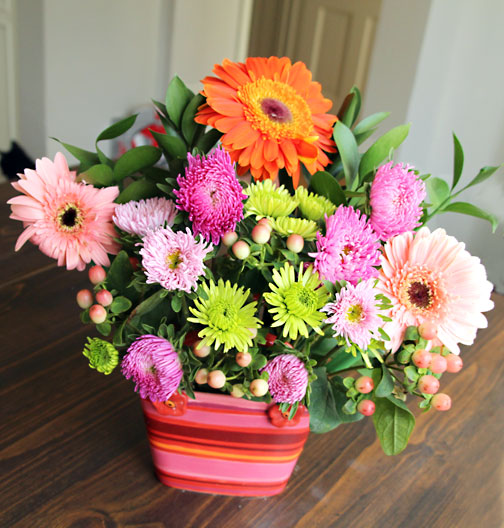 Repurpose Shopping Bags as Gift Wrap
Do you end up with lots of excess shopping bags (or is it just because I have teenagers)? I got tired of recycling those, then buying gift bags, so I've started morphing them into my own gift bags with a little glue and small bits of old wrapping paper. Here are some before/after pictures of the Christmas version from an earlier post:

Entertain with Reusable, Compostable or Renewable Plates
Since china is "no waste" I recently added 8 place settings to my wedding china (thank you ebay), but a few times a year I hold an event that exceeds even my expanded dish capacity or I throw an outdoor party. Last Mother's Day I had over 20 brunch guests! Then I end up using paper plates.
I was sent some plates and bowls from Ecoproducts for purposes of a review and was initially disappointed to learn that they required an industrial composter to be compostable. But as I thought about it, I realized that compostable may work at a brunch which is low on meat products, but when I host the big Christmas party (or any other potluck) the plates are likely to be covered with food (think buffalo wings) that is unsuitable for composting anyway.
And I'd neeev-er want to discourage the bringing of buffalo wings!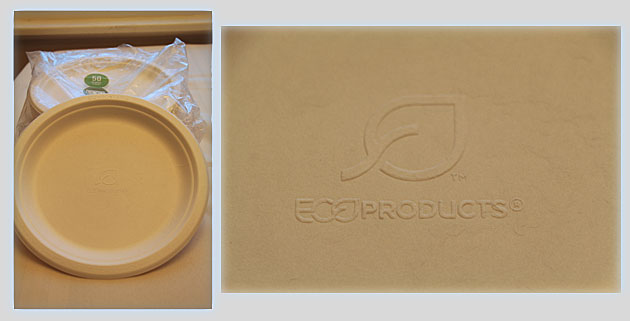 So I ended up really liking the Ecoproducts dishes. The plates have a slight bit of a coating so are more soak resistant (also good for wings, not that I'm hinting) than what I have been using and are renewable (made from sugarcane)–much better than plastic plates.
Eat local
Eating local is another thing that you can do for the planet. Did you know that your typical apple travels over 1500 miles to reach wholesalers in Chicago (and on from there to your table)? If you are going out, more and more restaurants are featuring fresh local ingredients. Or use local ingredients in planning your own meal (is your freezer still as full as mine?).
Prosciutto wrapped asparagus
For my Mother's Day, I am serving Proscuitto wrapped asparagus.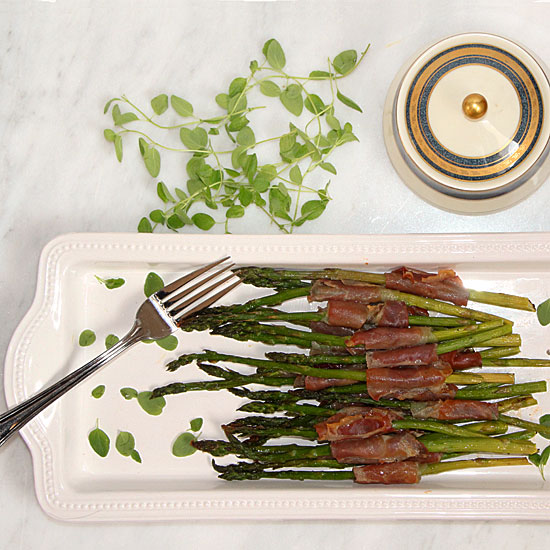 I first tasted this at a book club meeting where it was a big hit. Since asparagus is in season right now, it can be an especially nice spring brunch food.
Prosciutto is a thinly sliced, dry-cured Italian ham. "It is sometimes cured with nitrites (either sodium or potassium)… but only sea salt is used in Protected Designation of Origin (PDO) hams" (Wikipedia). So if you avoid nitrites, look for a brand without them. Prosciutto is now one of my favorite ingredients because it is easy to work with (no pre-cooking) and low calorie!
If you are working on a number of dishes–or just want an easier meal, this is a great appetizer or side dish–basically wrap and bake.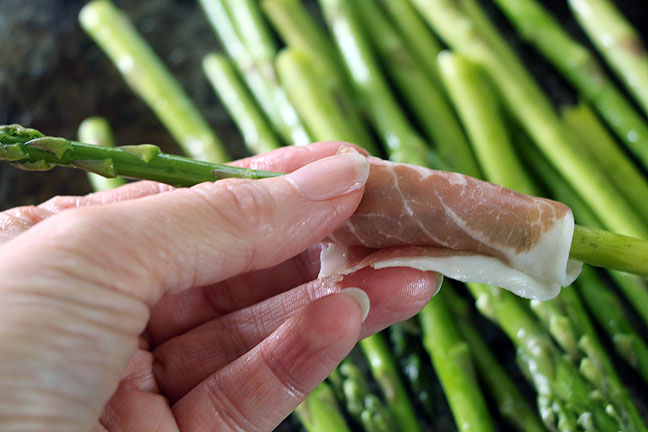 Happy Mother's Day!
Prosciutto Wrapped Asparagus
A tasty appetizer or vegetable side, Prosciutto Wrapped Asparagus is a crowd pleaser that's easy & perfect for dinner, lunch or brunch.
Ingredients
1 lb asparagus
8 oz prosciutto
1 T olive oil, or olive oil spray
Instructions
Preheat oven to 425F.
Rub pan with olive oil or spray with olive oil spray. Roll asparagus spears along pan to pick up light touch of oil.
Wrap each spear in a piece of prosciutto (I used 1/3 piece per spear). Don't worry if it isn't tight or shreds some--prosciutto will shrink tighter with cooking
Bake at 425F until spears are al dente and prosciutto is sizzling, about 15 minutes.
Serve warm or cold.
Nutrition Information:
Yield:

8
Serving Size:

3 spears
Amount Per Serving:
Calories:

98
Total Fat:

6g
Saturated Fat:

1g
Trans Fat:

0g
Unsaturated Fat:

4g
Cholesterol:

20mg
Sodium:

771mg
Carbohydrates:

2g
Fiber:

1g
Sugar:

1g
Protein:

9g
Nutrition data accuracy may vary with product selection, calculator accuracy, etc. Consult a professional for the best information.