Strawberry Meringue Dessert
Last weekend I practiced making a Strawberry Meringue Dessert that my mother is famous for. With Mother's Day coming up, I wanted a special dessert. Wouldn't this look nice on a brunch table?
It is a special treat that my mother often brings to holiday dinners–and has always been a family favorite. I had never tried making it however, intimidated by the idea of meringue. It seemed so fragile, so collapsible, so prone to failure.
Nuh-uh.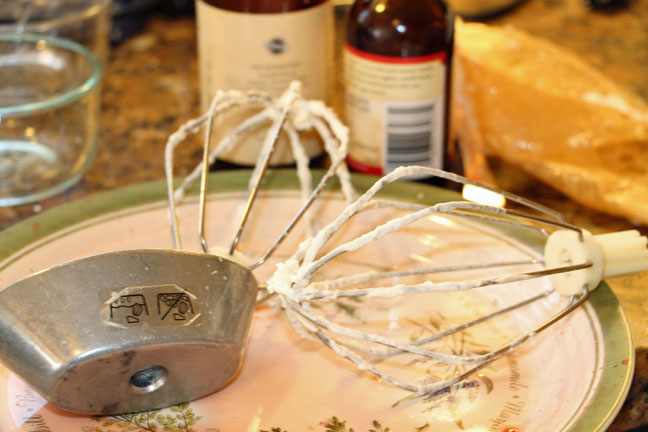 The eggs whipped up beautifully (way easier than whipping cream actually) and spread easily into the pan, even though I worried I should have an offset spatula. And nothing broke when I tried to get it out. Hooray!
When I cut out parchment circles for the bottom of the pans, I made a couple little "handles" to help pull out the meringues after cooking. My mother said she's never done anything like this, and has not had problems, but I'm the person who can't make a decorated cookie so I figured extra help would never hurt. And nearly everyone has whipped cream…
Since I am trying to be as green as possible this Mother's Day, I was happy that this turned out to be a pretty "local" dessert (even though very little is growing yet). I had CSA egg whites frozen, leftover from our Valentine's Day pot de crème (did you know that egg whites freeze great?), CSA strawberries frozen last summer, and local Wisconsin heavy cream skimmed from the top of some fresh milk. I just needed to add "imported" sugar and vanilla.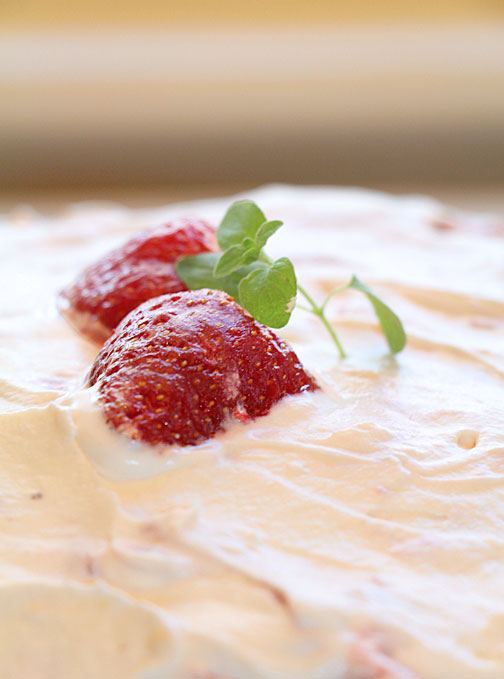 Since I needed to do a trial or this dessert for the blog and mother's day is a few days off, I guess we'll have to have it twice this week.
Do you think this will make up for all the time my family has to wait for pictures?
Strawberry Meringue Dessert
A deceptively simple light desert with meringue and strawberries that works well for brunch or a special dinner.
Ingredients
• 6 egg whites
• 1 1/2 c sugar
• 1 t vanilla
• 1 t vinegar
• Non-stick spray such as Pam
• 1 pint whipping cream
• 1 t vanilla
• 1/4 c sugar, use 2 T if using sweetened berries
• 1 quart strawberries, fresh or frozen whole or 2 pkg frozen berries in juice
• Extra berries, mint or other edible leaves for garnish (optional)
Instructions
Beat egg whites until stiff. Gradually beat in 1 1/2 c sugar, 1 t vanilla, and 1 t vinegar. Spread onto 2 parchment lined and greased cake pans.
Bake at 275F for 30-45 minutes, until slightly golden. Let sit in pan until cool. Loosen around edges with a knife, then remove from cake pan.
Slice and drain strawberries . Whip cream until stiff, then beat in 1 t vanilla and sugar. Fold in drained, sliced strawberries.
Removed one of the meringues from baking parchment onto a serving plate, then top with a layer of strawberry whipped cream. Place the second meringue on top, then frost the top and sides with the rest of the strawberry whipped cream. If desired, garnish with strawberries and edible greenery such as mint leaves or other herbs.
Nutrition Information:
Yield:

12
Serving Size:

1 Slice
Amount Per Serving:
Calories:

306
Total Fat:

15g
Saturated Fat:

9g
Trans Fat:

0g
Unsaturated Fat:

4g
Cholesterol:

45mg
Sodium:

52mg
Carbohydrates:

42g
Fiber:

3g
Sugar:

38g
Protein:

4g
Nutrition data accuracy may vary with product selection, calculator accuracy, etc. Consult a professional for the best information.