Seared Scallops with Pan Sauce
A classic entrée, the brown butter caramelization of Seared Scallops enhances their sweet earthy flavor. Fit for fine dining, easy enough to do at home.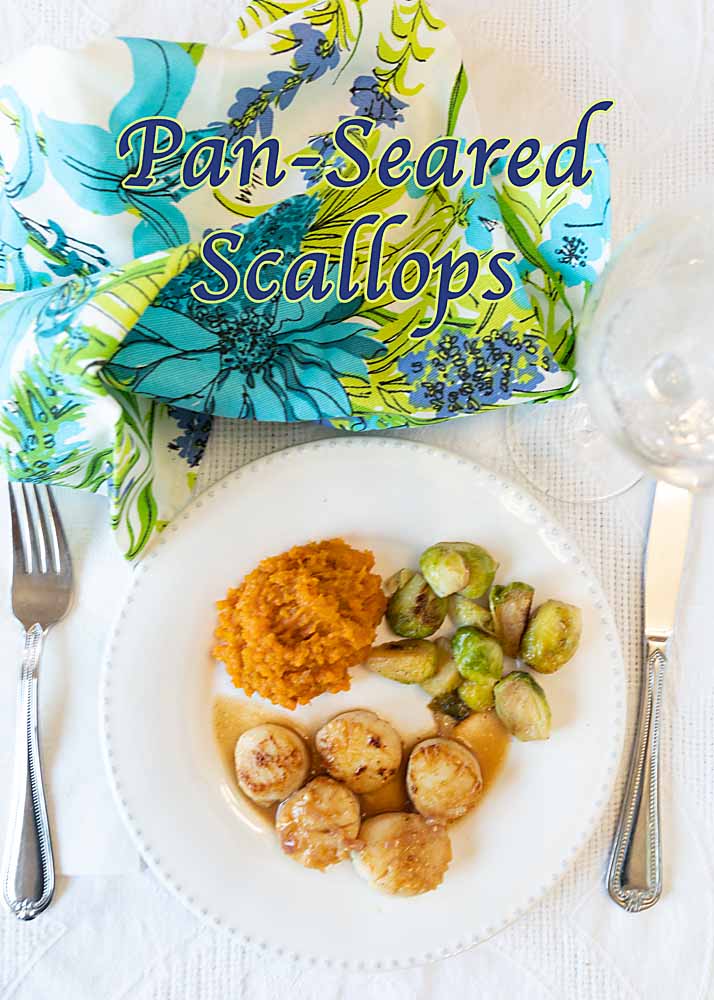 My book club met this week. Via Zoom—how else! Of course, besides a good book discussion, we had a talk about life. And one of the "themes" was good fortune.
Yes, we are all tired of the isolation, and nervous about the physical, psychological and economic damage from Covid. But we know we're lucky to have nice homes to isolate in and the knowledge that our friends and families are safe. All while knocking wood.
And another reason for gratitude in my life? Beautiful takeout food prepared by local restaurants along with good local ingredients waiting in my freezer. Yes, a few years back, when my father was dying and I left a lucrative corporate career, I told myself that as long as I could have good food, there would always be some beauty in my life.
The scallops featured today are from my community supported fishery, Sitka Salmon. They aren't one of their regular offerings but came instead from some similarly minded (that is, into sustainability and living wages) fishermen in Maine. Here's to friends with friends!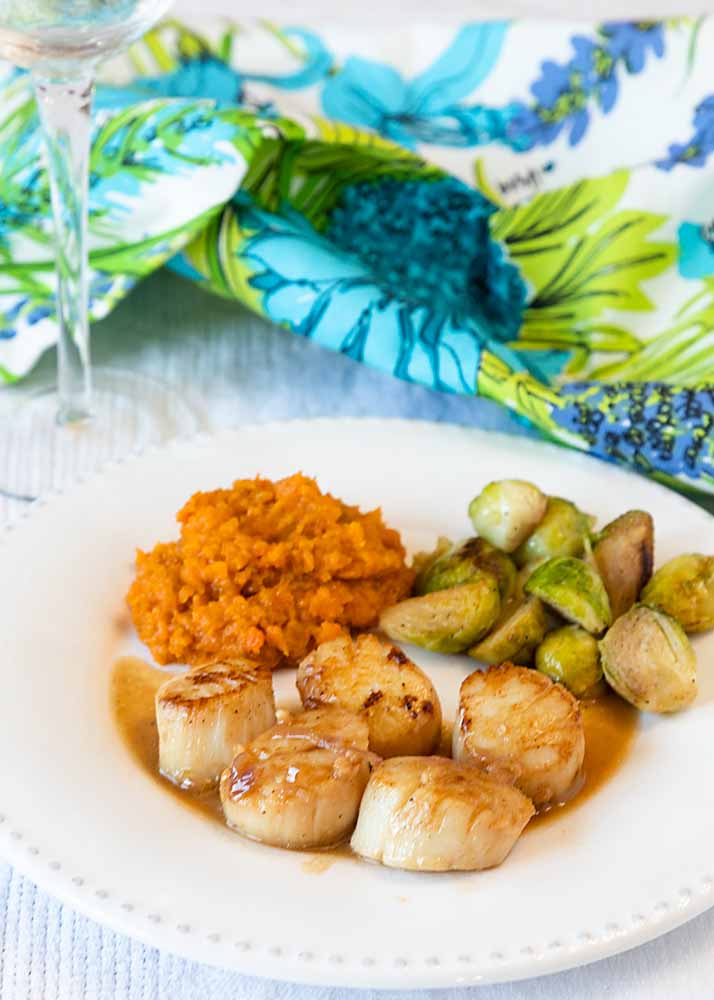 Seared Scallops is a classic dish. With brown butter caramelization enhancing the sweet earthy scallop flavor, it's a recipe fit for fine dining but easy enough to do at home.
I'd tried preparing seared scallops years ago but never succeeded in getting the rich golden color. So I started with a basic but delicious recipe from Epicurious and used a little minced shallot instead of chives, which are not growing here yet. (For another option check out these Maple Lime Glazed Scallops with Cilantro from a blogging friend).
I didn't get quite as nice a sear as I wanted and probably overcooked my scallops a smidge, but they were delicious. And I happily dragged my brussels sprouts through the extra sauce. If you are less carb conscious than me, I'd recommend a side of rice or couscous to soak up the extras (my husband got couscous).
In terms of preparation tips, make sure you pat the scallops very dry. A good sear in anything from meat to potatoes is dependent on minimizing surface water. Then make sure the pan is hot. A hot pan is important both for browning but also to avoid sticking if, like me, you avoid non-stick pans. It worked well here with my scallops sliding freely in a stainless steel pan.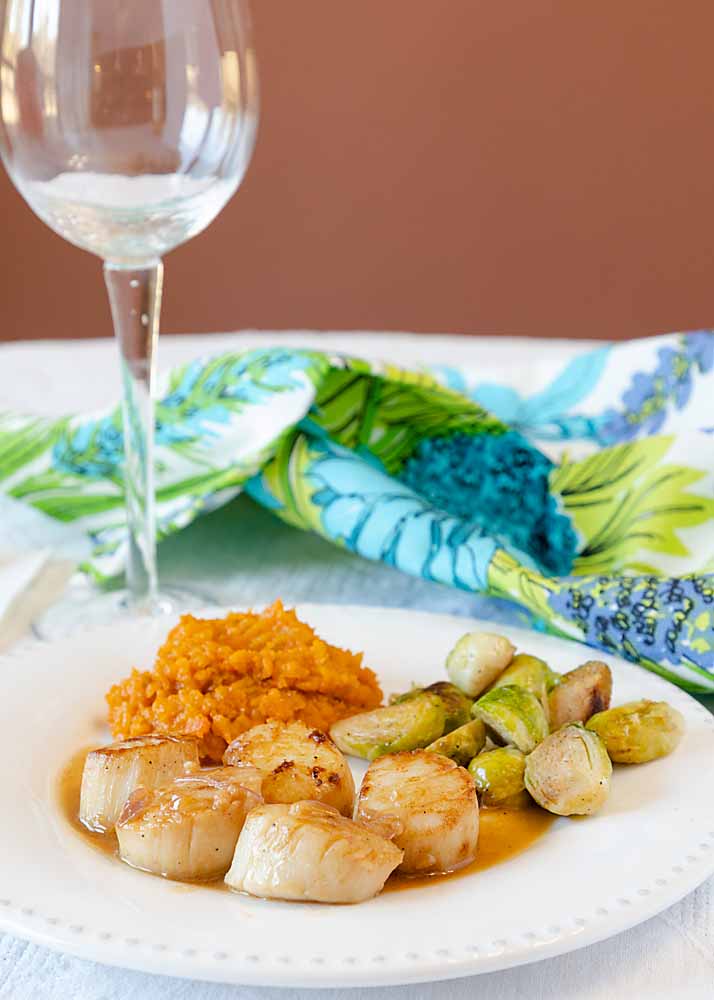 Finally, pay close attention to doneness. Mine were just past the butter tenderness of a perfectly done scallop. But I'll get it next time—there are more scallops in my freezer!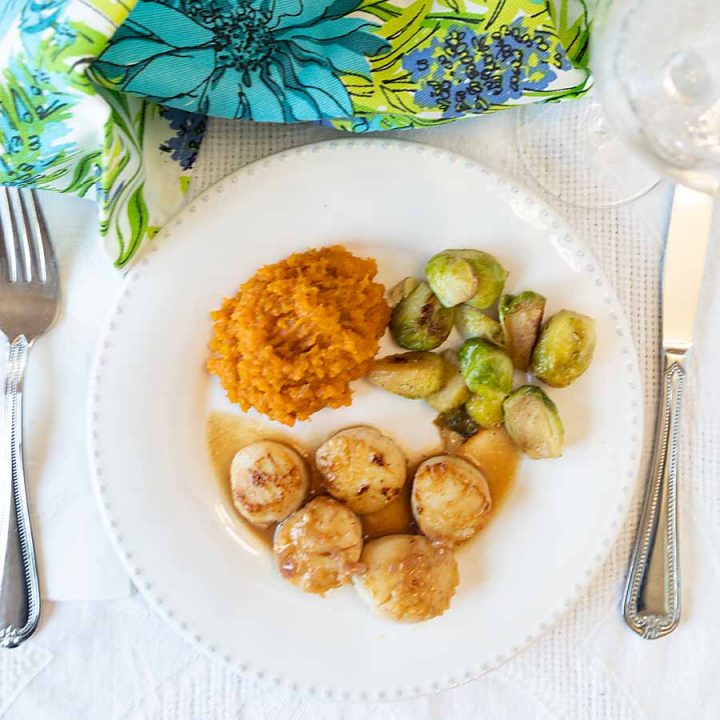 Seared Scallops with Pan Sauce
A classic entrée, the brown butter caramelization of Seared Scallops enhances their sweet earthy flavor. Fit for fine dining, easy enough to do at home. 
Ingredients
3 tablespoons butter
1 tablespoon olive oil
1 1/2 pounds sea scallops
Salt and freshly ground pepper
1 tablespoon minced garlic
2 tablespoons minced shallot
Juice of 1 lemon
1/2 cup dry white wine or water, or more as needed
Instructions
Cut 2 tablespoons of the butter into pea-sized pieces, put them on a small plate, and place in the freezer. Heat a large skillet over medium-high heat for 3 or 4 minutes. Add the remaining 1 tablespoon butter and the olive oil to the pan and heat until hot.

Pat the scallops dry, set each one flat in the hot oil, then sprinkle wit salt and pepper. Cook until golden brown on the bottom side, about 2 minutes, then turn and cook the other side until golden, another 2 minutes (adjust for scallop size). Transfer the scallops to a plate.

Deglaze the pan with the wine, scraping up all the brown bits, then stir in the garlic, shallots and lemon juice. Simmer on medium until the liquid in the skillet thickens, a minute or two, then whisk in the chilled butter, one bit at a time, whisking until creamy. If too much liquid evaporates, you can add back a tablespoon or two back of water.

Return the scallops to the skillet and bring to a simmer. Spoon the sauce over the scallops to flavor and rewarm. Divide between four plates and top with sauce. Serve immediately.