Chicken, in a rich red wine sauce, Coq au Vin has an intense depth of flavor from bacon, herbs, mushrooms, garlic, wine and more.
It's amazing. But I won't lie to you. This isn't a quick recipe. And normally I'm the first person to go "not worth it." But this is totally worth it.
The chicken is tender, and the red wine sauce has a depth of flavor worthy of the best fine dining. There is enough sauce left to drizzle over pasta, rice or potatoes. And you're going to want to get every drop of this sauce!
The Coq au Vin recipe comes close to Ina Garten's, but I omitted the final pearl onions and the chicken stock, changed the thickener (cornstarch for gluten free) and added a little tomato paste to umami-up the flavor. I also used a little more bacon since that fit the package size. Finally I reduced the sauce before thickening.
And did I mention the depth of flavor?
The leftovers are also delicious. In fact, I usually triple the chicken because people go so crazy for them. (In that case I only double the sauce, since doubling is near perfect for package sizes and there is still plenty.)
If you have access to a Trader Joe's, their organic grill packs are perfect for this. They consist of four chicken legs and two enormous chicken breasts that I debone and halve (reserving the bones for broth) for eight comparably sized pieces. The package weighs in about 4 pounds, so is about the size of a standard cut-up chicken.
Coq au vin uses a lot of bacon and the grease is retained to brown the chicken and vegetables. Since it's critical to the flavor, I recommend using as natural a bacon as you can find rather than draining and using olive oil.
And did I mention the depth of flavor?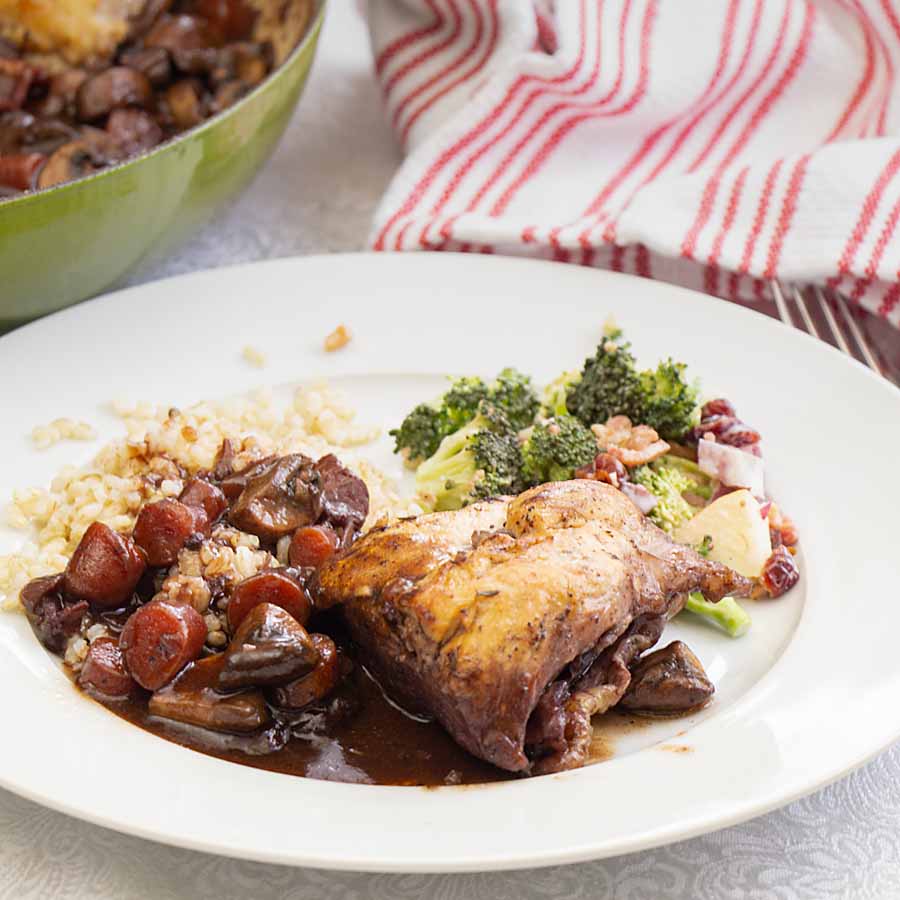 Coq au Vin
2020-02-04 22:04:04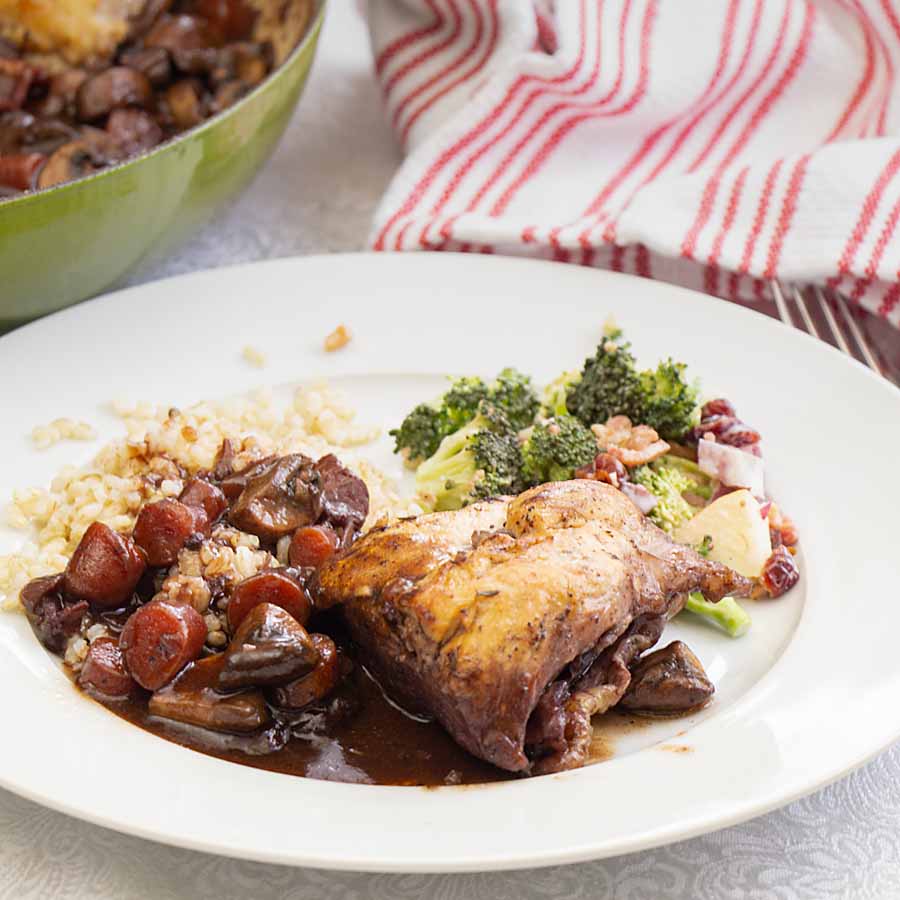 Serves 4
Chicken, in a rich red wine sauce, Coq au Vin has an intense depth of flavor from bacon, herbs, mushrooms, garlic, wine and more. 
Nutrition Facts
Amount Per Serving
* Percent Daily Values are based on a 2,000 calorie diet. Your Daily Values may be higher or lower depending on your calorie needs.
Ingredients
• 6 ounces bacon, diced (I used bacon "ends")
• 1 chicken, cut in eighths. (about 4 pounds, see note)
• Kosher salt and freshly ground black pepper
• 1/2 pound carrots, cut in ½ inch pieces
• 1 yellow onion, sliced
• 1-2 teaspoons chopped garlic
• 1/4 cup cognac or brandy (I used Courvoisier)
• 1/2 bottle (375 ml) dry red wine
• 10 fresh thyme sprigs
• 2 tablespoons cornstarch dissolved in a little of the juice
• 1 T tomato paste
• 1 tablespoons butter or oil
• 1/2 pound cremini mushrooms, stems removed and halved or quartered
Instructions
Preheat the oven to 300 degrees F.
Cook the bacon on medium heat for 8 to 10 minutes, until lightly browned in a large oven-safe lidded pan. Remove the bacon to a plate with a slotted spoon.
Meanwhile, lay the chicken out on paper towels and pat dry if needed. Liberally sprinkle the chicken on both sides with salt and pepper. When the bacon is removed, increase the heat to medium high (a higher heat is important to brown the chicken well) and brown the chicken pieces in batches turning to brown evenly, about 5 minutes per side. Remove the chicken to a plate and continue to brown until all the chicken is done. Set aside.
Add the carrots, chopped onions, 2 teaspoons salt, and 1 teaspoon pepper to the pan and cook over medium heat for 10 to 12 minutes, stirring occasionally, until the onions are lightly browned. Add the garlic and cook for 1 more minute. Deglaze with the Cognac and put the bacon, chicken, and any juices that collected on the plate into the pot. Add the wine and thyme and bring to a simmer. Cover the pot with a tight fitting lid and place in the oven until the chicken is 165 F, about 45 minutes. Remove from the oven and place on top of the stove.
Remove the chicken and set aside.
Reduce the sauce by 1/3 and adjust salt. Stir cornstarch slurry and tomato paste into the sauce and cook until thickened.
While the sauce is reducing, in a medium saute pan, add the sunflower oil and cook the mushrooms over medium-low heat for 5 to 10 minutes, until browned. Add the mushrooms and chicken back to the pot. Bring the stew to a simmer and cook until warmed through. Season to taste. Serve hot.
Notes
If feasible, avoid using the chicken wings and cut large breasts in half.
Art of Natural Living https://artofnaturalliving.com/