Amazing Potatoes (au Gratin—no Cheese!)
I spotted this recipe while blog browsing.  I was in search of one final potato recipe for the last of 2010's harvest and this looked so inviting.  It came with the far more romantic name of Pommes à la Dauphinoise (which I will never remember, even after writing about it), and caught my eye for its simplicity and distinction.
The original recipe can be found here (from real chef Camille Malmquist)—I modified it slightly as follows:
Potatoes au Gratin
Ingredients:
5-7 medium potatoes, cut into 1/8 inch slices (note that smaller potatoes can be sliced lengthwise to achieve larger rounds)
2 cloves of garlic, sliced thinly
1- 1 1/2 c cream or half & half
1/8 -1/4 t salt
1/8 – 1/4 t pepper
1 t butter
Directions:
Rub butter around inside of 2 1/2 qt casserole
Arrange a layer of potatoes in bottom of casserole
Top with some of the garlic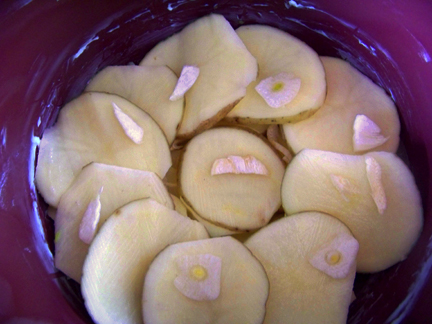 Continue layering until garlic and potatoes are gone
Mix salt and pepper with 1 c cream.
Pour on top of potatoes
Add more cream if needed—cream should reach 3/4 of the way up the potato layers (they cook down some)
Bake covered at 350 about an hour or until tender.
Remove cover to let brown (I put the convection on for this) and cook a few minutes longer
The dish was rich and creamy with the muted essence of garlic throughout.  Absolutely delicious, I couldn't believe it didn't have cheese.  After rave reviews, I broke my seasonal eating rules and ordered more potatoes to do it again—soon.