Apple Pomegranate Salad & Serving Spoons Giveaway
I admit it. I am starting to think about Christmas. Just a little. I blame it on the lateness of Thanksgiving, but I believe it never hurts to start your planning early. Especially if your shopping list has one of those "people who have everything" on it. If you do, read on for a great idea–and a recipe for Apple Pomegranate Salad. Just to keep your strength up.
This all started when I received on offer from World Vision, for a review and giveaway. They are a Christian-based non-profit that works to "offer a full solution to poverty and injustice issues." Established in 1950 they initially provided food and shelter for children in orphanages through child sponsorship. Now they also work to achieve transformation by tackling the root causes of poverty and injustice. They are active in nearly 100 countries around the world, serving all people, regardless of religion, race, ethnicity, or gender.
While there are many different programs, from micro-loans to knitting items to fund-raising, one that is especially timely now is their gifts programs. I received a lovely hand-carved olivewood serving set (perfect for holiday entertaining) delivered in a hand-sewn African fabric gift bag that benefits orphans of the Kamba tribe in Kenya. Sold for $65, it is essentially an item plus donation, with $49 tax deductible.
I immediately thought of how nice this would have been when I was shopping for my grandmother. Though she lived to be 86, she came from a family where a number of people had died young–and for years she asked us not to give her gifts, saying "someone will just need to sort them out when I'm gone." I resorted to food packages but truthfully, she had the appetite of a bird. I'm sure she would have loved something like this where her lack of need was helping someone else out. Between jewelry, kitchen items or even straight donations, there is an option for everyone.
Of course at this time of the year, charity giving requests are coming fast and furious, so before donating it is a good idea to check out an organization on an index like CharityWatch. Here World Vision receives an A- grade and qualifies for their top-rated charities list.
And now for the giveaway. It is for the serving spoon set that I received and is open to US residents. Sponsored by World Vision, it closes on November 29 at midnight CST. To enter, leave a comment telling me something you do to give to others. For a second entry, follow Art of Natural Living on twitter (@iwilkerson) and leave a second comment (or let me know if you are already a twitter follower). The winner will be picked randomly, contacted by email and have 24 hours to get back to me with address and any other needed information or a new winner will be chosen.
And in case this has made you hungry, here is a salad recipe in contention for my Christmas Eve dinner. If de-seeding a pomegranate scares you, there are many stores now that sell just the seeds. The health value (see Mercola) and flavor of pomegranates is so exceptional that I've decided I'm just going to get good at it! I have made it with and without optional crumbled blue cheese and can't decide which way I like best. If you try it, I'd love to hear what you think!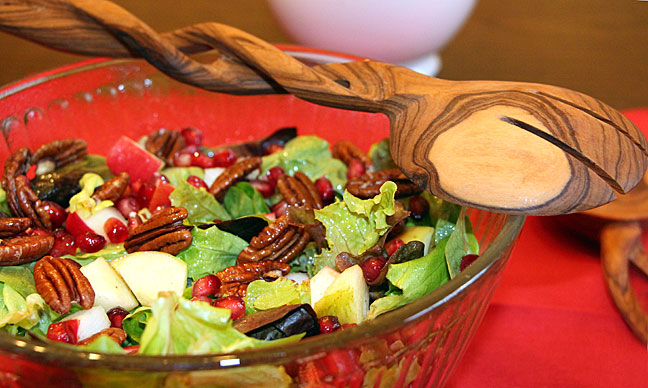 Apple Pomegranate Salad
2014-11-13 17:52:30
A fresh salad with healthy pomegranate seeds, this apple pomegranate salad is perfect for the holidays.
Nutrition Facts
Amount Per Serving
* Percent Daily Values are based on a 2,000 calorie diet. Your Daily Values may be higher or lower depending on your calorie needs.
Ingredients
Vinaigrette
• 1 small shallot, diced
• 1 tablespoon honey
• 1 tablespoon orange juice
• 2 tablespoons white wine vinegar
• 1/2 teaspoon sea salt
• 1/4 teaspoon black pepper
• 1/4 cup extra virgin olive oil
.
For the salad
• 8 cups lettuce mix (I like half spring mix, half arugula)
• 1 apple, cored and cut into 1/2" cubes
• 1/2 cup pomegranate seeds (put these on last)
• 1/3 cup pecans halves, toasted
Instructions
In a small bowl combine the dressing ingredients and whisk until emulsified.
Add vinaigrette gradually to the lettuce and toss gently, until the lettuce is well coated. (You may use more or less to taste)
Top dressed lettuce with cheese (optional), pecans, apple and pomegranate seeds, adding pomegranate seeds last (to they are sure to be visible) Serve immediately.
Notes
Consider adding 2 ounces of crumbled blue cheese to the salad if you want a heartier salad.
Art of Natural Living https://artofnaturalliving.com/