Arugula Pear Salad with Goat Cheese
With a tasty, creamy vinaigrette, plus cranberries and pecans, this pretty Arugula Pear Salad with Goat Cheese is loaded with flavor. And did I mention it's easy!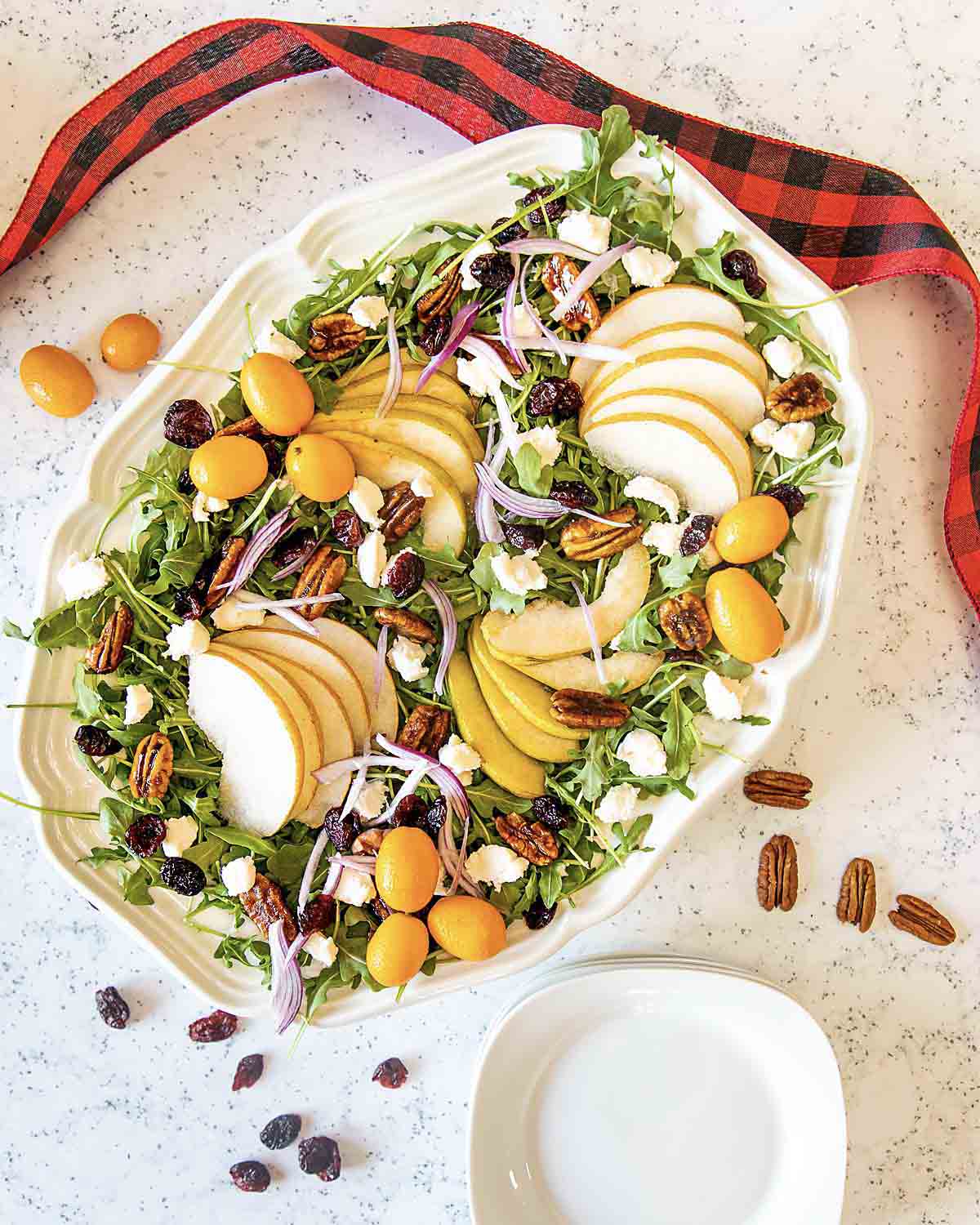 Sometimes it's surprising when you reflect back on a recipe. For example, I started making this salad during the Covid lockdown. All out of a desire to support a local cheese maker.
You see, fresh chevre, unlike aged cheeses such as cheddar, has a short shelf life–which meant the makers were struggling. And that meant it was time to make goat cheese recipes. Well, no hardship there!
Yes, this salad is loaded with flavor, with a beautiful blend of sweet, savory, creamy and crunchy. I usually use a flavored goat cheese and have tried cranberry, blueberry and maple bourbon flavors! But plain works well too.
And if that's not enough, this Arugula Pear Salad with Goat Cheese is impressive without being at all difficult. Yup, I guess it turned out like the proverbial lemonade.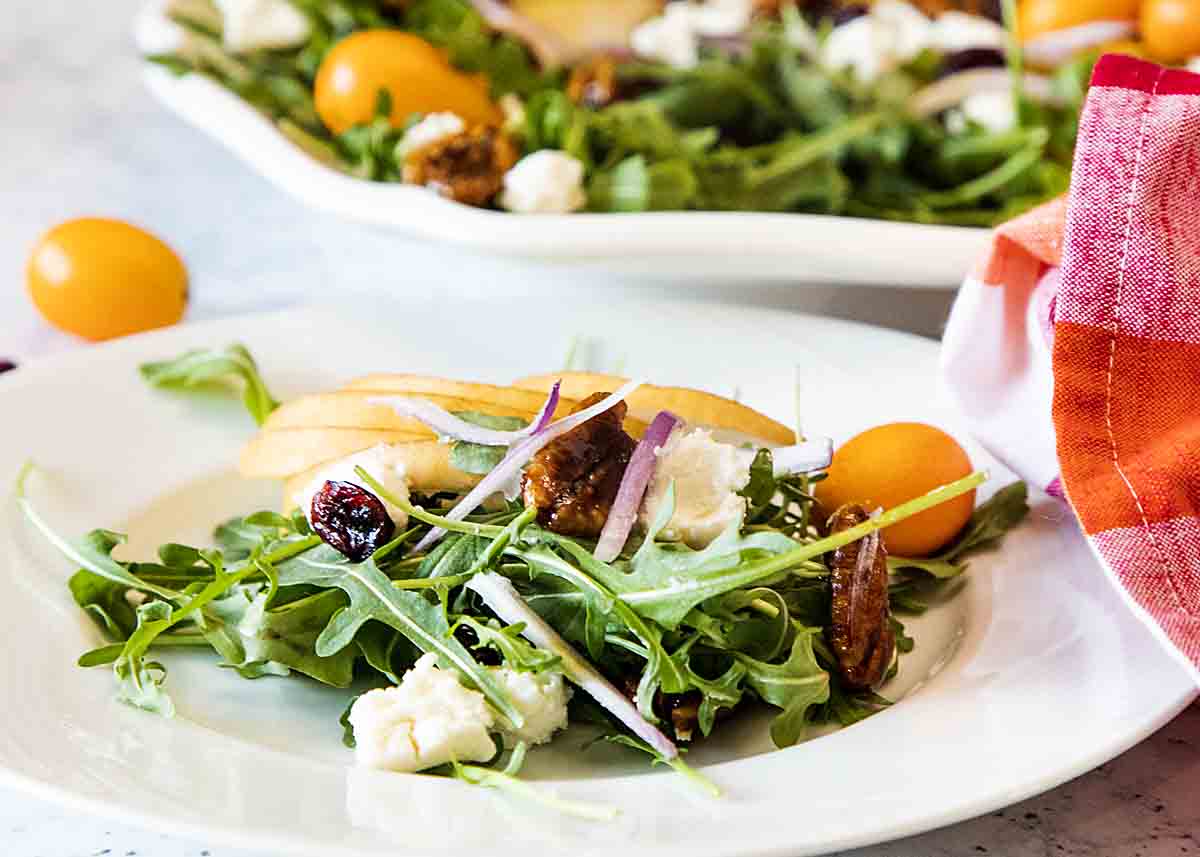 Why You'll Love This!
Tasty. This salad has it all in terms of flavor. A bit of savory (onion), sweet (pears, cranberries), creamy (goat cheese) and crunchy (pecans). Yum!
Healthy. From the pears to the arugula to the homemade vinaigrette, there is so much healthy goodness in this salad!
Impressive but easy. Even though this salad has a look worthy of a formal dinner party, it's quick and easy to put it together. And you can always just toss in a big bowl if you prefer.
What You'll Need
Ingredient Notes
Olive oil. This forms the basis of the dressing.
Balsamic vinegar. With the olive oil, this forms the basis of the dressing.
Honey or Maple Syrup. This adds a hint of sweetness to the dressing.
Dried Oregano. This adds savory flavor to the dressing.
Dried Minced Onion. This adds savory flavor to the dressing.
Salt. This adds flavor to the dressing.
Arugula. This forms the base of the salad. My second choice would be spring mix, but you could use any lettuce with enough flavor to stand up to, but not over power, the other ingredients.
Dried cranberries. These add sweetness and chewiness to the salad.
Goat cheese, ideally sweetened. This adds creaminess and flavor to both the salad and the dressing. Any type of sweetened fresh chevre will work. You can substitute plain goat cheese if desired.
Pecans. This adds sweetness and crunch. You can use another type of nut if you prefer
Red Onions. This adds savory flavor to the salad and helps balance the sweetness.
Pears. Any variety of pear will work. You can even use Asian pears or apples.
Special Tools
No special tools required!
Step by Step Directions
Combine dressing ingredients and whisk together. Taste to adjust honey and salt.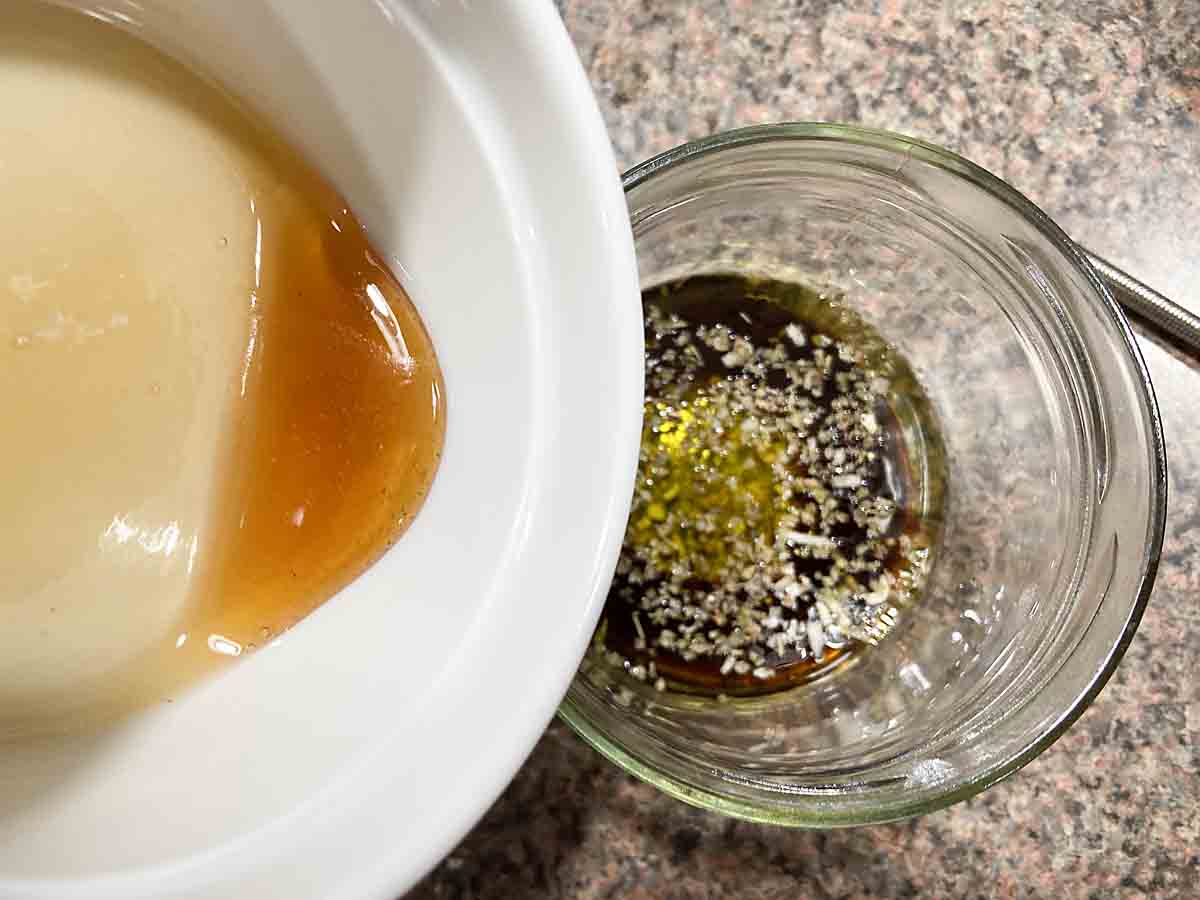 Slice the pears. Dip in lemon juice if desired to avoid browning.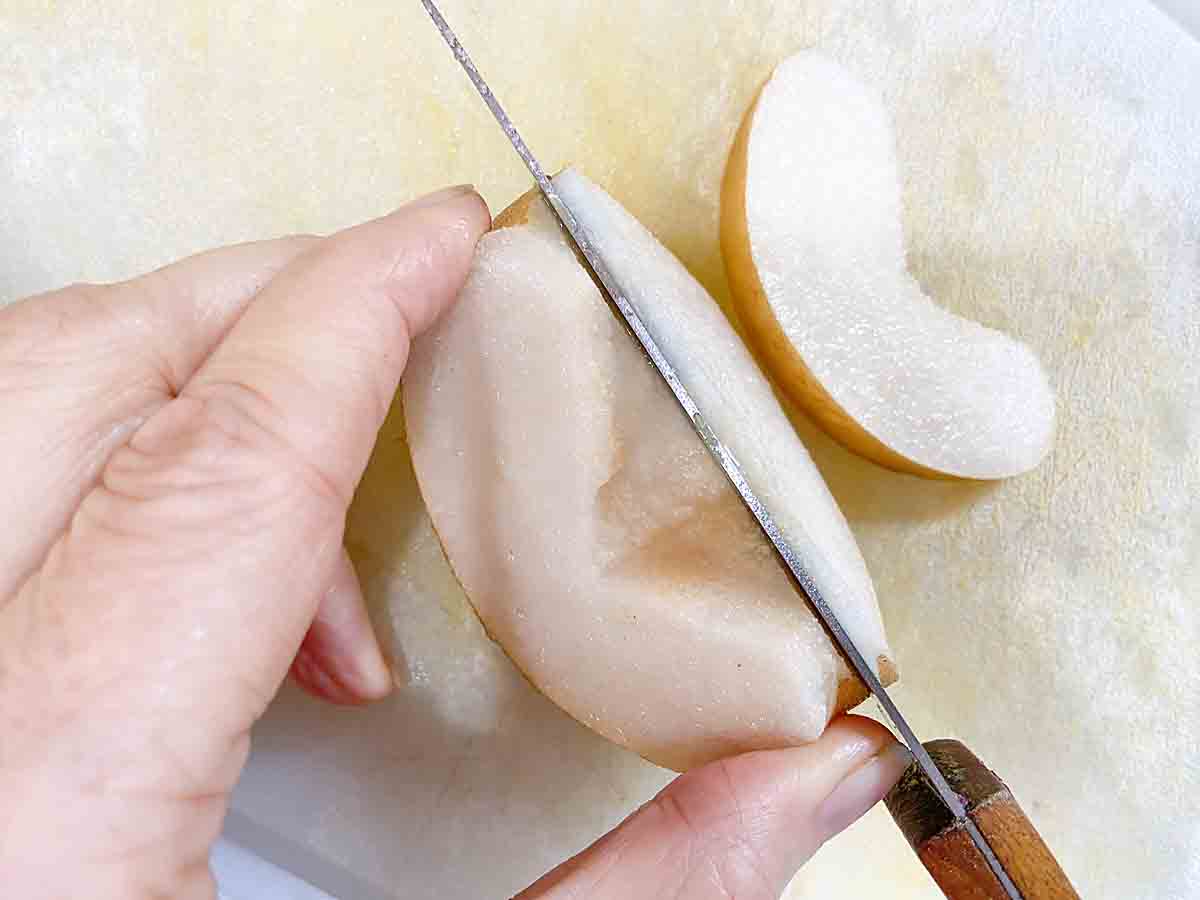 Toss or drizzle the arugula with the salad dressing, then spread on a large salad plate. Top with remaining ingredients.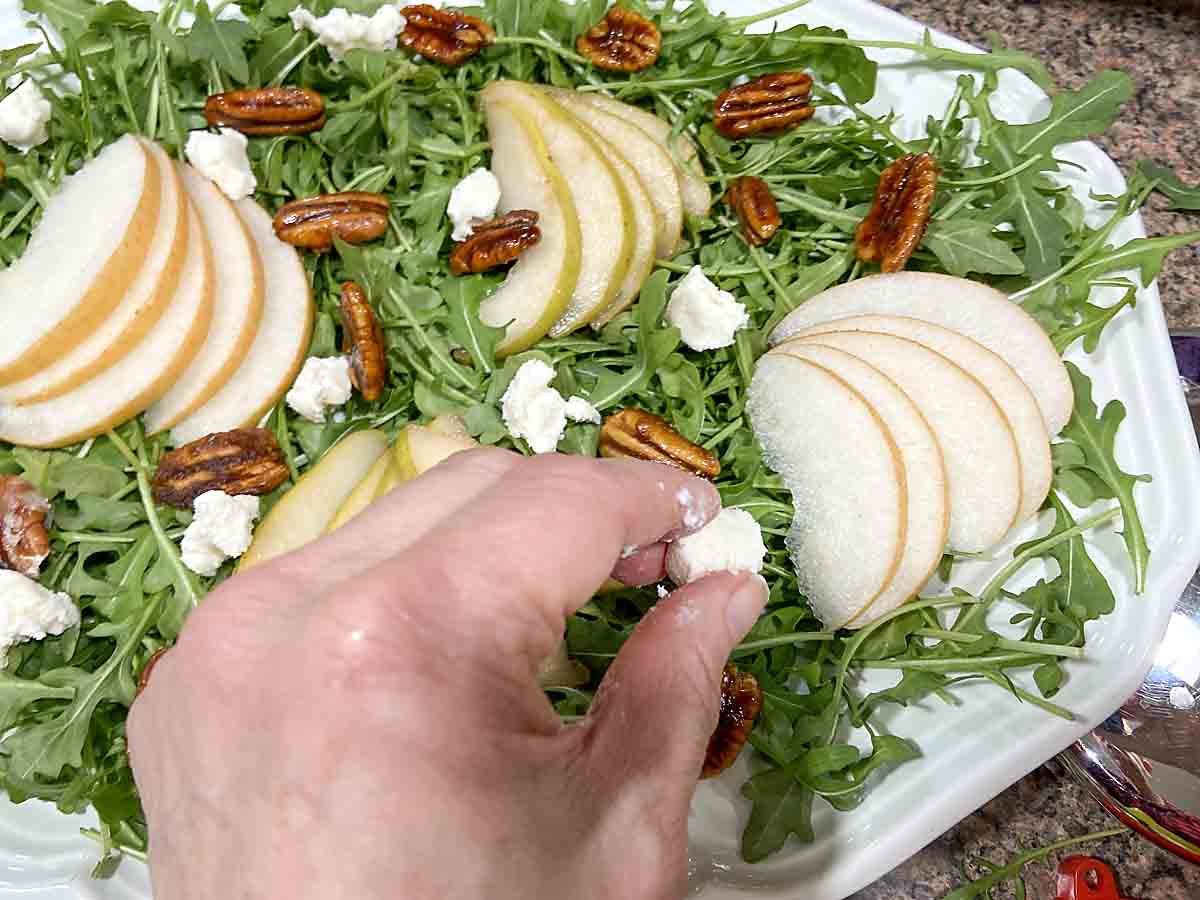 How to Serve
This makes a lovely first course salad. You can serve it "arranged" on a platter or just pile it up in a big bowl.
Or this is easy to convert to a main dish salad–you'll just need a little extra protein. Goat cheese, like cream cheese, is more weighted toward fat, but you can add or substitute a hard cheese such as Gruyere (or your favorite) to ramp up the nutrition. Or you could add protein with some leftover meat like ham or chicken.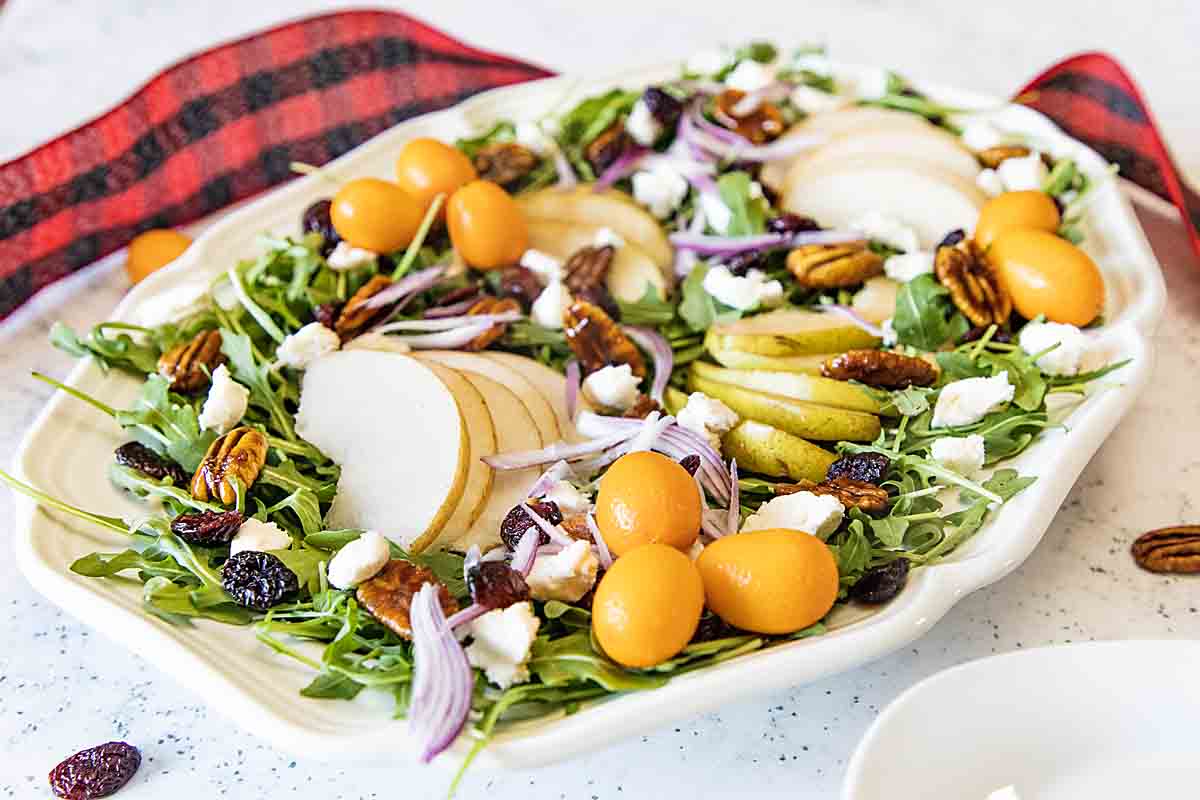 Variations and Special Diets
Feel free to make any of the substitutions listed in the ingredients section. Or for another delicious salad that also has pears and goat cheese check out my Red-WIne Poached Pear Salad And if apples are more your jam, I also have an Apple Pomegranate Salad.
Special Diets
The salad is vegetarian as is, but could go vegan if you omit the goat cheese or substitute a plant based soft cheese. This change will also make it dairy-free. To go low-carb, omit the dried cranberries, use plain goat cheese, and use a zero calorie maple syrup substitute in the dressing.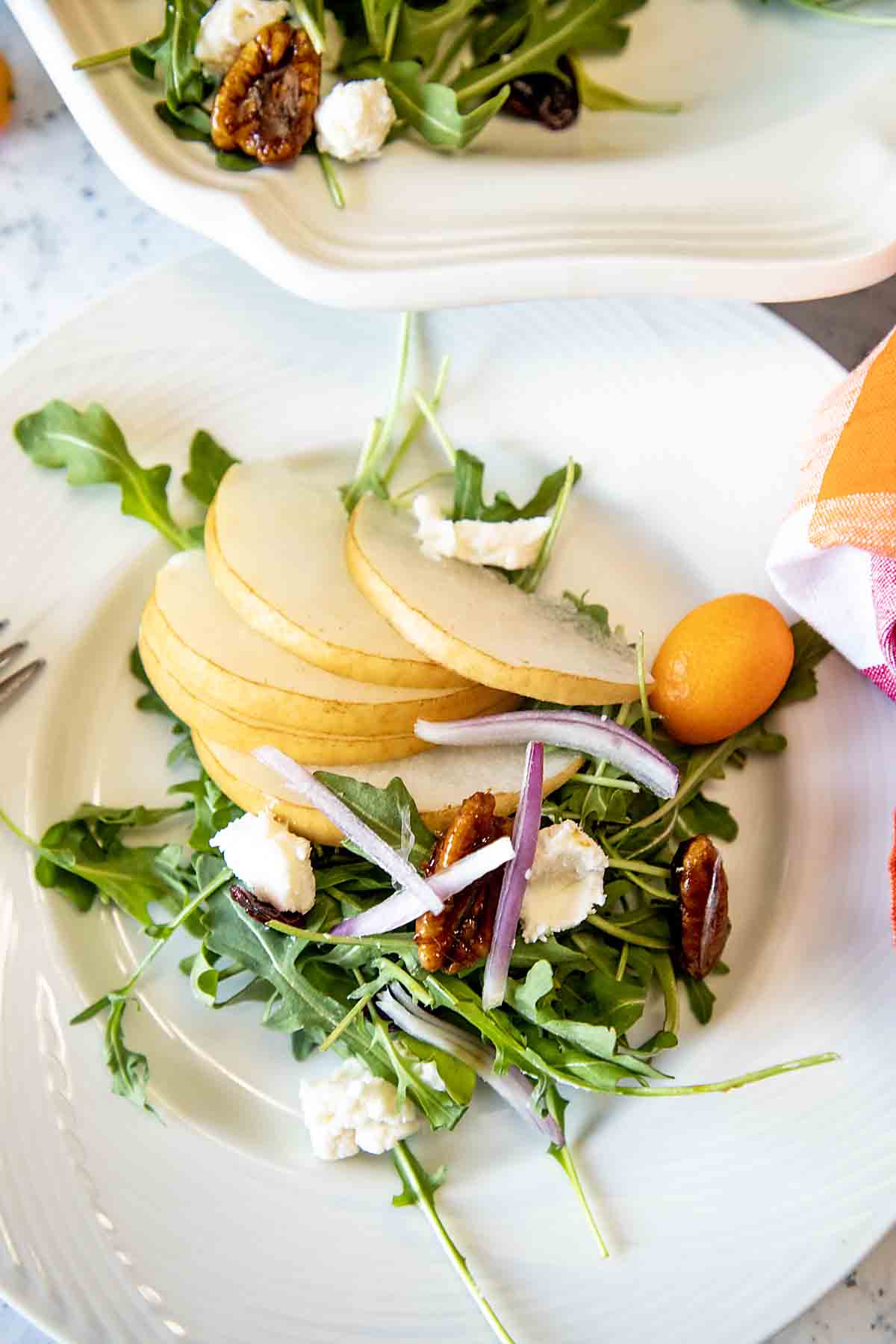 Leftovers
Once dressed, the salad will need to be eaten quickly or it will start to become limp. If you think that you might not finish it, consider serving the dressing on the side. If you refrigerate the undressed leftovers, covered, they should be good (though slightly less crisp) the next day.
Tips & FAQs
For the prettiest salad onions, I like to cut them pole to pole, that is stem end to blossom end, rather than in rings.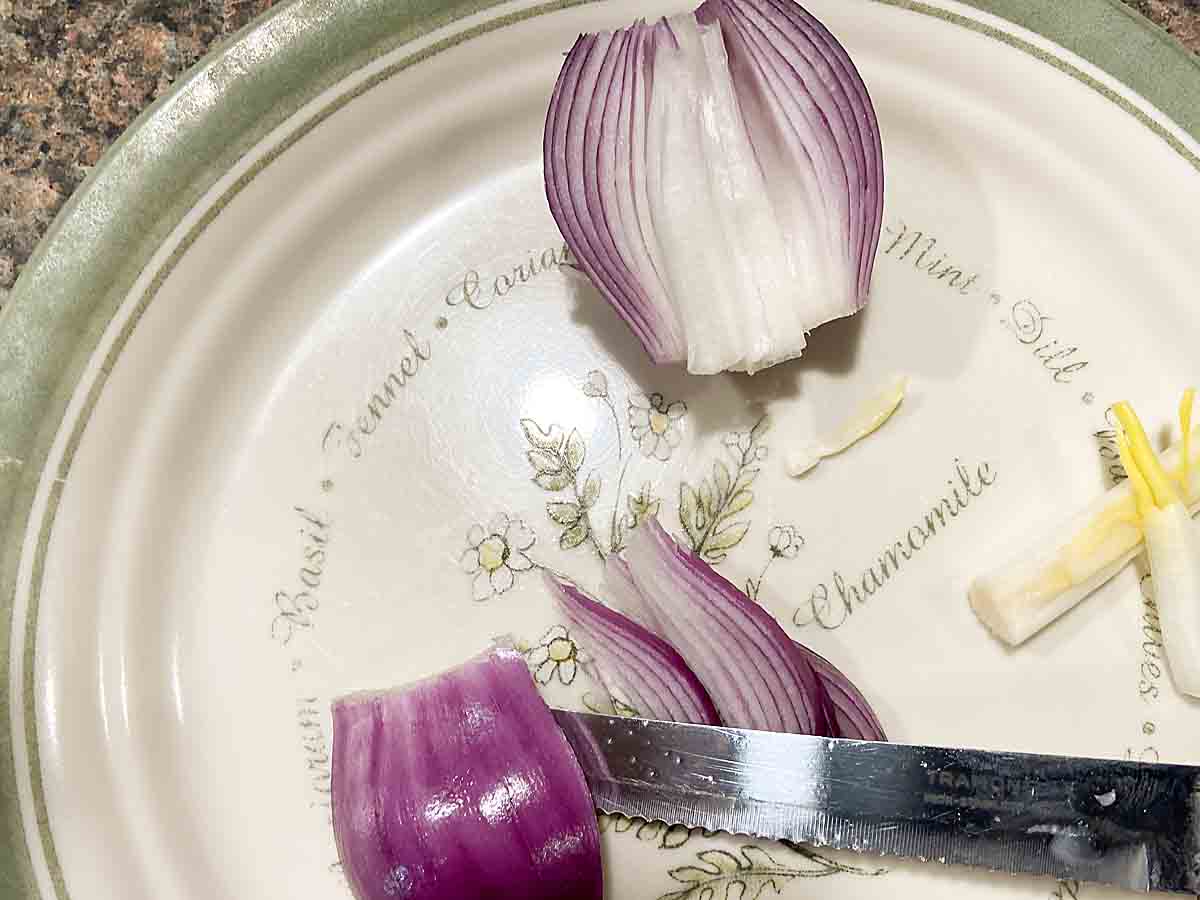 How do I know if my pears are ripe?
Pears are a fruit that is picked unripe. Then they ripen off the tree from the inside out. This makes them unlike the many other fruits that are picked prematurely for better shipping.
To facilitate ripening, leave them on your countertop, since refrigeration will slow the process down. Per USA Pears, "Apply gentle pressure to the neck of the pear with your thumb. If it yields to pressure, it's ripe"
We have a couple pear trees and the first year they produced, we waited too long and every single pear disappeared overnight! So I guess I'm happy we can get them off a little early!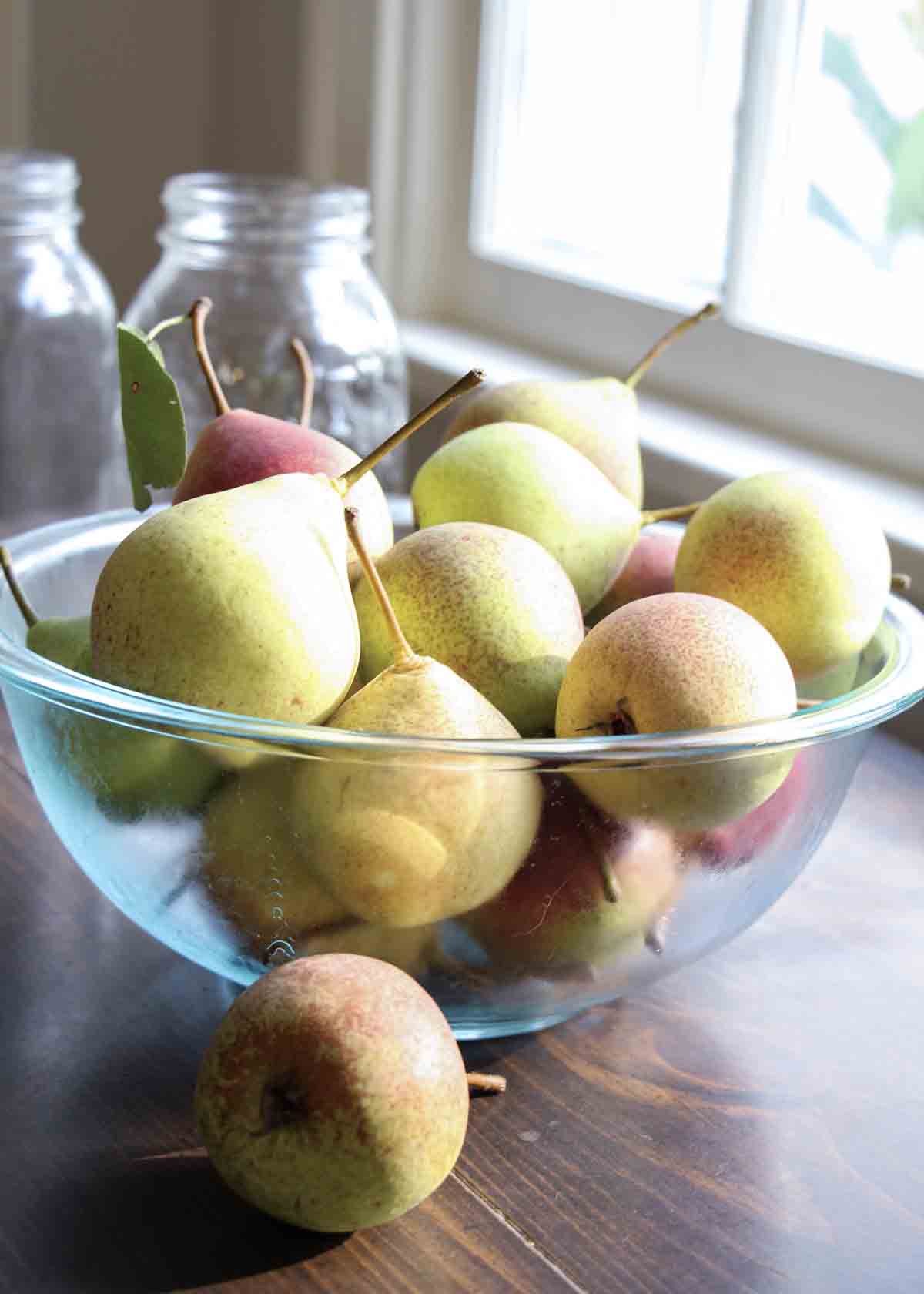 Pears and Oxidization
Once cut, pears will start to oxidize or turn brown. You can ignore this if you don't mind it, but if you prefer the "just cut" look, dip them in some lemon juice to prevent it.
Another option is to use Asian pears which don't turn brown. If you've never had an Asian pear, they have a crispness like an apple, but a flavor that I think is more pear like. They have a long (refrigerated) shelf life, so I've started keeping them around more. In fact, the salad in the pictures has Asian pear slices on it.
Toasting nuts
Toasting nuts adds flavor and crispness, but it adds an extra step, so I'm often torn about doing it. I'll leave the decision up to you.
When I do toast them, I usually pan toast them rather than using the oven. I spread a layer in a frying pan and heat them on medium high heat, shaking the pan occasionally. They get fragrant right before they are done, which is a clue to me to get them off the heat before burning. Ask me how many nuts I've burned, trying to toast them in the oven!
Fresh Fruits and Veggies
We share Recipes From Our Dinner Table! Join our group and share your recipes, too! While you're at it, join our Pinterest board, too!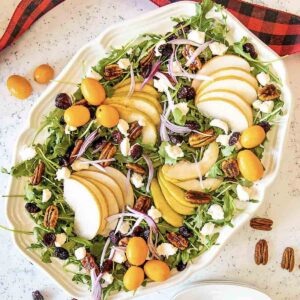 Arugula Pear Salad with Goat Cheese
With a creamy vinaigrette dressing, this Sweetened Goat Cheese Arugula Salad adds cranberries and pecans for maximum flavor.
Ingredients
Dressing:
2

Tablespoons

olive oil

1

Tablespoon

balsamic vinegar

1

Tablespoon

honey

or maple syrup

1

teaspoon

sweetened goat cheese

1/4

teaspoon

oregano

1/4

teaspoon

dried minced onion

Salt to taste
Salad:
6

cups

arugula

¼

cup

dried cranberries

2

ounces

sweetened goat cheese

less 1 teaspoon (see above)

¼

cup

whole pecans

or other nuts, toasted if you wish

2

pears

or 1 very large pear

1/2

red onion

thinly sliced
Instructions
Combine dressing ingredients and whisk together. Taste to adjust honey and salt.

Slice the pears.  Dip in lemon juice if desired to avoid browning. 

Toss or drizzle the arugula with the salad dressing, then spread on a large salad plate.  Top with remaining ingredients. 
Notes
Note: I added a garnish of kumquats to the salad because I had a lot at the time. This is not something I typically do.
Nutrition
Calories:
253
kcal
Carbohydrates:
28
g
Protein:
5
g
Fat:
15
g
Saturated Fat:
4
g
Polyunsaturated Fat:
2
g
Monounsaturated Fat:
8
g
Cholesterol:
7
mg
Sodium:
68
mg
Potassium:
281
mg
Fiber:
5
g
Sugar:
21
g
Vitamin A:
899
IU
Vitamin C:
10
mg
Calcium:
90
mg
Iron:
1
mg
I am not a health professional and nutrition data is calculated programatically. Accuracy may vary with product selection, calculator accuracy, etc. Consult a professional for the best information.
Updated from the Jun 11, 2020 original.