Cream of Spinach Soup with Potatoes
Warm and creamy–and healthier than chicken soup, Cream of Spinach Soup with Potatoes may be your new favorite comfort food!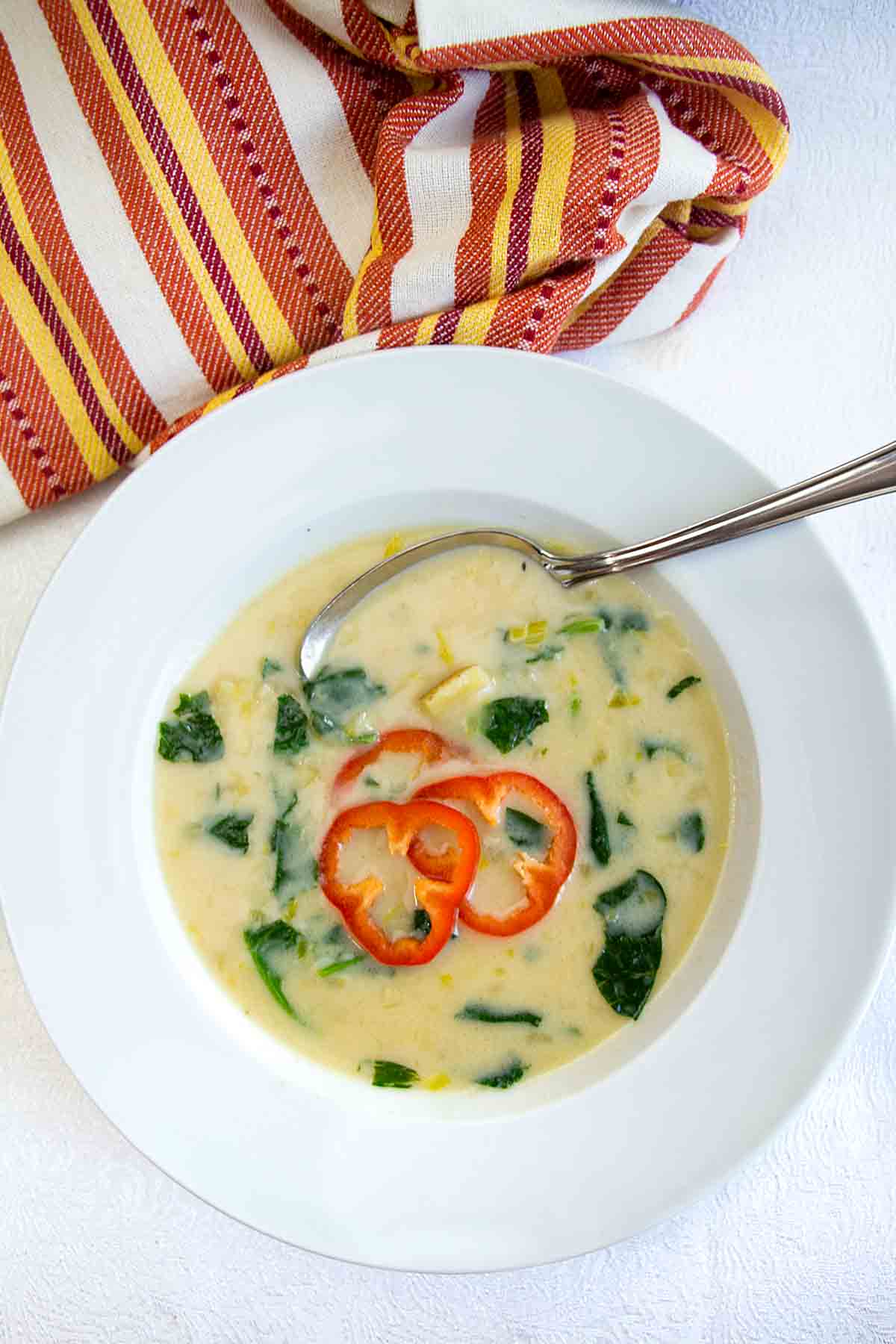 This is it. The soup of (family) legend! How many times does a soup achieve that!
And I'd like to say it's because it's the tastiest soup ever. Alas, IMHO, it's a nice fall or winter soup but I'm not entering it in the next great chef contest. On the other hand, my youngest daughter (aka, my "picky" daughter), says it's the best, most comforting soup ever. And since she's asked me to make a giant batch for her, I decided it was time to update my 2011 post!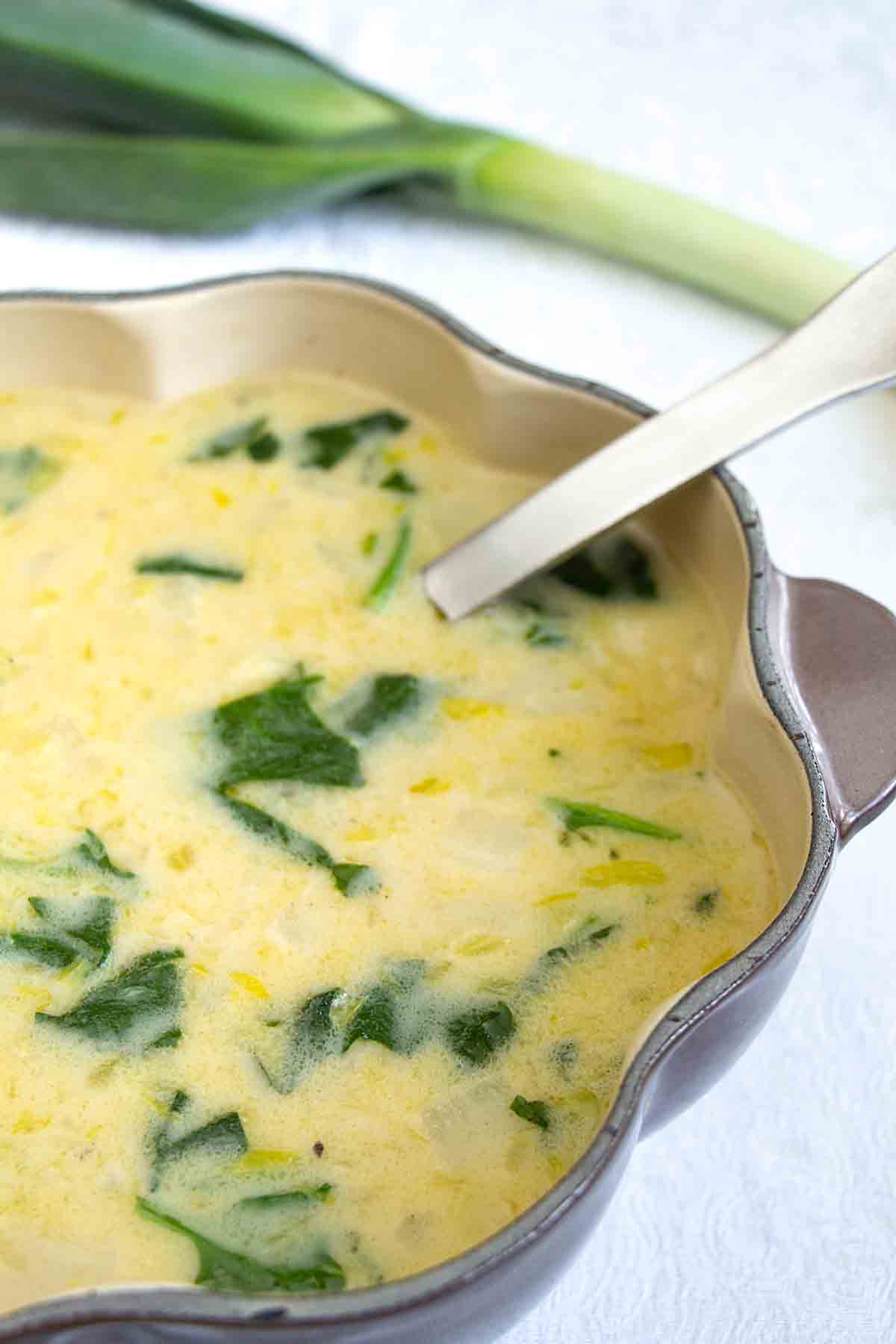 Why I Don't Blend this Soup
But back to the legend…. If you go browsing online, you will see that sometimes this soup (or similar) is pureed. It may be to make the soup thicker, or sometimes to achieve a smooth consistency. The reasons will vary.
And I honestly can't remember why I decided to puree it, after successfully serving it to my kids many times before. But that day I threw caution to the wind, poured the soup into the blender, and cycled it on.
And… even I didn't like the color.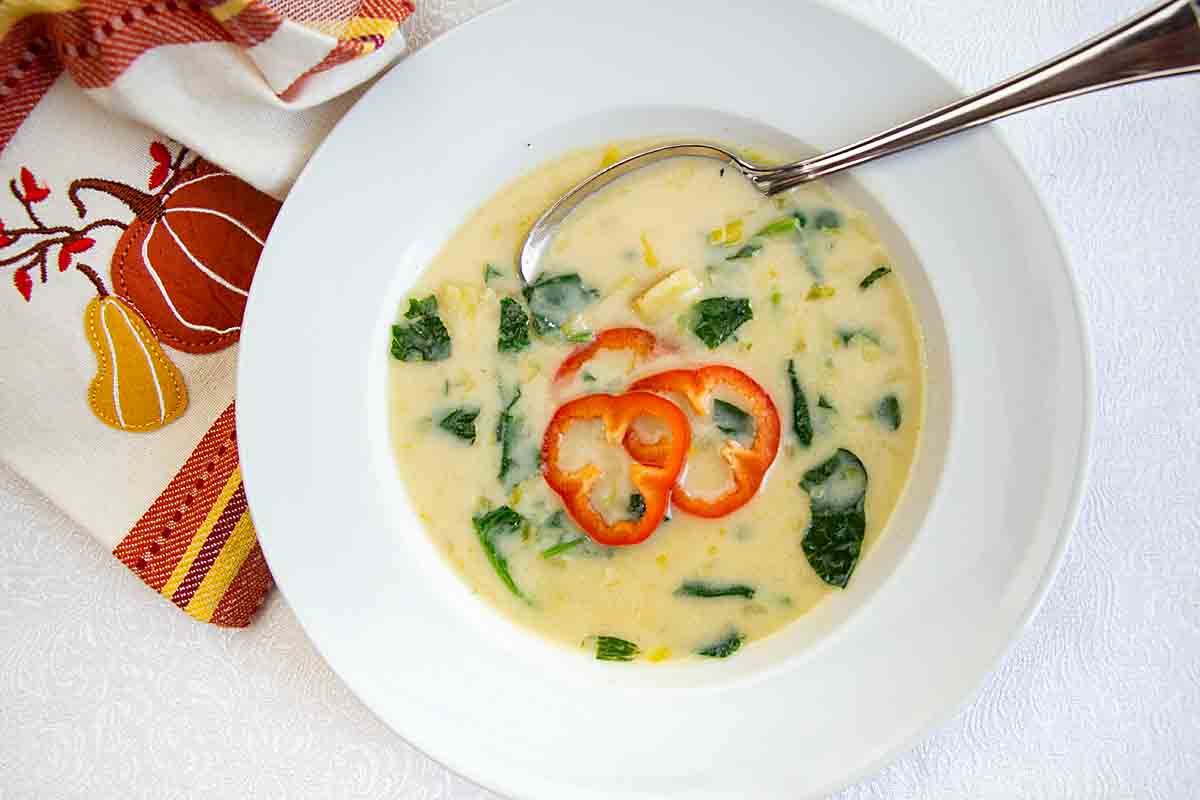 When my kids arrived for dinner, there was a universal, "Eeuuwww!" And my oldest quipped sarcastically, "You made cream of pond scum soup!"
So to this day, "cream of pond scum" is firmly entrenched in the family vernacular, right next to "grab a mouse first thing in the morning" (another classic).
So truly…, this is you only warning. Think twice before blending it.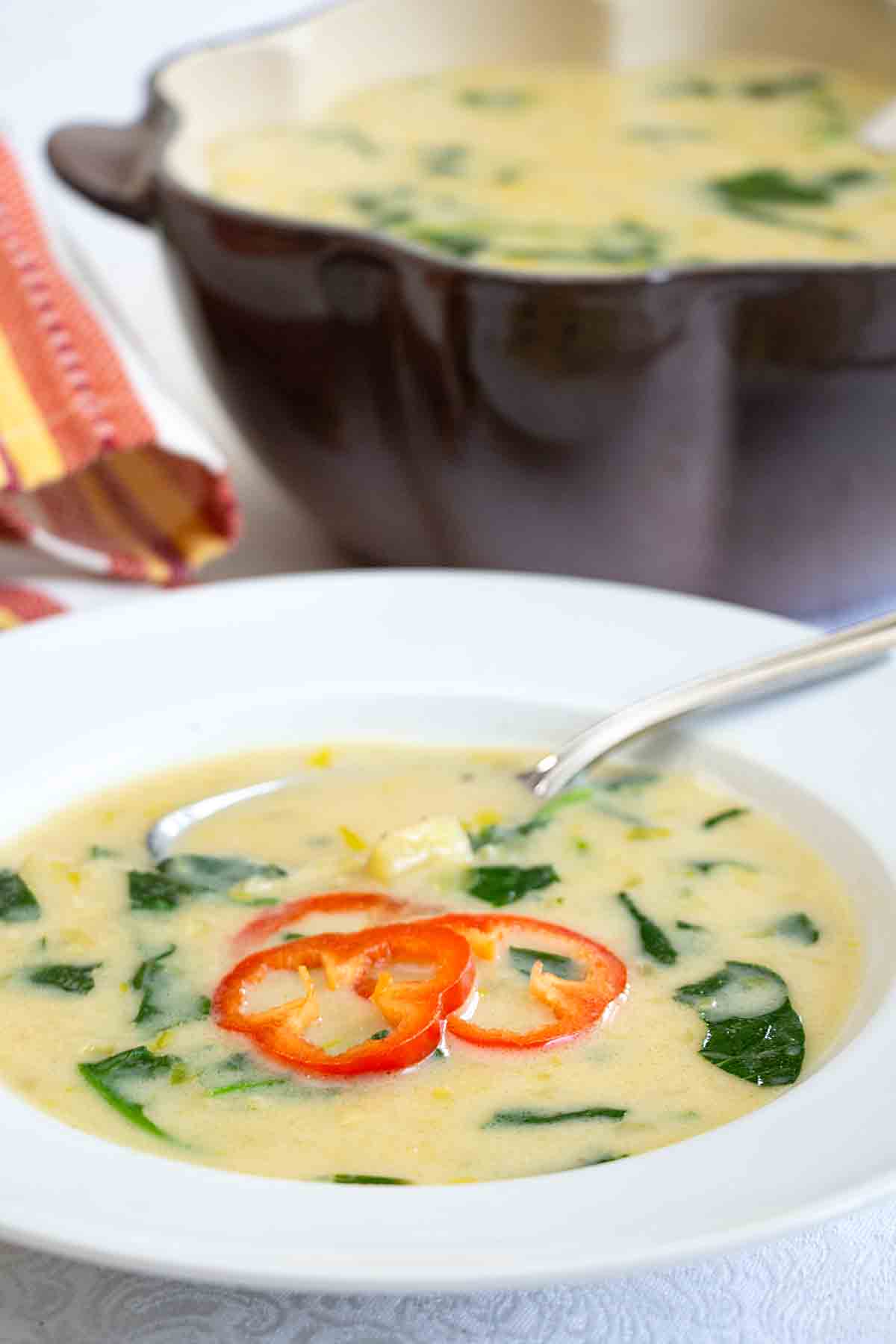 Not Julia Child's Cream of Spinach Soup
Julia Child's cream of spinach soup is probably the classic recipe for this. She uses onions instead of leeks, thickens with egg yolk in addition to flour and adds no potatoes.
And as I explored the recipe more, I had to wonder if mine is a composite of this with the (also classic) potato leek soup. Of course, I do love that this gives diners two vegetables–add a veggie–even if I can't take credit for it.
And Julia didn't puree it either, I might add.
The recipe is French, however. My mother researched it for an international food celebration at my high school, where I studied French. And ever since, it's been a keeper over two generations, though we called in Spinach Potato Leek soup back in the day!
Step by Step Directions
The soup comes together easily. You saute the celery and leeks.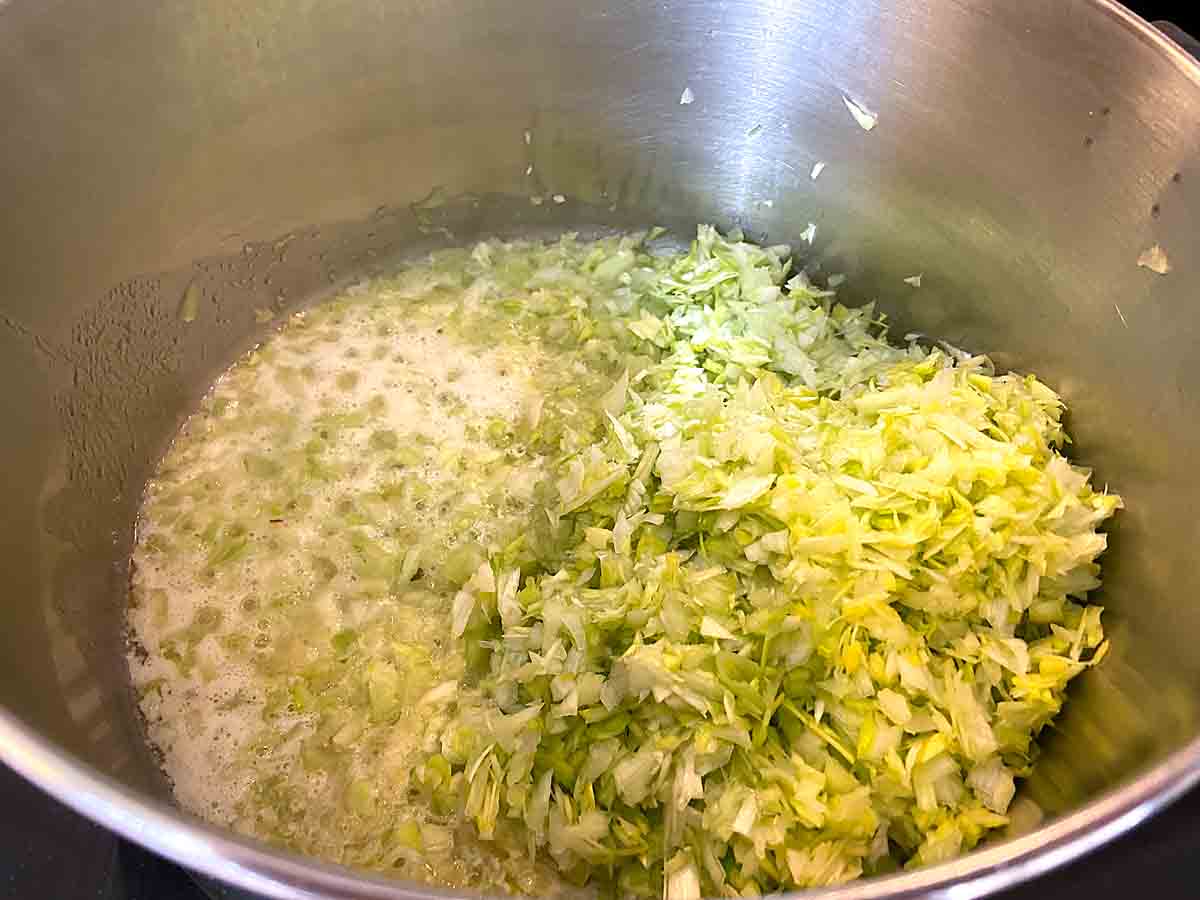 Stir in the flour and add the broth to thicken.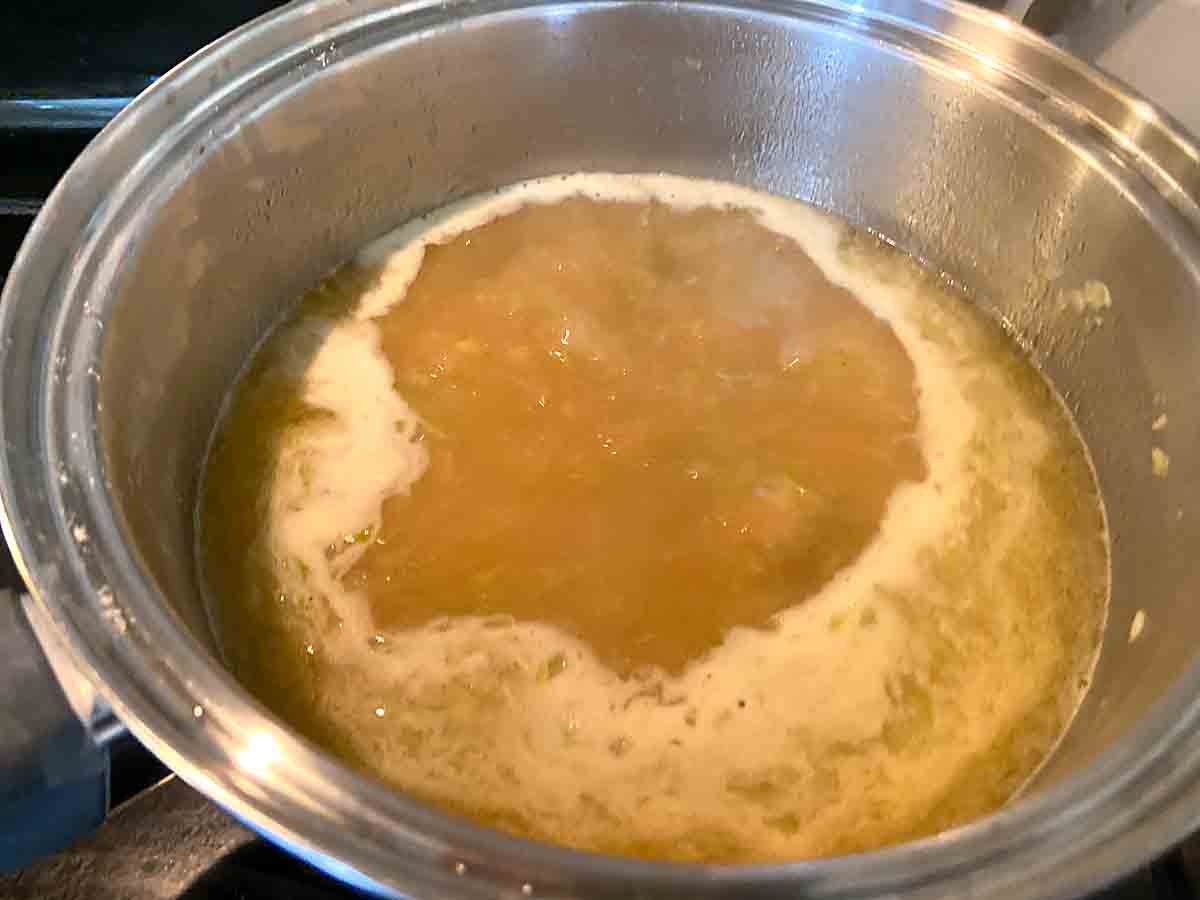 Add potatoes and cook until tender.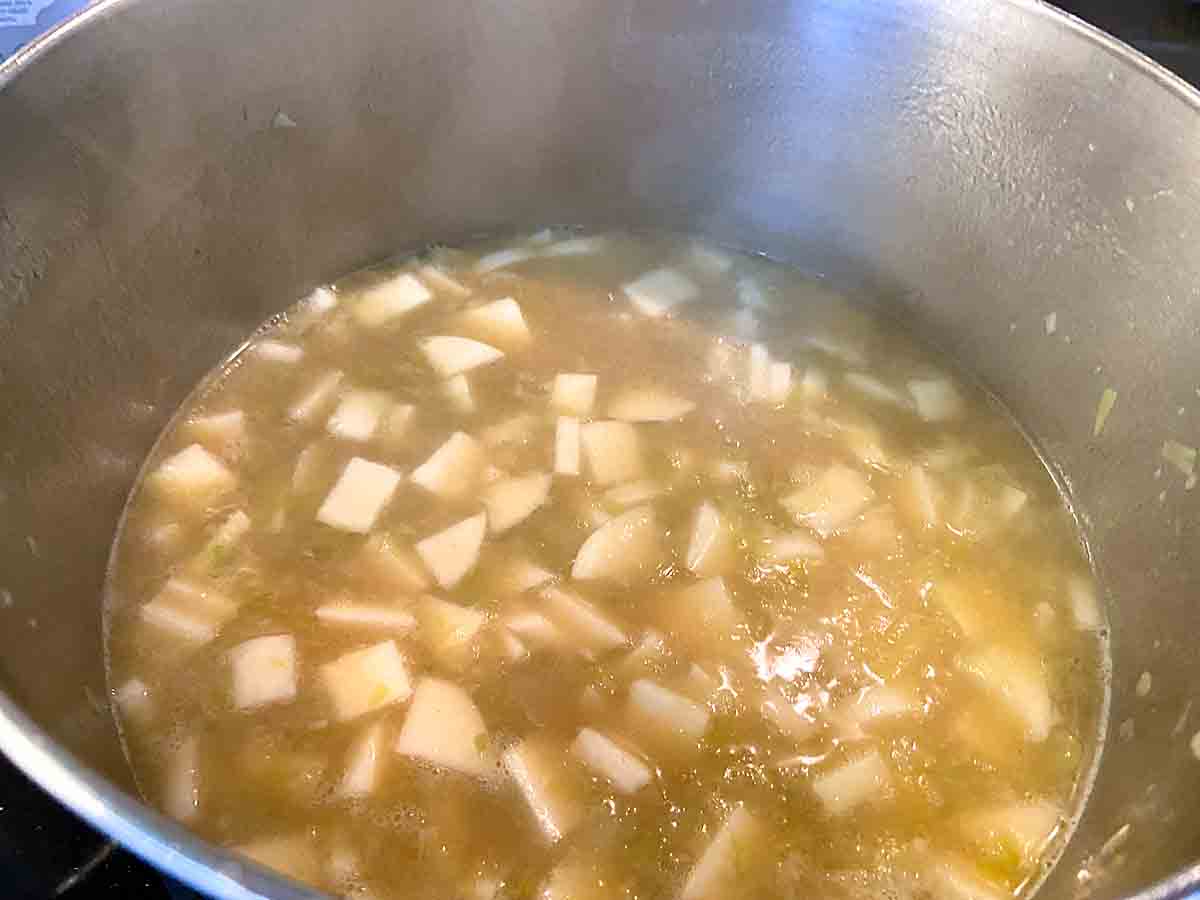 Add spinach and cook until wilted.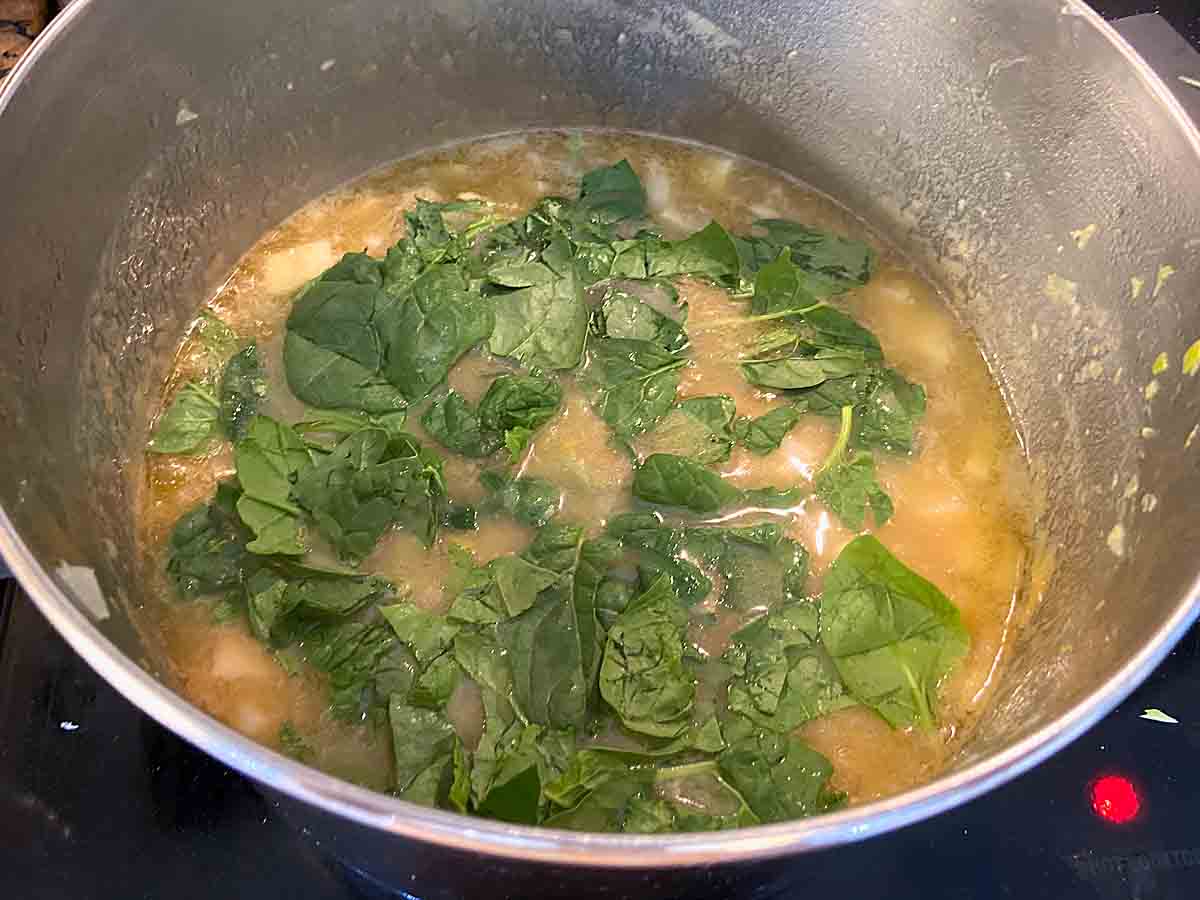 Add cream, bring back to temperature and serve.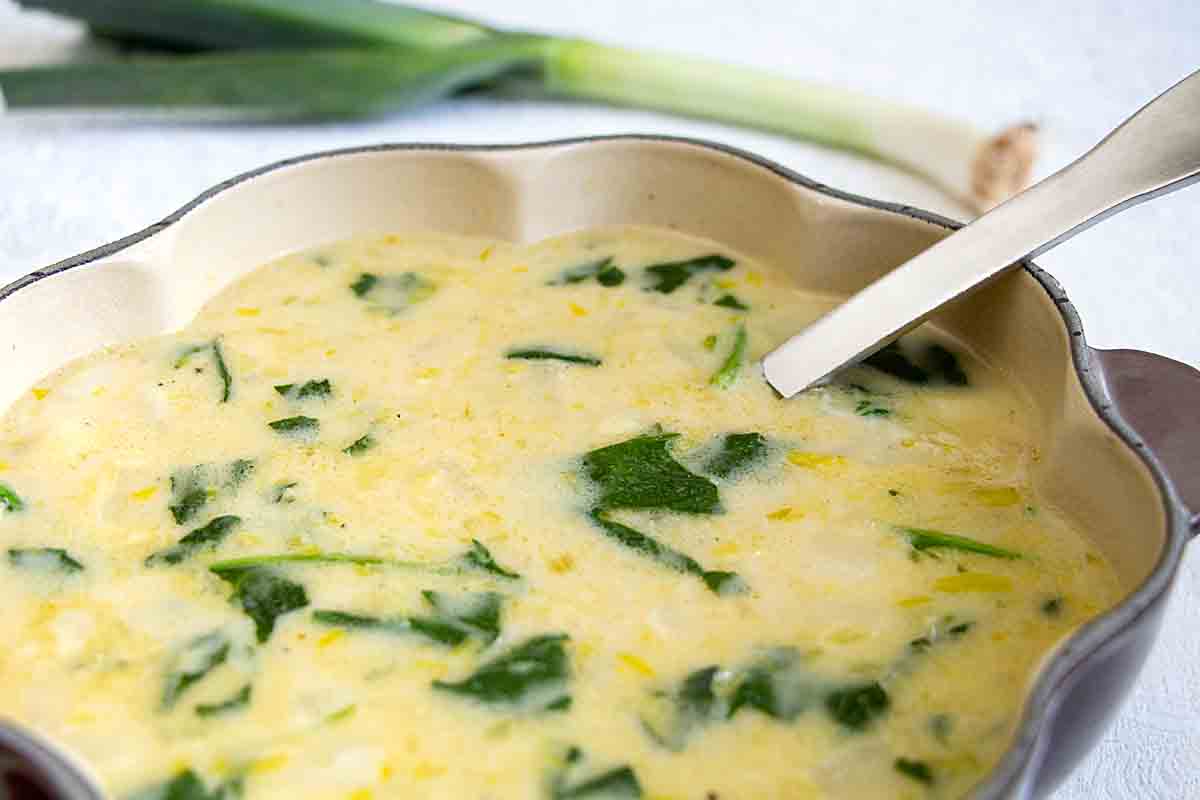 When and How to Serve
As I mentioned, my daughter loves Cream of Spinach Soup as a comfort food–it was one of her favorite "just got the braces tightened" meals. She'd eat it for breakfast then which was fine with me since she wasn't able to eat her usual carrot sticks at lunch!
Of course, for everyday eating, this is delicious served in the classic combinations of soup and (half) sandwich or soup and salad. Or it's fine just on its own as a light lunch. In that case a loaf of crusty bread or a basket of muffins is a wonderful accompaniment.
This soup would also make an excellent first course since it's light enough not to dampen the appetite excessively.
I love using thin slices of mini-peppers as a garnish on this, especially since parsley would disappear! And if you have them, a nice scattering of croutons would add texture and be visually appealing!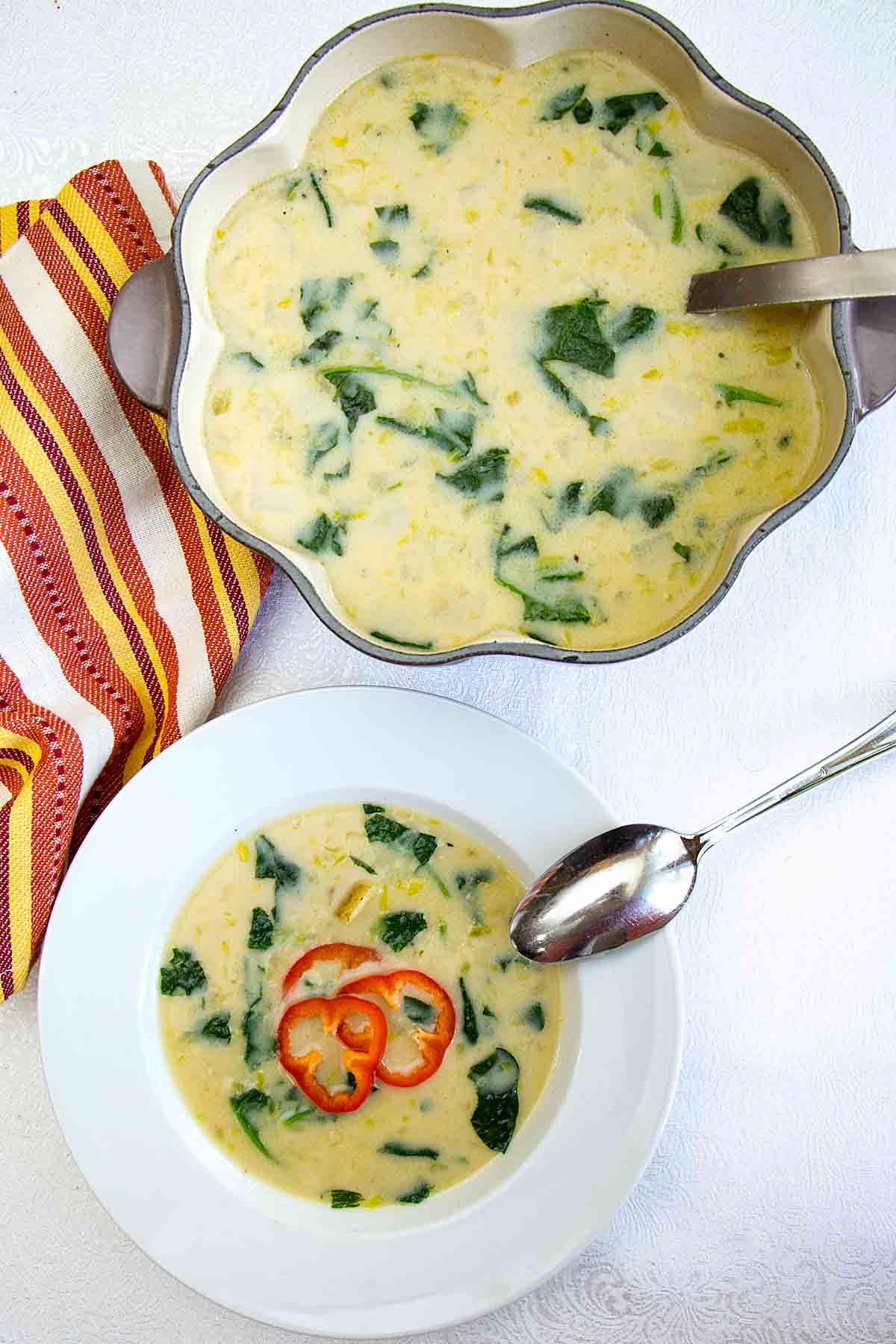 Tips and FAQs
Cream of spinach is a lovely soup any time of the year. But it's especially nice in fall and winter. And happily, both leeks and potatoes are long lasting so you may be able to make this with local ingredients even in January!
Spinach is regularly on the EWG Dirty Dozen list of most contaminated fruits and vegetables, so buy organic if you can. Either fresh or frozen will work.
And since it's comfort food season, take a look at more recipes from some of my blogging friends!
Comfort Food Recipes
We share Recipes From Our Dinner Table! Join our group and share your recipes, too! While you're at it, join our Pinterest board, too!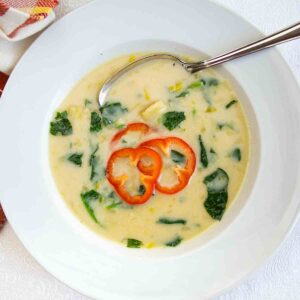 Cream of Spinach Soup with Potatoes
Warm and creamy and healthier than chicken soup, Cream of Spinach Soup with Potatoes may be your new comfort food!


Ingredients
¼

cup

butter

or oil

2

large leeks

white and light green only, chopped fine

2

celery stalks w/leaves

cut fine

¼

cup

flour

4

cups

chicken broth

or vegetable

2

cups

cubed potato

½

cup

cream or milk

non-dairy for vegan option

4

cups

spinach

ripped into smaller pieces
Instructions
Sautee leeks and celery in butter or oil until softened. Stir in flour and cook for a few minutes.

Add the broth and cook, stirring, until slightly thickened. Add the potatoes and continue cooking.

When potatoes are tender, stir in the spinach and cook just until wilted.

Add cream or milk, bring back to temperature if needed and serve immediately. Refrigerate any leftovers.
Nutrition
Calories:
361
kcal
Carbohydrates:
34
g
Protein:
7
g
Fat:
23
g
Saturated Fat:
14
g
Polyunsaturated Fat:
1
g
Monounsaturated Fat:
6
g
Trans Fat:
0.5
g
Cholesterol:
69
mg
Sodium:
1012
mg
Potassium:
777
mg
Fiber:
4
g
Sugar:
5
g
Vitamin A:
4363
IU
Vitamin C:
35
mg
Calcium:
103
mg
Iron:
3
mg
I am not a health professional and nutrition data is calculated programatically. Accuracy may vary with product selection, calculator accuracy, etc. Consult a professional for the best information.