Homemade Chocolate Frozen Yogurt
Creamy, rich and chocolatey, this Chocolate Frozen Yogurt is as yummy as ice cream and a whole lot healthier. Reduced sugar option included.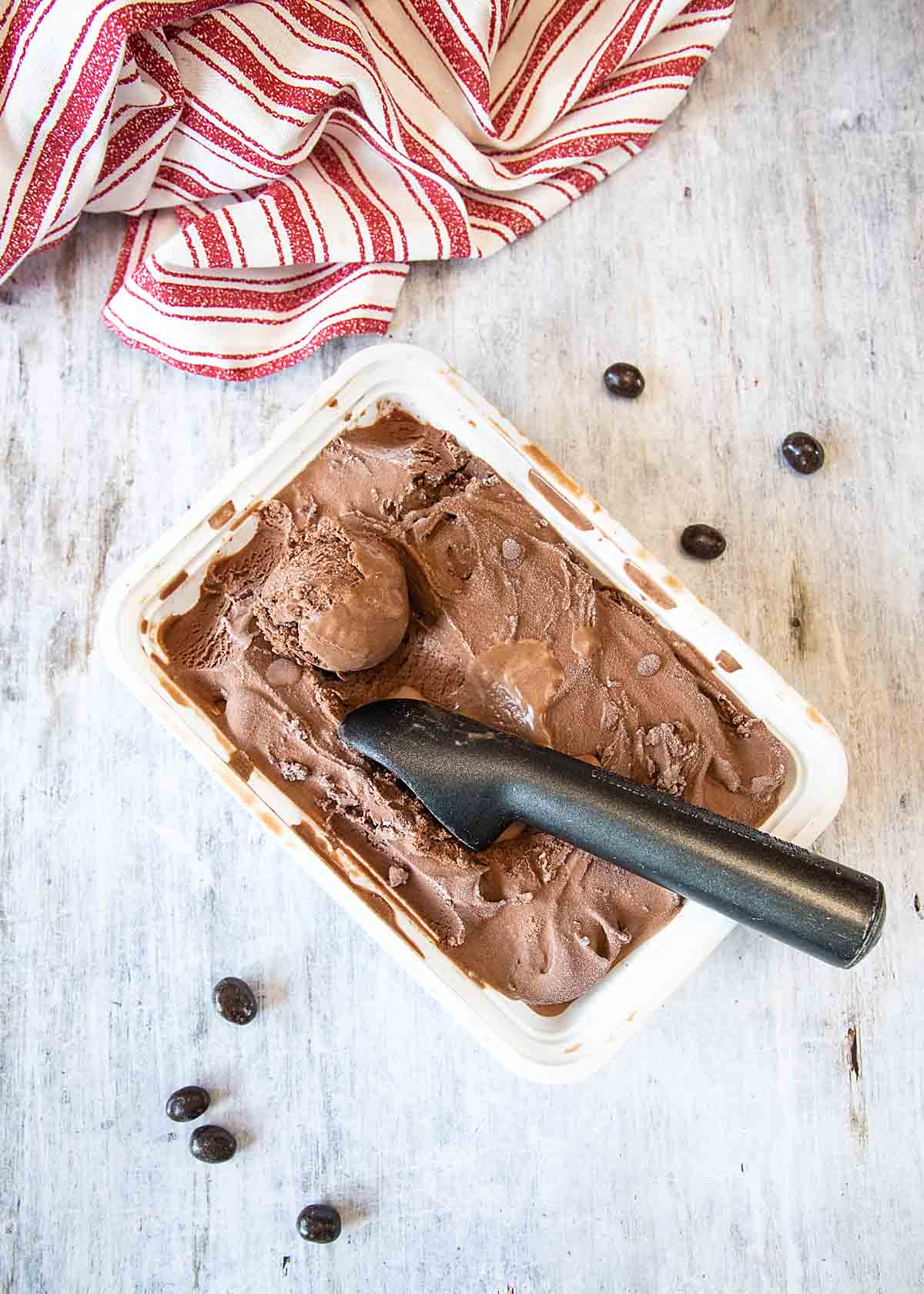 It's amazing how quickly an idea can turn into an obsession. At the moment, it's homemade yogurt for me. And that means frozen yogurt for summer.
It started with being told I needed to consume more calcium and less sugar. Um, easier said than done. But if I could make my own froyo with an eye on ingredient control, I just might be able to have the best of both worlds.
After soooo many trials (more on this below), I have a winner! Rich and creamy, I think it tastes better than many of the chocolate ice creams I've eaten. And my tasters agreed with comments like "tastes just like chocolate ice cream."
It's even easy to make. Just whisk together the ingredients and freeze per your ice cream freezer's instructions. Yum!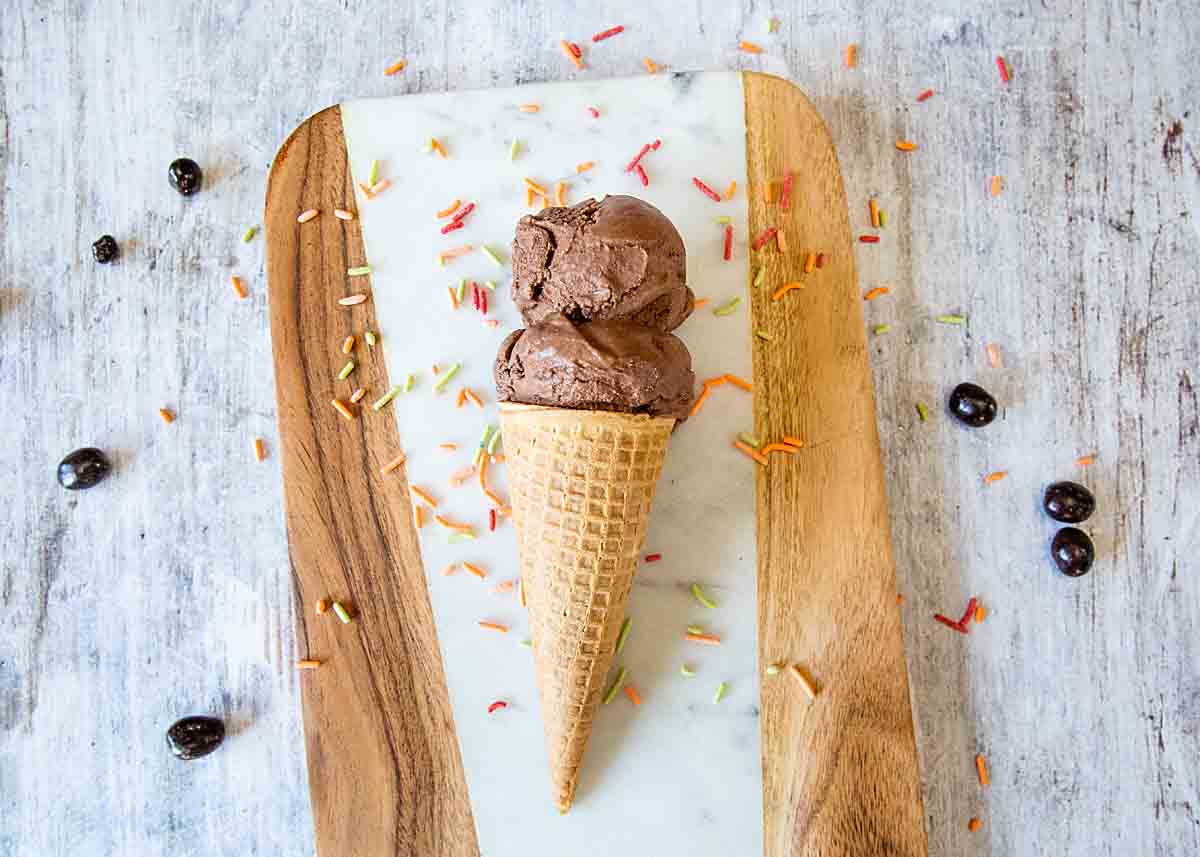 Why You'll Love This!
Tasty. I have been told that this tastes just like a good chocolate ice cream. And having rejected multiple vanilla and strawberry trials (sadly), I don't think I'm engaged in wishful thinking when I agree.
Healthier. With healthy calcium and probiotics, plus less fat and sugar, this is healthier than ice cream and many other desserts.
Fun. Come on. It wouldn't be summer without some fun frozen treats! Alright, it's good all year round too!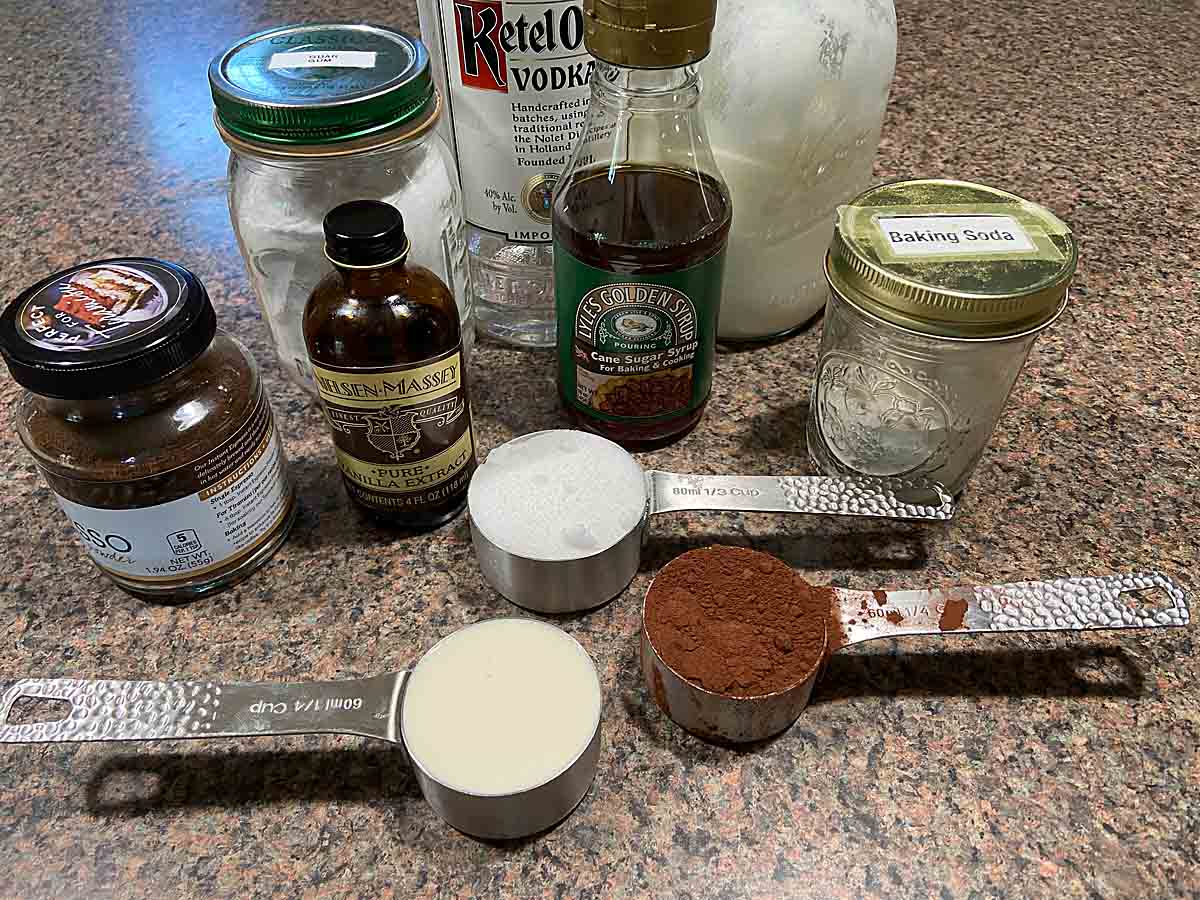 What You'll Need
Ingredient Notes
Reduced fat yogurt. This provides nutrition, flavor and volume. You could substitute whole milk yogurt and might be able to use fat free yogurt. For fat free, I'd increase the cream by about 2 Tablespoons.
Heavy Cream. This adds richness and improves the consistency.
Golden syrup. This adds sweetness and improves the consistency. You should be able to use corn syrup as a substitute.
Sugar or allulose. This adds sweetness and bulk and improves the consistency. I have tested with both options.
Vodka. This keeps the frozen yogurt from getting too hard. If you can't have alcohol, you can omit it and remove the frozen yogurt from the freezer a little before serving to allow it to soften.
Quality Dutch Cocoa. This provides the chocolate flavor and reduces the tartness of the yogurt. The flavor of the cocoa makes a big difference (ask me how I know this).
Espresso powder. This enhances the chocolate flavor but doesn't add coffee flavor. My coffee hating husband couldn't detect it in the final product. You can omit if needed.
Vanilla. This mellows the chocolate flavor.
Baking soda. This reduces the tartness of the yogurt and takes the place of the salt (as a flavor enhancer).
Guar gum. This improves the final consistency of the product. It can be omitted as needed for special diets. For a test I'd omit it, then if you like this as much as I think you will, buy it online since it really does improve the results.
Special Tools
Step by Step Directions
Whisk together everything except the baking soda and guar gum.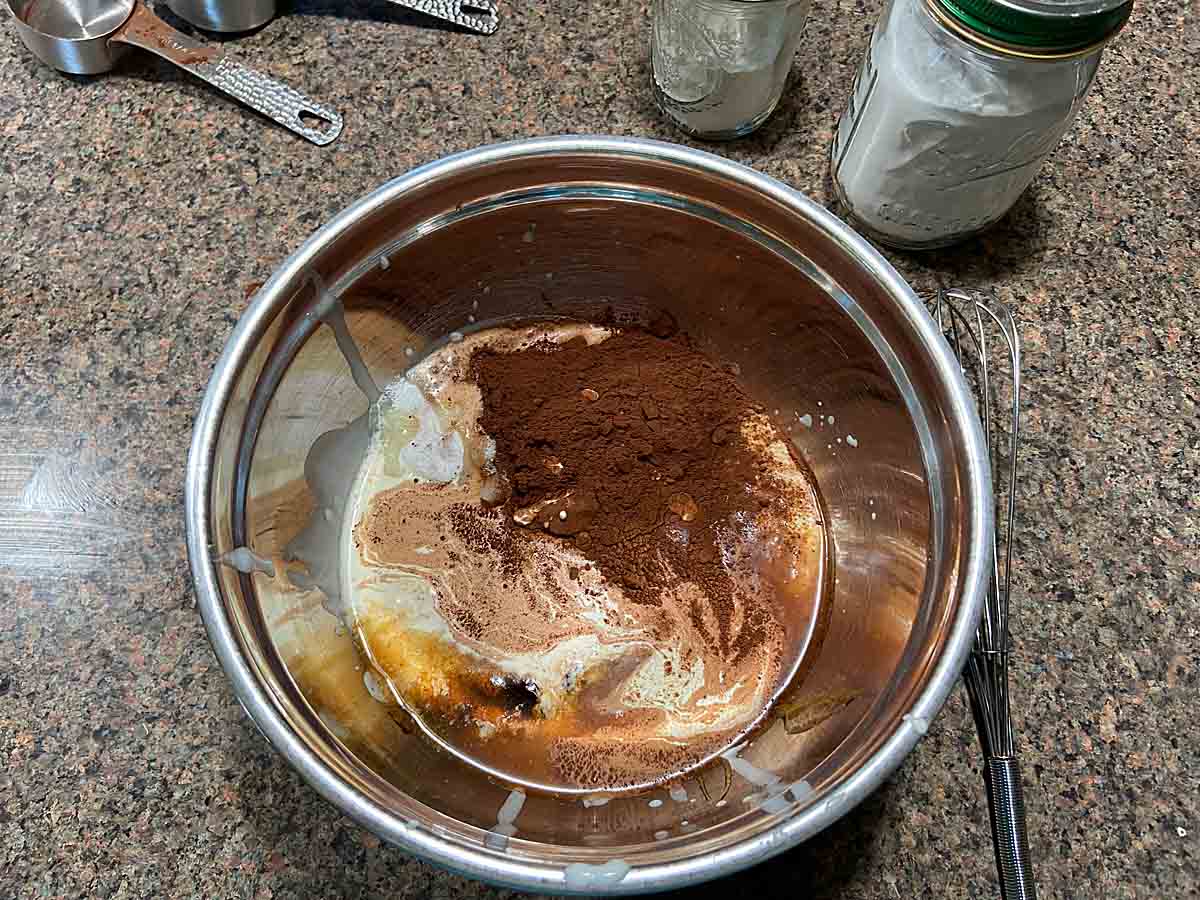 Sift the baking soda and guar gum into the yogurt mixture and whisk in.
Freeze according to your ice cream freezer's directions.
Homemade Frozen Yogurt Challenges
Sour taste
My goal was to create a frozen yogurt that tasted like ice cream—without the strong tartness that many yogurts have.
Yogurt selection. The first change was to start with a less tart yogurt. I used a homemade yogurt made with the Sugar Shift cultures, but you can select a less tart yogurt from commercial options as well.
Baking soda. Even with a less tart yogurt, my early frozen yogurt tests had a notable sourness. Then I read that baking soda is alkaline, so can help counter this, so I now include some. Just be ready for it to fizz up when you add it. And if tasted after adding, it makes the yogurt feel a little like "pop rocks" (though this disappears completely after freezing)! Then, because baking soda is high in sodium, I also eliminated the salt (which was otherwise important to the flavor).
Quality Dutch Chocolate. I didn't like the flavor of the first cocoa powder I used. So, I decided to use a higher quality cocoa powder and one that had been Dutch processed. Dutch chocolate is treated to make it more alkaline, which I knew would also help balance the acidity of the yogurt. I have been using Prepared Pantry Dutch Chocolate (not sponsored) and have ordered a couple others for future testing.
Crystallization and Mouthfeel
Crystallization and poor mouthfeel are two other sensory problems that many homemade frozen yogurts have. This can mean getting too hard, developing extensive ice crystals, and having a "thin" texture.
To counter this, I include golden syrup, the British counterpart to America's corn syrup. As an invert sugar, this makes products more resistant to crystallization. Though I haven't tried it, I think it's very likely that corn syrup would perform similarly.
Next, I added a small amount of alcohol (vodka) which, with a low freezing point, helps keep the frozen yogurt from getting too hard.
Finally, I added a pinch of guar gum which gives the tiniest bit of stretch and chewiness to the mixture. I know that guar gum is not on some special diets and think that this could be eliminated if needed.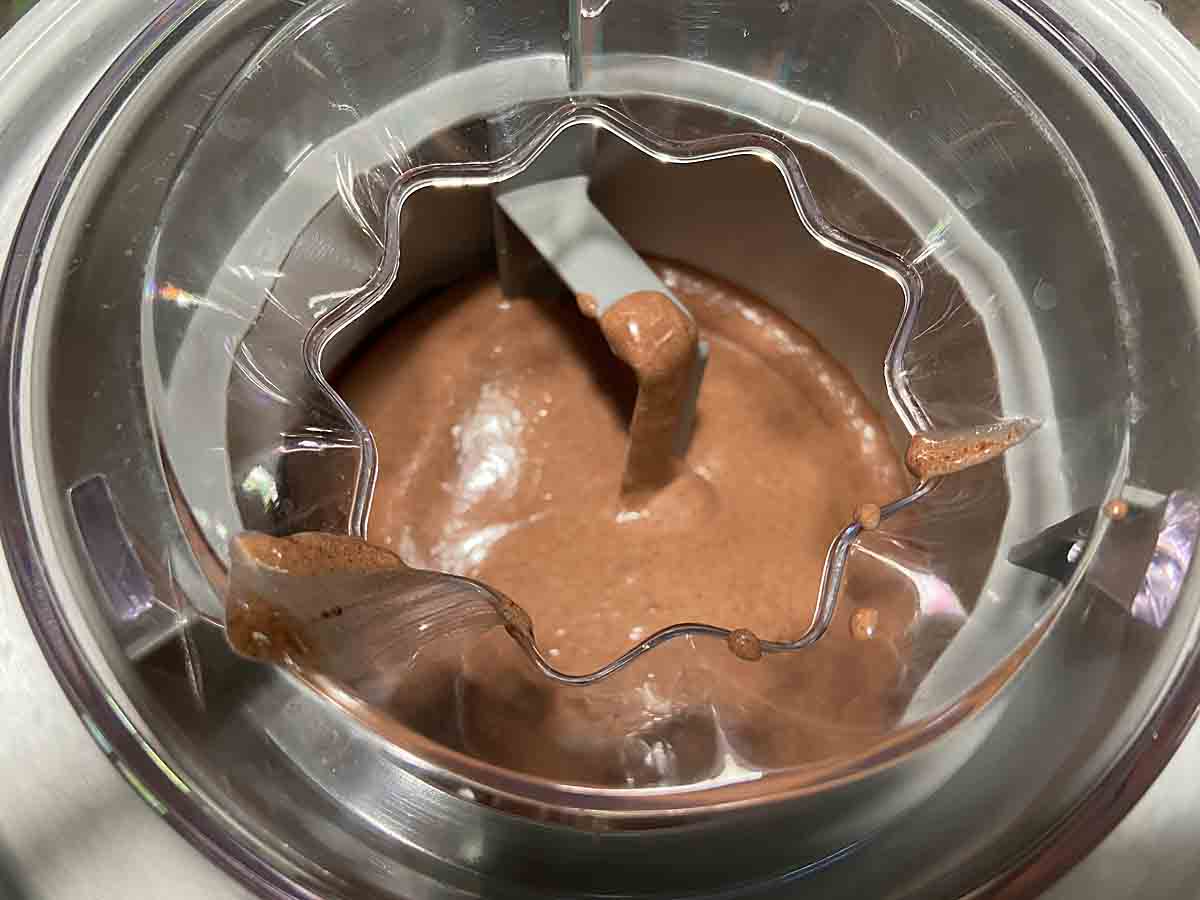 Reduced sugar option
I also wanted to do a reduced sugar version. Because the sugar is a structural component and not just for flavor, you can't use sweeteners like stevia and monk fruit. In addition, many sweeteners are prone to crystallization.
To deal with these issues, I used allulose which has bulk like sugar, so functions similarly, and which has a lower tendency to crystallize than some other sweeteners. Then I added a few drops of stevia to bring the sweetness up to the level of the sugar version—you could also accomplish this by adding another Tablespoon or so of allulose.
I kept the golden syrup even though it's a sugar, since that is supposed to be pretty important to the consistency. I do hope to try testing without this in the future. But for now, I'm happy to have achieved results I have, with minimal compromises nutritionally.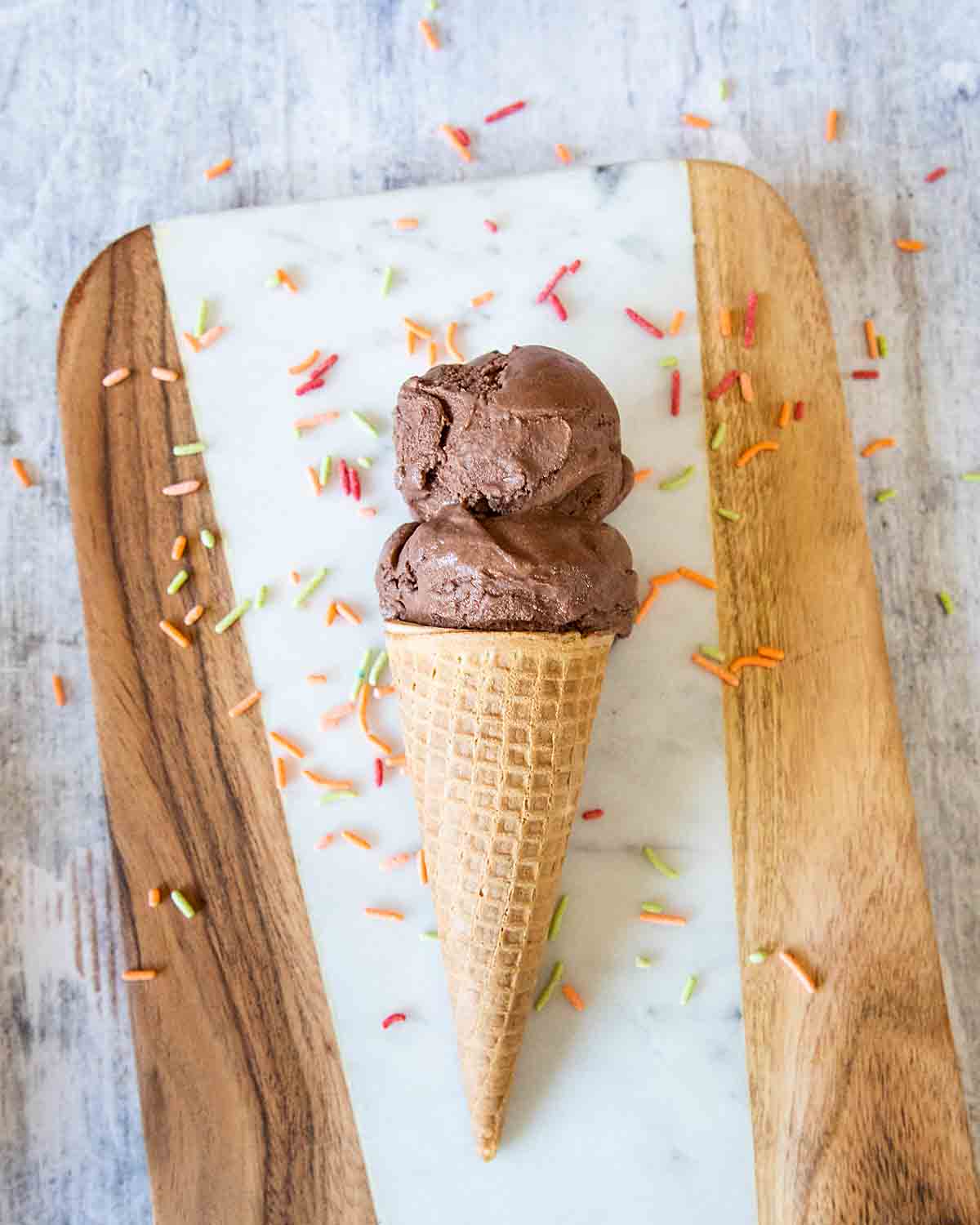 How to Serve
There are so many ways to serve this chocolate frozen yogurt. Go simple in a dish, maybe topped with a little whipped cream and sprinkles.
Or have a frozen yogurt cone. Perfect for carrying on a nice summer stroll.
And for a fancier dessert, you can even do an "ice cream pie" similar to my Coffee Fudge Ice Cream Pie. So tasty!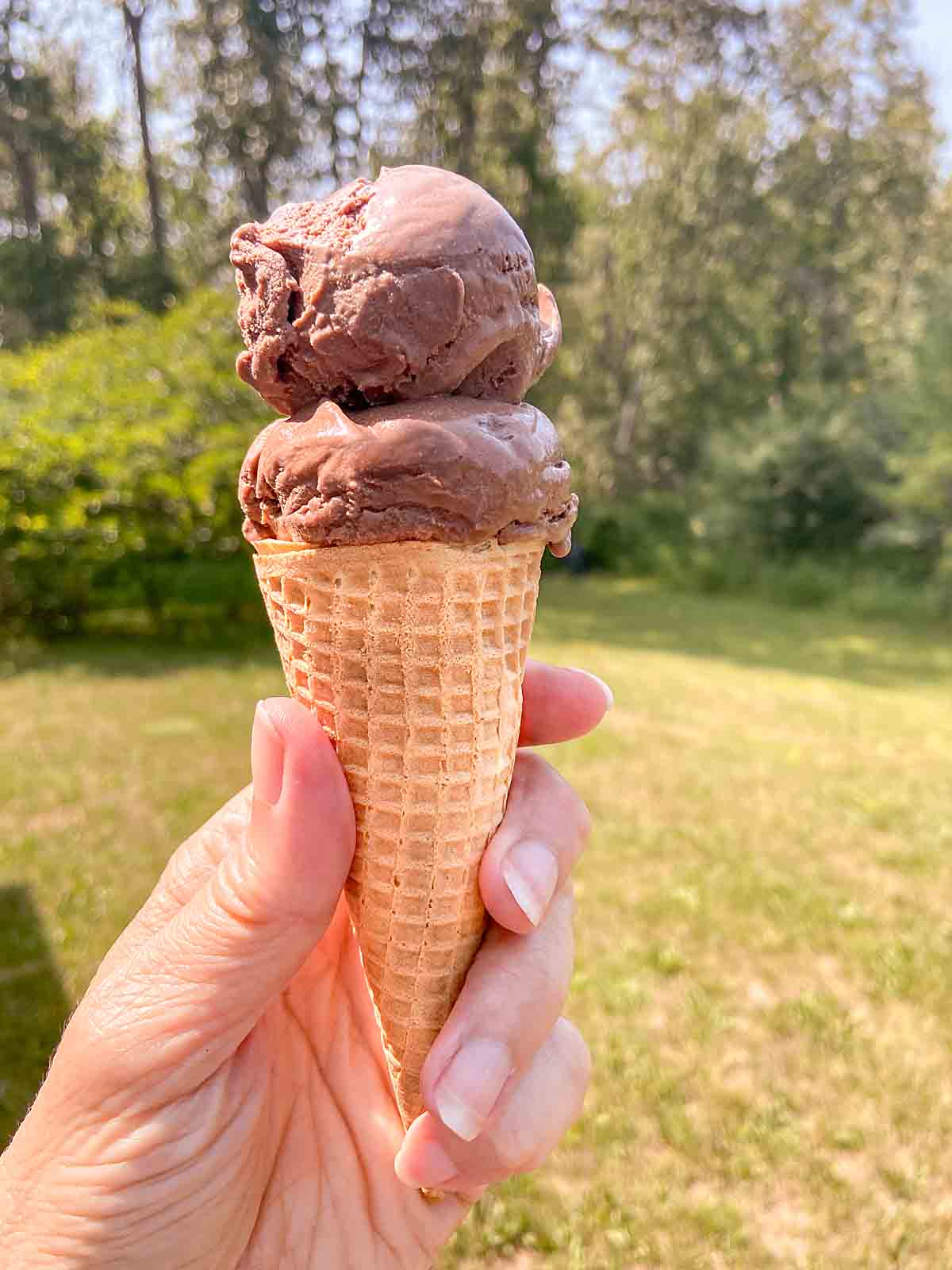 Variations and Special Diets
This recipe has been very painstakingly developed. I expect that by the end of frozen dessert season (mid fall), I'll have tested around 100 different versions. While I'm usually the first to say "no recipe police", any changes to this recipe (other than those indicated) may really make a difference.
I am working on other flavors (I have a coffee that's also "complete") so if you're a frozen yogurt fan, you may want to subscribe so you're notified of new flavor options.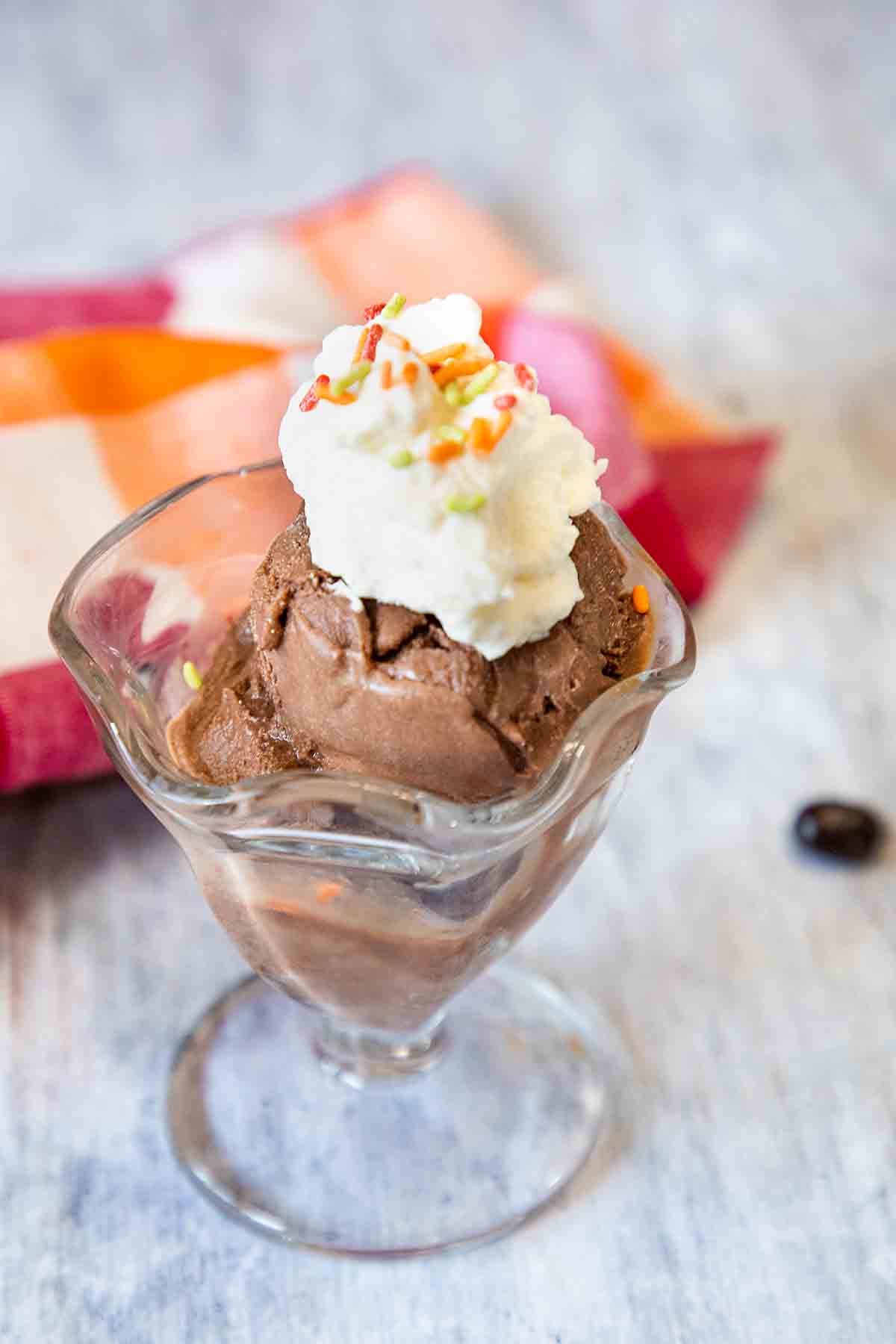 Leftovers
Keep leftovers in the freezer, very well sealed. Like ice cream, this will develop ice crystals over time, so try to use within a week or two (or scrape off the surface crystals).
Tips and FAQs
If my yogurt has separated, should I drain the liquid? NO! If you drain the liquid off, you'll be sending a lot of the calcium down the drain. (It's the same reason I don't recommend Greek yogurt.) In an acid environment like yogurt, the calcium will move into the liquid portion, so it's important to keep that. (For a related discussion, see the Washington Post on why cream cheese has "no" calcium.)
Can this be made without an ice cream freezer? I haven't tried this. It definitely isn't going to be as easy as the whipped cream and sweetened condensed milk ice creams. But if you are proficient at converting standard ice cream recipes to non-freezer (using techniques like the freeze partially and stir), this shouldn't be any different than that. If you try, I'd love to hear in the comments.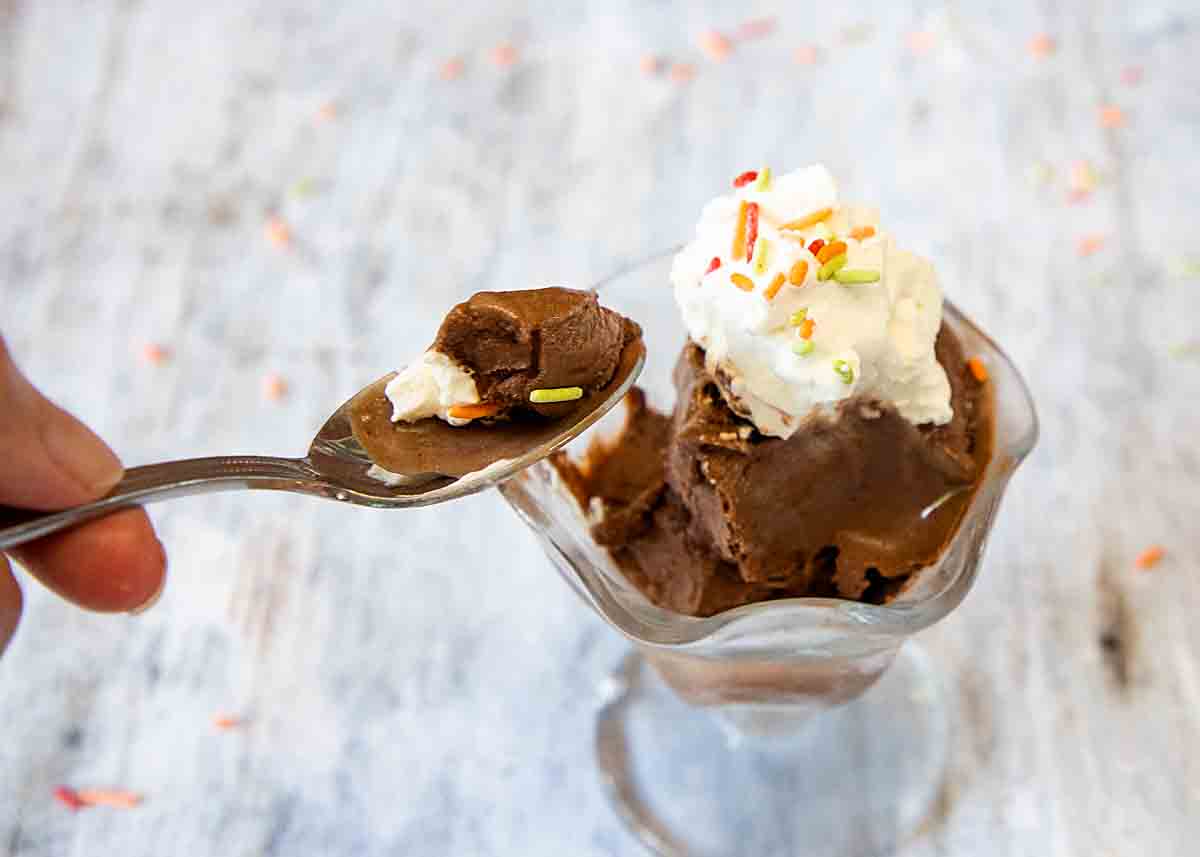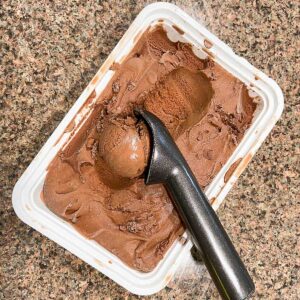 Chocolate Frozen Yogurt
Creamy, rich and chocolatey, this Chocolate Frozen Yogurt is as yummy as ice cream and a whole lot healthier.  Reduced sugar option included.
Ingredients
1 ½

cups

reduced fat yogurt

¼

cup

heavy cream

2

Tablespoons

golden syrup

1/3

cup

sugar

or 1/3 cup allulose or to taste (see note)

1/2

Tablespoon

vodka

¼

cup

dutch cocoa

quality makes a difference

½

teaspoon

espresso powder

½

teaspoon

vanilla

½

teaspoon

baking soda

¼

teaspoon

guar gum
Instructions
Whisk together everything except the baking soda and guar gum.

Sift the baking soda and guar gum into the yogurt mixture and whisk in.

Freeze according to your ice cream freezer's directions.
Notes
Because allulose may be a bit less sweet than sugar you might want to add an additional Tablespoon of it or about 10 drops of stevia (I do the latter).
Nutrition for allulose version: 163 kcal/serving
Nutrition
Calories:
227
kcal
Carbohydrates:
36
g
Protein:
6
g
Fat:
8
g
Saturated Fat:
5
g
Polyunsaturated Fat:
0.3
g
Monounsaturated Fat:
2
g
Cholesterol:
22
mg
Sodium:
207
mg
Potassium:
316
mg
Fiber:
2
g
Sugar:
32
g
Vitamin A:
266
IU
Vitamin C:
1
mg
Calcium:
185
mg
Iron:
1
mg
I am not a health professional and nutrition data is calculated programatically. Accuracy may vary with product selection, calculator accuracy, etc. Consult a professional for the best information.