Baked Lemon Donuts with Lemon Drizzle
Fluffy and lemony, these Baked Lemon Donuts with Lemon Drizzle come in under 100 calories. Who says donuts have to be guilty!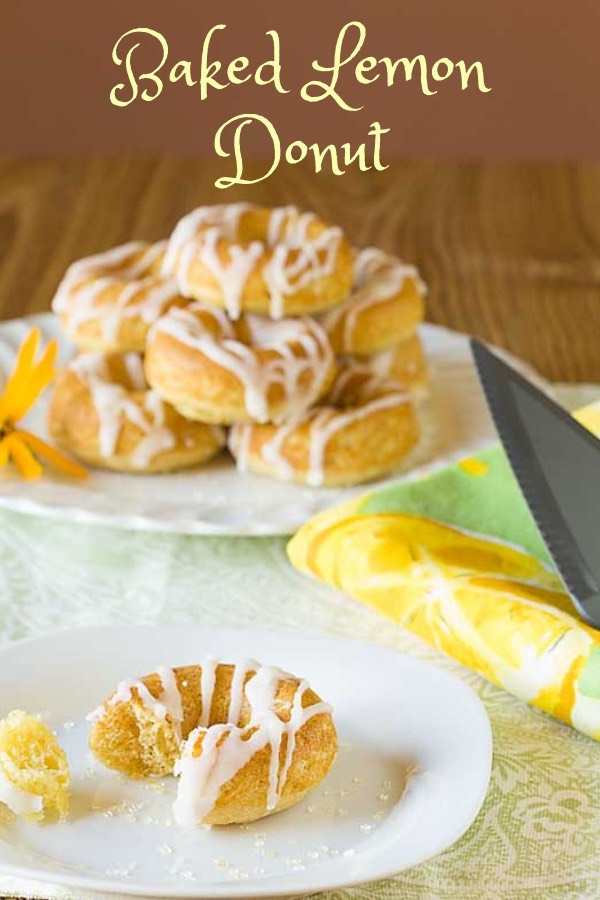 A couple weeks ago, Nielsen-Massey, the company known for their great vanillas and other extracts, sent me a new product they just released—Lemon Paste! It's their answer to a myriad of baking problems–lemon juice watering down your batter… running out of fresh lemons… needing the intensity of zest but not being able to find organic lemons. Yup, it's a problem solver.
The flavor of this lemon paste is sweet, beautiful and bright, almost a perfect match for the old "lemon drop" candies my brother wolfed down as a kid. Just between you and me, I dislike the flavor of bottled lemon juice, so it is a joy to have something I can keep on hand that actually tastes good.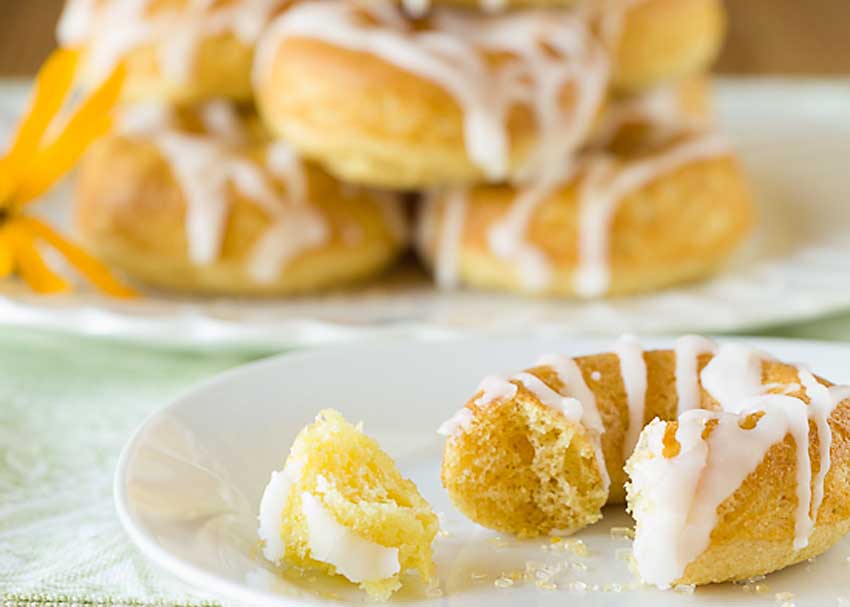 As I thought about what to do with my Lemon Paste, I decided it would be perfect for baked lemon donuts. I found a recipe at Mom Advice that was billed as light and fluffy and started there. Light and fluffy just sounded just about right with lemon flavor!
The first batch tasted great, but had a couple problems (yes I changed a couple things, my bad). So when you make these take note of some important instructions.
First, the choice of flour is significant. When I tried pastry flour, it was TOO light, but when I used all purpose OR white whole wheat, it came out great. Second, don't overfill the donut mold—these really rise and my first batch came out hockey puck shaped (nice light hockey pucks, but…). And finally, even if you are using a non-stick pan, spray with a non-stick spray.
The other comment I make every time I bake donuts is that you take a calorie hit if you use a glaze. Typically I dip my donuts in coarse sugar which is a diet-friendly alternative. But another good option is to drizzle icing, which uses less, and delivers extra flavor at a fraction of the calories.
I ended up making three batches of Baked Lemon Donuts over the weekend to get them just right. I love it when Nielsen-Massey does a campaign 'cause it always means baking something fun!
And yes, my happy family feels the same!
If you'd like to try some yourself, consider this giveaway, sponsored by Nielsen-Massey, for one bottle of Lemon Paste, a 14.95 retail value. It is open to mailing addresses in the US and closes at midnight CDT on Sept 30. To enter, leave a comment below letting me know what you would do if you won the bottle of lemon paste. For a second entry, sign up for Art of Natural Living emails (below my picture) and leave me a second comment, letting me know you signed up (or that you already subscribe). The winner will be picked randomly, contacted by email and have 24 hours to get back to me or a new winner will be chosen.
Baked Lemon Donuts w Lemon Drizzle
2018-09-23 06:30:32
Fluffy and lemony, these Baked Lemon Donuts with Lemon Drizzle come in under 100 calories. Who says donuts have to be guilty!
Nutrition Facts
Amount Per Serving
* Percent Daily Values are based on a 2,000 calorie diet. Your Daily Values may be higher or lower depending on your calorie needs.
Donuts
1 cup plus 2 Tablespoons all purpose flour (see note)
1 Tablespoon baking powder
1/8 teaspoon salt
1/3 cup sugar
3 drops yellow food coloring (optional)
1 egg
1/3 cup milk
1 1/2 teaspoon Nielsen-Massey Lemon Paste
non-stick spray (even if you are using a non-stick pan)
Drizzle
1/2 cup powdered sugar
1 Tablespoon warm water
1/2 teaspoon Nielsen-Massey Lemon Paste
Instructions
Mix flour, baking powder, salt and sugar, then set aside.
In a separate bowl, beat together egg, milk and lemon paste.
Combine wet and dry ingredients until just blended.
Spoon or pipe (see note) into each donut mold until no more than 2/3 full. Do not overfill--this rises a lot!
Bake at 350 for 8-10 minutes, until cooked through.
Mix glaze ingredients until smooth. Allow donuts to cool, then drizzle with glaze.
Notes
The size of donut pan will make a different in the number of donuts made.
I spoon out and level flour. If you are a "scooper" a single cup will probably be about right. In a second batch I used white whole wheat flour and went with 1 cup plus 1 Tablespoon due to the heavier flour.
You can spoon the batter into the pan, but piping (without a tip) was much easier. Since the batter isn't super thick you will need to pinch/fold shut the piping bag before filling. If you don't have a piping bag, you can fill a zip loc bag then cut off a corner.
Art of Natural Living https://artofnaturalliving.com/