Sheet Pan Salmon with Roasted Tomatoes and Spinach
Easy to make in a single pan, Sheet Pan Salmon with Roasted Tomatoes and Spinach serves up the best of fall. Just add bread for a complete meal.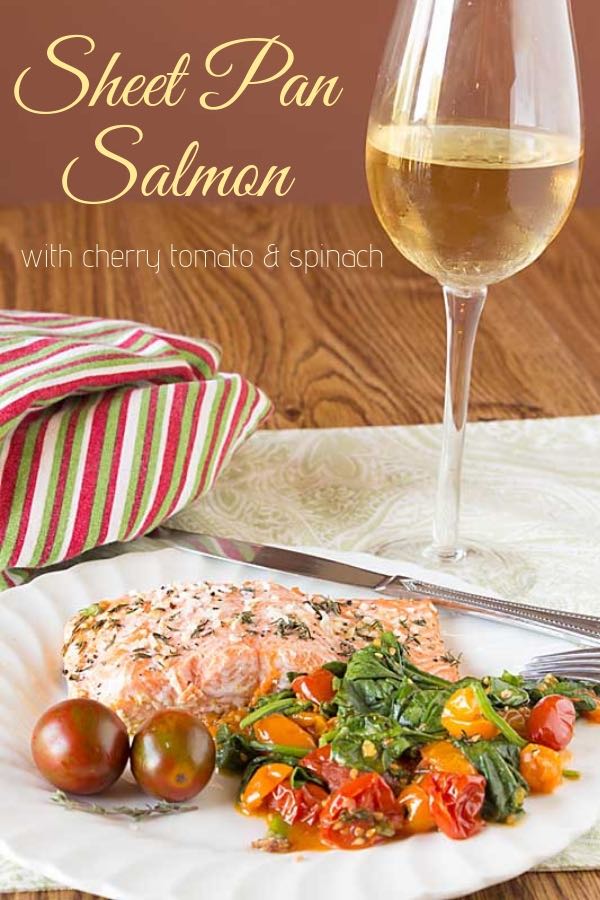 This recipe for Sheet Pan Salmon with Roasted Tomatoes and Spinach was inspired by my blogging friend David over at Cocoa and Lavender. Last summer he made a beautiful baked salmon dish that included roasted tomatoes, olives and capers. He called it "a few of his favorite things"—and I had to admit they were a few of mine too!
So, for all of August, I kept planning to make it, and well, life was not cooperating. My mother ended up in the hospital/rehab for three weeks, our newly diabetic cat went into ketoacidosis (50% mortality rate, days of kitty hospital, then hand feeding prescription food) and finally my olives went bad. I didn't even know that olives went bad 🙁 !
And so I decided to wing it and use what I had (plus spinach for a second vegetable). Cherry tomato season doesn't last forever. I even converted it to go on a single sheet pan too, because… well, that kind of life right now.
The result was easy Sheet Pan Salmon with Roasted Tomatoes and Spinach… and we loved it. I guess you can't break a recipe with good bones.
Here's to an easy fall!
More Easy Salmon Recipes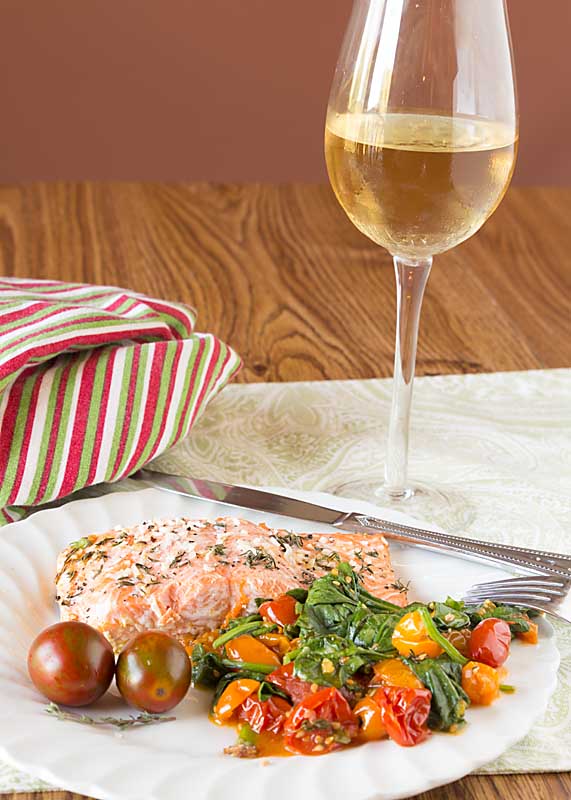 Sheet Pan Salmon with Roasted Tomatoes and Spinach
2018-09-27 11:34:55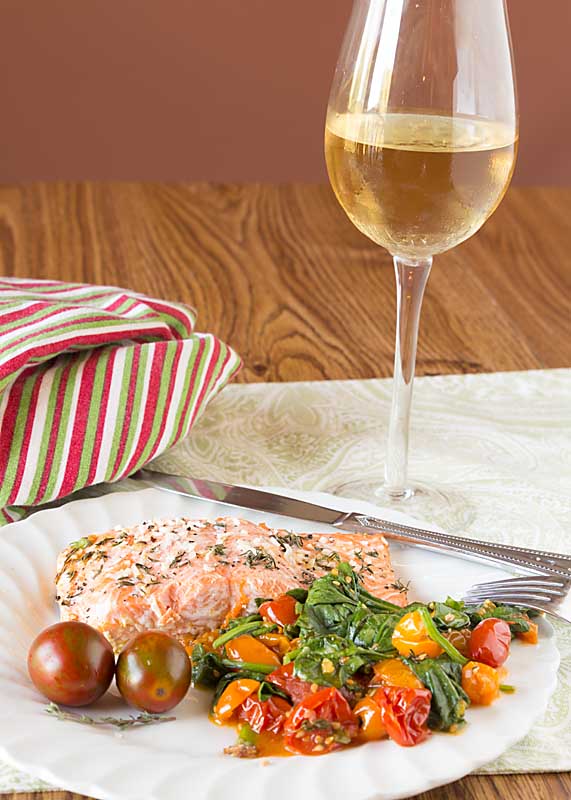 Serves 4
Nutrition Facts
Amount Per Serving
* Percent Daily Values are based on a 2,000 calorie diet. Your Daily Values may be higher or lower depending on your calorie needs.
Ingredients
1 quart cherry tomatoes
2-3 Tablespoons of olive oil, divided
Salt to taste
10 sprigs fresh thyme, leaves only, or ½ teaspoon dried thyme
1 teaspoon dried minced onion
4 6-oz pieces of salmon
6 ounces fresh spinach
Instructions
Halve cherry tomatoes (see note). Place in a 9 x 13 baking pan, drizzle with olive oil and salt and roast at 400F for about 30 minutes until tomatoes are just starting to shrink and caramelize. If too many juices are released, drain the roasting pan halfway through the cook time.
Remove pan from the oven, push tomatoes to the side, then add salmon. Drizzle fish with olive oil and salt. Sprinkle fresh thyme and dried minced onion over both fish and tomatoes. Bake for another 10-15 minutes until fish is done (will vary with thickness)
When fish is done add fresh spinach to the pan, stirring into the tomatoes and place the pan back in the oven for 1-2 minutes, until spinach is just wilted. Serve with bread or other starch for a complete meal.
Notes
Take a look at this video for an easy way to cut cherry tomatoes: https://www.youtube.com/watch?v=OBqjy3rPQ4E
Art of Natural Living https://artofnaturalliving.com/