Grilled Whole Red Snapper with Herbs
Grilled Whole Red Snapper pairs tender mild fish with savory herbs, for an entrée that is weeknight easy and restaurant elegant.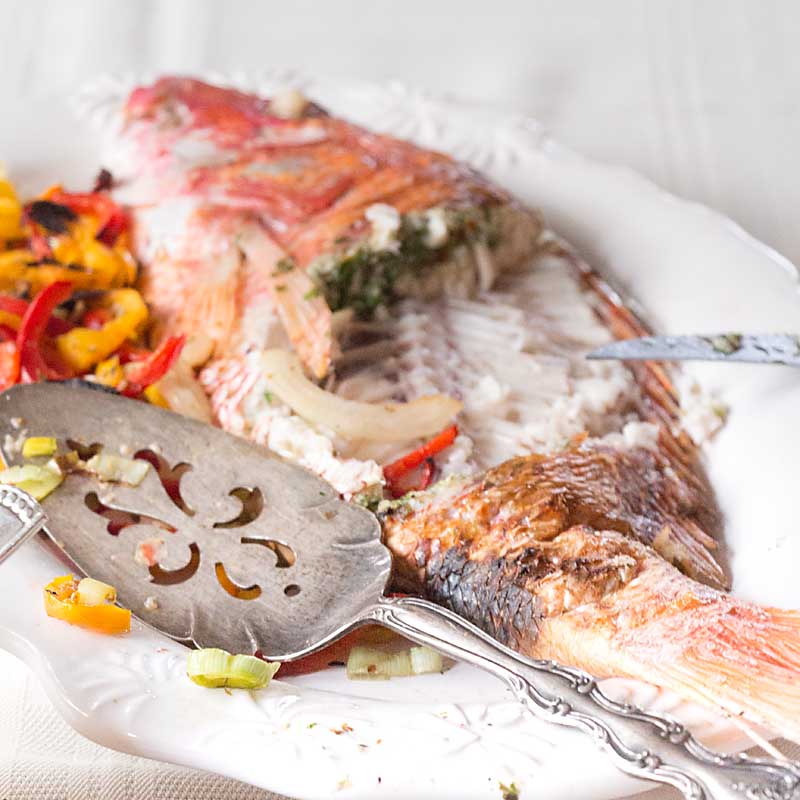 Sometimes the best meals are happy accidents. Discover a great dish at book club. Stumble across something delicious at a local café.
Buy a whole red snapper on a whim.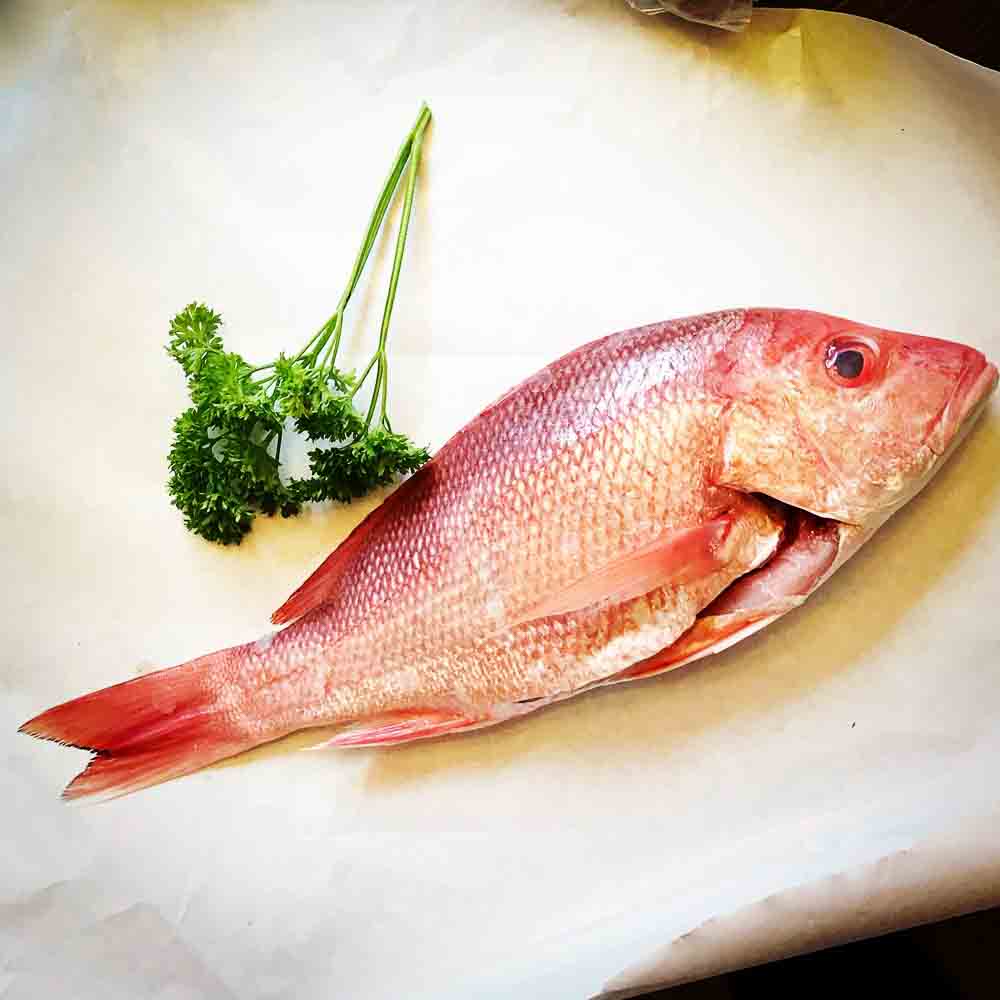 Locally we have a seafood truck that comes up once a month from Texas. Jumbo shrimp. Quarts of shucked oysters. Never frozen. Need I say more?
Unfortunately, I never seem to be around when the truck comes. So when I was available last month, I took it as a sign.
My plans were to buy shrimp and oysters—and they were indeed lovely. But the red snapper (that they weren't even supposed to have) ended up the hit of the shopping trip! I adapted my recipe for Grilled Whole Red Snapper from Food and Wine and it was actually quite easy once I got past the I'm-cooking-a-fish-whole jitters.
I just made some slices into the flank of the fish, smeared the cuts with an herb mixture, drizzled with oil, salt and pepper, then grilled. To round out the meal I sautéed some thinly sliced peppers and onions then served with fettuccini in garlic butter.
It disappeared completely and my family was picking at the bones… Grilled Whole Red Snapper? Yes!
Grilled Whole Red Snapper with Herbs
Grilled Whole Red Smapper is tender mild fish, paired with herbs, then grilled, for an entrée that is super-easy but restaurant elegant.
Ingredients
1 whole red snapper, cleaned and scaled
1 Tablespoon oil
Salt, pepper
Herb rub, see below
Herb Rub:
1/4 cup finely chopped parsley
2 Tablespoons salted capers, rinsed and finely chopped
2 garlic cloves, minced
pinch crushed red pepper
pinch of salt
1 Tablespoon oil
Instructions
Chop and mix the dry rub ingredients together. Transfer the paste to a small bowl and stir in the oil.
Make parallel angled slashes on each side of the snapper about 1 – 1 ½ inches apart, slicing almost through to the bone. Fill the slashes with the herb paste. Drizzle the fish all over with oil and sprinkle with salt and pepper.
Preheat your grill on medium-high. Secure the red snapper in a grill rack. Roast for about 10 minutes on each side, until the flesh just flakes. (For safest cooking, use an instant read thermometer and cook to 145 F per the FDA; other sites suggest 135 F).
Transfer the cooked fish to a platter, using oven mitts to handle grill rack. To serve, slice the fish along the herb lines and slide a server along the bones to separate the flesh. Serve warm.
Nutrition Information:
Yield:

4
Serving Size:

1 grams
Amount Per Serving:
Calories:

123
Total Fat:

8g
Saturated Fat:

1g
Trans Fat:

0g
Unsaturated Fat:

7g
Cholesterol:

20mg
Sodium:

256mg
Carbohydrates:

1g
Fiber:

0g
Sugar:

0g
Protein:

12g
Nutrition data accuracy may vary with product selection, calculator accuracy, etc. Consult a professional for the best information.