Cajun Bean Soup Comfort Food
Cajun Bean Soup is spicy and meaty with ham, andouille sausage, beans, tomatoes and green chilis.  Can't beat hearty and healthy!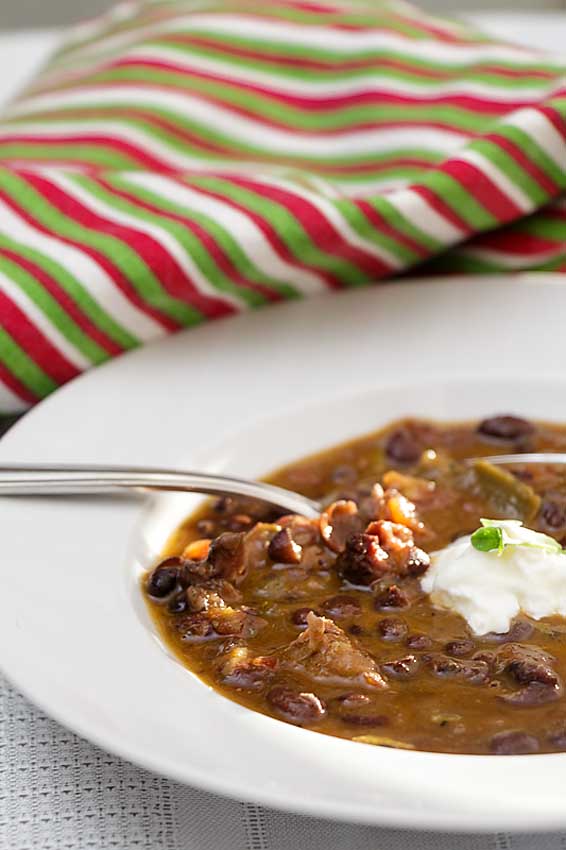 What's the best thing about holiday leftovers?  For me, it's making ham bone soup! 
Every year I serve a ham during the holiday season–some years it's two!  Besides being a real crowd pleaser, you can't beat the leftovers.  Ham and eggs, hearty sandwiches, a meaty quiche.  And now, Cajun Bean Soup! 
Is there anything quite like winter soup?  Warm, nutritious—and super easy to reheat!
This year, trying to get out of a soup rut, I went searching for new recipes.  This Cajun Bean Soup from Tornadough Alli caught my eye with its healthy incorporation of tomato and pepper (I increased the amount of both of these) and spicy kick from green chilis and andouille sausage.  The soup was rich and flavorful without having so much spice that my husband objected.  Can't beat that!
The prep time for the Cajun Bean Soup is long, with an 8-hour bean soak and hours of simmering.  But the working part is simple and quick.  And you can easily get in some bargain shopping or a post-holiday workout while the soup is doing its thing. 
From the middle to the end of winter, I shift my focus from indulgent to healthy, but still want a good dose of comfort. 
Winter soup is perfect! 

Cajun Bean Soup
Cajun Bean Soup is spicy and meaty with ham, andouille sausage, beans, tomatoes and green chilis. Can't beat hearty and healthy!
Ingredients
1 (16 oz) pkg dried beans (or a couple cans of cooked beans)
2 Tablespoons oil
1 large onion, diced
2 cloves garlic, minced
2 green peppers, diced
8 cups water
1 meaty ham bone
1 Tablespoons Cajun seasoning
1 teaspoon basil
1 teaspoon thyme
1 teaspoon oregano
2 bay leaves
2 cans fire roasted tomatoes with green chilis
1 (16 oz) andouille sausage, sliced (or sub your favorite sausage)
Salt to taste
Instructions
Cover dried beans with water or beer to an inch above top. Let soak overnight.
In large stock pot, saute your onion, garlic and pepper in oil until tender.
Add remaining ingredients, except sausage, and bring to a boil.
Let simmer uncovered for about 3-3½ hours, then remove your ham bone and bay leaves. Discard bay leaves.
Remove meat from ham bone and cut into bite-sized pieces. Add these and your sliced sausage back to the pot.
Heat for about another 30 minutes.
Serve warm.
Notes
If using canned beans, reduce simmer time so they don't fall apart.