Flavorful Cajun spices seared onto a mild, firm fish make Blackened Mahi Mahi a taste sensation that's easy enough for weeknights and special enough for company.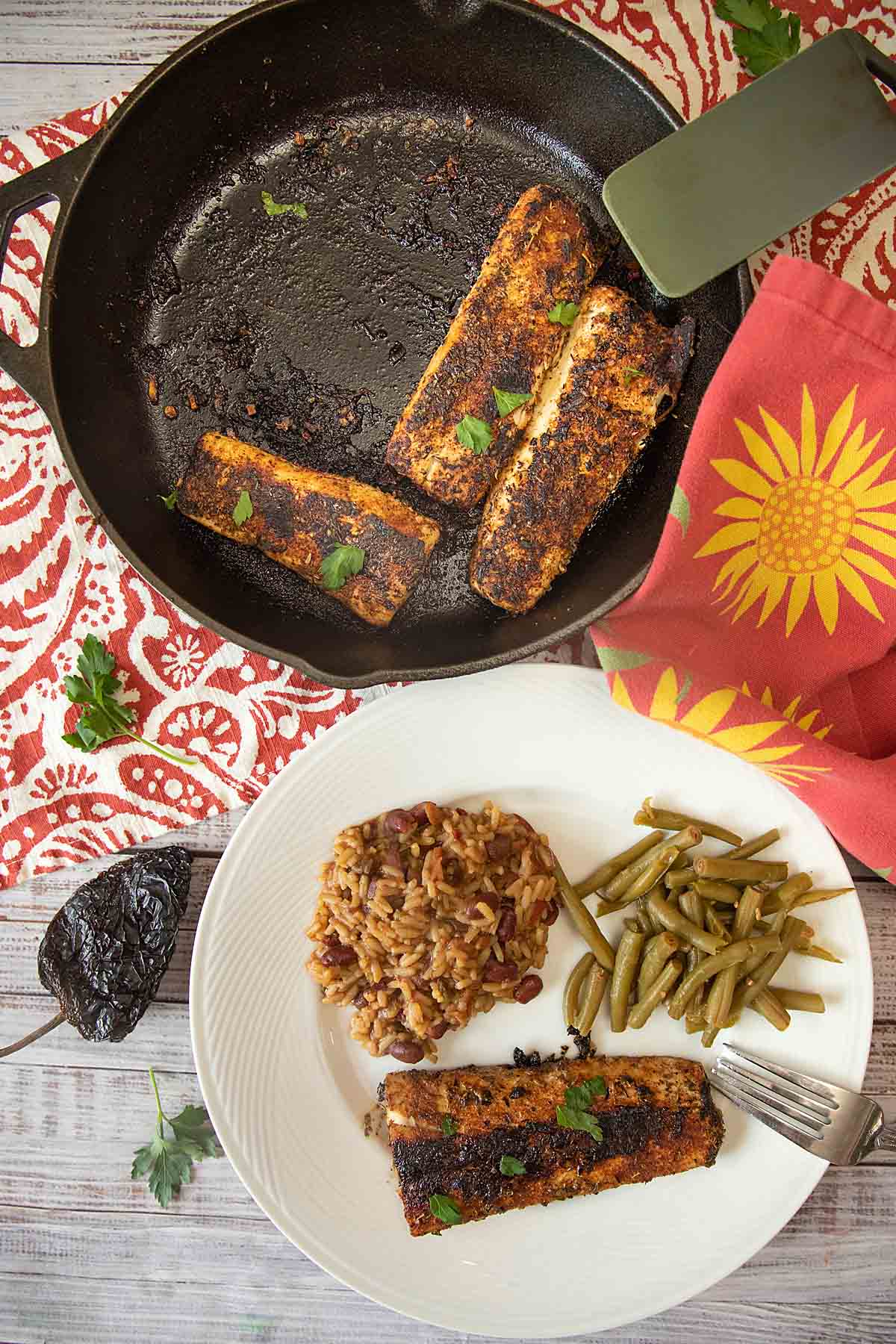 Lately I'm trying to get more efficient in the kitchen. 'Cause sometimes it feels like my life is one big how did that take so long moment!
So recently I decided to go back to a quick and easy family favorite, Baked Mahi Mahi. And since I was buying Mahi Mahi I bought a little more to make it blackened too! Efficient right? Plus I love the spicy but nuanced flavor of the classic dish!
Everything came together even more when my blogging group decided to make southern recipes to share today (see below!). Although not the classic definition of southern cooking, well, New Orleans is in the south. And Mardi Gras is coming!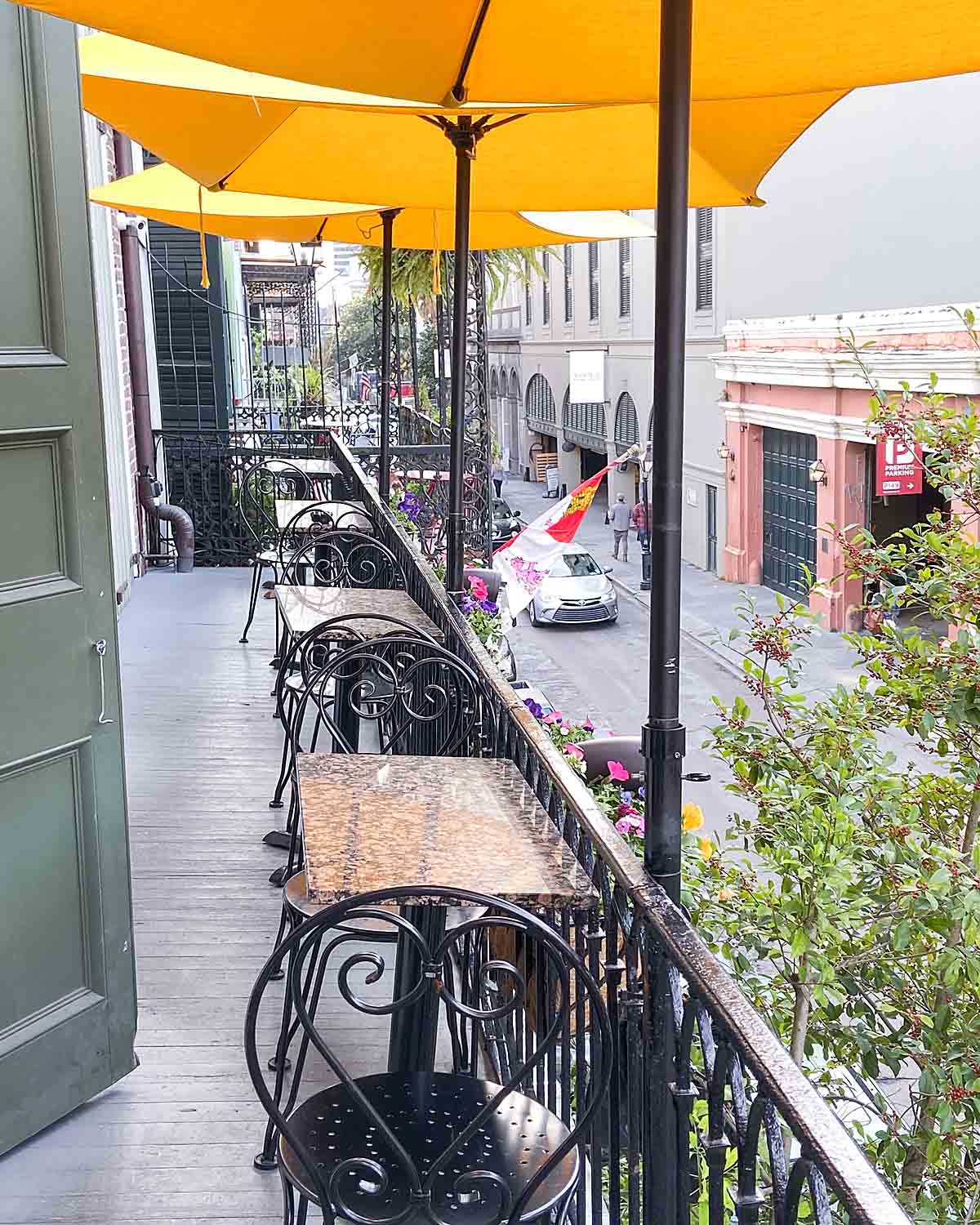 What is Blackened Mahi Mahi?
It's hard to imagine that before 1980, there were no blackened foods. That was the year that New Orleans Chef Paul Prudhomme created his Blackened Redfish and started a movement. Dipped in Cajun spices and seared, the flavorful seafood dish quickly spread and morphed to everything from chicken (see my Blackened Chicken) to shrimp (yes, I also do a Blackened Shrimp).
What is a blackened seasoning blend?
Blackened seasonings typically include cayenne, garlic, onion powder, oregano, thyme, paprika, salt and pepper. The combo is nuanced and spicy without being mind-blowing. True flavor. And even better, they're probably all in your spice collection already.
I love not having to buy a new jar of spices!
What is Mahi Mahi?
Mahi mahi is a tropical or semi-tropical fish that is mild-flavored and firm. And despite being nicknamed the dolphinfish, it is not the same as the dolphin which is an aquatic mammal. The confusion comes from the name similarity but they are very different creatures–so you are not (emphasis not) eating Flipper!
US Mahi mahi is considered an environmentally responsible seafood (see NOAA FIshwatch), but it does have moderate mercury levels, similar to chunk light canned tuna. So consult a regularly updated source or medical professional for up-to-date consumption recommendations.
But otherwise it's a healthy selection. WebMD says that "Mahi mahi is a rich source of protein as well as vitamins B3, B6, and B12. Among minerals, it contains some magnesium, potassium, and phosphorus as well as good amounts of sodium and selenium."
And it tastes good!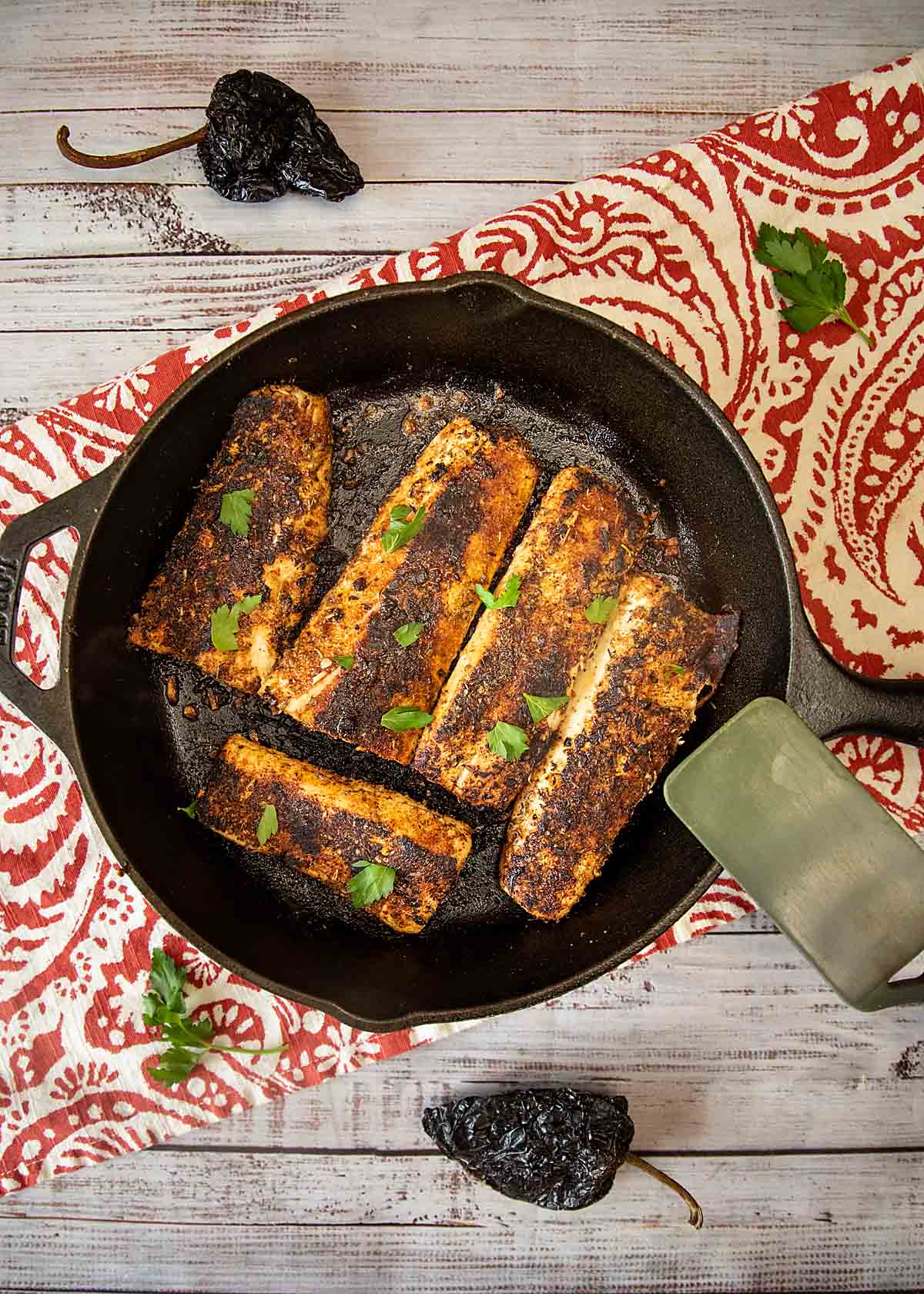 Why You'll Love This!
Tasty. Blackened foods are vibrant and flavorful! That's why they spread all over the country like wildfire!
Easy. This recipe consists of season and sear! It doesn't get much easier than that!
Healthy. You'll need to be aware of the "moderate" level of mercury in mahi mahi and limit your intake accordingly. But as long as you consume it in moderation, you'll be eating a delicious fish that's lean and high in protein.
What You'll Need
Ingredient Notes
Cajun Seasoning. Cajun seasoning mix or paprika, cayenne pepper, dried thyme, dried oregano, garlic powder, onion powder, black pepper and salt.
Mahi mahi filets. This mild firm fish is excellent blackened.
Non-stick spray. This keeps the fish from sticking to the pan
Butter (optional). This is optional but can add flavor.
Special Tools
A stainless steel or cast iron skillet is good since you are searing at a high temperature.
Step by Step Directions
Mix spices (or pour a premade Cajun spice mix ) in a bowl.
Heat up a cast iron or other high heat skillet. Coat fish with seasoning mix.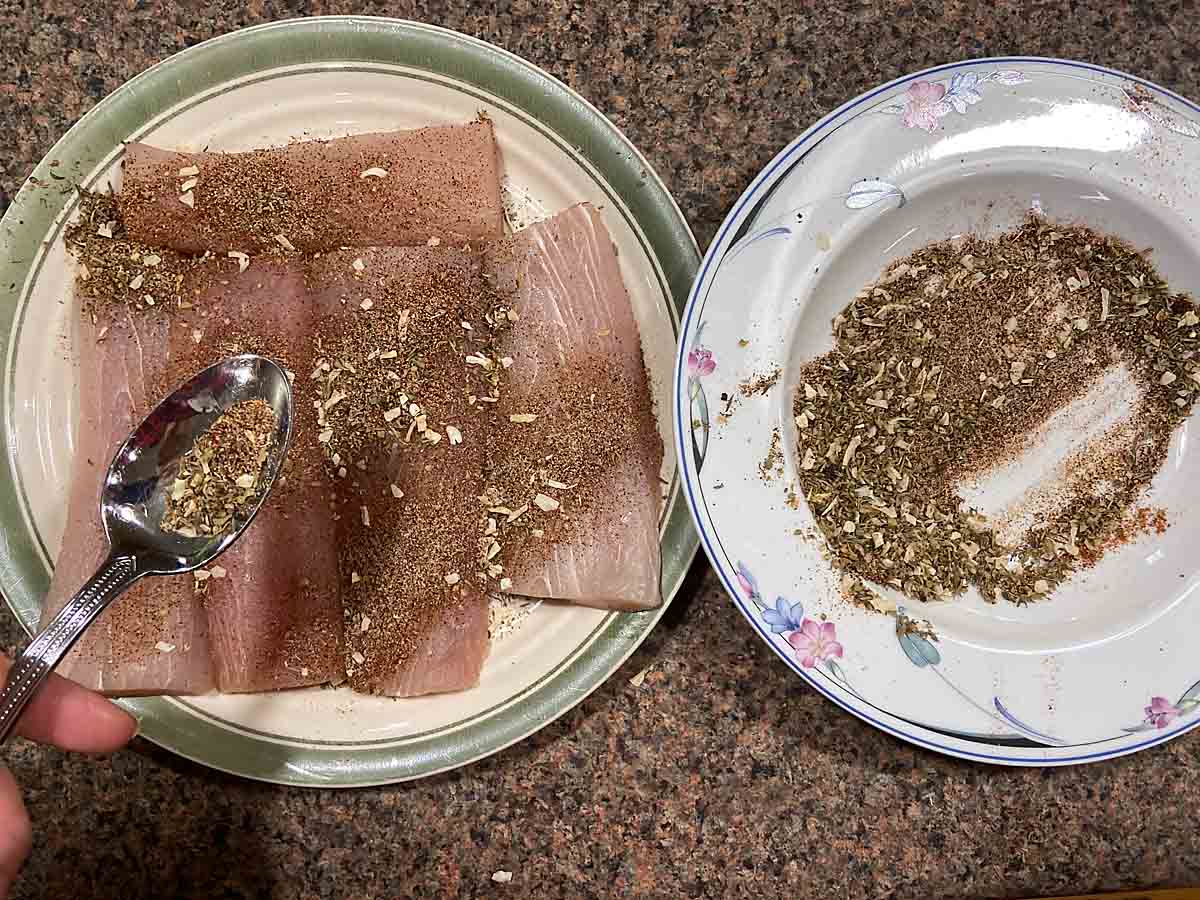 Sear first side using non-stick spray.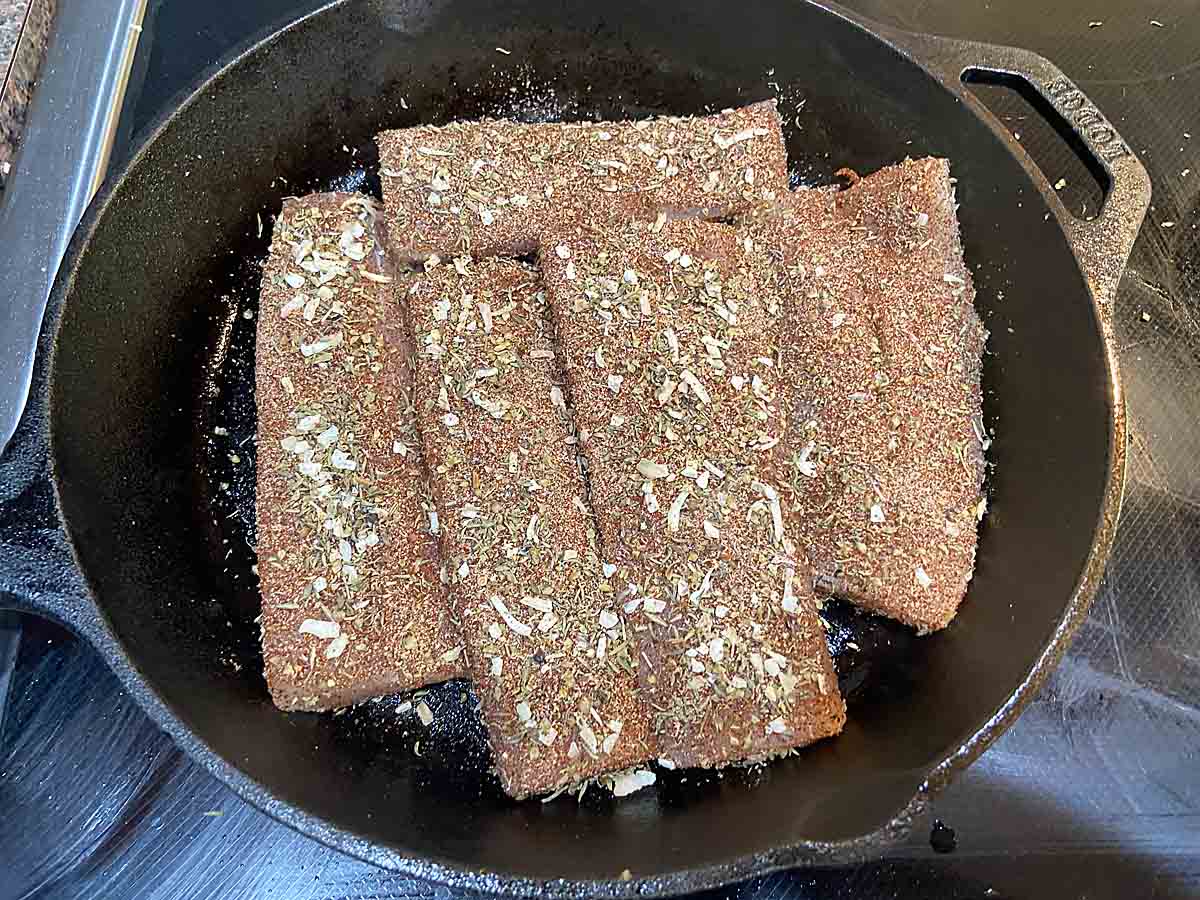 If you'd like you can finish searing with butter, but this is optional (and will smoke up your kitchen more).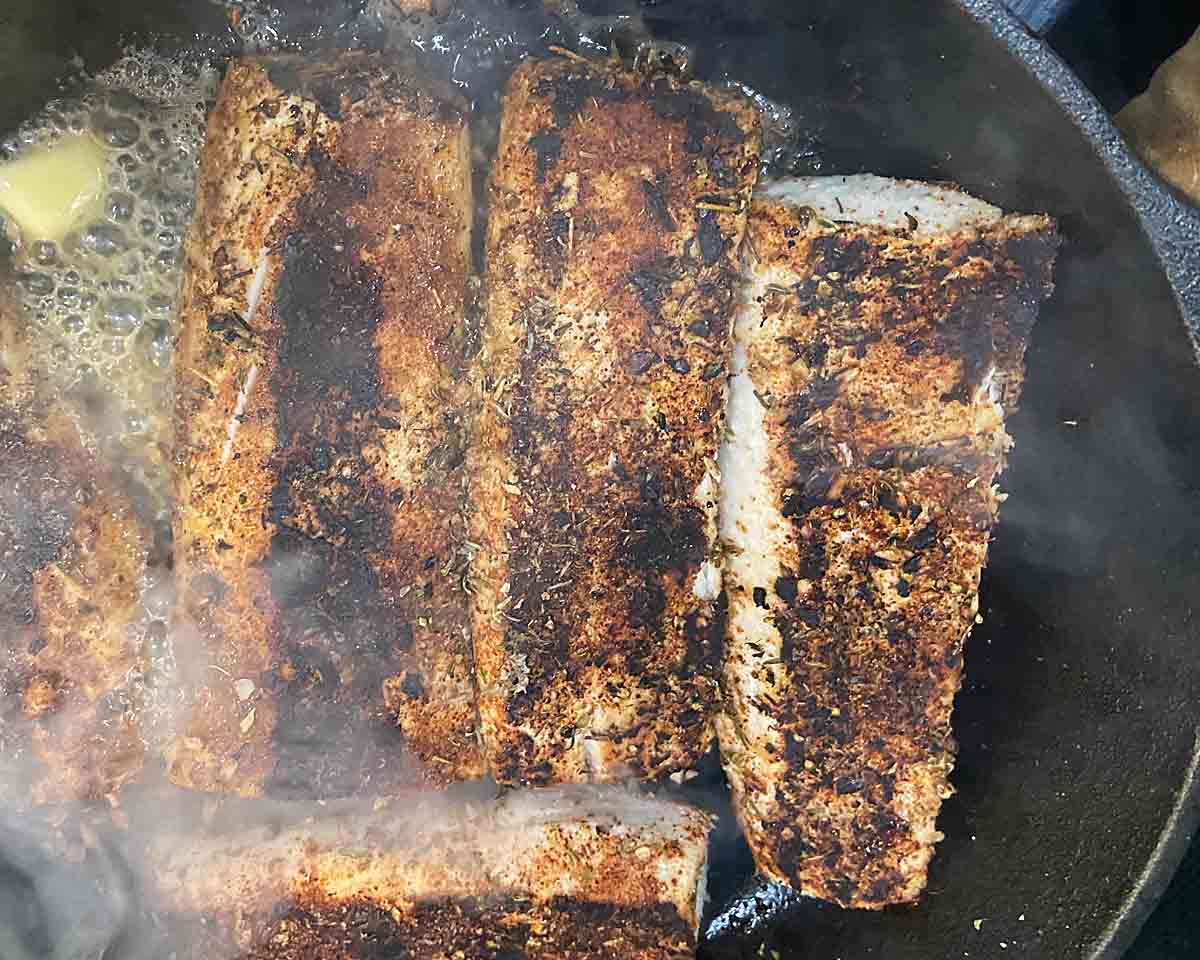 Serve.
Searing in butter versus oil
Traditionally blackened dishes are seared in butter. After all there's nothing quite like the flavor of browned butter! In a restaurant with high intensity range hoods, or on the grill, this poses little problem.
But for the home cook, especially in a house all buttoned up for winter, it is more of an issue.
I initially solved the problem by omitting the butter and using a non-stick spray. This let me cook on high heat with minimal concern about filling the house with smoke. This time I decided to try something new. I cooked the first side using the non-stick spray but added the butter when I flipped the fish.
I think this is a good compromise, but truly, it's delicious either way!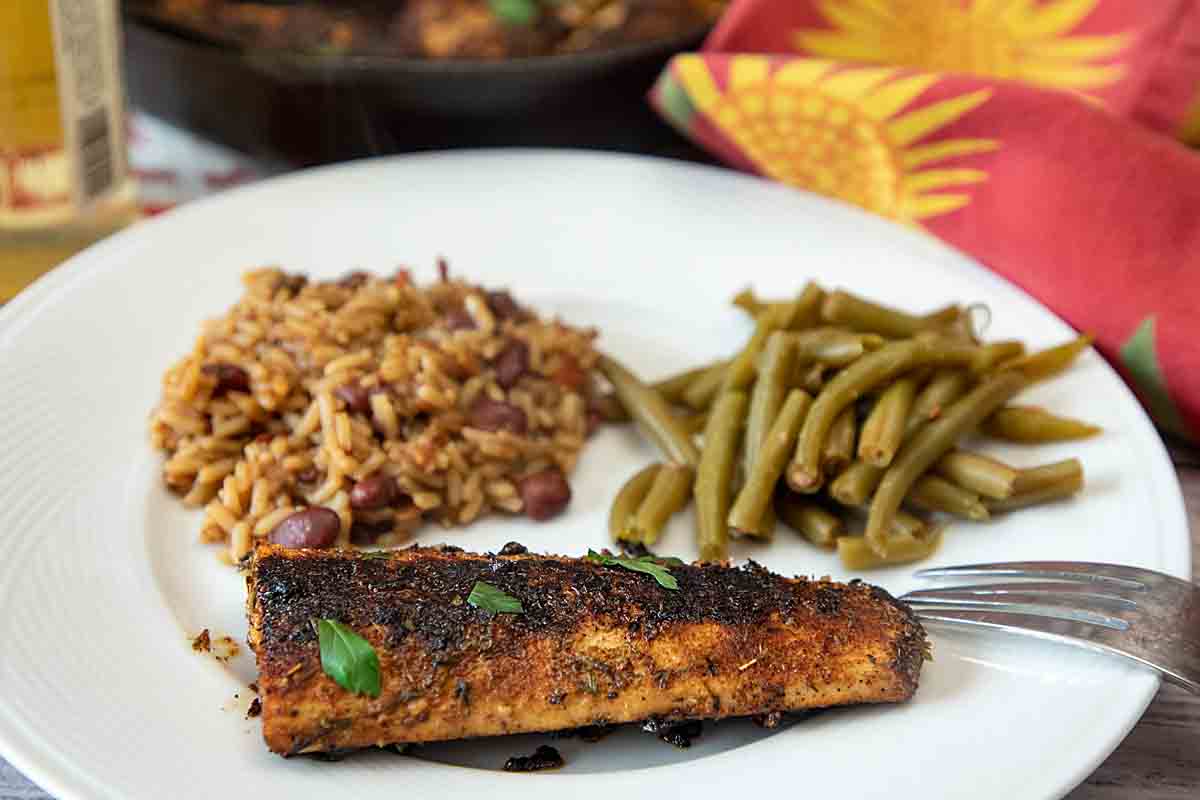 How to Serve
This dish is quick enough for a weeknight dinner or special enough for company—how good is that!
I love to keep with a Cajun theme when I serve this. Nice sides include:
Okra
Red beans & rice (I used a packaged mix)
Salad w remoulade dressing (see my NOLA Fried Oyster Salad)
Coleslaw
Cornbread
Dirty rice
And while this can be served as an entree, it also works beaurifully as part of other entrees. Top a salad for a Blackened Mahi Salad with Remoulade dressing. Cut it thinner and insert into a bun for a Blackened Mahi Mahi Sandwich (use a remoulade here too)! And don't forget Blackend Mahi Mahi tacos!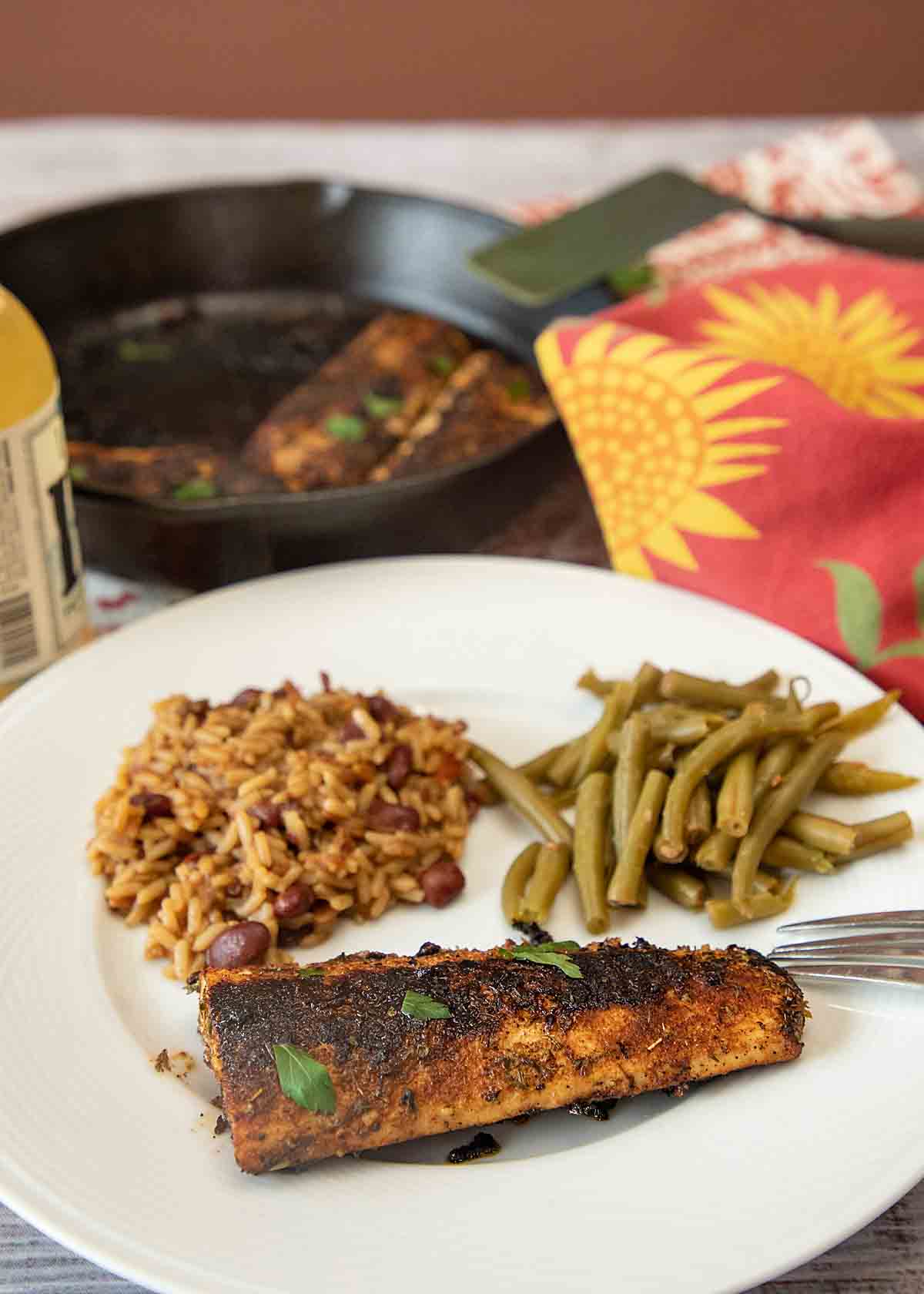 Leftovers
Store any leftovers in the refrigerator and use within a few days. This can also be frozen.
Tips & FAQs
While most mahi mahi will have the bloodline removed, if you notice a dark line down the middle of your fish, cutting it out is recommended, since it may taste "fishy".
Can I use pre-mixed Cajun spices? Yes, you can. Depending on how often you make blackened dishes, you might want to consider if the convenience is worth it. (Then it will take you like 30 seconds to prep!)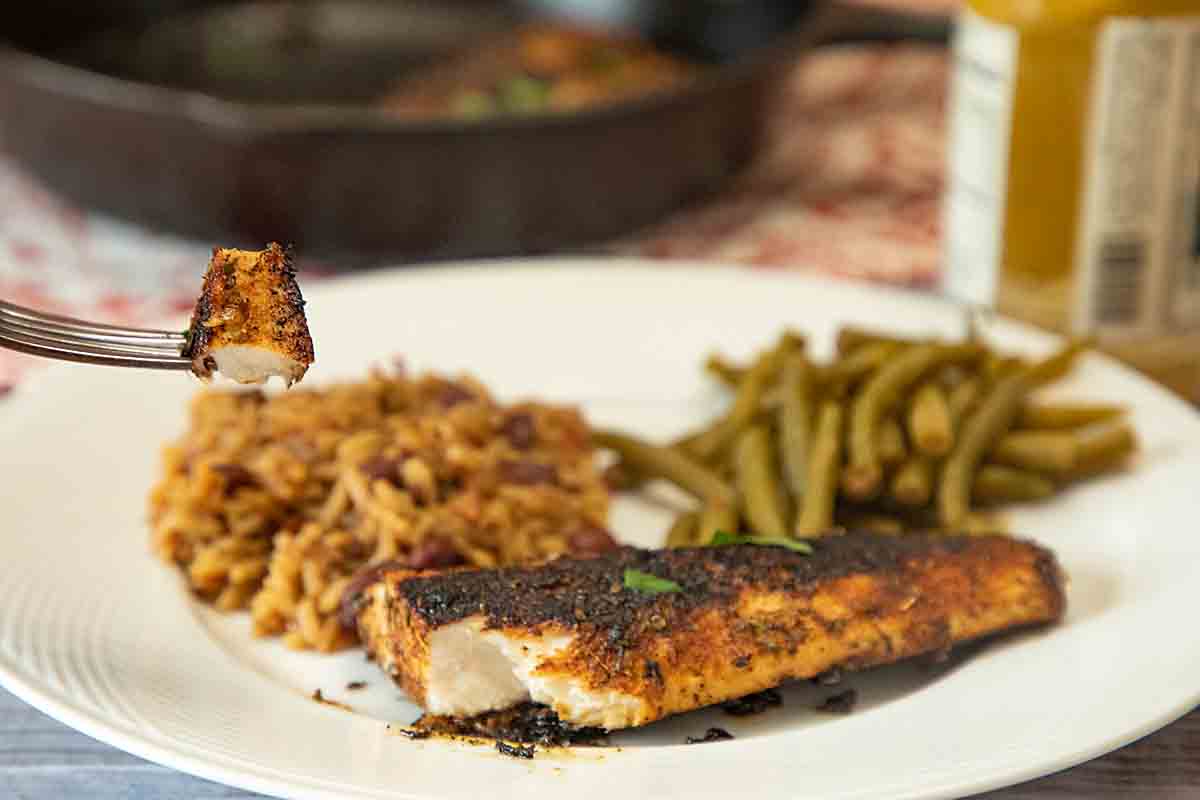 Southern Food
We share Recipes From Our Dinner Table! Join our group and share your recipes, too! While you're at it, join our Pinterest board, too!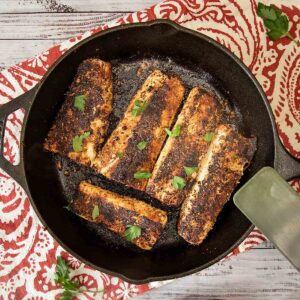 Blackened Mahi Mahi
Flavorful Cajun spices seared onto a mild, firm fish make Blackened Mahi Mahi a taste sensation that's easy enough for weeknights and special enough for company.
Ingredients
1 ½

pounds

mahi mahi filets

4-5 fillets

Non-stick cooking spray

or oil for frying

1

Tablespoon

butter

optional
Blackened Seasoning Mix
2

teaspoons

paprika

1/4

teaspoon

cayenne pepper

1

teaspoon

dried thyme

1

teaspoon

dried oregano

1

teaspoon

garlic powder

1

teaspoon

onion powder

1/2

teaspoon

black pepper

fresh ground
Instructions
Start cast iron skillet heating over medium high heat

Mix seasoning ingredients together. Sprinkle seasoning onto both sides of mahi mahi

When pan is very hot, spray with PAM non-stick spray. Add fish to pan. Turn when charred (about 3 minutes). Cook until both sides are charred and cooked through. Optionally add a Tablespoon butter when you turn the fish.

Serve immediately.
Nutrition
Calories:
180
kcal
Carbohydrates:
2
g
Protein:
32
g
Fat:
4
g
Saturated Fat:
2
g
Polyunsaturated Fat:
0.5
g
Monounsaturated Fat:
1
g
Trans Fat:
0.1
g
Cholesterol:
132
mg
Sodium:
174
mg
Potassium:
759
mg
Fiber:
1
g
Sugar:
0.2
g
Vitamin A:
958
IU
Vitamin C:
0.4
mg
Calcium:
45
mg
Iron:
3
mg
I am not a health professional and nutrition data is calculated programatically. Accuracy may vary with product selection, calculator accuracy, etc. Consult a professional for the best information.