Baked Mahi Mahi with Cashew Crust
Baked Mahi Mahi is a quick and easy 5-ingredient seafood entrée that's rich and flavorful, topped with a crunchy cashew crust.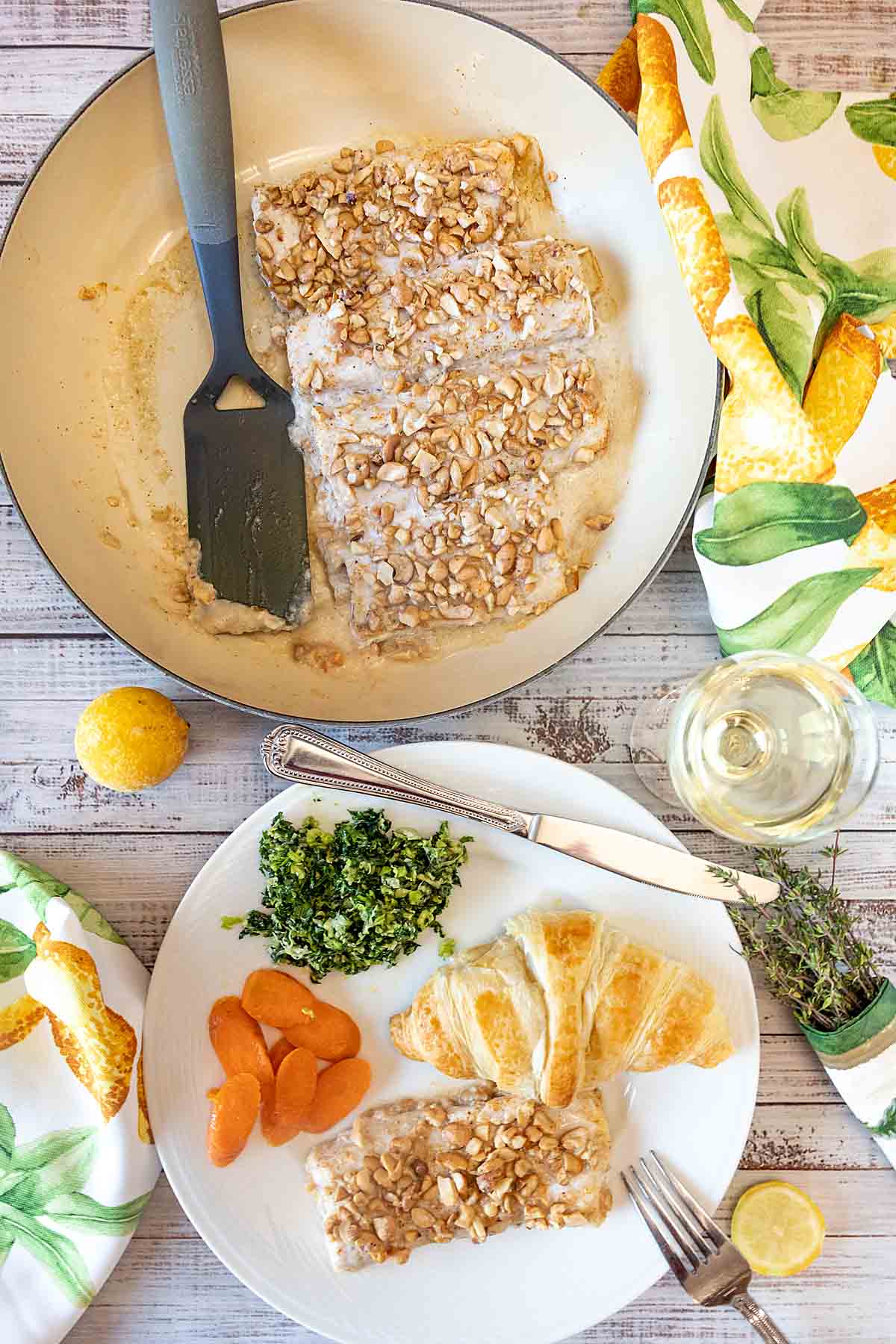 When my kids were young and I lived the corporate life, this easy Mahi Mahi, (adapted from Adelphia Seafood) was a favorite weeknight dinner. With just 5 ingredients and a short baking time, preparation was quick enough to squeeze between swim club pickup and dance class drop off. Even when I arrived home exhausted.
Even better, the great flavor pleased kids and adults alike!
Recently, craving a unique seafood recipe, I decided it's time for a revival! 'Cause everyone needs a delicious break once in a while.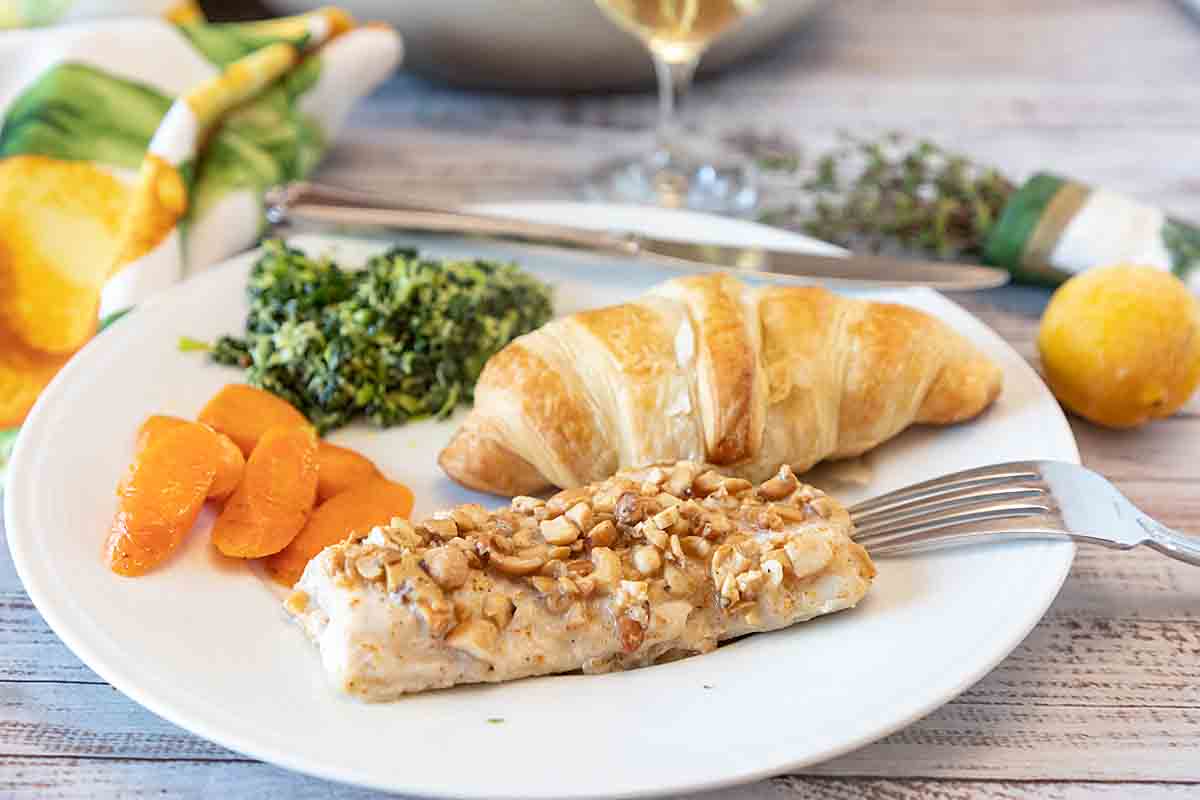 What is Mahi Mahi?
Per Wikipedia "The mahi-mahi or common dolphinfish is a surface-dwelling ray-finned fish found in off-shore temperate, tropical, and subtropical waters worldwide… The name mahi-mahi comes from the Hawaiian language and means 'very strong'". Now despite the similarity of the alternative name "dolphinfish" to the aquatic mammal "dolphin", they are not the same animal! So don't worry–it's not Flipper!
Mahi mahi is a great eating fish. The flesh is pale pink, firm and mild flavored and it's suitable to a variety of cooking methods. In fact I'll be posting Blackened Mahi Mahi on Sunday.
NOAA FIshwatch classifies US Mahi mahi as an environmentally responsible seafood. But be aware that its mercury levels are considered moderate (about like chunk light canned tuna). So adults shouldn't consume it more than six times a month per the NRDC. (Consult a medical professional for advice if pregnant, breastfeeding or feeding young children.)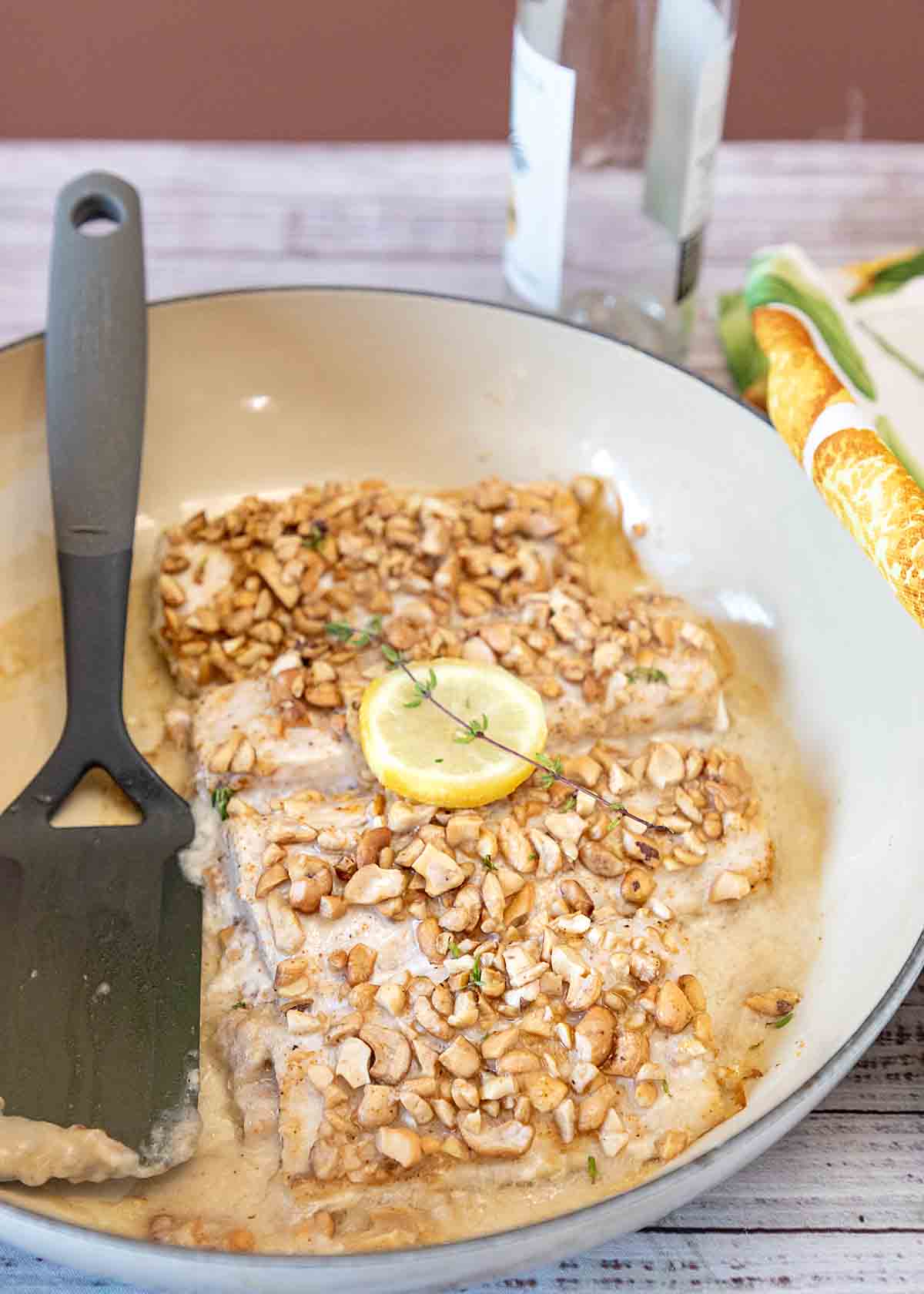 Why You'll Love This!
Flavorful. With creamy coconut milk, rich cashews and a hint of spice, this is a tasty and unusual entrée.
Easy. Just mix up a few ingredients, then bake. How easy is that!
Healthy. Eaten in moderation, mahi mahi is lean and loaded with protein. (Just be aware of the "moderate' mercury levels.)
What You'll Need
Ingredient Notes
Mahi Mahi. This tender firm meaty fish is perfect topped with coconut milk and nuts.
Cashews. Provides a crunchy and tasty topping,
Cornstarch. Helps everything adhere.
Cayenne Pepper. Adds a slight spice accent.
Coconut Milk. Provides tasty tropical flavor and adds moisture.
Salt. Enhances flavor.
Special Tools
No special tools are needed!
Step by Step Directions
Pat the fish dry (I like to use a cloth to avoid waste).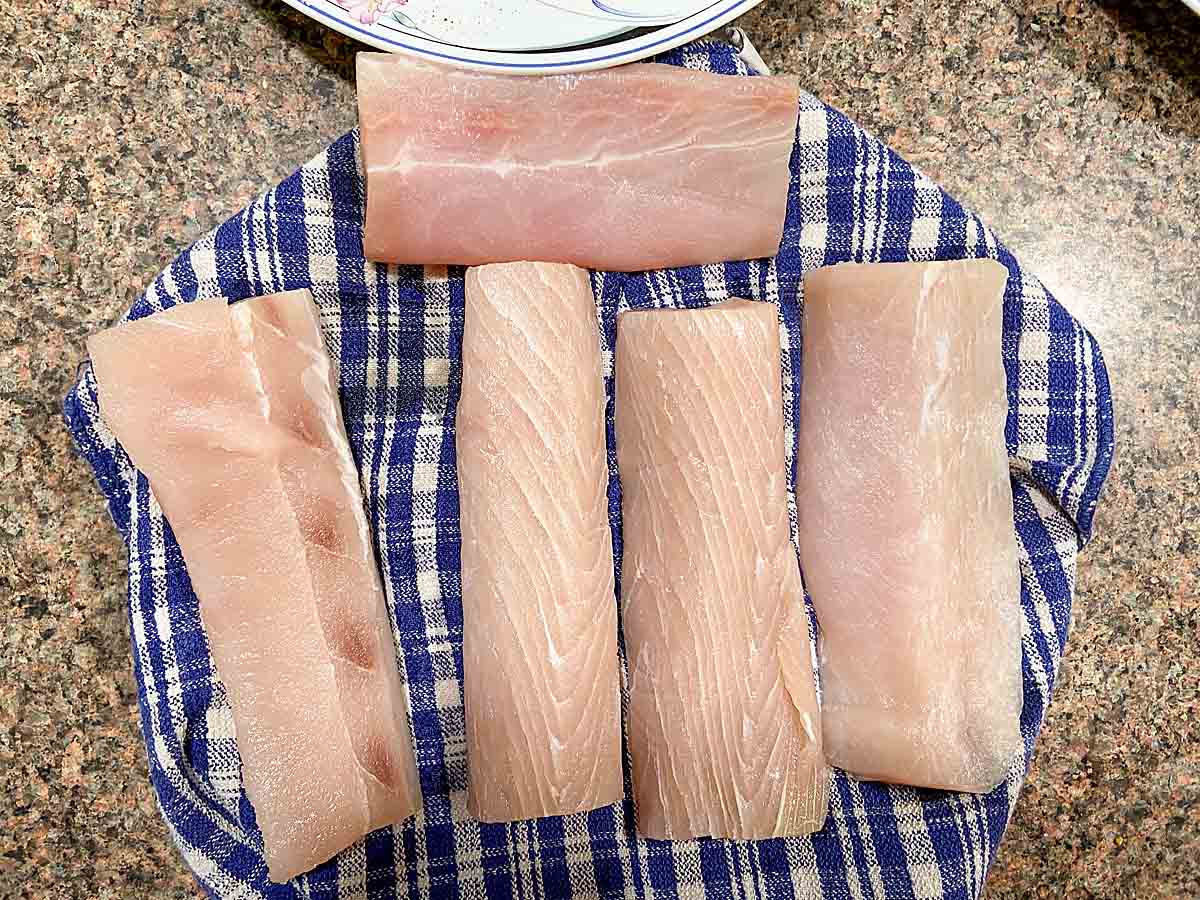 Dredge in cornstarch, then coconut milk
Dip in cashews to coat top.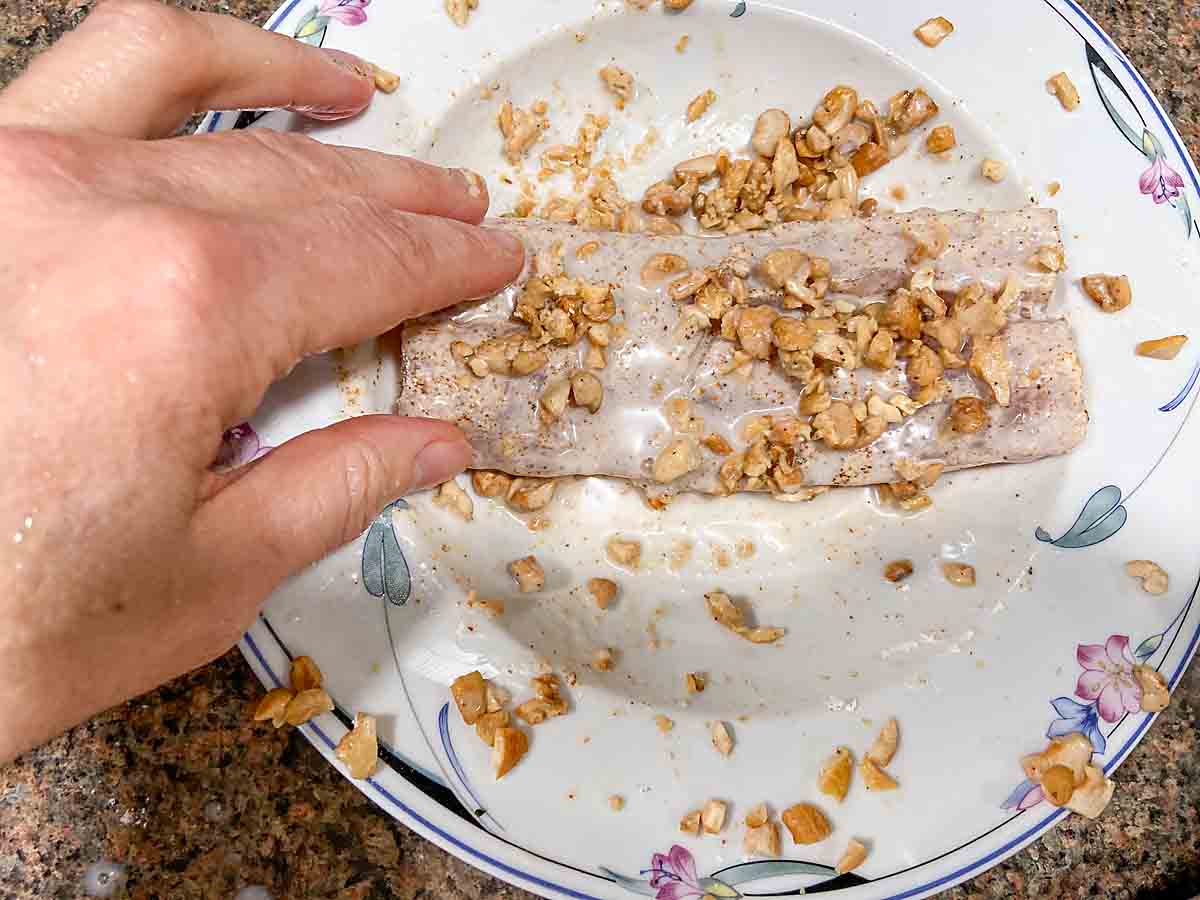 Place next to each other in baking dish and top with remaining coconut milk.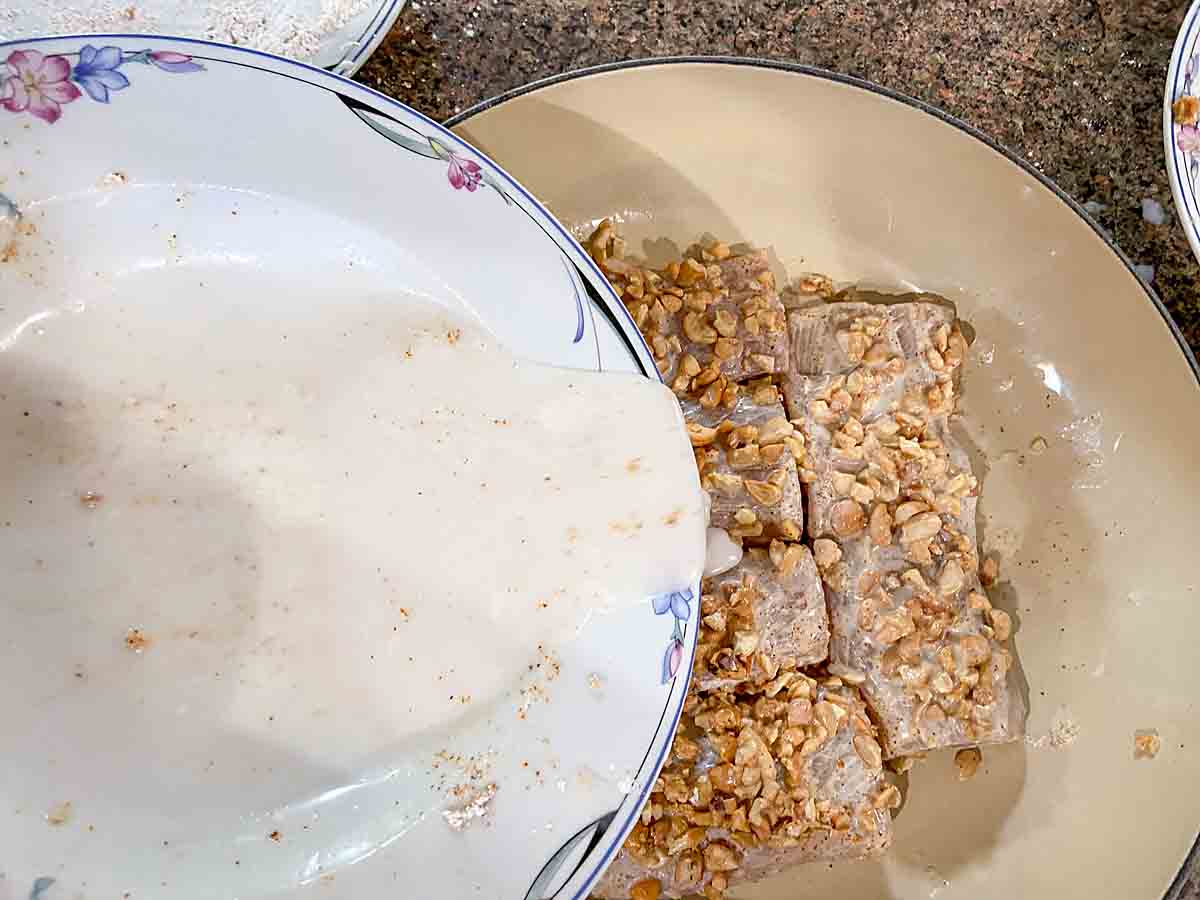 Bake, then enjoy.
How to Serve
For a balanced meal, I like to serve Baked Mahi Mahi with a hot vegetable and starchy side like rice or bread. Then I'll add a salad, often something light and casual like cole slaw, Easy Thai Carrot Salad or Classic Carrot Raisin Salad.
And as I've mentioned, it's quick enough for a weeknight dinner.
Now although the recipe is very easy to make, I think it's flavorful enough to serve for a company dinner! Then I'll add a more formal salad like Tuscan Kale Salad and maybe a light soup like Tomato Parmesan Soup that I can cook ahead and rewarm.
Yup, stay out of the kitchen and enjoy your guests!
Variations and Special Diets
It's common to see Baked Mahi Mahi made with macadamia nuts, so give that a try if you'd like a more Hawaiian Mahi Mahi recipe. Of course, cashew nuts have a similar richness and are a lot more economical! Not to mention delicious! So either way is lovely!
This recipe is suitable for dairy-free, gluten-free and low-carb diets.
Preparation and Leftovers
Leftover cooked fish can be kept, covered, in the refrigerator for 3-4 days per the USDA.
This uses a half can of coconut milk. Unless you have another use for it, I suggest that you freeze the remaining coconut milk. While some sources say it will last for a week, I have seen it develop off flavors within a few days.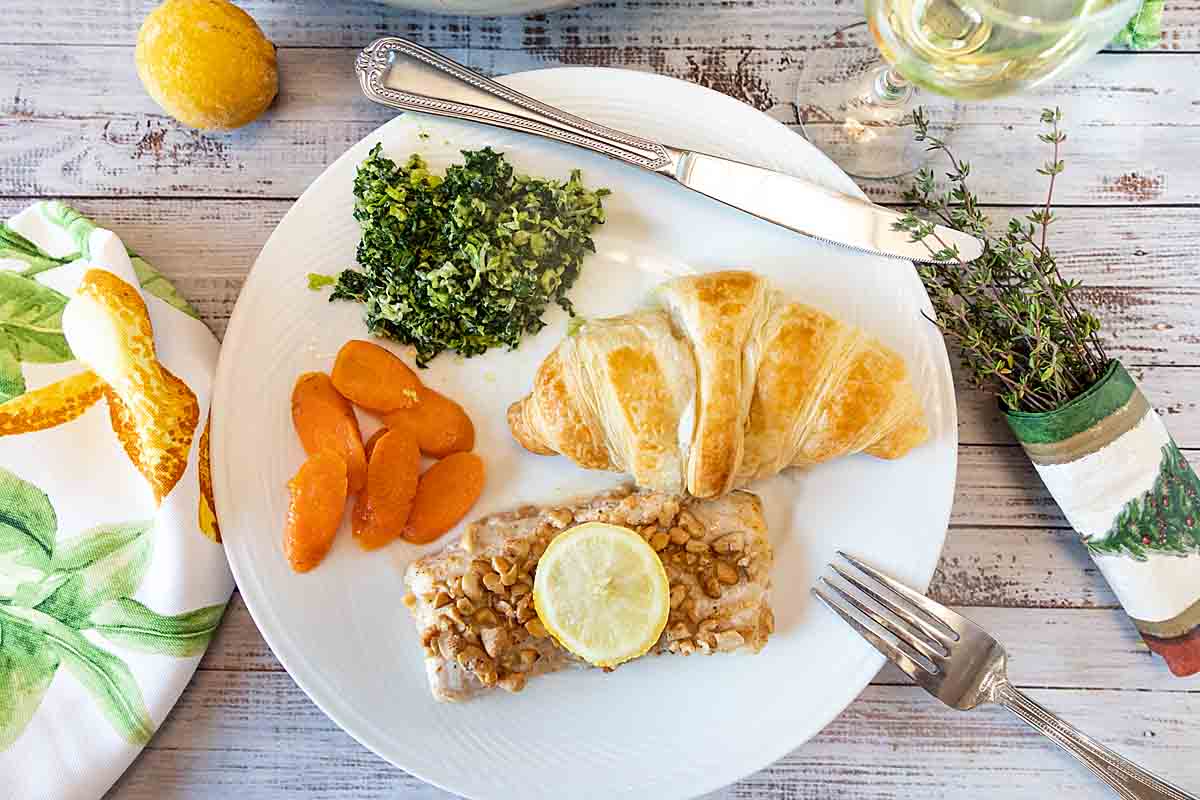 Tips & FAQs
Rarely, you will find mahi mahi that has a dark "blood line" running down the flesh. If you do, this should be removed for best flavor.
If you try to avoid GMOs, consider buying organic cornstarch. Organic regulations prohibit the use of GMO products.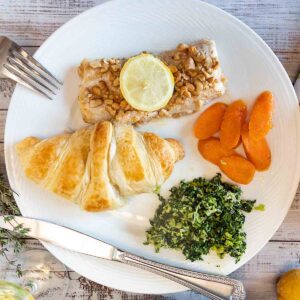 Baked Mahi Mahi with Cashew Crust
Quick enough to sandwich between activities and special enough to serve to guest, Cashew Crusted Mahi Mahi is a delicious seafood entree!
Ingredients
1 1/2

lbs.

Mahi Mahi

4-6ounce portions

1

cup

Cashews

Chopped, I prefer raw unsalted

1/4

cup

Cornstarch

1/4

teaspoon

Cayenne Pepper

7

ounces

Coconut Milk

1/2 can, I freeze the remainder

½

teaspoon

salt
Instructions
Fill one bowl with coconut milk, another with chopped cashews and a third with a mix of the cornstarch, cayenne pepper, salt and pepper.

Dredge the top of the first piece of fish in cornstarch mixture and shake off excess.

Dip first fillet into the coconut milk then lay on chopped cashews to pick up a top crust of cashews. Place fillet, cashew side up, in baking dish sprayed with non-stick spray.

Repeat with the remaining fillets, snugging them tightly one next to the other in the baking dish. Top with the remaining coconut milk.

Bake at 350 degrees for 20 minutes until golden and cooked through.
Nutrition
Calories:
452
kcal
Carbohydrates:
19
g
Protein:
38
g
Fat:
26
g
Saturated Fat:
12
g
Polyunsaturated Fat:
3
g
Monounsaturated Fat:
8
g
Cholesterol:
124
mg
Sodium:
451
mg
Potassium:
1032
mg
Fiber:
1
g
Sugar:
2
g
Vitamin A:
358
IU
Vitamin C:
1
mg
Calcium:
47
mg
Iron:
6
mg
I am not a health professional and nutrition data is calculated programatically. Accuracy may vary with product selection, calculator accuracy, etc. Consult a professional for the best information.
Originally published on 11/6/2016