Have you heard the joke about zucchini? Something like… in the city you need to lock your car doors to keep people from stealing your car. In the country, you need to lock your car to keep people from leaving zucchini on your back seat. Ba dum bum.
Yup that's pretty much where I was until I created this recipe for Cajun zucchini fritters.
Prior to this, we ate a lot of chocolate chip zucchini muffins. From a recipe of mine that took second place at the Wisconsin state fair even! But you can only eat so many zucchini muffins. Even loaded with chocolate. Even with a big freezer to hold grated zucchini baggies pre-measured for winter muffins.
There are other zucchini recipes around, but I have to tell you–I have a real problem with some of them. You see, I can't abide soggy vegetables–which leaves out my mother's ratatouille and makes me wary of zucchini lasagna. But zucchini fritters sounded promising. Especially if I could punch them up with a little spice and add a remoulade.
When my family first tried my Cajun Zucchini Fritters , there was some real hesitation. Yes, I think there has been one too many hidden-beet-chocolate-cake in their lives. But after a few bites, it was more like leggo my fritter. Followed by stabbing of forks.
I probably need to double this next time.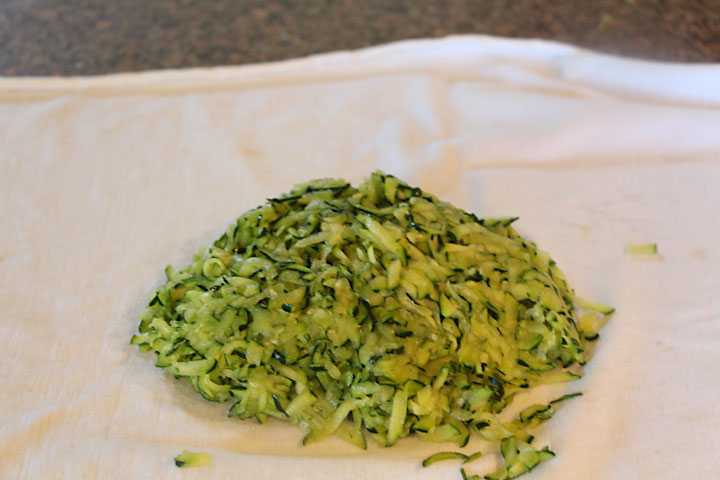 The other cool thing about these Cajun Zucchini Fritters is they may be the tip of the fritter iceberg. Can't you just picture zucchini fritters with blue cheese dip on the menu this fall?
This year it has been my mission to try to come up with more recipes for some of the CSA heavy hitters–that occasionally end up in the compost bin (shhh). Consider zucchini managed!
Just more evidence that there are no excessive veggies—only veggies waiting for the right recipe to appear.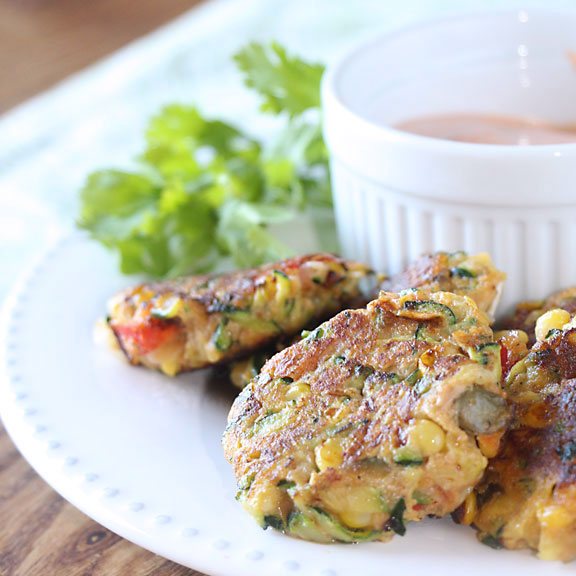 Cajun Zucchini Fritters
2016-07-24 15:05:25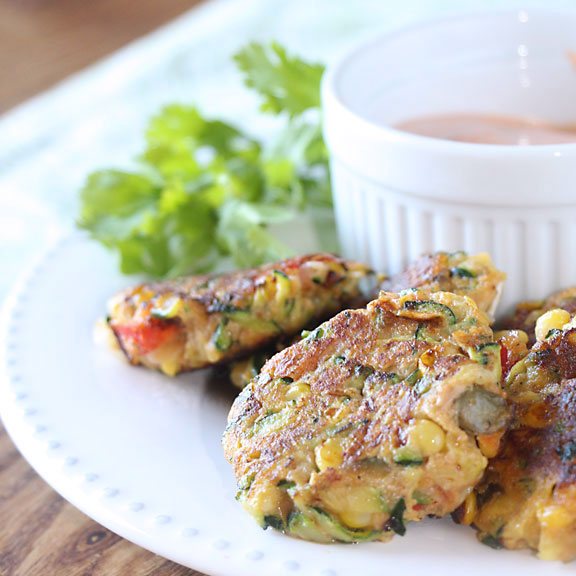 Serves 4
Fight back against excess zucchini with these tasty Cajun Zucchini Fritters. Healthy and savory with an easy remoulade, they pleased even my pickiest child!
Nutrition Facts
Amount Per Serving
* Percent Daily Values are based on a 2,000 calorie diet. Your Daily Values may be higher or lower depending on your calorie needs.
Remoulade
• 1/4 cup light mayonnaise
• 1/2 teaspoon Dijon mustard
• 1 teaspoon lemon juice
• ½ - 1 teaspoon hot sauce (depending on taste & variety)
• 1 teaspoons capers (or chopped pickles)
• ¼ teaspoon Worcestershire sauce
Fritters
• 1 lb grated zucchini (about 4 cups)
• 1 teaspoon salt
• 1/4 cup finely chopped onion
• 1/4 cup finely chopped red or green bell pepper
• ½ c corn
• 1 t capers (or chopped pickles)
• 1 teaspoon dijon mustard
• 1 teaspoon Worcestershire sauce
• 1 T mayo
• hot sauce to taste
• ½ c bread crumbs
• 1 large egg
• 2-3 tablespoons olive oil for frying
Instructions
Grate the zucchini, toss with salt, then place in a strainer to drain Ideally for a half hour or more.
While the zucchini is draining, make the remoulade. In a small bowl, mix the remoulade ingredients, then store in the refrigerator until fritters are ready
To prepare the fritters, pour off the drained zucchini liquid, then wrap the zucchini in a cloth, twist shut and tighten to further squeeze out water.
Add to the other ingredients and mix until well combined.
Pour a thin layer of oil into a hot skillet over medium heat. Form the zucchini mixture into small patties (large patties will fall apart) and fry until brown on the first side, about 2-3 minutes. Turn carefully (they are delicate), then fry until the second side is brown.
Serve warm with the remoulade.
Notes
Will serve 4 as an appetizer or a side.
Art of Natural Living https://artofnaturalliving.com/
Save
Save