I just got back from a great event—the American Cheese Society conference, in Des Moines, IA. In addition to lots of great cheese, there was fine charcuterie and other specialty foods like jams and honeys. I was afraid to step on the scale when I returned!
Now it goes without saying that cheese was the star! But the fancy canned specialty foods were also spectacular. And they reminded to share my own Cherries in Red Wine with you!
I have always been in love with high quality specialty foods. But good taste can be expensive so I decided to learn to make a few things myself. Yes, one day it's down home zucchini fritters and the next organic sweet cherries in red wine with a savory edge. Just call me the schizophrenic blogger :-).
My recipe for Cherries in Red Wine was adapted from a fig preserve in the book Saving the Season. Now food safety people tell you never to alter canning recipes because you can end up changing the acidity that makes them safe. In this case, however, cherries are acidic enough to can in water, and wine even is more acidic, so I went ahead. And I was happy I did!
Most recently, my husband and I decided to try this over ice cream. We split a half pint jar of the cherries in red wine, heating it in a saucepan until the wine sauce thickened slightly, then pouring it over big scoops. The sweet cherries–blended with wine and spices like thyme, fennel and bay–were paradise! It would also be good on angel food or pound cake, or a with savory dish like meat or wild rice.
If you'd rather not tackle canning, you can make a smaller batch and gobble them down within a few days. Really, this wouldn't be hard! I haven't tried freezing, but cherries generally freeze well…
Yes, a few more recipes like this and winter is going to be a snap!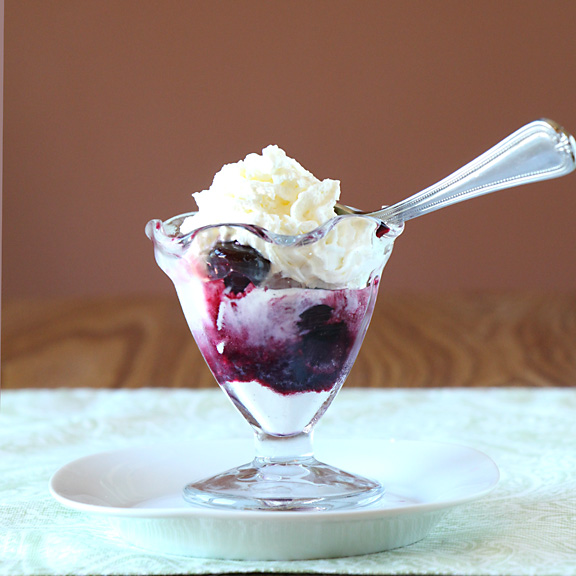 Cherries in Red Wine
2016-08-02 07:43:12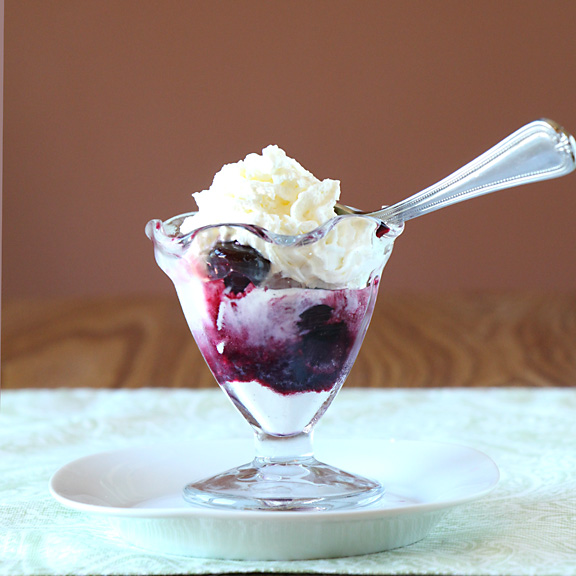 Serves 16
Sweet cherries in red wine with a hint of savory spices is paradise over ice cream or cake--or even a savory dish like meat or wild rice.
Nutrition Facts
Amount Per Serving
* Percent Daily Values are based on a 2,000 calorie diet. Your Daily Values may be higher or lower depending on your calorie needs.
Syrup base
• 2 ½ c red wine
• 1 c water
• ¼ t black peppercorns
• ¼ t fennel
• 1 vanilla bean
• 1 bay leaf
• 3 sprigs thyme
• 2 1/2 cups sugar
Remaining ingredients
3 ½ lb pitted cherries (about 2 quarts)
3 T balsamic vinegar
Instructions
Bring syrup base ingredients to a boil. Add the cherries, bring back to a boil and simmer for 10 minutes. Stir in the vinegar then store in refrigerator overnight.
The next day, remove and discard the bay leaf and vanilla pod. Refrigerate or freeze the cherries in syrup if you are not canning. Otherwise following canning directions below.
To can (see note), return the cherries and syrup to a boil. Transfer to hot, clean, half pint canning jars, leaving ½-inch headspace. Wipe jar rims with a clean, dampened paper towel and apply two-piece metal lids and bands.
Process for 15 minutes in a boiling water bath if your altitude is under 1000 feet, adjusting for altitude if higher per this chart. After processing, remove from heat and let cool in canner for 5 minutes.
Remove jars and let sit, undisturbed, 12 to 24 hours. Check the seals and refrigerate anything that hasn't sealed and use it up quickly.
Notes
Yield: about 8-9 half pints.
This recipe assume you know how to can but for a great intro to canning see the Ball Canning website.
Art of Natural Living https://artofnaturalliving.com/