Mushroom & Lettuce Omelet
Last week one of my CSAs practically apologized for their bounty of beautiful greens. Imagine that! No need to apologize, thank you, for sharing a box overflowing with fresh goodness! I'll just freeze kale with prosciutto and turn a bunch of lettuce into a mushroom & lettuce omelet.
As gardeners know, spinach, the classic omelet green, is not a fan of summer. When the heat arrives, it bolts, producing seeds and turning bitter. So in the past I resolved, in the true spirit of seasonal eating, to cross spinach omelets off the menu when the thick of summer arrived.
But an abundance of lettuce just made me wonder: what if I replaced the omelet's spinach with lettuce greens?
With a frightening stuffed refrigerator, I knew I had to give it a try. And the answer is… (drumroll) this makes an entirely satisfactory omelet! While I might not pick lettuce when spinach is available, it is a great answer both to absence of spinach and deluge of lettuce. It was slightly chewier, slightly more bitter and a duller shade of green, but honestly, if I weren't looking for differences, I'm not sure I would have noticed.
Tips for a better mushroom & lettuce omelet
A couple things that may help lettuce go incognito into an omelet:
Pay attention to lettuce variety. An endive or radicchio­ omelet is going to have a higher level of bitterness which may not be appealing. A mix that is low in bitter greens or a mild single green like butter lettuce should work well. And remember that salty or umami flavors can balance bitterness, so considering using (or adjusting) the amount of miso/Worcestershire sauce in the filling.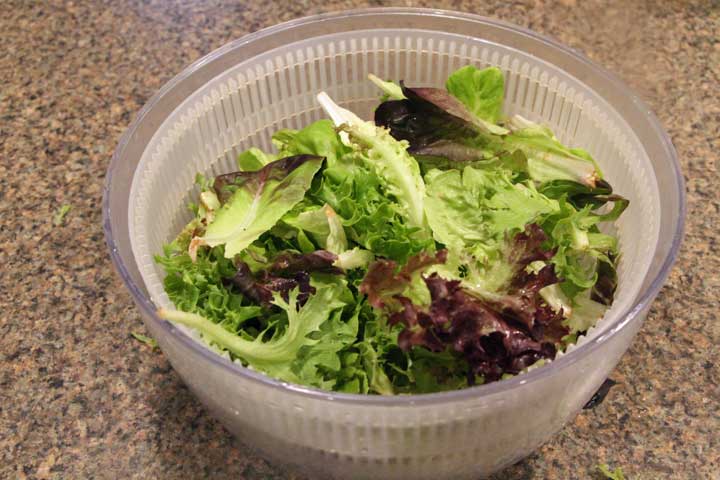 Lettuce (even tender spring greens) can be stringier than spinach. Chop or julienne before cooking for best results. An easy way to julienne a leafy green is to layer a few leaves on top of each other then roll up into a tube. Cut thin strips along the length of the tube for more tender strips.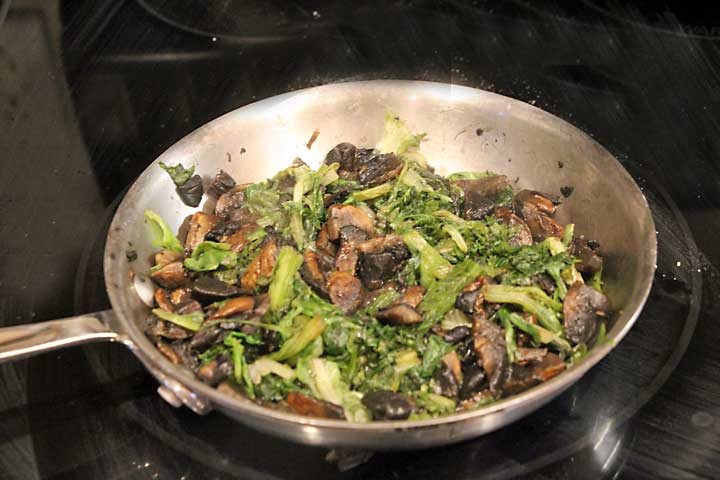 Happy summer!
Mushroom & Lettuce Omelet
2016-07-21 17:09:46
Serves 2
Buried in lettuce from your CSA or garden? Why not try a mushroom & lettuce omelet--bet it's hard to tell apart from the spinach version!
Nutrition Facts
Amount Per Serving
* Percent Daily Values are based on a 2,000 calorie diet. Your Daily Values may be higher or lower depending on your calorie needs.
Ingredients
• 4 eggs
• ¼ cup water
• ¼ teaspoon salt
• ¼ teaspoon pepper
• 1 tablespoon butter or oil
• 8 ounces mushrooms, sliced or chopped
• 1 teaspoon white miso or 1/2 teaspoon Worcestershire sauce (optional)
• 4 ounces lettuce, chopped
• 1 ounce shredded parmesan cheese (about ½ cup)
Instructions
In a medium bowl, whisk together the eggs, water, salt and pepper.
Melt the butter or add oil to a hot skillet. Add the mushrooms and miso (or Worcestershire sauce) and cook until mushrooms are golden, 5-10 minutes. Add the lettuce (in batches if it won't all fit) and cook until very wilted. When done, remove to a small bowl and cover.
Clean the skillet and place over medium high heat. When pan in hot, spray with non-stick spray and pour in half of the egg mixture. Cook for 1 minute or so, until the bottom just begins to set. Using a spatula, lift the edges to allow the uncooked mixture to flow to the bottom of the pan. Repeat until almost set. Sprinkle with half of the parmesan, then place under broiler until fully cooked
Top with half of the lettuce mixture. Using a spatula, fold the omelet in half and remove to a serving plate.
Re-clean the skillet, then repeat with the remaining eggs, vegetables, and cheese to make a second omelet.
Serve hot.
Art of Natural Living https://artofnaturalliving.com/