Elderflower Cordial (Elderflower Syrup)

I was hungry and tired and my spirits were low,
For I got neither whiskey nor cordial.
I hadn't heard the old Irish folksong in years, but making Elderflower Cordial brought it back. Although I doubt the down-on-his-luck farmhand was thinking of non-alcoholic elderflower cordial, I like a straight fruit or flower syrup which gives me the option to have a boozy drink, or not.
Ever since I got a soda stream a while back (not an affiliate), I have been a homemade soda monster. If it grows, I'll boil it with sugar and water, strain, and top the resulting syrup with fizzy water. It all started on my diet last year, when I realized that if I didn't stay hydrated, I was going to stay chubby. Now it's taken on a life of its own.
But elderflower cordial is a classic, which actually makes me a bit of a latecomer (later bloomer?). Per Wikipedia:
Historically the cordial has been popular in North Western Europe where it has a strong Victorian heritage. However, versions of an elderflower cordial recipe can be traced back to Roman times. Nowadays it can be found in almost all of the former Roman Empire territory, predominantly in Central Europe, especially in Germany, Austria, Romania, Hungary and Slovakia, where people have acquired a special taste for it and still make it in the traditional way.
A few years back, I was looking for some bushes/trees that I could harvest. Elderflower bushes ended up on my list and I planted two mail order "sticks." One, which did poorly, languished along a tree row even though I read they were "understory" plants. And I couldn't even remember where I planted the other (Proving you can lose plants in a 3/4 acre yard.)
This year, however, the missing elderberry burst forth with such a profusion of blossoms, I couldn't help but rediscover it (wedged between a pear tree and the jungle plantings along the lot line). And so I made elderflower cordial! I even found some ready-to-download labels online (I shrunk them to fit my small bottle)!
The elderflower cordial is much less "flowery" than other flower syrups I've made. I would describe the flavor as sweet (from the sugar) and herbal. I liked it in fizzy water with a squeeze of lime—and soon, I'll be trying some with a little vodka too. Elderflowers figure in folk medicine and some people believe they have a variety of benefits.
Happy summer!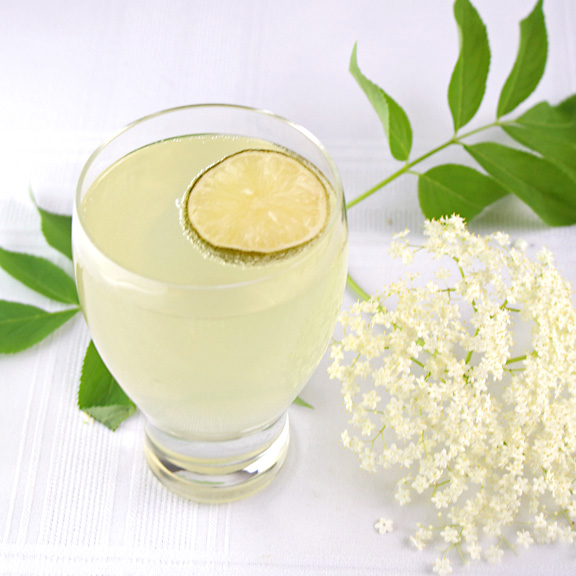 Elderberry Cordial
2016-07-13 14:09:28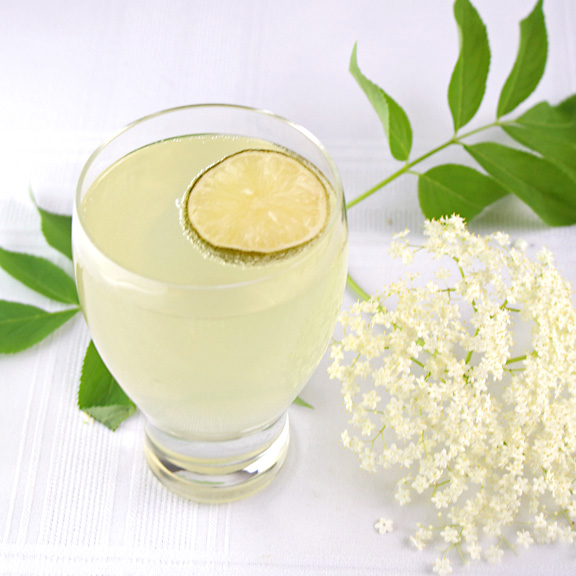 Serves 8
Elderflower cordial is a sweet herbal-tasting syrup made of flowers from the elderflower bush. Delicious with fizzy water--with or without vodka!
Nutrition Facts
Amount Per Serving
* Percent Daily Values are based on a 2,000 calorie diet. Your Daily Values may be higher or lower depending on your calorie needs.
Ingredients
1 cup water
1 cup sugar
6-8 large elderberry blossoms, most of stem removed (all won't be realistic)
zest and juice from 1 lemon
Fizzy water for serving
Instructions
Harvest flowers that are in good condition and cut off as much of the stem (which is toxic) as realistic. A bit of stem shouldn't hurt.
Heat the water and sugar to boiling and stir to dissolve sugar. Remove the pot from the heat and stir in the blossoms, lemon zest and juice.
Cover and let sit for 24-48 hours. Strain, then keep refrigerated and use within a week or so.
To serve, top with fizzy water. Alcohol optional.
Notes
Some recipes use citric acid which would preserve this longer. It can also be frozen for longer storage.
In addition to the stems, the plant leaves and unripe berries are reported to be toxic.
Art of Natural Living https://artofnaturalliving.com/