July 4th Grilled Fruit Salad
Grilling fruit creates a more complex flavor, which is delicious alone—or on top of lettuce in this Grilled Fruit Salad
I love hanging out (even virtually) with other bloggers. Nothing like a bunch of clever cooks and a food challenge to push you to new levels. So this week I made a Grilled Fruit Salad, decked out for the 4th of July.
Yes, this month's challenge was grilling—something I normally leave to my husband.
The other piece to this is a vague memory I have of grilled watermelon stars that I saw in my mother's Good Housekeeping magazine. It's been on my "must try" list for ages, so I picked the grilled fruit category for this event.
I decided to grill the pineapple and watermelon for this salad in slices and cut them up afterwards. I couldn't get the grill above 350F–rather than the 400 F that I have seen recommended, but figured I'd go ahead anyway (did I mention my husband usually does the grilling?). Nonetheless, the pineapple developed beautiful grill marks and a delightful flavor. The watermelon just looked anemic and sunken. I eventually gave up and put it on a hot grill pan on the kitchen stove which worked much better.
As I nibbled the test slices off the grill, I decided that grilled fruit develops a more complex, and slightly more savory flavor profile, which would be delicious alone—or on top of a lettuce salad. To keep with the July 4th, red white and blue, theme, I also added blueberries and fresh mozzarella pearls. The extra protein means it could even serve as a dinner salad.
Will I grill fruit again? The jury's still out on the watermelon. With a hotter grill (did I mention my husband usually grills?) or watermelon that is a bit less ripe, I might be happier with the results (though it still made a pretty garnish). I loved the pineapple–all by itself or drizzled with the dressing–and can't wait to try peaches.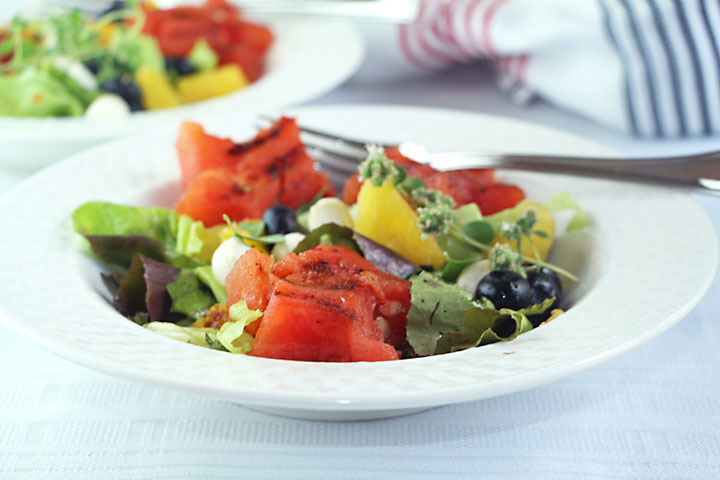 Happy summer!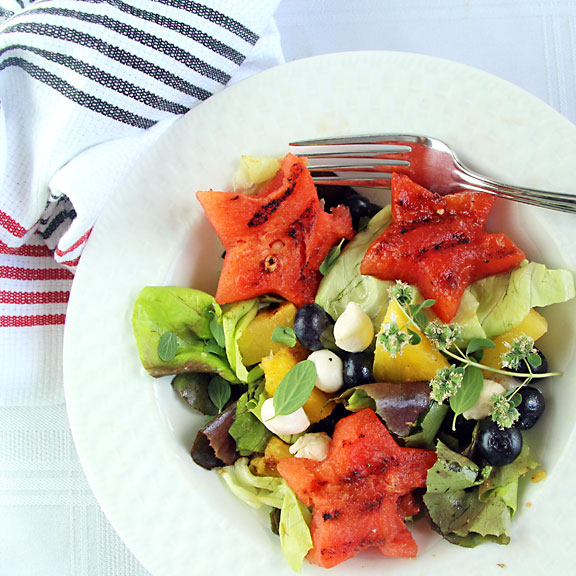 Grilled Fruit Salad
2016-06-30 23:12:57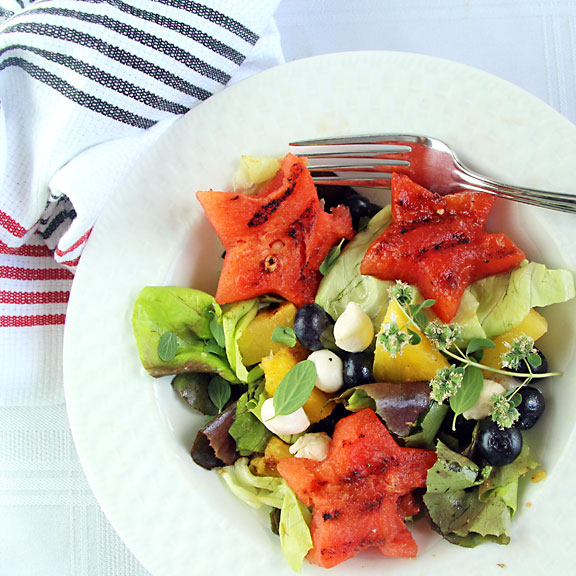 Serves 4
Grilled fruit develops a more complex & slightly more savory flavor, which is delicious alone—or on top of a lettuce salad like this Grilled Fruit Salad.
Nutrition Facts
Amount Per Serving
* Percent Daily Values are based on a 2,000 calorie diet. Your Daily Values may be higher or lower depending on your calorie needs.
Dressing
• 2 Tablespoons olive oil
• 1 Tablespoon balsamic vinegar
• 1 Tablespoon lemon juice (from ½ lemon)
• zest from ½ lemon
• ¼ teaspoon cardamom
Salad
• 4 cups torn Boston lettuce
• 4 ounces fresh mozzarella balls
• ½ cup blueberries
• ½ pineapple
• 1 lb watermelon (8 stars, cut from 1/2 small watermelon)
• leaves from a couple sprigs of fresh thyme or marjoram or herb of your choice (plus more to garnish if desired)
Instructions
Combine dressing ingredients and whisk until well blended.
Grill watermelon and pineapples slices on very hot grill for 2-3 minutes on each side. Cut to desired shaped (or bite-sized pieces)
Distribute lettuce among 4 bowls. Drizzle each salad with about a half tablespoon of dressing. Top with the remaining ingredients (fruit, fresh mozzarella, herbs), then drizzle with dressing again.
Art of Natural Living https://artofnaturalliving.com/