Cheese Tortellini Carbonara
Cheese filled tortellini, covered in creamy parmesan sauce, flavored with bacon and garlic–it's a classic knockoff I call Cheese Tortellini Carbonara!
Extra bacon. Extra Cheese. Because.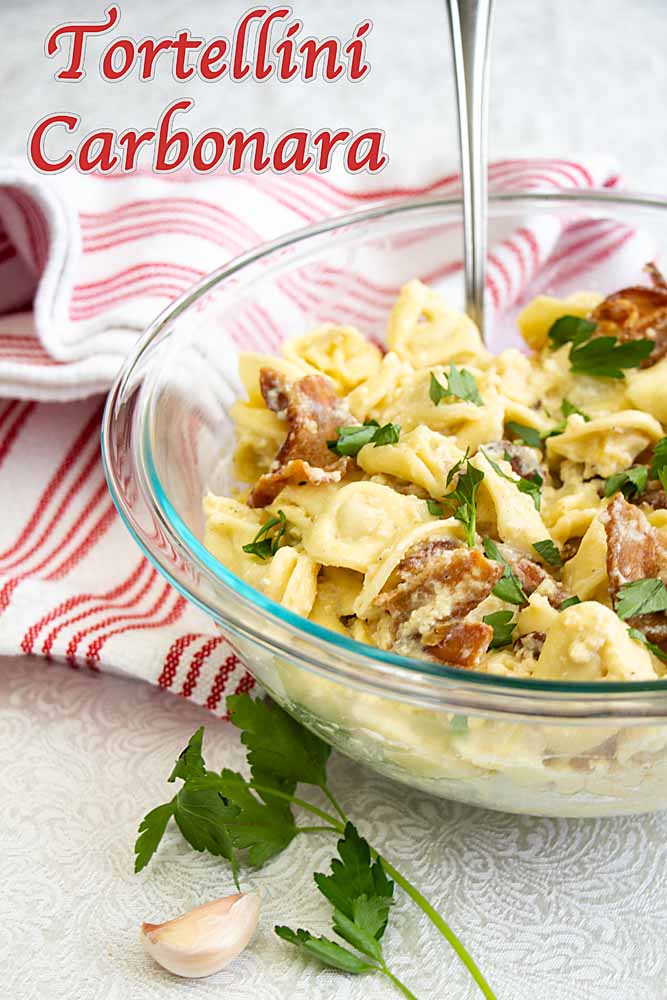 I still remember the first time I had pasta carbonara—it was in grad school. Many years ago. The dish was so tasty, I vowed to make it again. Soon.
Okay, I guess I missed out on that soon part.
It was our family vacation last month that finally pushed me into making it, with a slight change to Cheese Tortellini Carbonara. We had rented a timeshare in beautiful Captiva, FL and brought down three kids and a boyfriend. It was pretty near a dream vacation. Except how to make food that would please everyone?
Creamy pasta is always a crowd pleaser and my youngest would be happy eating mac 'n cheese three times a day. I just needed an adult version. With flavor that would knock your socks off. Food bloggers tend to raise kids with… expectations.
So I decided to try the carbonara. And I went with cheese tortellini instead of the traditional spaghetti. 'Cause there's no such thing as too much cheese!
This dish cooks up fast so it's a near perfect vacation entree. I added salad and garlic bread for a meal that was a hands-down favorite!
I wish I'd taken pictures of the dinner in Florida—just to convey the fun we had. But it was no problem getting later pictures. 'Cause this Cheese Tortellini Carbonara is a keeper!
Cheese Tortellini Carbonara!
Yield: 6

Prep Time: 20 minutes

Cook Time: 10 minutes

Total Time: 30 minutes

Cheese filled tortellini, covered in creamy parmesan sauce, flavored with bacon and garlic creates a classic knockoff I call Cheese Tortellini Carbonara!
Ingredients
20 ounces cheese tortellini, 2 10-ounce packages
8 ounces bacon, cut in half
6 garlic cloves, chopped finely
3 eggs
5 ounces grated parmesan cheese
Salt, Black pepper
Couple tablespoons chopped flat-leaf parsley
Instructions
Fill a large pot with water and bring to a boil. Pour tortellini into the pot and cook according to package directions, using lower end number if there is a range. Reserve 1 cup water for sauce and discard the rest. If the sauce isn't ready when done (mine was), drizzle the pasta with a little oil to prevent sticking and set aside.
While pasta water is heating, cut bacon strips in half and cook in a large frying pan. Cook bacon until crisp. Move bacon to platter and set aside. Discard all but 3 Tablespoons of bacon fat (see note).
Add garlic to the saute pan and cook for a minute or two, until starting to turn light gold. Remove from heat, then add cooked pasta and mix together well.
Beat together eggs and cheese. Mix into the pasta pan, then set back on the stove, and cook until sauce is thickened. Add reserved pasta water as needed.
Stir reserved bacon back in and season with black pepper and salt to taste.
Top with chopped parsley. Serve with additional grated cheese if desired
Notes
Note: can drain bacon grease and replace with 3 T olive oil for a healthier alternative

Nutrition Information:
Yield: 6
Amount Per Serving: Calories: 608Total Fat: 29gSaturated Fat: 12gTrans Fat: 0gUnsaturated Fat: 14gCholesterol: 190mgSodium: 1580mgCarbohydrates: 50gFiber: 2gSugar: 1gProtein: 36g

Nutrition data accuracy may vary with product selection, calculator accuracy, etc. Consult a professional for the best information.
Pasta Recipes
We share Recipes From Our Dinner Table! Join our group and share your recipes, too! While you're at it, join our Pinterest board, too!