Christmas Cowboy Cookies in a Jar
With holiday M&M, chocolate chips and oatmeal these Christmas Cowboy Cookies are a sure-fire hit. Baked straight or in a jar for gifting!
Even a cookie can get its 15 minutes of fame.
Cowboy Cookies entered the spotlight in 2000, when Laura Bush's version beat Tipper Gore's ginger snaps in the legendary candidates' wives cookie bake-off. This particular "Cookie in a Jar" twist was inspired by the blog Bakerella, but, as usual, I have tweaked it just a bit. Three grueling tests right before Christmas–ah, the sacrifices bloggers make for quality control 😉
I still remember the first time I got a cookie in a jar kit. It was a Christmas gift from a coworker who made them for everyone on our team. It struck me as charming at the time, but it was a couple months later when I really appreciated it. One (long) Saturday afternoon, my youngest had a new friend over for a playdate that wasn't going well. Games were boring, crafts were a bust… and Mom was at a loss.
Finally I remembered the cookie kit and set the girls to work. Flour went flying, dough was snitched and the afternoon was saved! And we all got some tasty cookies.
I've wanted to try my own ever since and finally (as in, yes, I know yesterday was three days before Christmas) got around to doing it. These kits will go to my teenage nieces (shhh) as over-sized stocking stuffers. Although the girls are beyond the age of problem playdates, I'm pretty sure they can find an occasion that calls for cookies.
Christmas Cowboy Cookies
Ingredients (if baking from scratch–jar preparation directions below)

1 1/4 cup all purpose flour
1 teaspoon baking powder
1 teaspoon baking soda
1/4 teaspoon salt
1 cup cooking oats
1/2 cup m&ms
1/2 cup semi-sweet chocolate chips
1/2 cup brown sugar, packed
1 t cinnamon
1/2 cup white sugar
1/3 – 1/2 cup sweetened coconut
1/3 – 1/2 cup pecans (optional–and if they fit)
Directions
1. Stir all the dry ingredients in a large mixing bowl.
2. Add:
1 lightly beaten egg
1/2 cup butter (melted slightly)
1 teaspoon vanilla
3. Mix wet ingredients into dry ingredients. I broke down and used my fingers to get everything well blended.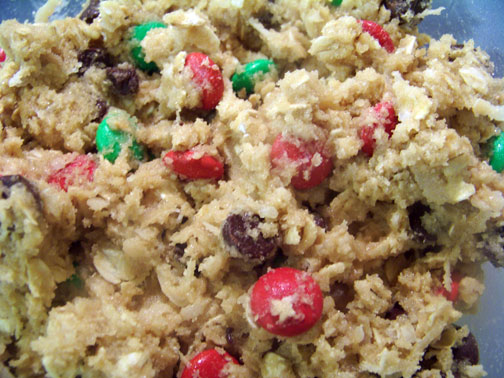 4. Roll the cookie dough into 1 1/2 inch balls, place on a greased or parchment covered baking sheet and bake for about 10 minutes in a preheated 350 degree oven. Bake until slightly golden but do not brown or they will be dry. The cookies spread quite a bit so don't overcrowd the cookie sheet.

To prepare the jars:
Start with clean quart-sized canning or other jars. (I used old glass mayonnaise jars, which happen to fit standard canning lids)
Layer ingredients, alternating colors. I settled on the following:
Brown sugar mixed with cinnamon
White sugar
Chocolate chips
M & Ms
Oatmeal
Flour mixed with baking soda, baking powder & salt
Coconut
I left out the nuts–the kids are lukewarm about them & I was out of space but a different jar might be different
Tamp down each layer tightly or you will run out of space. Pay special attention around the edge of the glass which is the area that shows. I found a melon baller worked well for this. And for a narrow mouthed jar, a canning funnel may make pouring easier.
Cover with a canning lid topped with a 6-7 inch square of cute fabric, then twist canning ring around.
Consider decorating with a bit of matching ribbon.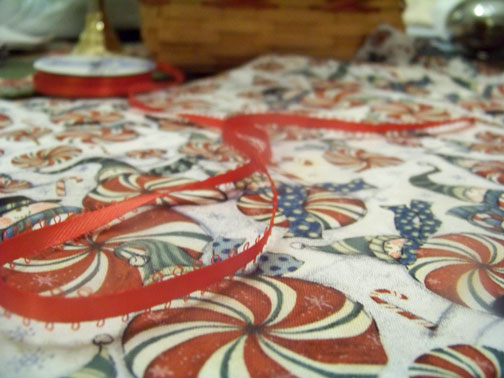 Still a couple last minute gifts on your gift list? Well you might just pull this off (I know, 'cause I just did 😉 )