Creamy, nutty & flavorful, Garlic Scape Pesto is a fun & tasty way to use garlic's first yummy gift! Top pasta, sandwiches, meats or more!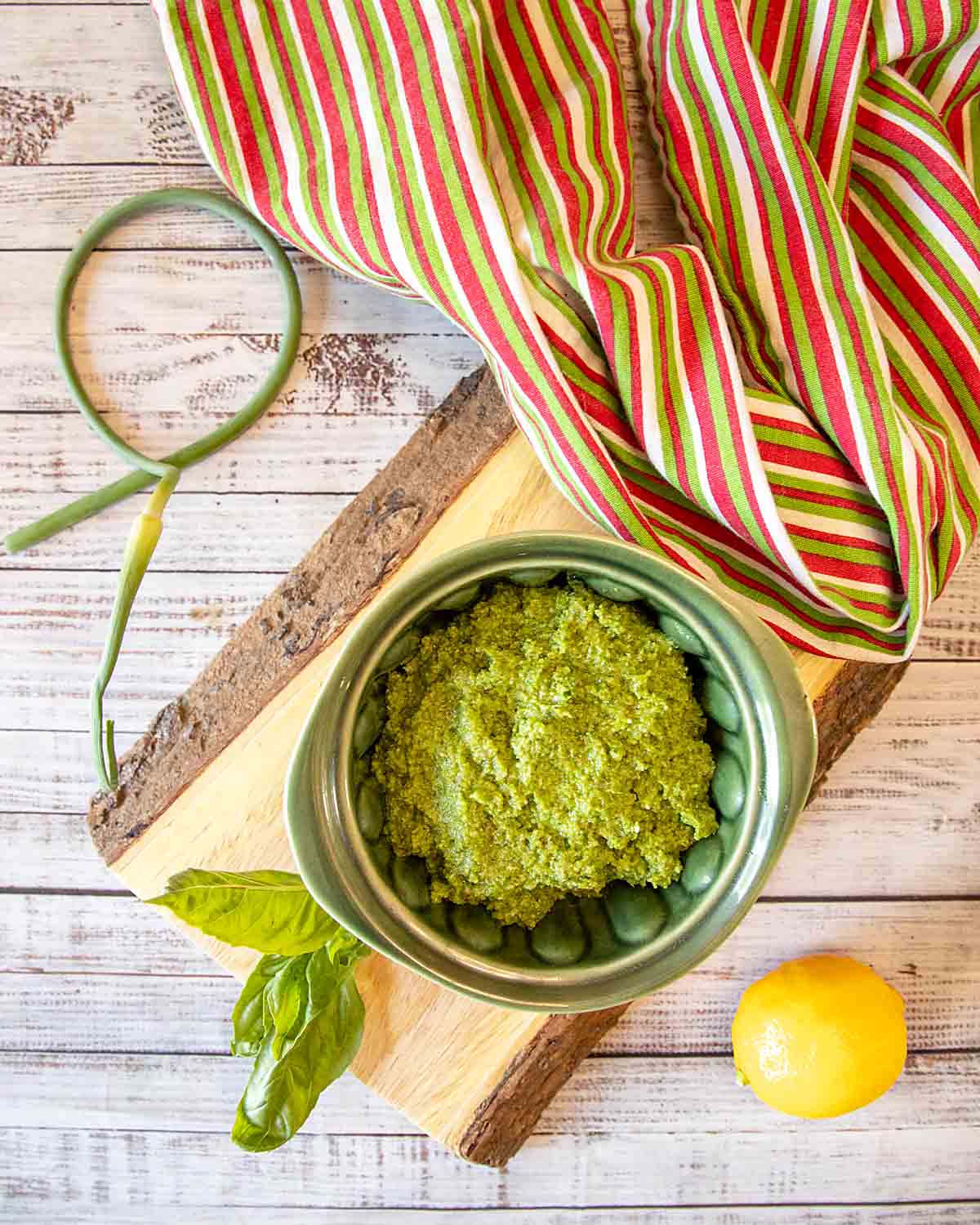 Some of us remember waaaay back in the day. Back when pesto was not yet a mainstream sensation. Goodness! How did we live without it!
Pesto can be used in so many ways from pizza topping to pasta sauce to sandwich spread. And this Garlic Scape Pesto with Basil is as garlicky, creamy and delicious as the original!
Yes Garlic Scape Pesto is perfect for the locavore who can't live without it. You see, garlic scapes, the seed shoot of the garlic plant are available well before the garlic season arrives. Even better, they can often be used in place of garlic. And they taste amazing.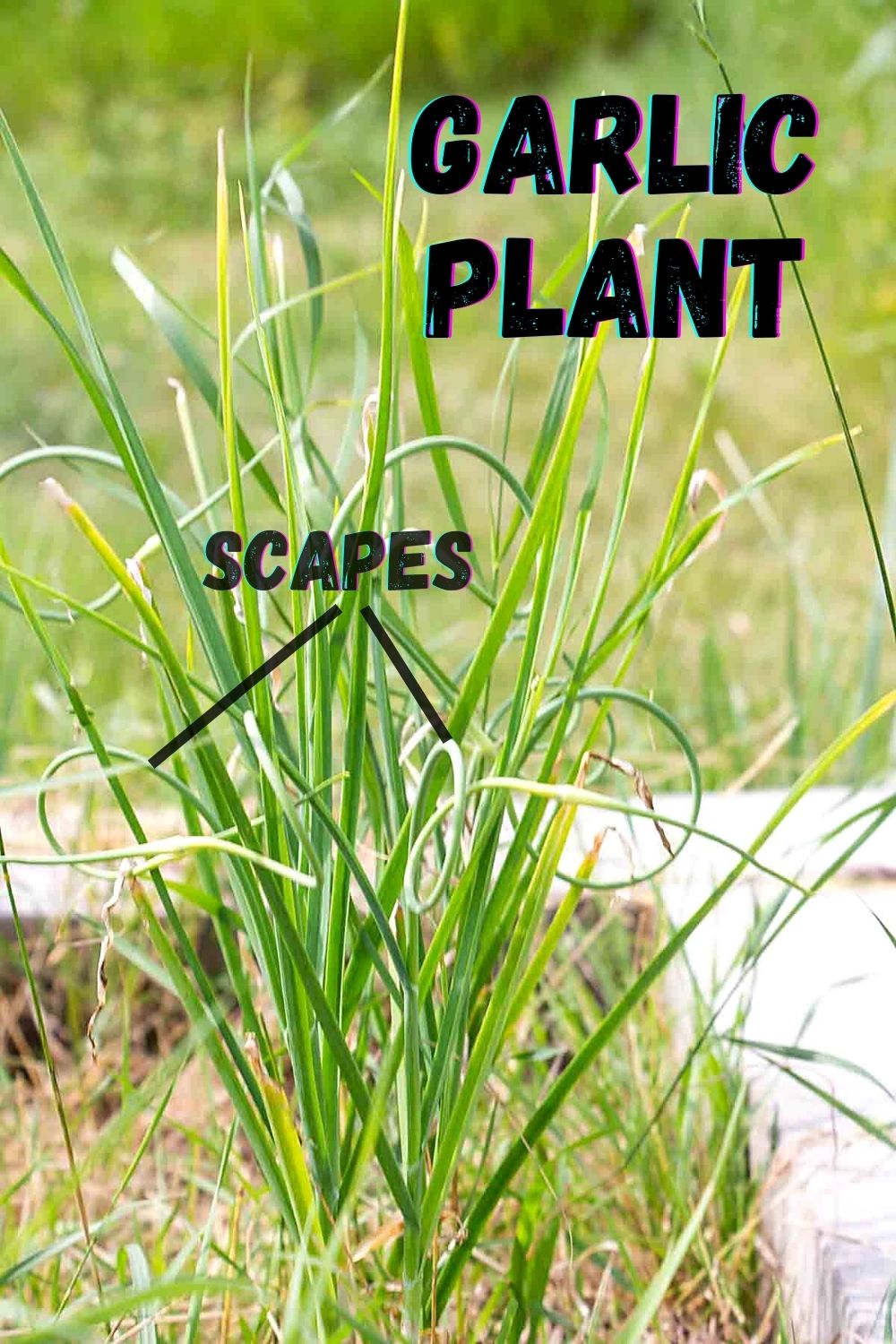 What are Garlic Scapes?
Garlic scapes are the flower stalk of a young garlic plant. If the stalk is removed before flowering, the plant will send more energy into the bulb, resulting in a better garlic harvest. And happily the garlic scape is delicious too!
In the northern U.S, scapes are typically harvested in June and early July. Then they can be found at farmers markets, in CSA boxes and home gardens!
Now people debate whether the scapes have the same bite as garlic. My feeling is that this can vary, but they do tend to have a sharpness similar to raw garlic, but perhaps a little more herbal. And like garlic cloves, scapes can be roasted to mellow them–which I do for my fun and tasty Garlic Scape pizza. I keep them raw for my pesto, but feel free to roast if you prefer.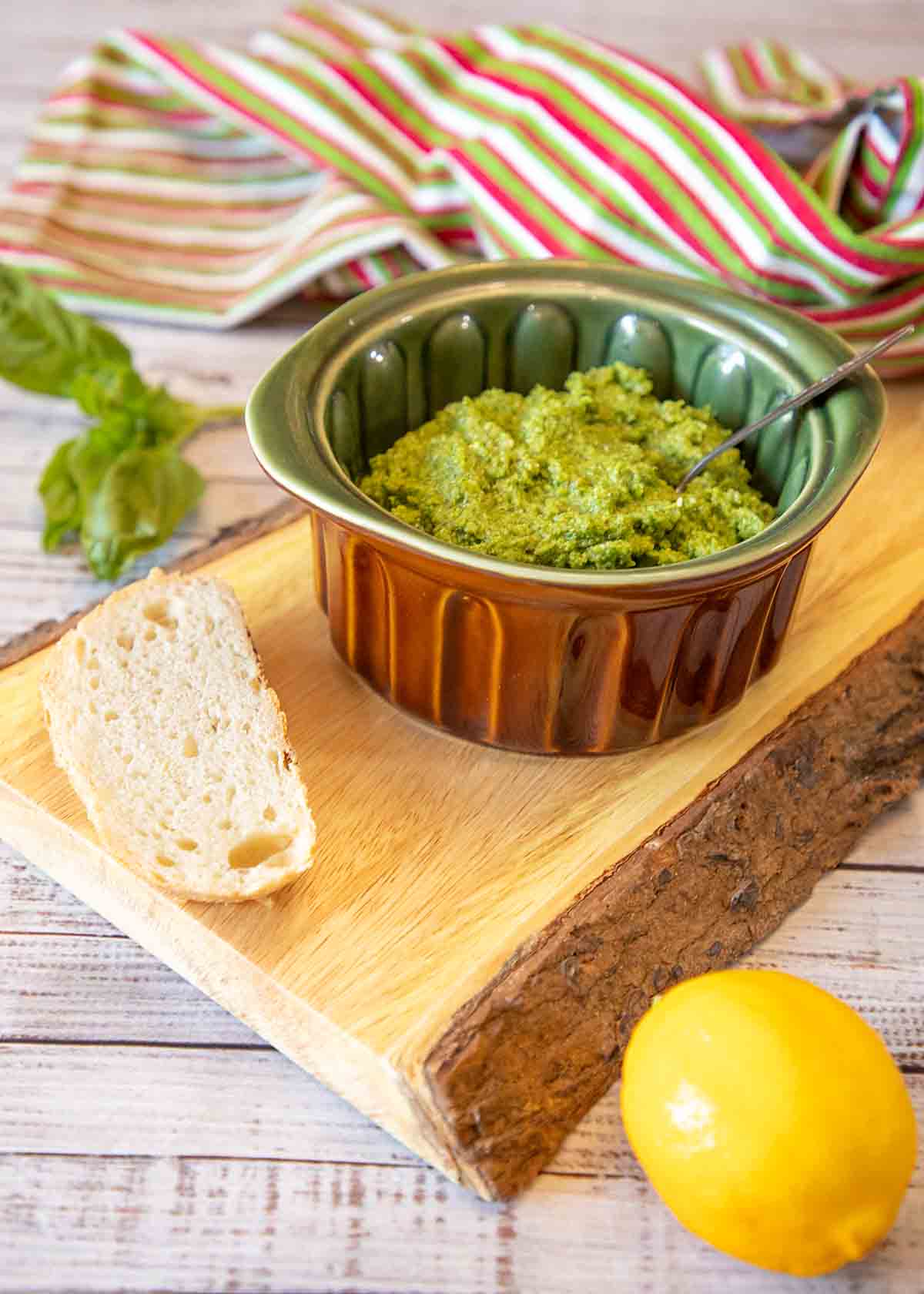 What is Pesto?
Per Wikipedia, pesto "is a sauce originating in Genoa, the capital city of Liguria, Italy. It traditionally consists of crushed garlic, European pine nuts, coarse salt, basil leaves, and hard cheese such as Parmigiano-Reggiano (also known as Parmesan cheese) or Pecorino Sardo (cheese made from sheep's milk), all blended with olive oil."
There is even a French version known as pistou which is similar but without nuts.
While dating back perhaps as far as ancient Rome, pesto did not become popular in the U.S. until the 1980s or 1990s (op. cit.).
Why You'll Love This!
Tasty. Pesto has taken off because it's loaded with flavor! How can you beat garlic, herbs, nuts and cheese flavors all rolled together!
Versatile. While originally used as a pasta sauce, pesto is now at home on meats, in salads and more. You can't keep a good food from branching out!
Frugal. I love when I can make use of everything nature gives us. And I feel amply rewarded when this results in tasty treats like this!
What You'll Need
Ingredient Notes
Garlic scapes. These give a robust garlic flavor to the pesto.
Basil leaves. These give a basil flavor to the pesto.
Lemon Zest (optional). This can balance the intensity of the flavors but is entirely optional. Your final dish will add balance too.
Pecans, pine nuts or other nut of your choice. Pine nuts are most traditional but expensive. Most nuts will work and I used pecans today because I had some to use up.
Olive Oil. Olive oil adds flavor, richness and smoothness.

Parmesan cheese. Adds a cheesy, umami flavor.
Special Tools
You'll need a food processor to blend up the pesto smoothly.
A microplane is helpful to give you the finest lemon zest (an optional ingredient).
Step by Step Directions
Remove the seed head from the scape as shown below and discard it. Cut the remainder into 1-inch pieces. This makes it easier for the food processor to get everything evenly chopped.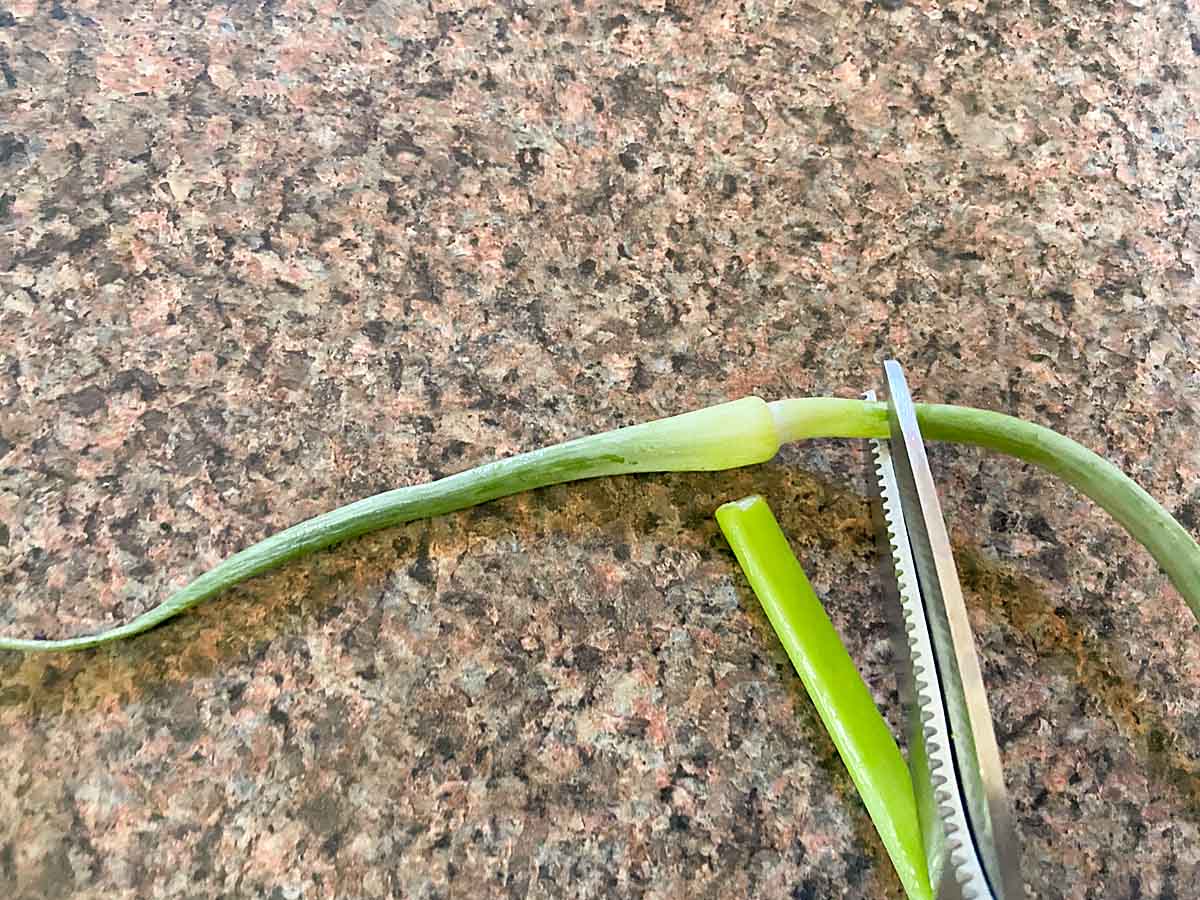 In a food processor, process all ingredients except olive oil and Parmesan until roughly chopped. Scrape down the sides as needed.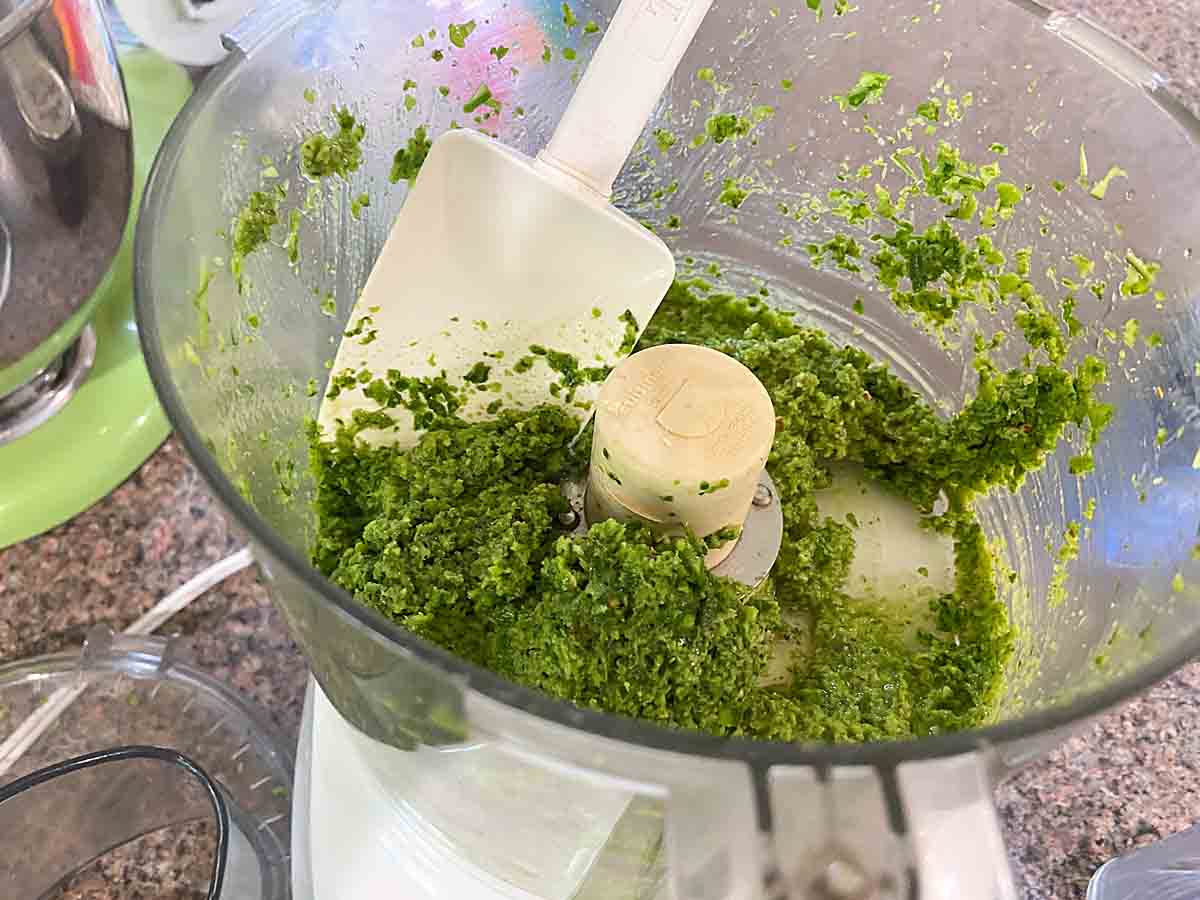 Add olive oil and process until smooth. This version isn't super creamy–just add additional olive oil and process longer if you prefer that.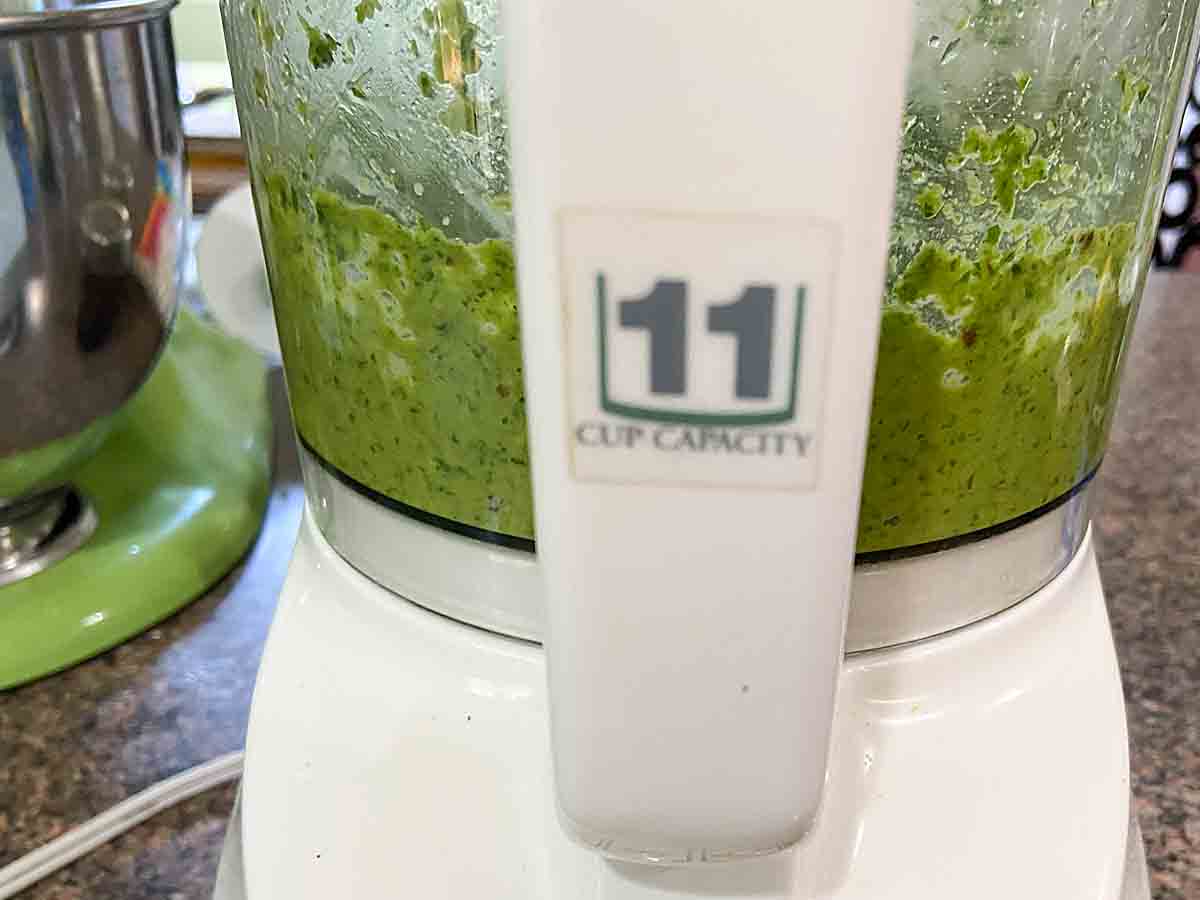 Stir in the grated Parmesan and you are done!
How to Serve
Pesto is almost as useful as ketchup! Add it to pasta with or shrimp or chicken for a flavorful entrée (I usually thin the pesto with some of the past water when I do this. ) Although it was originally used mainly for pasta sauce, it has so many more uses today!
For a gluten-free sub for pasts salad, I've made Pesto Rice Salad. And for added interest, I've dolloped it into soups that needed a flavor boost.
Finally, I've mixed it with mayonnaise for a sandwich topping and have spread it on meats. I've even used it to punch up my Roasted Tomato Omelet with Spinach, Pesto & Cheese! No boring omelet there!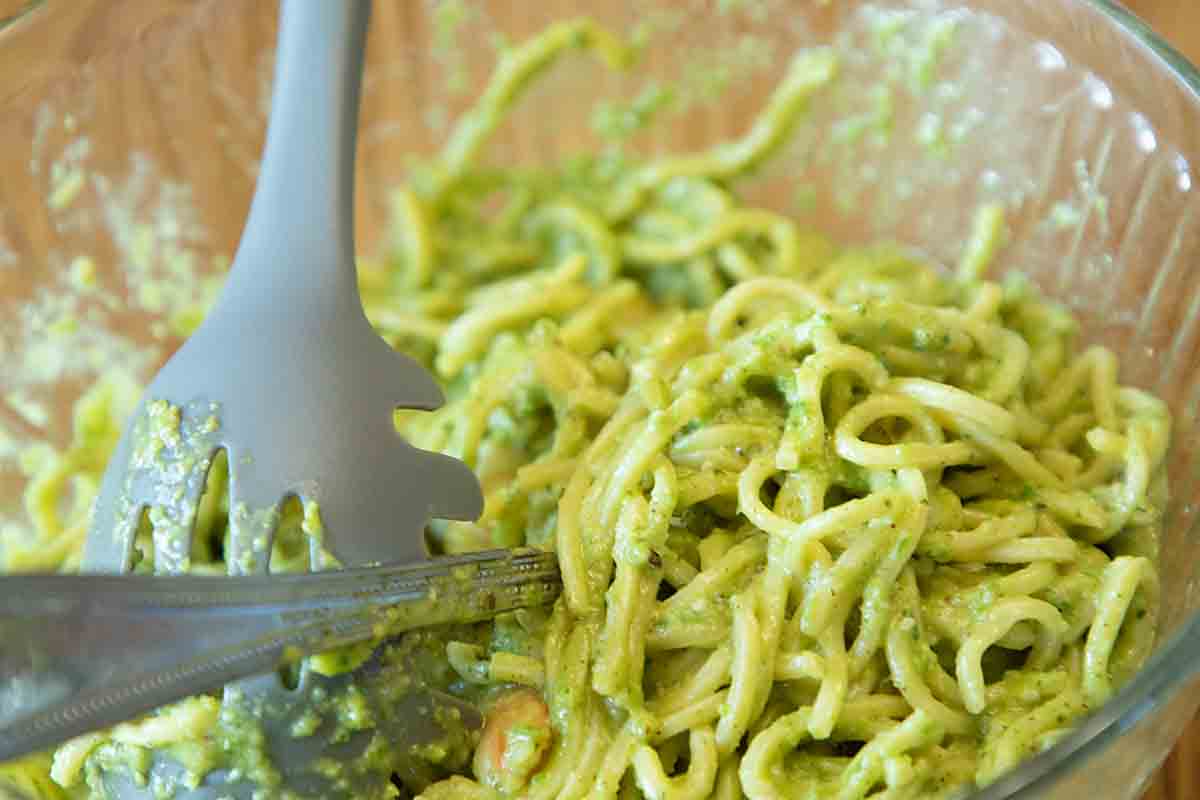 Variations
Can I make a vegan Garlic Scape Pesto? This is naturally vegetarian, but it does contain parmesan cheese. Truthfully since the parmesan makes it more challenging to thaw, if I freeze pesto I leave out the cheese. It gets added later, or not. There is still a level of creaminess from the nuts.
But you can consider a couple substitutions. First if you have a favorite vegan Parmesan, go ahead and use that. Or you might add a Tablespoon or two of nutritional yeast. This will deliver some umami flavor like the Parm, plus it's tasty and nutritious on its own!
What if I don't have basil? Basil is the classic pesto herb, but there are so many others that also work well. I have used lemon balm from my garden (especially good for Lemon Balm Pesto with Shrimp). Parsley is also common and cilantro is a another favorite! Just don't serve that to any "cilantro tastes like soap" guests! One year when buried in arugula, I made arugula pesto. I've even heard of people making carrot top pesto!
Go wild! No pesto police here!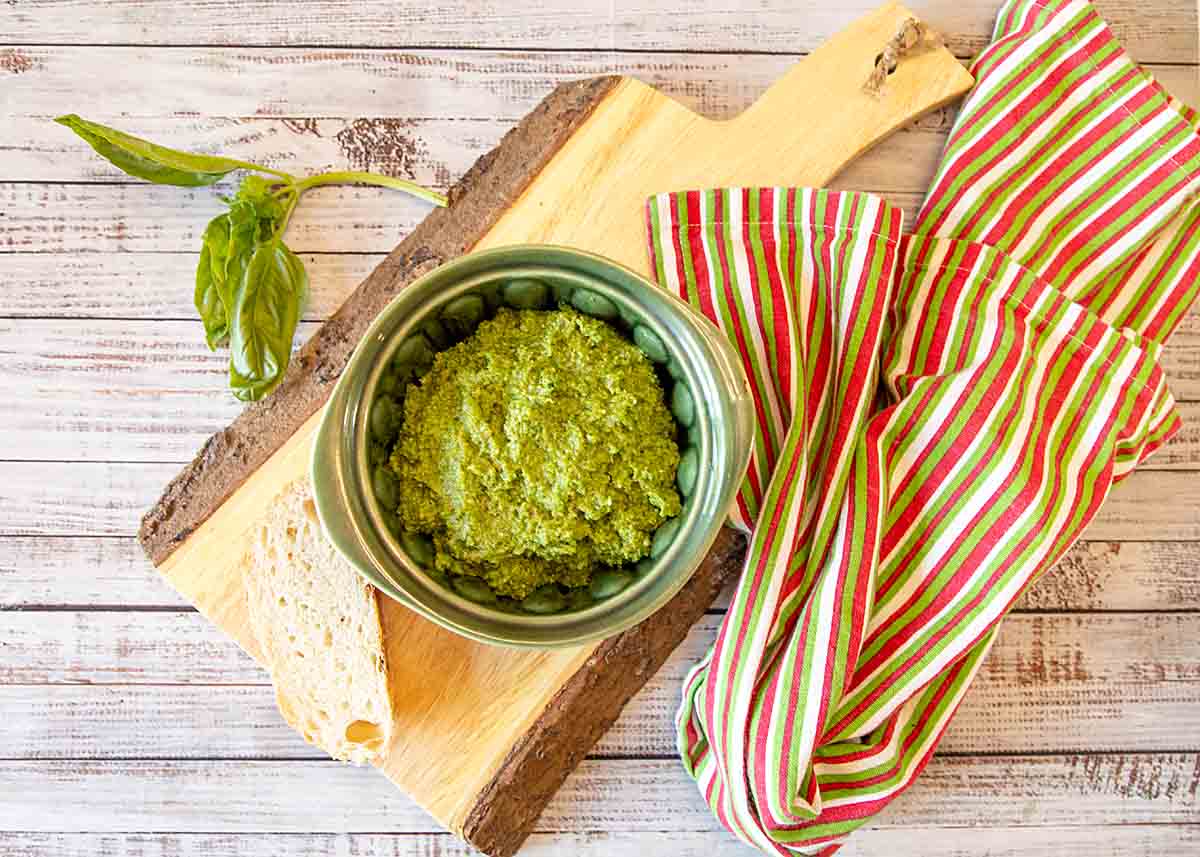 Freezing and Reheating Tips
Leftover Garlic Scape Pesto can be stored in the refrigerator and used within a week or so. Just be careful to reheat it slowly or the cheese will separate.
It also freezes beautifully. Because locally grown pesto ingredients are only available in summer and fall, I always freeze lots for winter. I often use 4-ounce or 8-ounce straight-sided canning jars–the jars with "shoulders" can break if the contents push against them as they freeze. For more information on freezing in canning jars, take a look at Filmore Container.
Sometimes I omit the Parmesan when I freeze pesto (and in that case I note it on the label). The reason for this is that I am often thawing pesto at the last minute. When microwaved or heated in a saucepan from frozen, it's really easy to heat it to the point it separates–just like my reheating caution. If you plan ahead and thaw it slowly, this is not a problem. But just ask my kids who the worst mom at planning ahead is!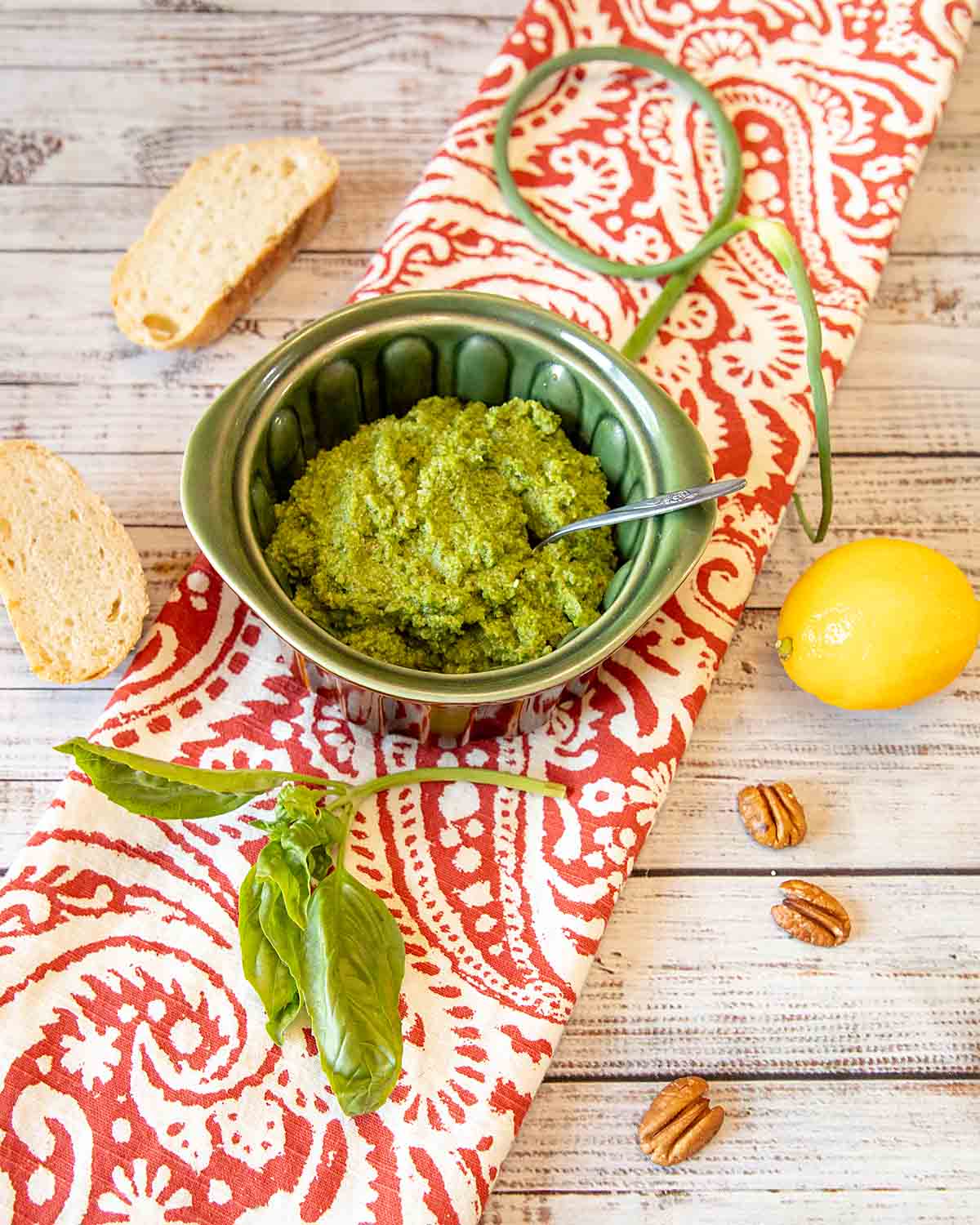 Tips & FAQs
How do you prepare the garlic scapes? I simply remove the seed head from the scape (sometimes this can be tougher) and cut into 1-inch pieces. This makes it easier for the food processor to get everything evenly chopped.
What is the best nut for pesto? Before the pandemic, I used to keep, ummm, like 14 different kinds of nuts around. This meant I always had the exact right nut for a recipe. It also meant I had a lot of nuts go rancid before I got to them. Only the backyard chipmunks were happy about that!
Now I like to ask if I can use a nut I have before I go out and buy something new. And while I might need to buy macadamia nuts for a tropical dish, often I have something I can use.
Being flexible can also be good for economics. Pine nuts are expensive and pesto is delicious made with all kinds of different nuts. Believe me, I've used pine nuts, walnuts, pecans, pistachios and even Brazil nuts! All yum!
Note that you can also freeze nuts, tightly sealed, to extend their shelf life.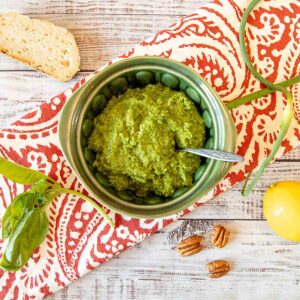 Garlic Scape Pesto
Garlicky, creamy, nutty & flavorful, Garlic Scape Pesto is a fun & tasty way to use garlic's first yummy gift! Top pasta, sandwiches, meats or more!
Ingredients
1

cup

garlic scapes

seed head removed and cut into 1 inch pieces

1

cup

basil leaves

loosely packed

1

teaspoon

lemon zest

optional

½

cup

pecans

pinenuts or other nut of your choice

½

t

salt

or to taste

½

cup

olive oil

see note

½

cup

finely grated Parmesan cheese
Instructions
Put garlic scapes, basil, nuts, lemon zest if using, and salt into food processor. Process until chunky.

Add the olive oil and process until almost smooth (see note). Stir in the grated cheese.

Taste and adjust salt.
Notes
This pesto is not ultra-creamy. If you prefer a smoother version, add some additional olive oil and process a little longer.
Nutrition
Calories:
296
kcal
Carbohydrates:
12
g
Protein:
6
g
Fat:
26
g
Saturated Fat:
4
g
Polyunsaturated Fat:
4
g
Monounsaturated Fat:
17
g
Cholesterol:
6
mg
Sodium:
333
mg
Potassium:
54
mg
Fiber:
2
g
Sugar:
1
g
Vitamin A:
281
IU
Vitamin C:
11
mg
Calcium:
169
mg
Iron:
1
mg
I am not a health professional and nutrition data is calculated programatically. Accuracy may vary with product selection, calculator accuracy, etc. Consult a professional for the best information.