Fluffiest Whole Wheat Buttermilk Pancakes
I love cooking with whole grains… every chance I get. It makes me feel healthy! But I didn't set out to create the fluffiest whole wheat buttermilk pancakes when I made these. I was simply missing a lot of kitchen staples.
Lucky me!
You see, while my prior pancakes were fine, especially for a healthier pancake, I didn't absolutely love them. And these were so good, I've made them three times this week!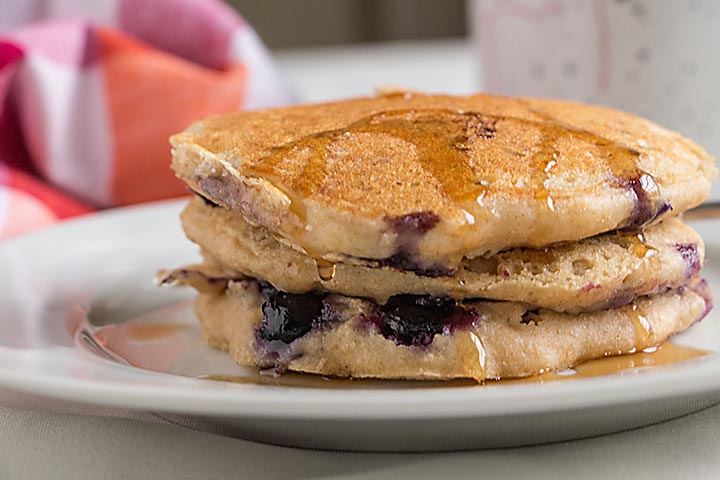 Lately, I've been changing up the flours I use. For my (non-yeast bread) baking, I like a combination of white whole wheat flour and whole wheat pastry flour. The white whole wheat flour lightens the wheat-y taste while the whole wheat pastry flour adds tenderness.
Perfect for baked goods like pancakes or muffins where I might have used half (less healthy) unbleached flour in the past.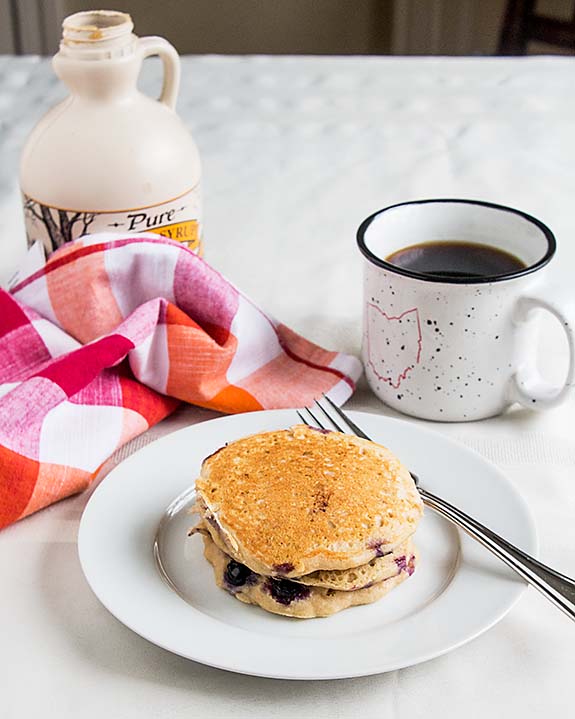 I had buttermilk on hand for experimenting with another recipe (a Strawberry Buttermilk Panna Cotta) that you'll see soon. I wish I could tell you for sure that it contributes to the fluffiness, but I am speculating that it's some kind of acidity thing.
The pancakes version I made today has blueberries added in. I always just set any add-ins on top of the cooking pancakes rather than mixing them in. This comes from the days my kids always expected "custom" pancakes. Banana for one, plain for another and Mickey Mouse with a chocolate chip face for the third.
My adult daughter was home for weekend events and was happy to get waited on like a kid again. She even jokingly asked for Mickey Mouse. Gotta love a meal that goes healthy and nostalgic!
Fluffiest Whole Wheat Buttermilk Pancakes
2017-04-30 14:58:51
Serves 4
Fluffiest whole wheat buttermilk pancakes ever! White whole wheat flour lightens the "wheat-y" taste & whole wheat pastry flour adds tenderness. Mmmm!
Nutrition Facts
Amount Per Serving
* Percent Daily Values are based on a 2,000 calorie diet. Your Daily Values may be higher or lower depending on your calorie needs.
Ingredients
1 cup white whole wheat flour
1 cup whole wheat pastry flour
4 teaspoons baking powder
1/4 teaspoon salt
2 teaspoons sugar
2 large eggs, beaten
2 cups non-fat buttermilk
2 teaspoons vanilla
nonstick cooking spray
Instructions
Mix flours, baking powder, salt and sugar in one bowl. In a separate bowl, beat the eggs until foamy, then beat in buttermilk and vanilla. Pour the buttermilk mixture into the dry ingredients and stir until just combined.
Spray a hot frying pan with nonstick spray . Spoon batter onto pan, making pancakes the size you like (I use about 1/4 cup/ pancake). If pancakes are too mounded, shake pan to bring them more level. Adjust heat as needed. When bubbles appear or you can tell they are browning, flip the pancakes.
Cook until second side is lightly browned. Serve immediately or pop into a 170 degree oven to keep warm while finishing the remaining pancakes.
Notes
I sometimes have two frying pans going to finish cooking faster!
Art of Natural Living https://artofnaturalliving.com/