Lower Sugar Loaded Yogurt Bowl
Smooth, crunchy and fruity, these lower sugar Loaded Yogurt Bowl ideas can help make your breakfast or snack tasty and healthy!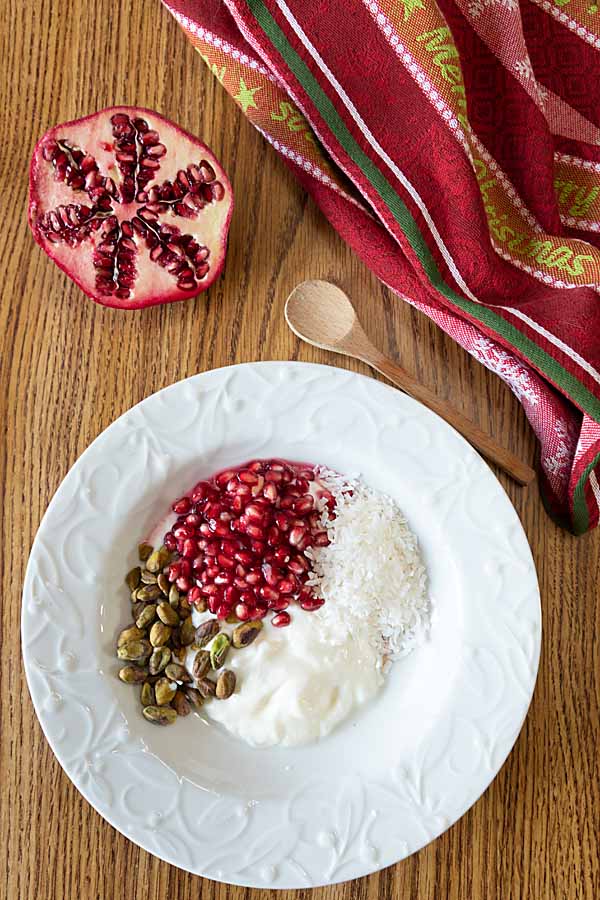 Did you know that–while yogurt is a healthy food–it can also be loaded with sugar?
Okay, yes, I admit… sweet tastes good. But trust me on this. Most yogurt has a lot more sugar than you need. Even with a bit of a sweet tooth!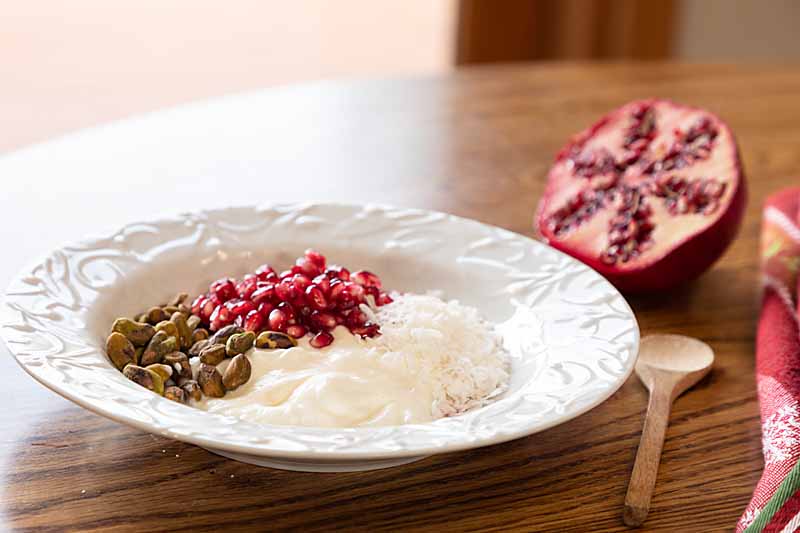 Then there's toppings. 'Cause (yum!) yogurt's even better when it's "loaded." Fruit, granola, nuts…. count me in!
But adding up the sugar in yogurt and then the toppings—well, it definitely has more sugar than I want. Even when I'm not on a diet.
Reducing Sugar
The easiest way to lower sugar is to start with plain yogurt and sweeten to taste. Even adding real sugar or honey, you will almost certainly end up with less. I was floored the first time I realized a fat free fruit yogurt can have more calories than a whole milk variety!
Next, pay attention to your add-ins. There can be a lot of sugar hidden in your granola or sweetened dried fruit. Here I recommend that you read labels. And check out some of my ideas below.
Ingredients for a lower sugar loaded yogurt bowl
Here are some things to consider as you make this your own yogurt mixes. Plus, two delicious yogurt bowls for you to start with!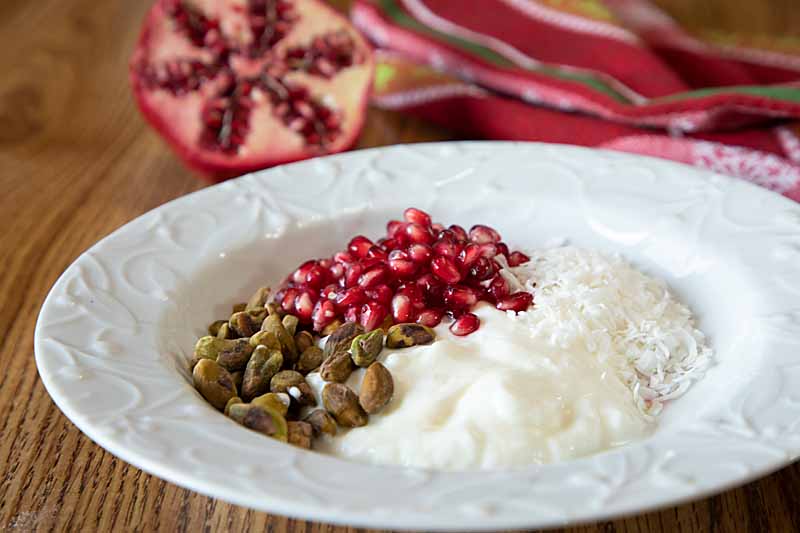 Yogurt Choice
Other than recommending that you go with something unsweetened, the choice of yogurt is up to you. I usually pick whole milk yogurt because it's lower in carbs and keeps me feeling full longer. But if you're counting calories you might prefer a non-fat variety.
Other considerations? Greek yogurt, which has some of the water removed, is nice and thick which I like, but it has less calcium. Non-dairy is also an option if you are lactose intolerant or vegan.
Sweetener/vanilla
Now when it comes to sweetening, I don't recommend "toughing it out" with nothing. Instead, consider adding one the more natural calorie free sweeteners like stevia or allulose or a modest amount of honey or even table sugar. Just taste as you add, so you don't use more than you need. And remember that any fruit will also add sweetnes.
And a secret to boost flavor even more? Mix in a dash of vanilla!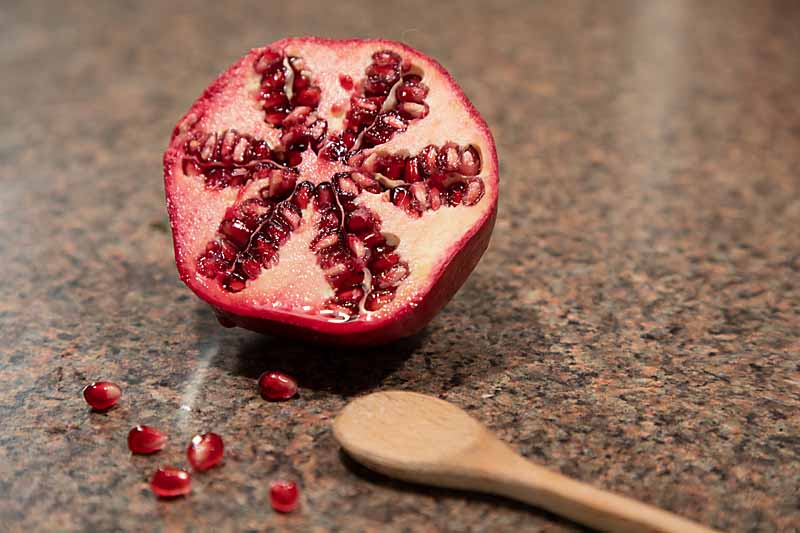 Fruit Choice
Unless you are doing a low carb diet, go with what you like in fruit. Using fresh or frozen (thawed) fruit is probably your healthiest choice. Berries, then melon are lower in carbs if you are counting.
Sweetened dried fruit like raisins or dried cranberries is healthy in moderation but can add a lot of carbs. If you want some chewiness for a lower carb hit, try unsweetened dried coconut
No fruit in your house? Jam is a great backup—but use it in moderation since most jams have a lot of added sugar. In that case, reduce or eliminate any added sweetener.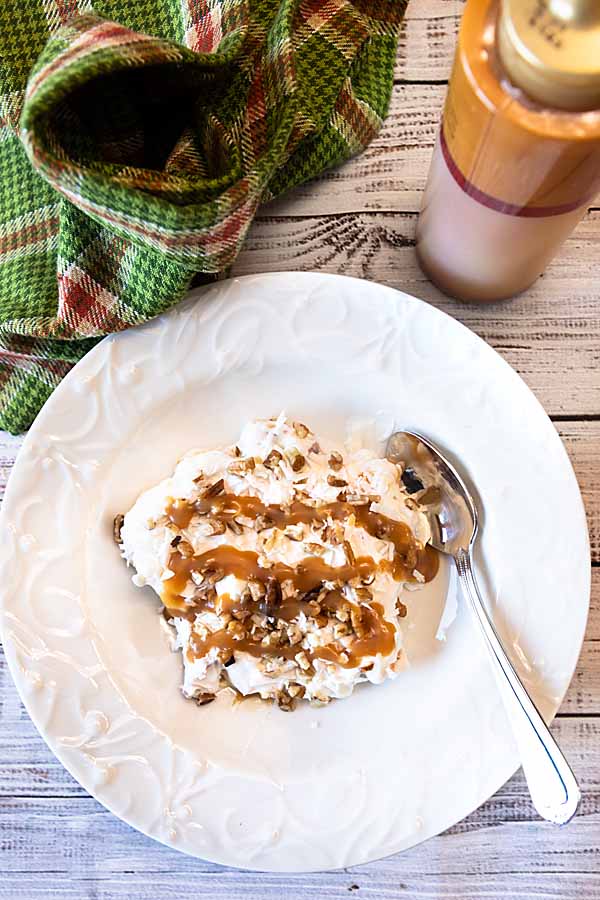 Nuts
Nuts are another nice addition for some protein and crunch. But did you know that they vary a lot in their carb content? Pecans come in at about 1 net carb per ounce, approximately ¼ cup (likely more than you'll use). At the high end, an ounce of cashews is about 8 net carbs.
My default nut is pecans, but I like to swap the nuts based on the other ingredients I'm using. Green pistachios look (and taste) great in a holiday themed mix with pomegranate seeds. Macadamia nuts are perfect with mango and pineapple.
And if you're allergic to nuts or simply don't enjoy them, consider seeds like sunflower seeds or pepitas (pumpkin seeds).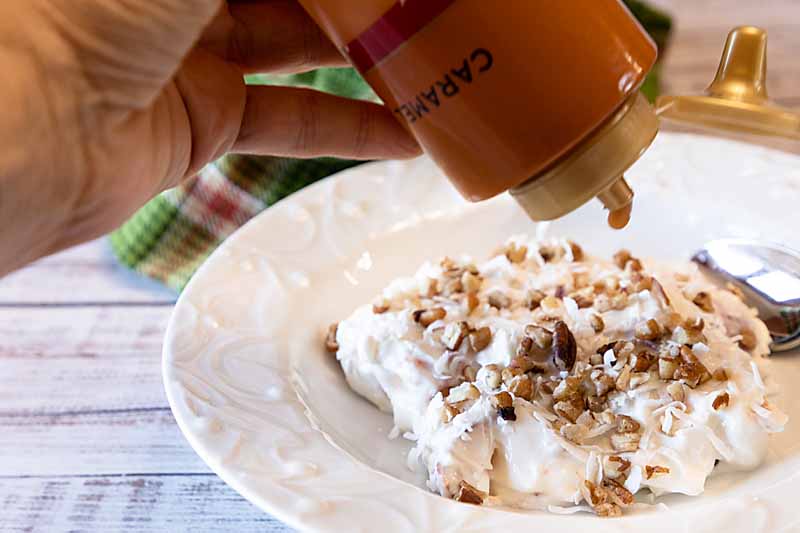 Extras / Indulgences
Feel free to consider extras as well. A little ground flax seed for some omega-3? Some nutty wheat germ? I've even heard of people adding peanut butter!
When I've been very good, a little caramel drizzled on top adds a big flavor punch for just a relatively minor calorie ding—about 50 cal/ Tablespoon (which is more than enough). With pears or apples it's a perfect Fall Lower Sugar Loaded Yogurt Bowl.
Lower Sugar Loaded Yogurt Bowl
Smooth, crunchy and fruity, these Lower Sugar Loaded Yogurt Bowl suggestions can help you make a healthy and tasty breakfast or snack!
Ingredients
½ cup plain yogurt
¼ teaspoon vanilla
Sweetener to taste (e.g. honey, stevia, erythritol)
¼ cup pomegranate seeds (or 1 seeded chopped pear)
2 Tablespoons pistachios (or chopped pecans)
1-2 Tablespoons unsweetened shredded coconut
Instructions
Mix yogurt, vanilla and sweetener.
Top with remaining ingredients or mix them in.
Enjoy!
Nutrition Information:
Yield:

1
Serving Size:

1
Amount Per Serving:
Calories:

272
Total Fat:

16g
Saturated Fat:

8g
Trans Fat:

0g
Unsaturated Fat:

7g
Cholesterol:

7mg
Sodium:

151mg
Carbohydrates:

24g
Fiber:

5g
Sugar:

17g
Protein:

11g
Nutrition data accuracy may vary with product selection, calculator accuracy, etc. Consult a professional for the best information.