Maple Glazed Carrots are flavored with maple syrup, balsamic vinegar and cayenne for a rich, slightly spicy, vegetable side dish.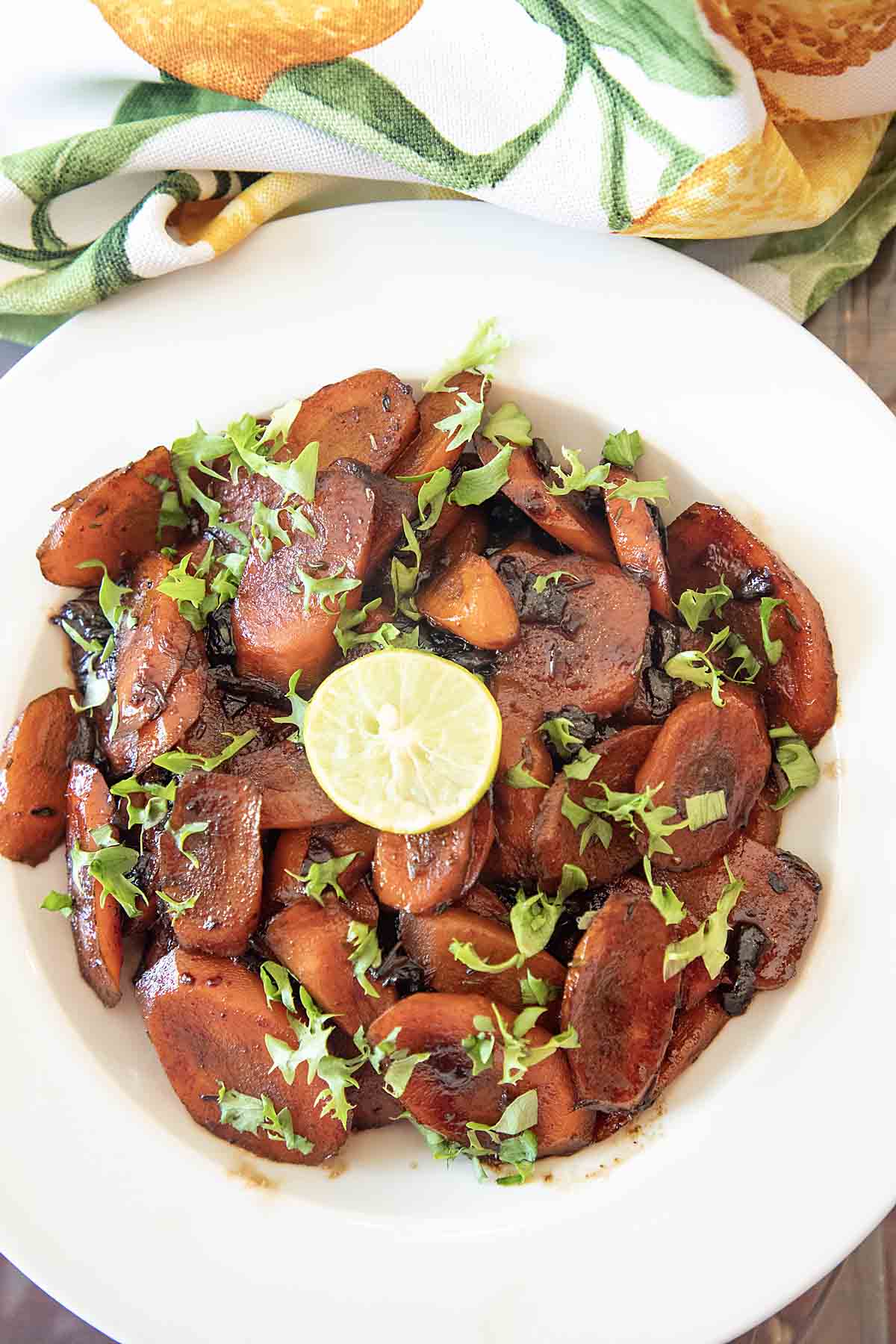 In my mind, spring is the season of the carrot. Months have passed since the last CSA delivery and while most local vegetables have long since disappeared, the hardy and prolific carrot remains–carefully tucked away in the basement refrigerator!
So I tried a recipe for Maple Glazed Carrots, accented with Balsamic vinegar–to jazz up a sometimes ordinary vegetable. It was a great accompaniment first to an entrée of salmon and then a smoked ham.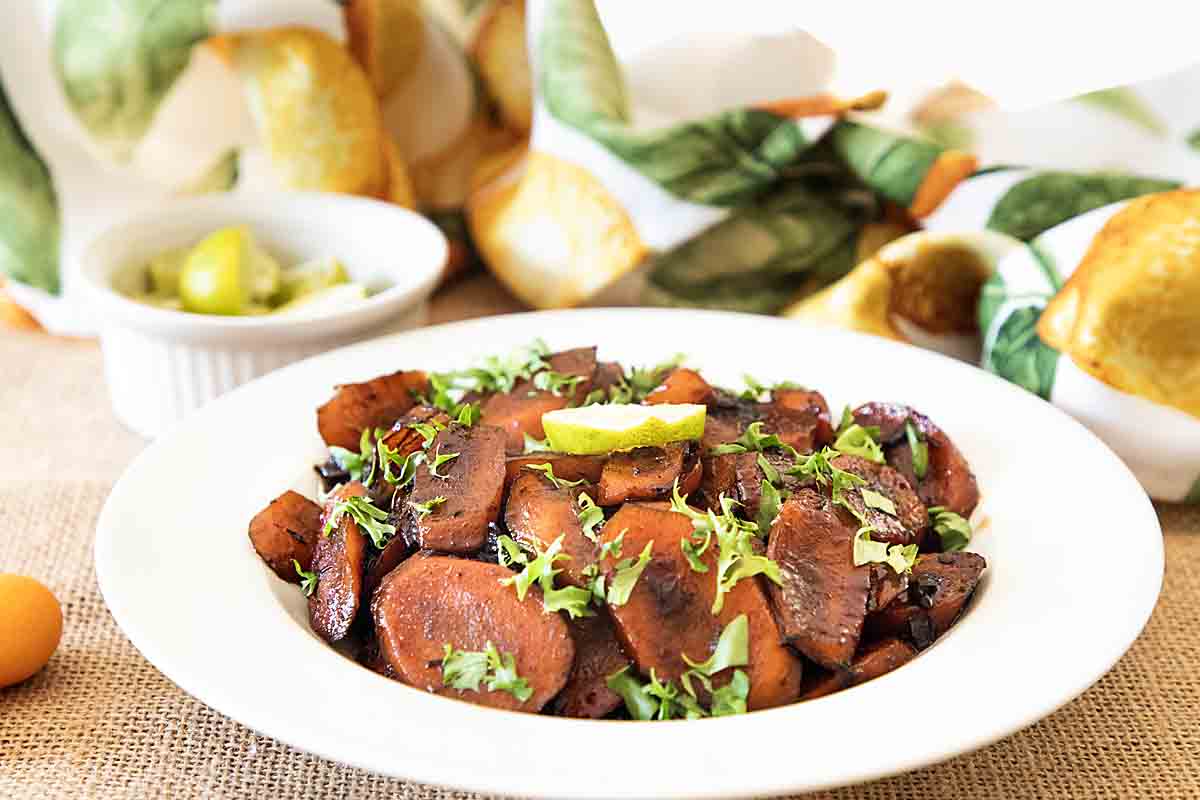 What are Glazed Carrots?
Per Food Network, glazing "is all about reducing a cooking liquid until it coats your vegetables with a deeply flavored, glossy and beautiful sauce." ANd unlike simply topping with a sauce, the glaze becomes an integral part of the carrots and imbues them with flavor.
The recipe is based on one from America's Test Kitchen that my brother discovered (ATK calls the recipe Glazed Maple-Balsamic Carrots and it is available on their site with a subscription). After watching everyone battle over the leftovers at his house, I knew I needed to try it myself.
I simplified the recipe slightly by not pre-boiling the carrots and instead steaming them in the glaze. I figured steaming is healthier—and I also had one less step and one less pan to wash!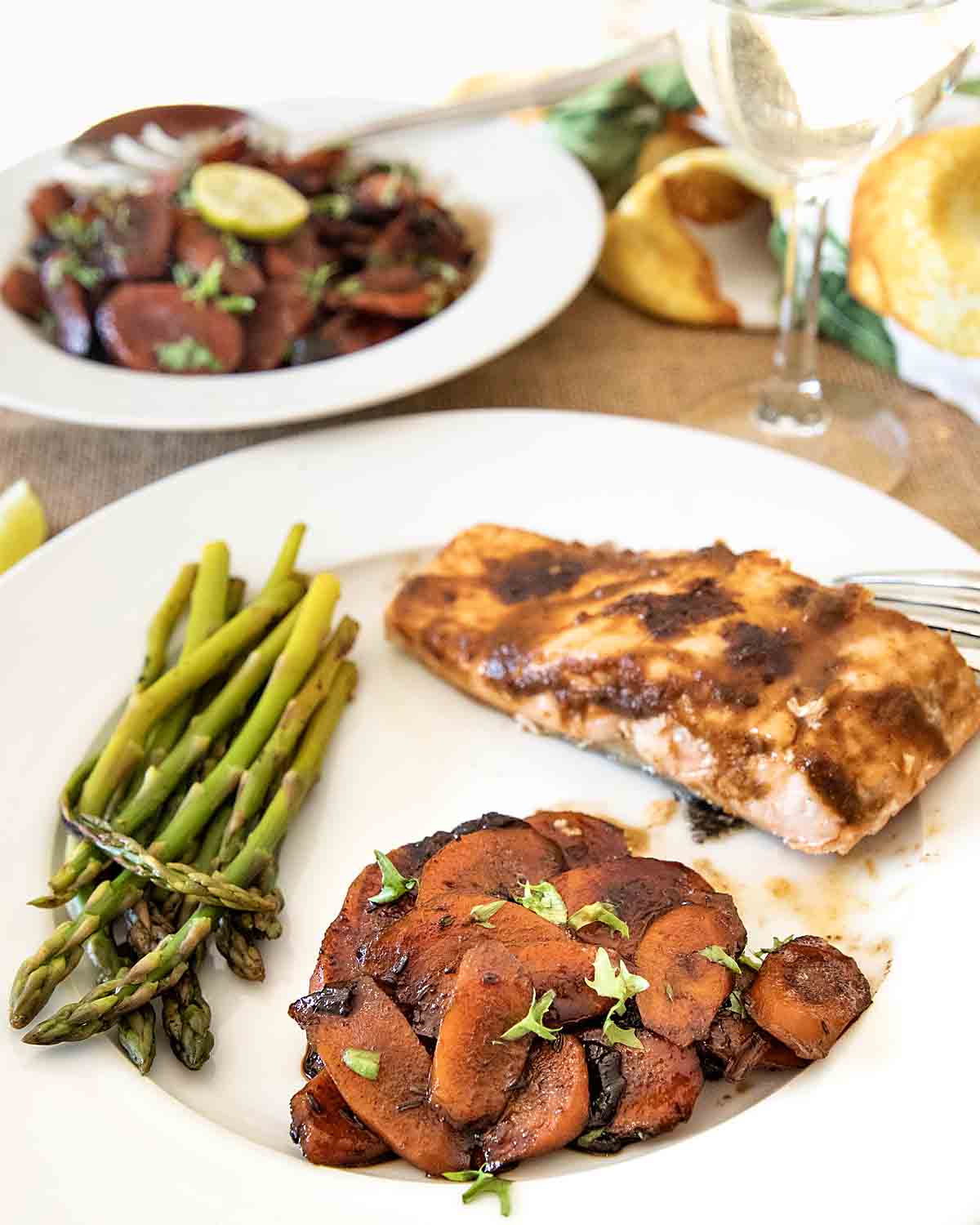 Why You'll Love This!
Tasty. With a balanced sweetness and a hint of spice, these carrots are tasty and unconventional. No boring carrots this spring!
Healthy. Carrots are such a healthy vegetable!
Frugal. Carrots are an economical vegetable. And if you use the remnants of last fall's harvest, it's almost like they're free!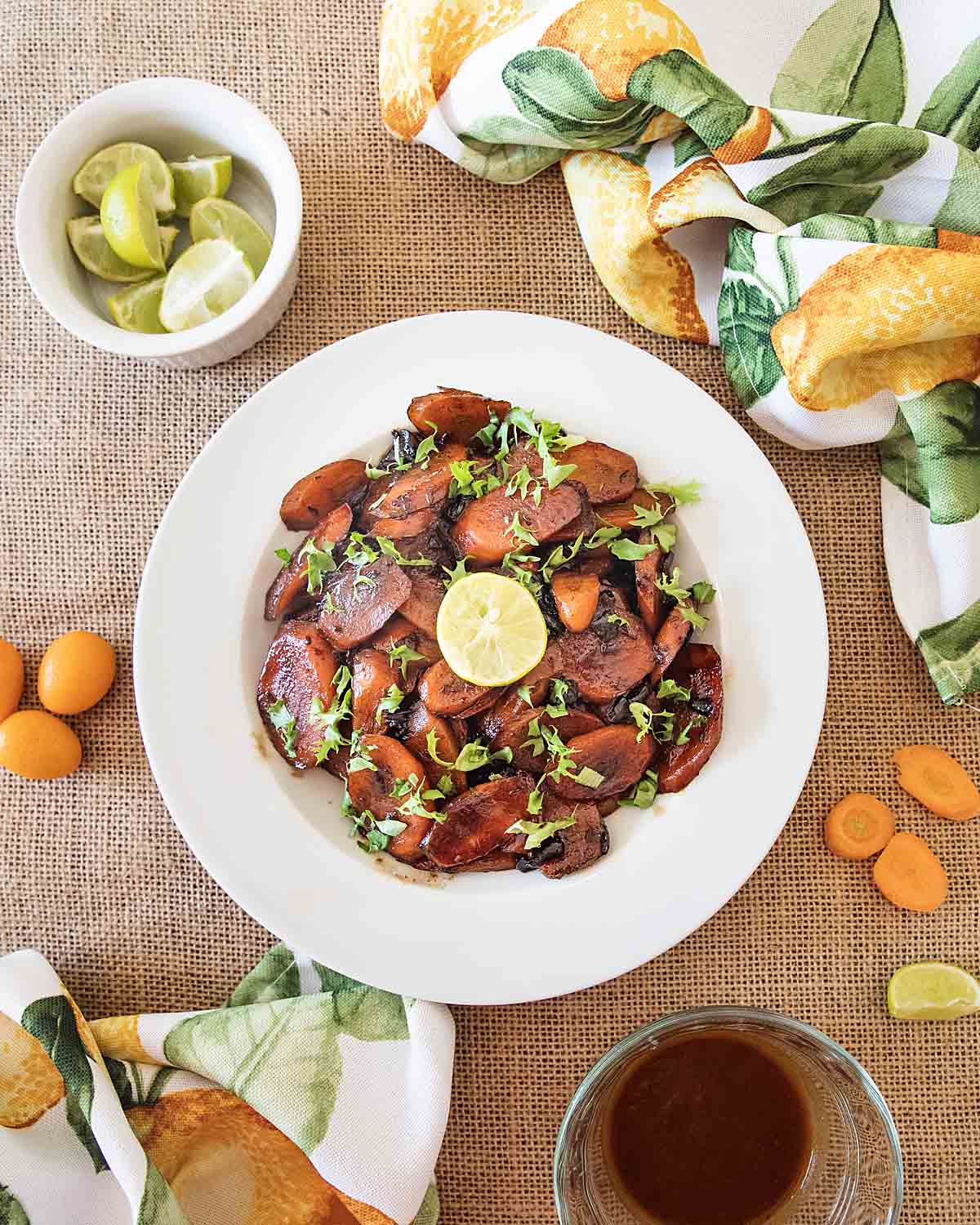 What You'll Need
Ingredient Notes
Carrots. This is the main component of this recipe. And they're very nutritious!
Butter or oil. This adds flavor and helps sautee the shallots.
Shallots. These add savory flavor. In a pinch you can use onion.
Thyme, Cayenne, Salt. These add flavor and a pinch of spice.
Maple syrup. This adds a maple-y sweetness and helps create the glaze.
Chicken or vegetable broth. This adds flavor and helps create the glaze.
Balsamic vinegar. This helps to balance the sweetness and adds depth of flavor.
Special Tools
No special tools are needed.
Step by Step Directions
Sautee the chopped shallots in butter or oil.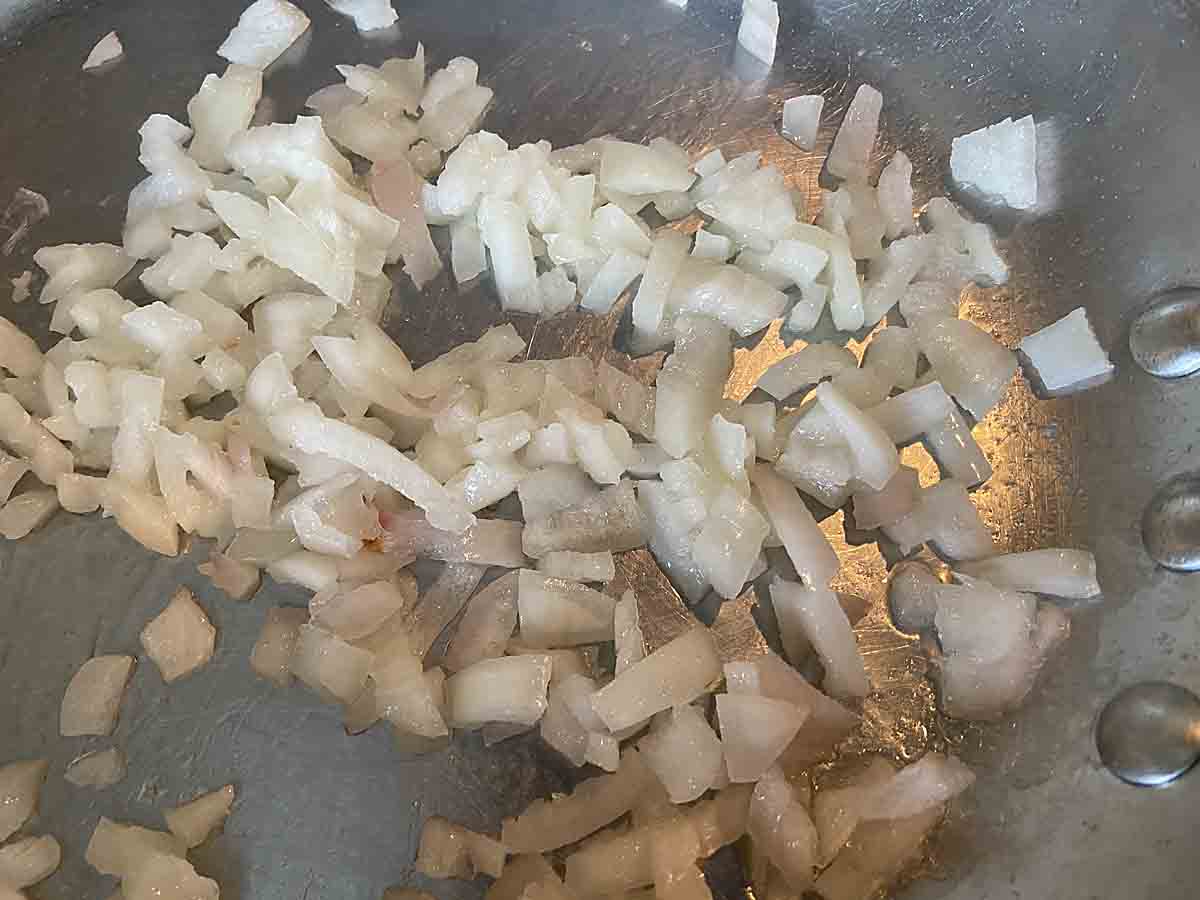 Add the sauce ingredients and simmer briefly.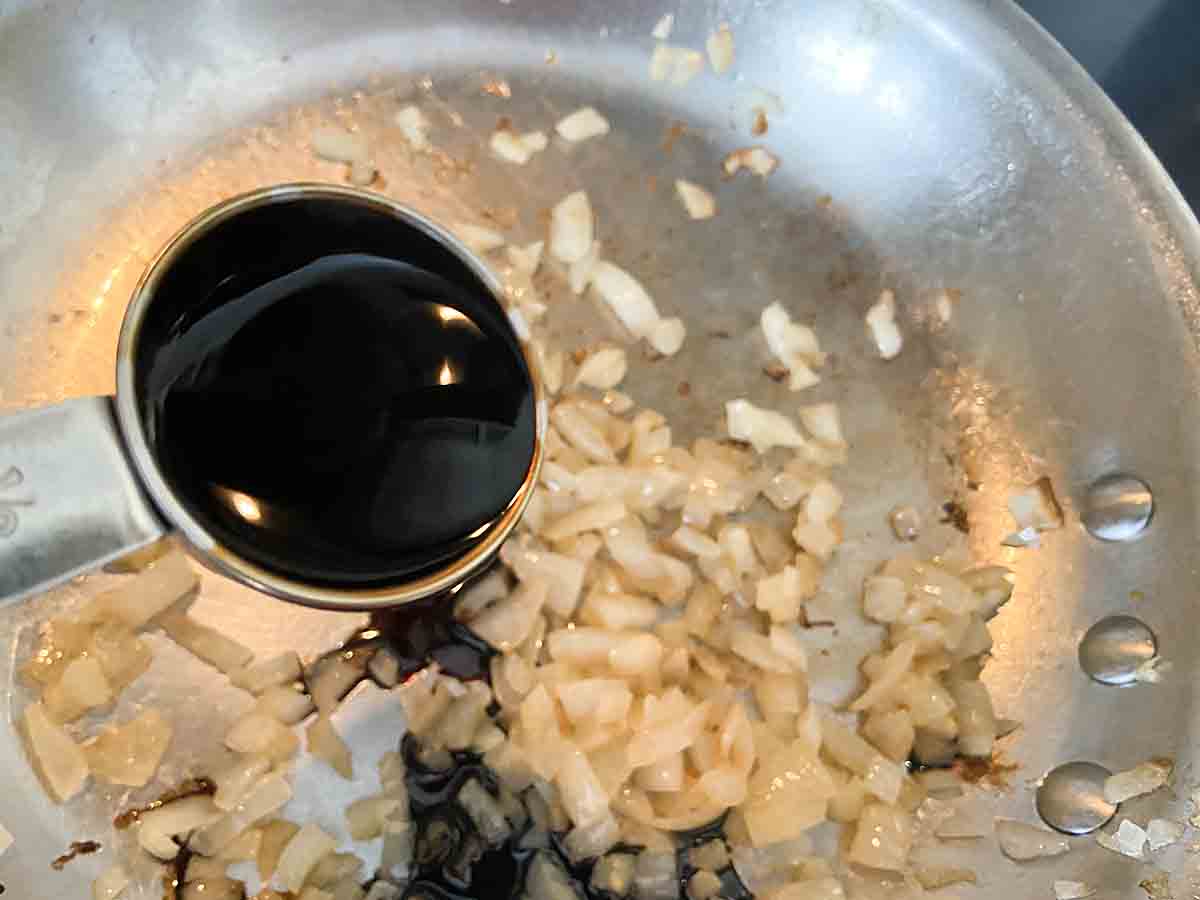 Add carrots to the sauce. Cover and steam until tender.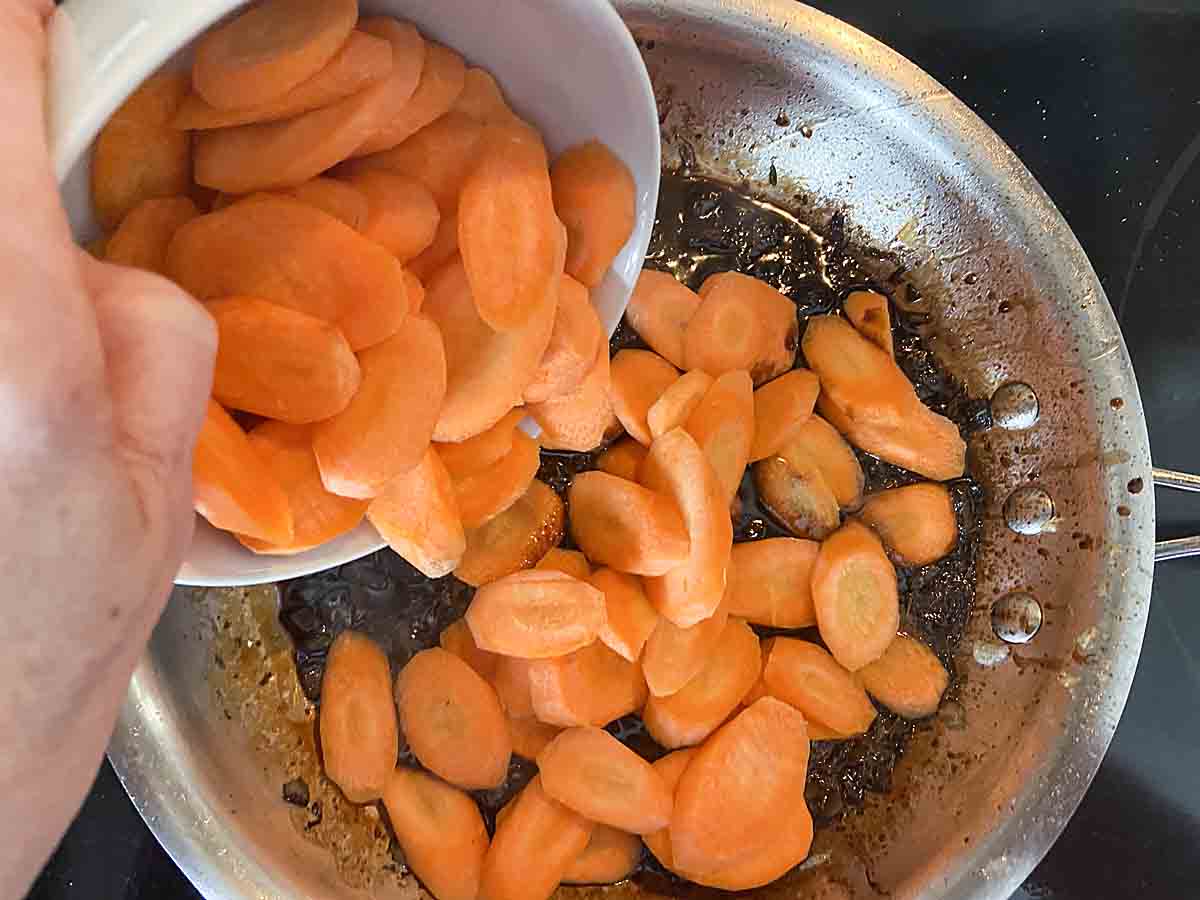 Stir in a little extra butter before serving.
How to Serve
Maple Glazed Carrots is a great side that works with almost any dinner entrée. I like to serve a salad as well which is a nice nutrition compliment to the orange carrots. Eat a rainbow!
And happily, the recipe is super easy to adapt for special diets (see Special Diets below). This makes it particularly suited for holiday meals where you may be serving a lot of people with special dietary needs. But remember that it's easy enough for a weeknight side as well.
And since carrots are always fun for Easter, this is a lovely selection for Easter brunch or dinner!
I sometimes garnish with chopped parsley and sometimes not.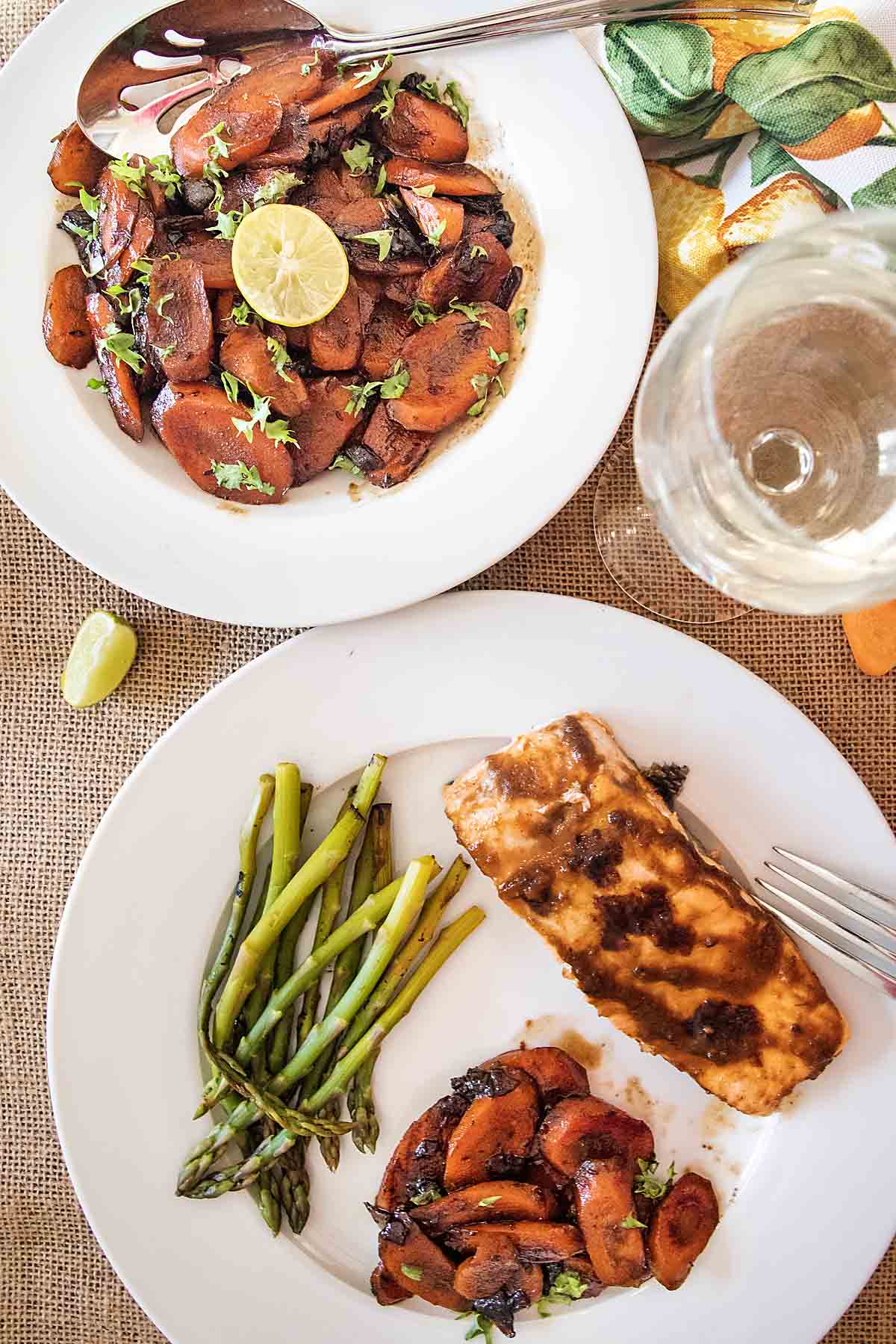 Variations and Special Diets
For some other fun carrot sides, consider a raw carrot salad, which would also be appropriate for a holiday brunch or dinner table. A couple options are Easy Thai Carrot Salad or the always popular Classic Carrot Raisin Salad.
Or do a similar hot carrot side but change up the spices and use turmeric, cinnamon and cardamom like these Honey Spiced Roasted Carrots.
Special Diets
This dish is already vegetarian and to make it vegan, you just need to use margarine or oil instead of butter and use vegetable broth instead of chicken broth. It is also gluten-free and dairy-free (with oil). So that makes it an especially nice dish for a holiday meal where you may be serving a lot of people with special dietary needs.

Preparation and Leftovers
If needed, these can be prepared ahead of time and stored covered and refrigerated. When reheated they are pretty much indistinguishable from freshly made.
You should be able to freeze leftovers if you need to. The carrots will soften more, so I probably wouldn't serve previously it to company–though I'd be happy to have it myself.
Tips & FAQs
When I need a small amount of broth like in this recipe, I like to use Better Than Bouillon. It comes in a wide range of flavors (some organic even) like chicken, vegetable, lobster and more. I can make up just the amount I need and don't have to worry about using up the remainder of a can, or losing little jars of leftover broth all over my freezer.
I like to cut my carrots on the diagonal. This makes them look more substantial and I think it's pretty too!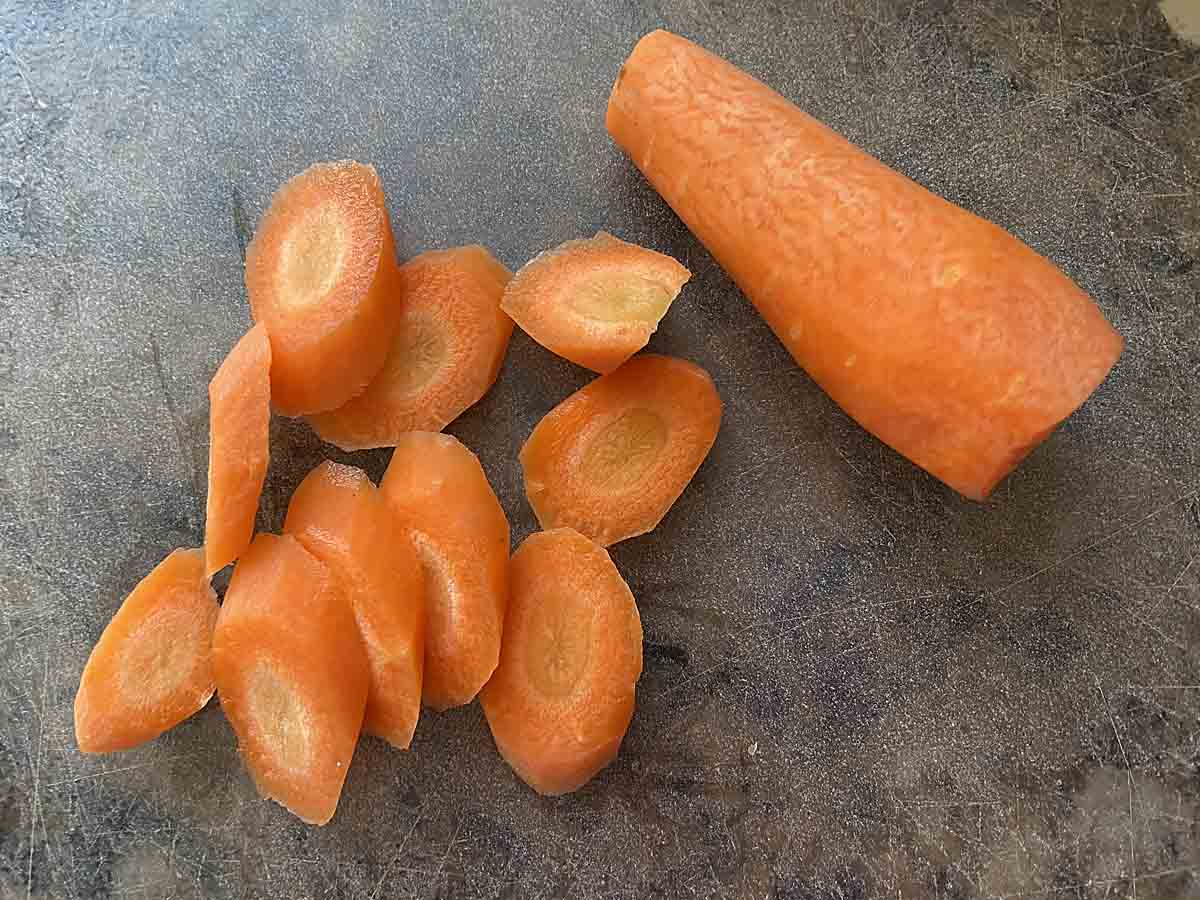 Creative Creations with Carrots
We share Recipes From Our Dinner Table! Join our group and share your recipes, too! While you're at it, join our Pinterest board, too!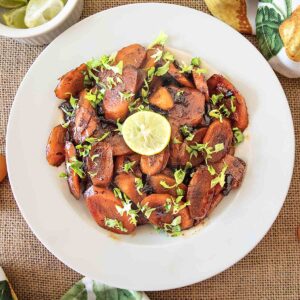 Maple Glazed Carrots
Maple Glazed Carrots are flavored with maple syrup, balsamic vinegar and cayenne forrich, slightly spicy, vegetable side dish.
Ingredients
2

Tablespoon

butter

or oil, divided

2

shallots

chopped

1

teaspoons

thyme

dried, or 2 teaspoons fresh

1/4

teaspoon

cayenne pepper

1/2

teaspoon

salt

1/2

cup

maple syrup

1/4

cup

chicken broth

or vegetable broth

1/4

cup

balsamic vinegar

for cooking

2

pounds

carrots

peeled and cut on bias into 1/2-inch slices

optional parsley

for garnish
Instructions
Melt 1 tablespoon butter (or substitute) in large skillet over medium heat. Cook shallots until lightly browned. Stir in thyme, cayenne, maple syrup, broth, salt and 1/4 cup vinegar and bring to a simmer.

Stir in carrots and cook, covered, until tender, about 15 minutes. Raise heat to medium-high and cook, stirring regularly until sauce is thick and syrupy, about 2 minutes. Stir in remaining 1 Tablespoon butter (or substitute), then serve.
Notes
Adapted from America's Test Kitchen
Nutrition
Calories:
138
kcal
Carbohydrates:
27
g
Protein:
1
g
Fat:
3
g
Saturated Fat:
2
g
Polyunsaturated Fat:
0.2
g
Monounsaturated Fat:
1
g
Trans Fat:
0.1
g
Cholesterol:
8
mg
Sodium:
278
mg
Potassium:
443
mg
Fiber:
3
g
Sugar:
19
g
Vitamin A:
19070
IU
Vitamin C:
8
mg
Calcium:
66
mg
Iron:
1
mg
I am not a health professional and nutrition data is calculated programatically. Accuracy may vary with product selection, calculator accuracy, etc. Consult a professional for the best information.
Updated from Mar 23, 2014 post.