Homemade Marshmallow Hearts and Mittens for Cocoa
Homemade Marshmallow Hearts and Mittens are perfect for winter hot cocoa and so easy to make with a silcone mold. Can life get much cozier?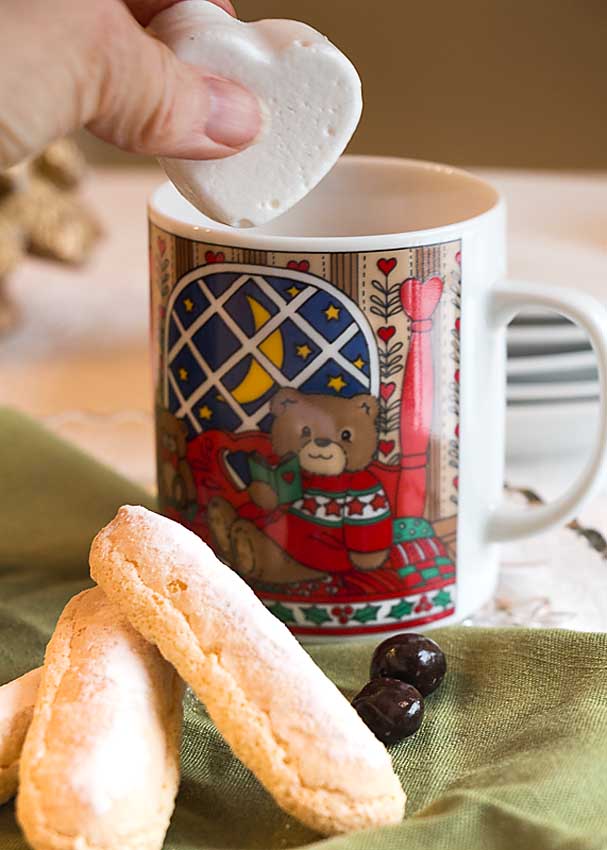 Hasn't winter been a challenge this year? In Wisconsin, we had no snow for Christmas, but have been making up for it ever since. Then the polar vortex hit–brrrr!
I don't know about you but I'm ready for some hot cocoa. With Homemade Marshmallow Hearts and Mittens even.
I got the idea to try making Homemade Marshmallow Hearts and Mittens after I went post-Christmas shopping at Michaels this year and discovered little mitten molds made of silicon. I didn't know what I was going to use them for, but they were too cute (and inexpensive) to pass up.
And since Valentine's Day was coming up, I decided to make some marshmallow hearts too!
I've made marshmallows a few times in the past and it's always been fun. From peeps at Easter to summer campfire marshmallows, it's easier than you'd think!
You just cook up a sugar syrup to 240 F, then pour it into a mixing bowl (either for a stand mixer or hand mixer—I've tried both) containing softened gelatin. Then you beat until it turns white and creamy.
Finally, you scrape the gooey marshmallow into a piping bag (you can also use a zip loc bag with the corner cut out) and pipe it into a silicone mold sprayed with non-stick spray (even though the molds are "non-stick" you need to spray them–ask me how I know 🙂 ).
The only trick is not letting your marshmallow get too hard as you beat it. Then it can spread out a little and fill up the edges of the mold as it hardens.
You need to let your marshmallow hearts and mittens harden in the molds for about 6 hours, and then they are done. I was surprised that even the little decoration on my mittens showed up (I'd have been happy with just a mitten shape)! And if you unmold them and let them sit in the open overnight, they even lose their outer tackiness!
If you decide to go the organic route on these, the only source of organic gelatin that I've found is GoBio! out of Canada (not a sponsored post). I buy a big bag every couple of years and make sure I always have it around.
'Cause you never know when it's going to snow again…
Organic Marshmallow Hearts and Mittens
2019-02-10 17:00:42
Serves 8
Organic Marshmallow Hearts and Mittens are perfect for winter hot cocoa and so easy to make with a silcone mold.  Can life get much cozier? 
Nutrition Facts
Amount Per Serving
* Percent Daily Values are based on a 2,000 calorie diet. Your Daily Values may be higher or lower depending on your calorie needs.
Ingredients
2 Tablespoons cold water
6 Tablespoons granulated sugar
1/4 cup light corn syrup
2 teaspoons unflavored gelatin
2 Tablespoons water
1 teaspoon vanilla extract
Instructions
Combine granulated sugar, corn syrup and 2 Tablespoons of water in a small saucepan and stir until combined. Place over medium heat and cook without stirring to 240° F
Combine gelatin and 2 Tablespoons cold water in a mixer bowl. Let the gelatin soften approximately 10 minutes. Add vanilla to the gelatin.
Lightly spray inside of silicone mold(s) with non-stock spray.
When the sugar mixture reaches 240° F, gradually pour syrup into the bowl with the gelatin. Beat on high speed until the mixture is thickened and white but still slightly viscous (to spread into mold corners), about 5 minutes. Mixture will double in volume.
Scrape the marshmallow into a piping bag or zip loc bag (cut out the corner after filling zip loc if using). Pipe into molds that have been sprayed with a non-stick spray.
Let marshmallows sit in molds at room temperature for about 6 hours. Invert mold cavity and pull gently to release marshmallow if needed.
Serve immediately or should be good at least a few days (mine have never lasted longer).
Notes
Use organic ingredients for organic marshmallows, or conventional if you prefer or have trouble sourcing
Art of Natural Living https://artofnaturalliving.com/