Holiday Shortbread Balls (Melting Moments Makeover)
Lightly sweet, melt-in-the-mouth Melting Moments get a classic cookie makeover, turning them into Holiday Shortbread Balls.
It was an old cookie recipe of my mother's. She made it every Christmas–high rounded cookies topped with pink and green buttercream and a single silver ball.
I decided to make them myself this year. And just twelve months ago, I might have been able to ask her about them. But over the past year her dementia worsened and a complicated and unpleasant move to Memory Care only made things worse.
I still have piles of her recipes, stored away in my basement. But I knew that combing through these could take weeks, with no guarantees. And my first internet search was fruitless. Then I remembered the annual WE-Energies holiday cookie book.
Created in the late 1920s to promote the use of electric appliances, our local utility has published a holiday cookie book (more or less annually) since then. Available in limited quantities, people line up around the block at the hugely popular distribution events.
Happily, it is now available online, and it was there that I found the recipe, in the 1962 cookbook. Complete with the pink and green frosting!
This year, I wanted to do a different decorative treatment. I'd seen holiday sprinkles at Michaels and those were destined for the top of white buttercream. And I renamed them Holiday Shortbread Balls.
Mom had made a change herself, I discovered. The originals were flavored with almond and hers were vanilla. Of course, I went with hers.
So today I share with you, my homage to Christmas past.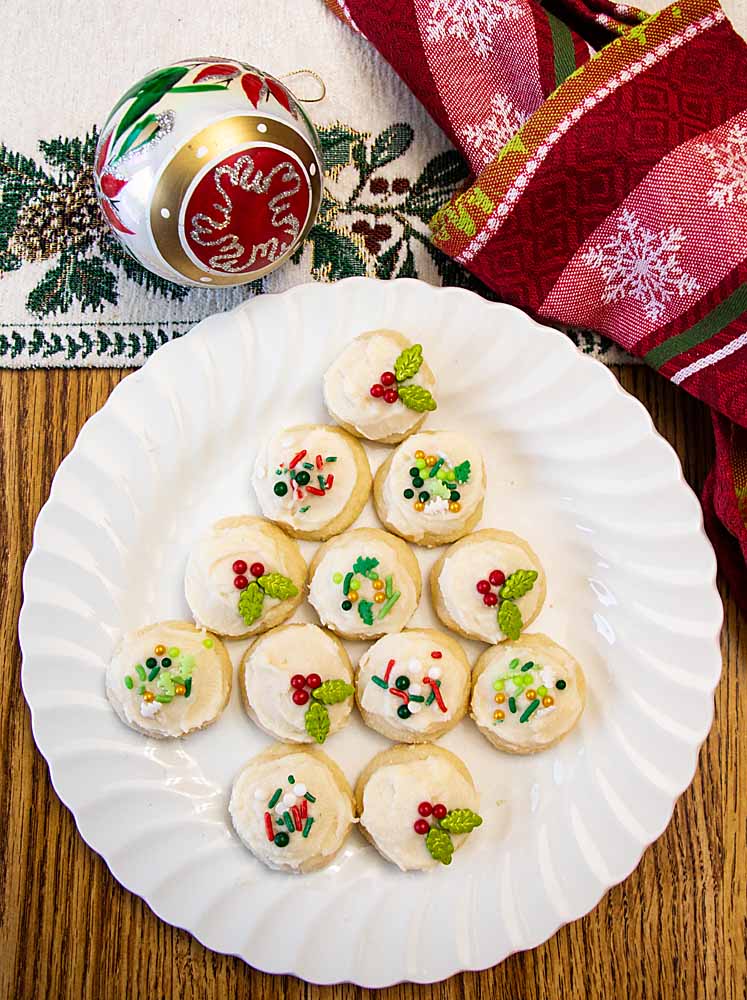 Holiday Shortbread Balls
2019-12-19 13:51:22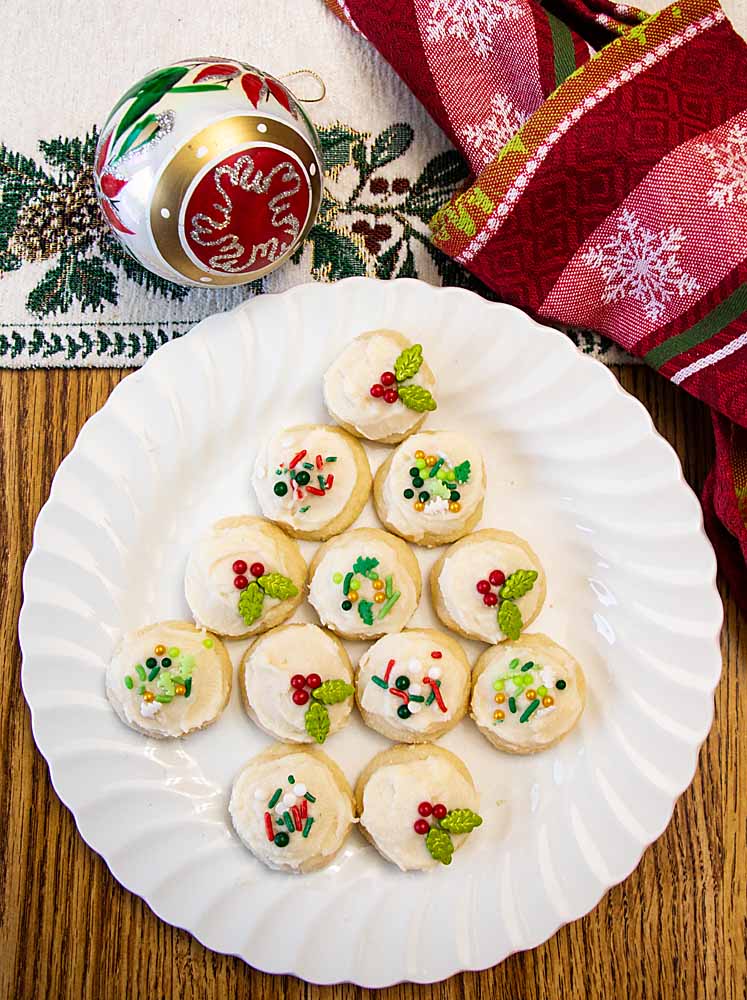 Serves 24
Lightly sweet, melt-in-the-mouth Melting Moments get a classic cookie makeover, turning them into Holiday Shortbread Balls
Nutrition Facts
Amount Per Serving
* Percent Daily Values are based on a 2,000 calorie diet. Your Daily Values may be higher or lower depending on your calorie needs.
Cookies
1 cup butter
1/3 cup powdered sugar
3/4 cup cornstarch
1 cup all purpose flour (spooned, not scooped)
½ teaspoon vanilla
Pinch of salt
Frosting
2 Tablespoons butter
1 cup powdered sugar
½ teaspoon vanilla
3 Tablespoons cream (adjust as needed)
.
Sprinkles or other decoration (optional)
Instructions
Cream butter with sugar and vanilla. Combine flour, cornstarch and salt, then mix into butter mixture.
Form into 1 inch balls (chill briefly if needed for workability). Refrigerate balls until chilled.
Bake on ungreased cookie sheets at 375 F for 10 minutes. Cool.
To make frosting, melt butter, then cream with sugar and vanilla. Add cream adjusting if needed to make a spreadable consistency.
Frost cooled cookies and decorate if desired.
Adapted from Wisconsin Electric 1962 Cooky Book
Art of Natural Living https://artofnaturalliving.com/