Prosciutto Caprese Bruschetta with Basil Drizzle
Gotta love summer entertaining.  From picnics to cookouts to toasting s'mores, the living is easy–and lots of fun!  My very favorite warm weather treat is drinks and appetizers on the patio. Charcuturie plates, cheese platters and trays of hors d-oeuvres like Prosciutto Caprese Bruschetta are perfect go-to summer dishes!  
Prosciutto Caprese Bruschetta is an appetizer of prosciutto, fresh mozzarella and basil olive oil, all atop slices of French bread.  I created this as a sponsored post for Crave Brothers Farmstead Cheese, a Wisconsin cheese producer out of Waterloo, near Madison. My goal was an appetizer that would be quick to assemble, spend a few minutes under the broiler, then disappear… like a ninja.  
Crave Brothers not only made the fresh mozzarella I used, they also led a group of bloggers and other food professionals on a recent tour (thanks also WI Soy Marketing Board!).  
The cows were mooing lowly as I pulled into the farm on a lovely spring evening.  As a farmstead cheesemaker, Crave Brothers produces the milk that goes into their award winning cheeses. Controlling all facets of an operation, from dairy to cheese, has resulted in lots of awards and recognition for their fresh mozzarella, mascarpone, string (rope) cheeses and cheese curds.  
Being a family comes in handy in a diverse operation like this with each brother taking charge of a different facet of production (e.g. cheese, dairy, etc.).  The next generation is even getting involved in varying ways from farm operations to cooking. After a lovely tour, we finished with dinner including a delicious caprese salad in a glass that helped to inspire my appetizer.  
I made two versions of my Prosciutto Caprese Bruschetta, the first with Crave Brothers marinated mozzarella balls or Ciliegine.  Here I halved the mozzarella balls, set them on French bread topped with prosciutto, broiled, then drizzled with basil olive oil.   
But in case you can't find the marinated cheese, I made a version with their plain mozzarella medallions.  As a substitute for the marinade I sprinkled olive oil & thyme over the cheese, then broiled and topped with basil drizzle.  Equally delicious!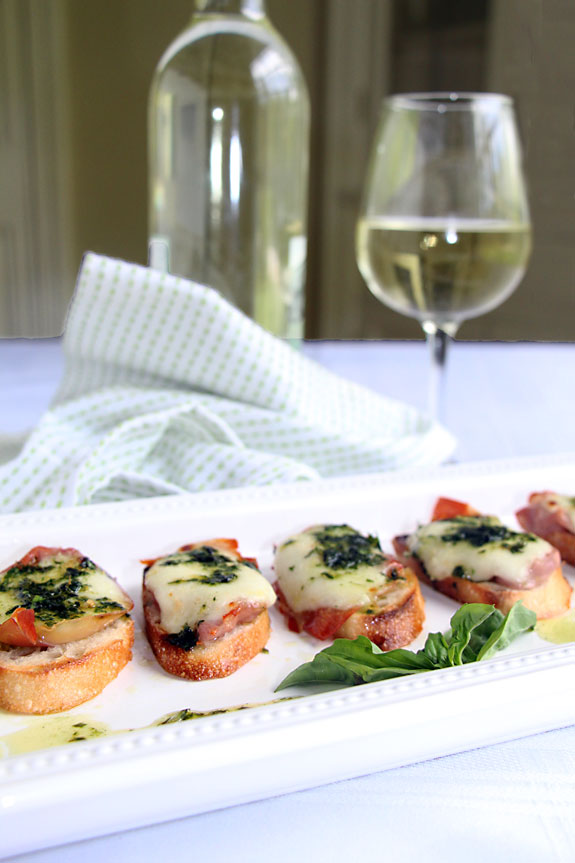 With summer just beginning, I have already served this twice.  Happy entertaining!  

Prosciutto Caprese Bruschetta
Ingredients
Bruschetta
1 loaf French bread
1 package prosciutto
1 package marinated ciliegine mozzarella balls or fresh mozzarella log, plus olive oil & fresh thyme
Basil Drizzle
¼ cup extra virgin olive oil
¼ teaspoon garlic powder
¾ ounce package of basil, leaves only
¼ teaspoon salt (or to taste)
Instructions
Prepare basil drizzle. Place olive oil, basil, garlic powder and salt in the blender. Blend until smooth.
Cut French bread into thin slices. Top each with about ⅓ slice of prosciutto.
Top the prosciutto with a half or two halves of a marinated Ciliegine ball (depending on bread size) or plain fresh mozzarella, cut to size, and sprinkled with olive oil and thyme.
Broil (watching carefully) until cheese is melted and bread is slightly toasted.
Drizzle with the basil olive oil mixture and serve.
Notes
Any extra basil drizzle is great in salad dressing or in scrambled eggs.
Save