Prosciutto Bruschetta with Basil Drizzle
Prosciutto Bruschetta is a tasty appetizer of crunchy French bread topped with smoky prosciutto, creamy mozzarella and savory basil oil. Even better, it's quick and easy!

Gotta love entertaining. From spring brunch season to summer cookouts to fall holidays, life is good! And whether you're setting a beautiful buffet table or drinks and appetizers on the patio, trays of hors d-oeuvres, like this Prosciutto Bruschetta, are perfect go-to dishes!
Prosciutto Bruschetta is an appetizer of prosciutto, fresh mozzarella and basil olive oil, sitting atop slices of crusty French bread. I created this as a sponsored post for Crave Brothers Farmstead Cheese, a Wisconsin cheese producer near Madison. My goal was something that was tasty and fun–for the guests and the cook!

What is Bruschetta
Per Wikipedia, Bruschetta is an appetizer "consisting of grilled bread rubbed with garlic and topped with olive oil and salt. Variations may include toppings of tomato, vegetables, beans, cured meat, or cheese."
Italian in origin, Bruschetta and it's cousin crostini are versatile and popular appetizers all over the world.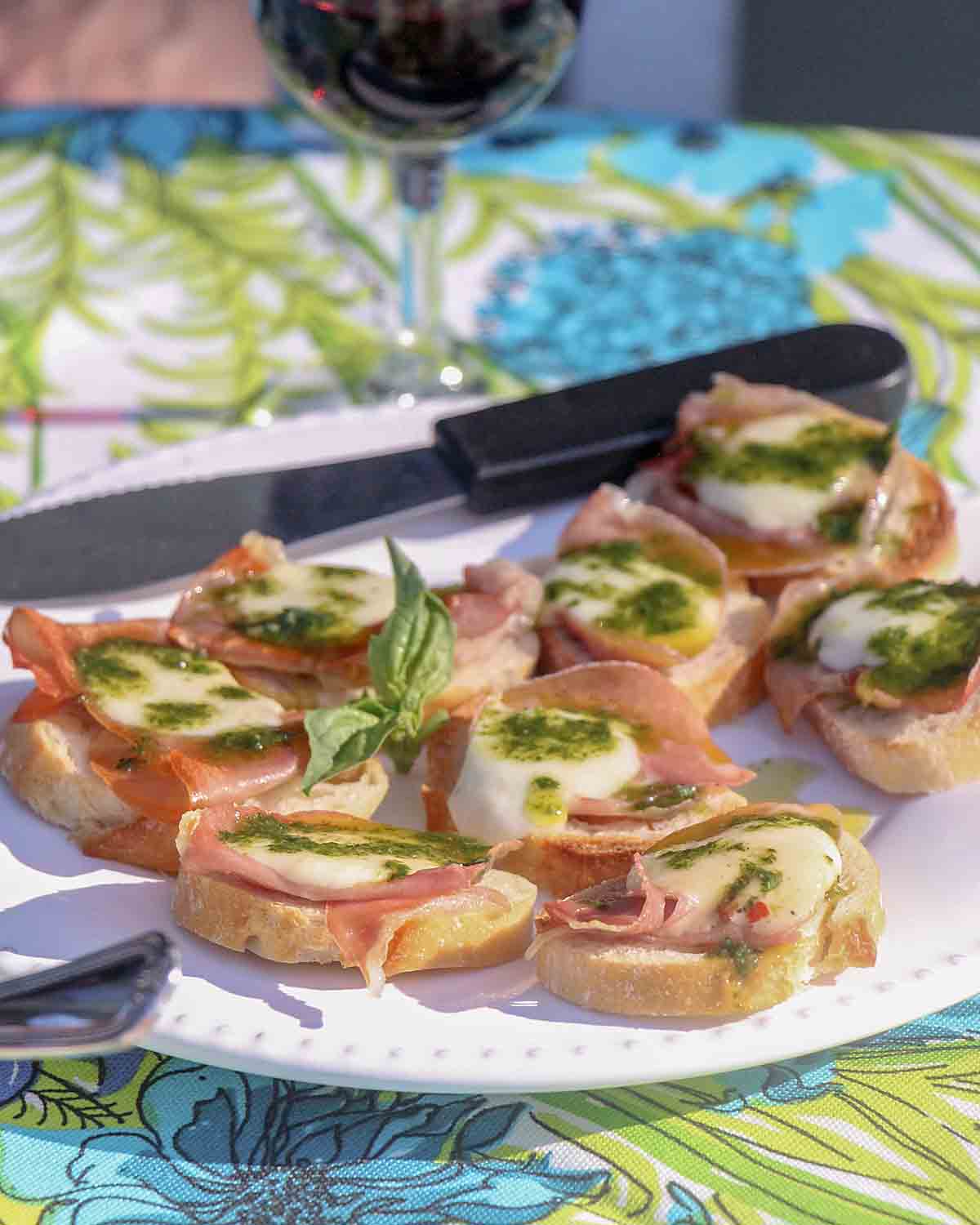 Why You'll Love This
There are so many reasons to love Prosciutto Bruschetta since it's:
Tasty. Savory and creamy, with salty prosciutto and a rich basil drizzle, this appetizer rocks with flavor.
Easy. This is quick to assemble and spends just a few minutes under the broiler.
Crowd-pleasing. Everyone loves a crunchy and mouth watering bruschetta!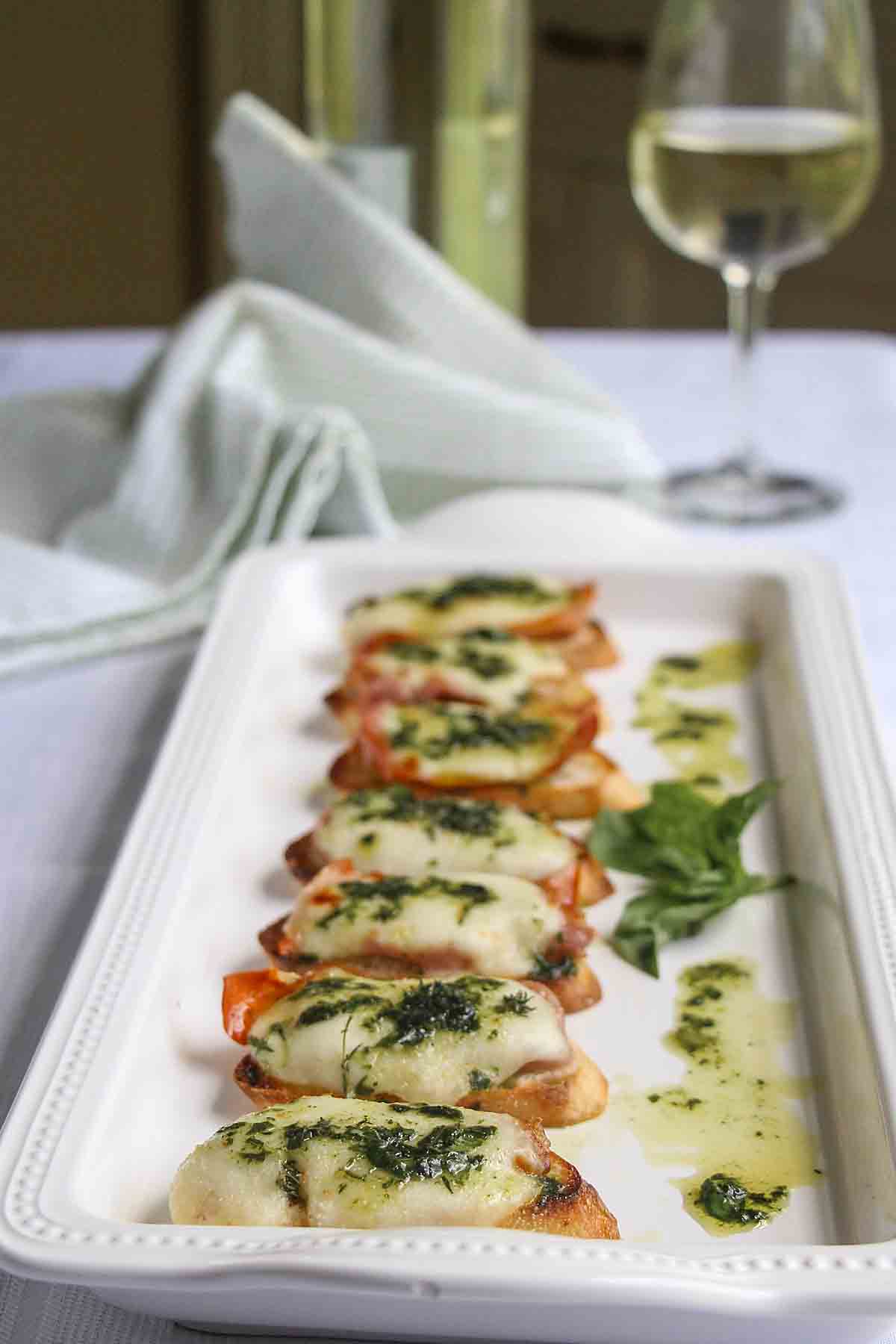 What You'll Need
Ingredients
French bread. This is the crunchy base for the bruschetta.
Prosciutto. Italian style cured ham adds flavor and sophistication.
Fresh mozzarella. Creamy, Italian soft cheese is a perfect complement to the salty prosciutto.
Basil. This is the main flavor component of the tasty basil drizzle.
Olive oil. This adds flavor and "drizzle" to the basil drizzle and also tops the bruschetta under the broiler.
Garlic powder. Also adds flavor.
Special Tools
no special tools are needed.
Step by Step Directions
Prepare basil drizzle.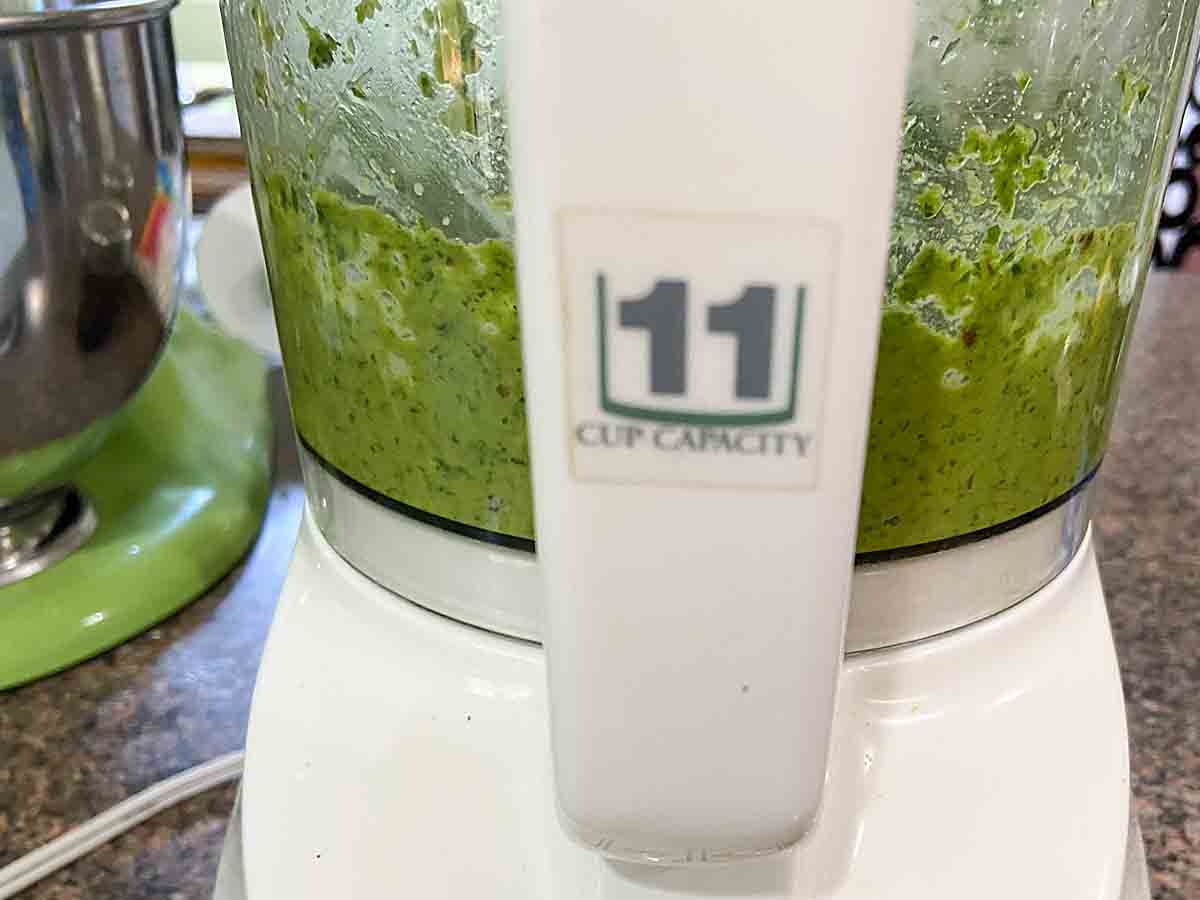 Cut French bread.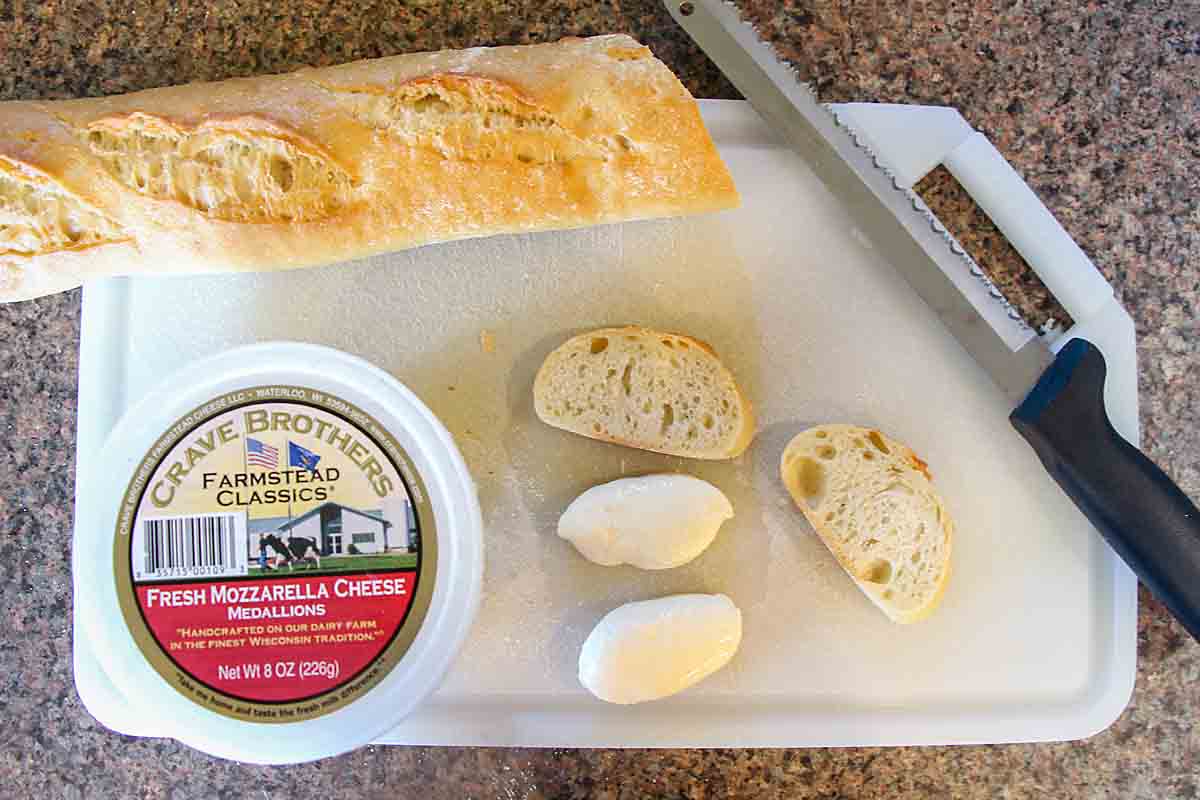 Top bread with prosciutto.
Top prosciutto with cheese, herbs and olive oil.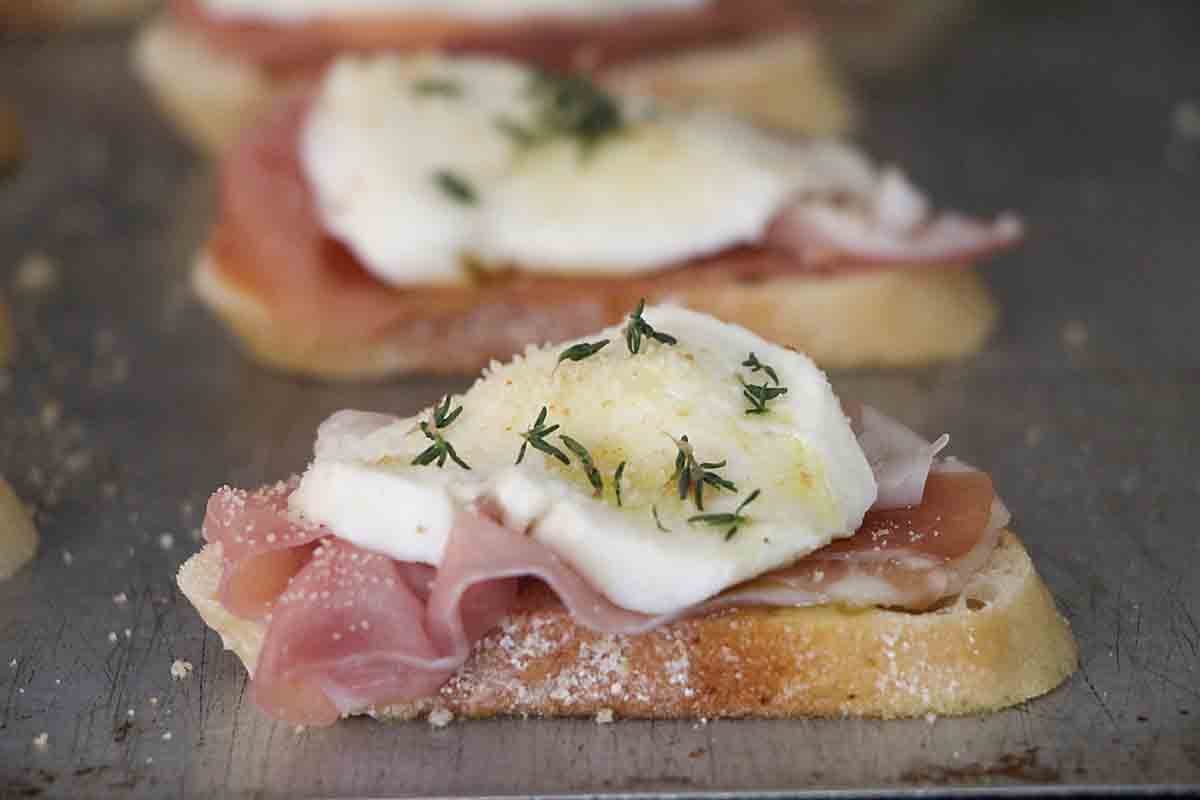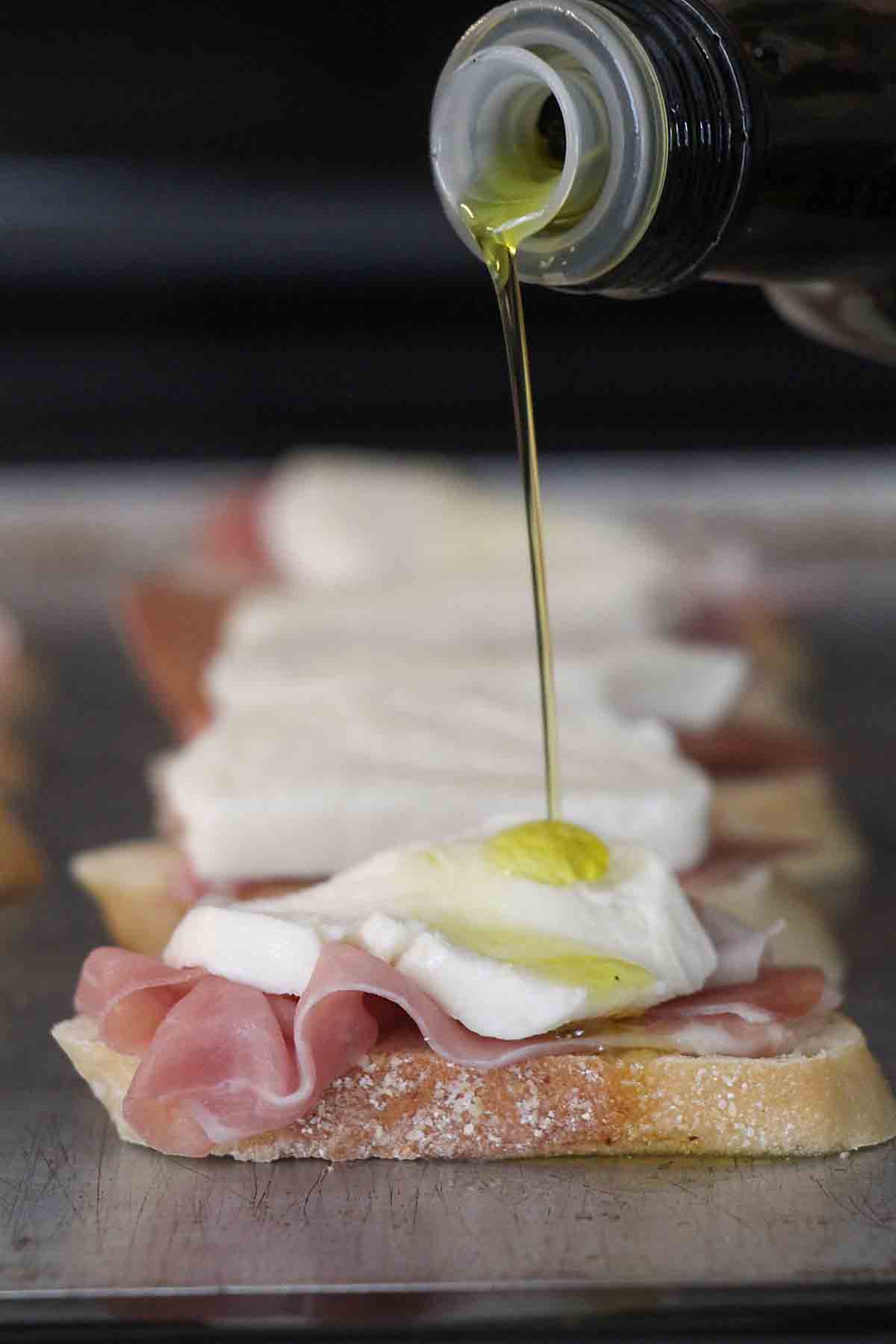 Broil, top with basil drizzle, and serve.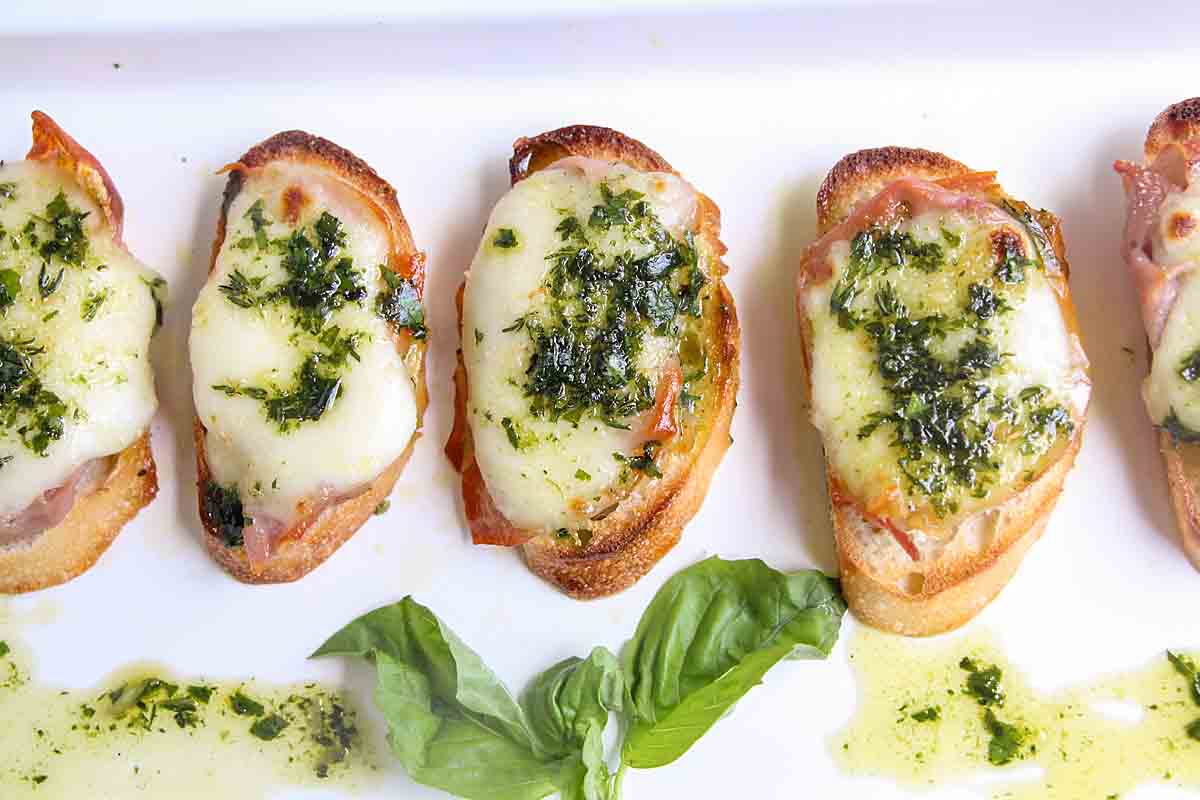 What is Fresh Mozzarella and How is it Different from Regular
The type of mozzarella cheese that you typically associate with pizza is an aged mozzarella. This means that it is firmer and drier, as well as "cheesier" in flavor than fresh mozzarella. Besides differences in flavor and texture, the aged mozzarella has a longer shelf life.
Fresh mozzarella has a soft texture and a flavor that is, well… fresher, in the way that cream cheese or ricotta tastes, hmm, closer to milk? It will spoil quickly so you should use it up within a couple days after opening. And be sure to check the package for an expiration date, since it will go bad if left too long, even unopened.
Another interesting thing about fresh mozzarella is the number of different forms that it comes in. You can find it as logs, in large balls, in small balls, in small balls marinated in oil with herbs–and more. There's even a form called "burrata" which is a large ball of fresh mozzarella filled with cream and curd. See my Roasted Strawberries with Burrata for more on this.
As a farmstead cheesemaker, Crave Brothers produces the milk that goes into their award winning cheeses like the fresh mozzarella I used here. The attention to all facets of the operation has resulted in many awards for this, as well as mascarpone, string (rope) cheeses and cheese curds.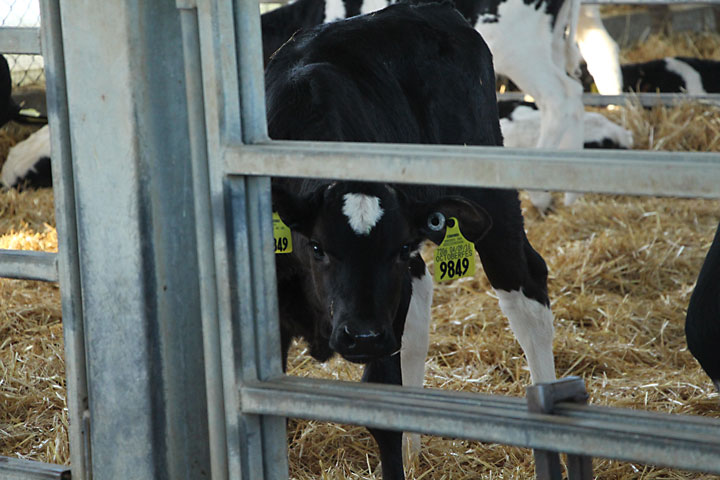 Variations
I originally called this appetizer Prosciutto Caprese Bruschetta because it's so similar to Caprese Salad (Tomato, Fresh Mozarella and Basil)–just without the tomato. But if you wanted to make it even closer, just add a slice of tomato or some chopped tomatoes. Yum!
I also have a Mexican influenced Bruschetta that I call Fusion Bruschetta where the topping is a mix of fresh ingredients with canned salsa. Another tasty appetizer that's so easy!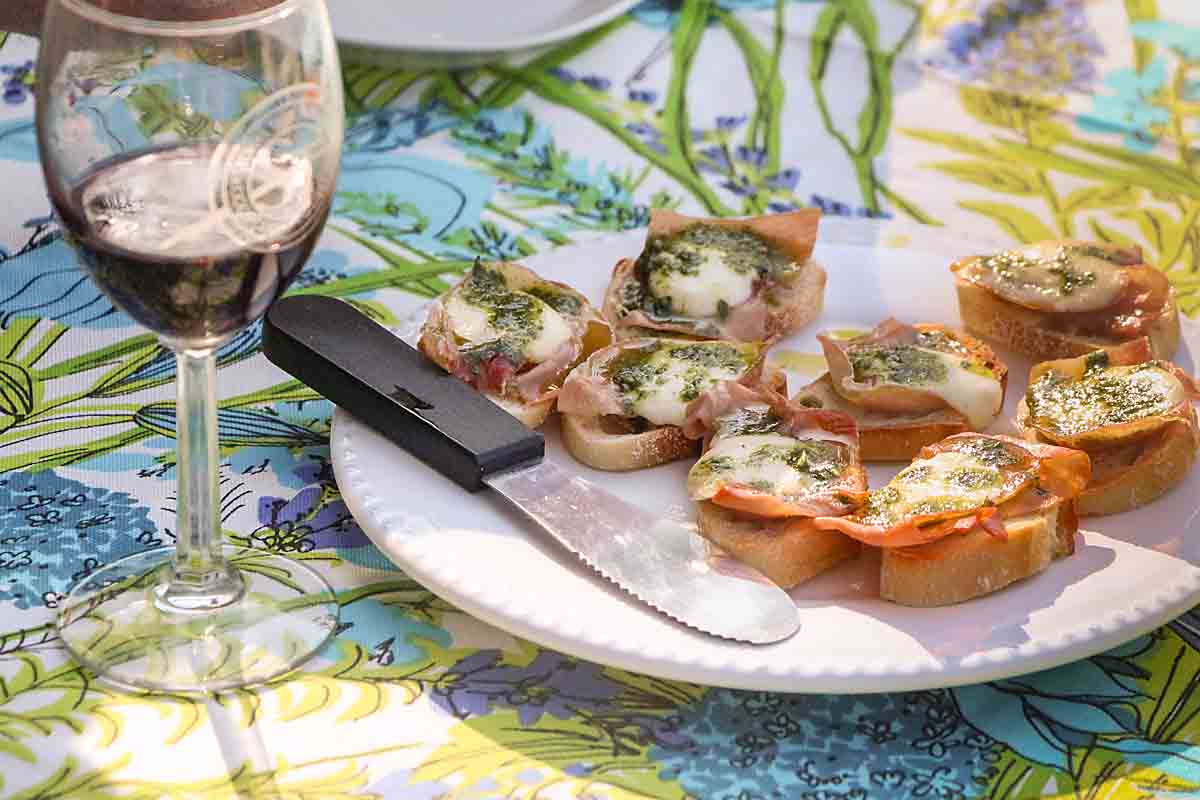 Tips and FAQs
I made two versions of my Prosciutto Caprese Bruschetta, the first with Crave Brothers marinated mozzarella balls or Ciliegine. I halved the mozzarella balls, set them on French bread topped with prosciutto, broiled, then drizzled with basil olive oil.
But in case you can't find the marinated cheese, I made a version with their plain mozzarella medallions. As a substitute for the marinade I sprinkled olive oil & thyme over the cheese, then broiled and topped with basil drizzle. Equally delicious!
Can I freeze basil? Basil freezes very well if you puree it with enough olive oil to make a soft paste. And since it's so abundant in summer, it's a great frugal move. I used to freeze pesto but now I freeze the basil oil since it's easier and even more useful. Just add Parmesan and ground nuts to turn that into pesto.
Or add a little more olive oil and make this tasty appetizer!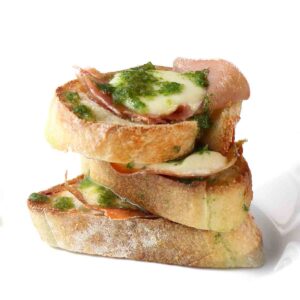 Prosciutto Caprese Bruschetta
Prosciutto Bruschetta is a tasty appetizer of crunchy French bread topped with smoky prosciutto, creamy mozzarella and savory basil oil.  Even better, it's quick and easy!
Ingredients
Bruschetta
1

loaf French bread

4

ounce

prosciutto

1 package

8

ounce

marinated ciliegine mozzarella balls

or fresh mozzarella log drizzled with olive oil & fresh thyme
Basil Drizzle
¼

cup

extra virgin olive oil

¼

teaspoon

garlic powder

¾

ounce

package of basil

leaves only

¼

teaspoon

salt

or to taste
Instructions
Prepare basil drizzle. Place olive oil, basil, garlic powder and salt in the blender. Blend until smooth.

Cut French bread into thin slices. Top each with about 1/3 slice of prosciutto.

Top the prosciutto with a half or two halves of a marinated Ciliegine ball (depending on bread size) or plain fresh mozzarella, cut to size, and sprinkled with olive oil and thyme.

Broil (watching carefully) until cheese is melted and bread is slightly toasted.

Drizzle with the basil olive oil mixture and serve.
Notes
Any extra basil drizzle is great in salad dressing or in scrambled eggs.
Nutrition
Calories:
222
kcal
Carbohydrates:
18
g
Protein:
8
g
Fat:
13
g
Saturated Fat:
5
g
Polyunsaturated Fat:
1
g
Monounsaturated Fat:
6
g
Trans Fat:
0.01
g
Cholesterol:
21
mg
Sodium:
389
mg
Potassium:
71
mg
Fiber:
1
g
Sugar:
2
g
Vitamin A:
561
IU
Vitamin C:
0.001
mg
Calcium:
439
mg
Iron:
1
mg
I am not a health professional and nutrition data is calculated programatically. Accuracy may vary with product selection, calculator accuracy, etc. Consult a professional for the best information.
Originally published June 9, 2016.