Artisan Beer Cheese Fondue
I have been making the same wine and Swiss cheese fondue for years. Loaded with Gruyere and Chardonnay, it brings the essence of Switzerland to the menu.
But sometimes you just need to shake things up. I saw a recipe for beer cheese fondue recently and decided to give it a try—more or less. You see, I didn't like a couple of the ingredients, so I left those out. Then I couldn't get an aged Gouda (vacationing in a small town), so I used aged cheddar and regular Gouda. I did find a nice craft Trippel beer. This is Wisconsin after all!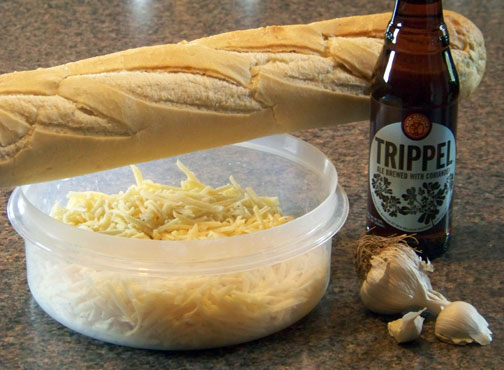 Trippel is a strong, pale ale historically product by the Trappist Monks in Belgium and the Netherlands. Higher in alcohol, with a sweeter, spicier flavor, it helps to give the fondue more character than a can of Lite. I used New Belgium's Trippel (which was fortuitously resident in my pantry) but others in this vein include Pere Jacques from Goose Island, or Abbey from New Belgium.
If I couldn't get something in this style, I would probably have gone with a (nut) brown ale, like Fat Squirrel a local Wisconsin favorite from New Glarus Brewery or even Newcastle Brown Ale which is readily available, probably worldwide.
I do have one technical tip as you prepare fondue. After making it for years, the last time I prepared it, my cheese did not melt smoothly into the liquid (wine in that case) but sat as strings and clumps in a cloudy wine bath (unfortunately I had company, but at least it was still tasty, sigh). I had been a bit hurried and turned the heat up and neglected my stirring. Fine Cooking says, "Even if you're using the perfect cheese for a dish, too high a temperature or too much heating time can make its proteins tighten up, squeezing out both water and fat. Result: rubbery globs of protein awash in a pool of grease." They recommend grating (which fondue recipes call for anyway), bringing the cheese to room temperature first, then heating it slowly. I would add stirring consistently, since I think that helps keep the heat even as well. It melted perfectly this time.
Beer Cheese Fondue
Serves 5-6
Ingredients
1 large clove garlic, sliced in half lengthwise
1 cup Belgian tripel (beer). Reserve remainder for thinning fondue while serving.
8 ounces Gouda, shredded
8 ounces sharp cheddar, shredded
1 tablespoon cornstarch
Freshly ground black pepper, to taste
1 baguette loaf, cut into 1-inch cubes, ideally with a piece of crust on each
Bite-sized vegetable and salami pieces for dipping (optional)
Directions
Rub the bottom of a medium saucepan with sliced garlic. Add the beer, then heat until steam begins to rise from the beer.
In a small bowl, toss together the two cheeses and the cornstarch. Reduce heat to medium low, then add cheese by handfuls to the beer. Stir continuously until the mixture is melted and smooth. Season with black pepper.
Transfer the mixture to a fondue pot and serve immediately, accompanied by the bread, and optionally vegetables/sausage for dipping. If mixture begins to thicken too much add some of the reserved beer and stir to incorporate.
I served this with my Spicy Italian Salad and Pear Tart. Bon appétit… er, Bottoms Up?