Fun and Tasty Beer Cheese Fondue
This unusual Beer Cheese Fondue blends sharp cheddar and beer for a tasty treat. Perfect for a fun meal or appetizer.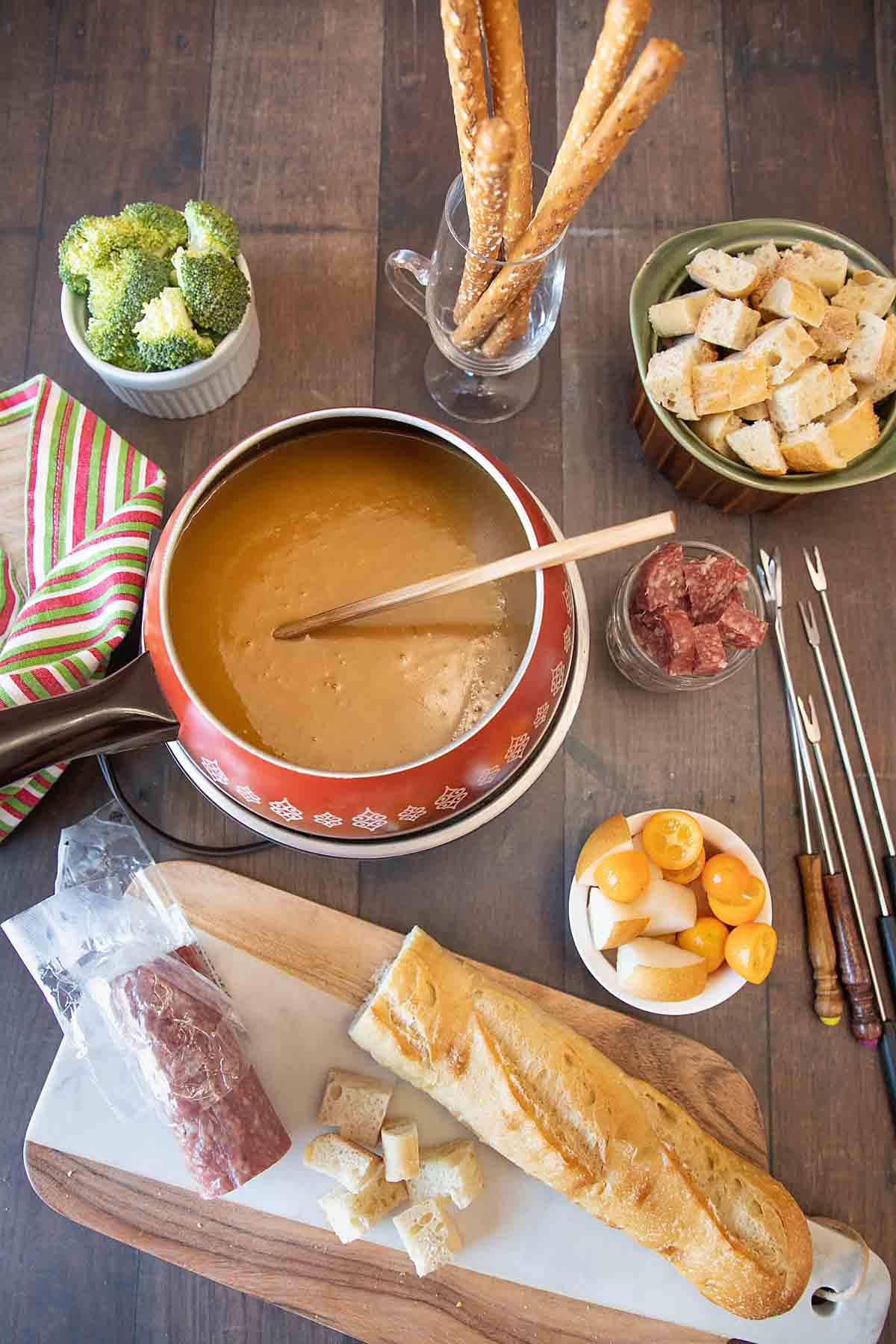 Is there any dish as much fun as fondue? Dip a bread cube into melty cheese and joke with your neighbor. Jostle for the best spot in the pot. And don't forget the tradition of kissing the person to your right if you lose your dipper!
Fondue is a dish that never goes out of style, but it was in its heyday in my youth. I first ate it with my French class and happily brought it home to an excited family. Today I still get it at least once a year for New Year's Eve with a movie–gather the family together and avoid the drunks. Always fun!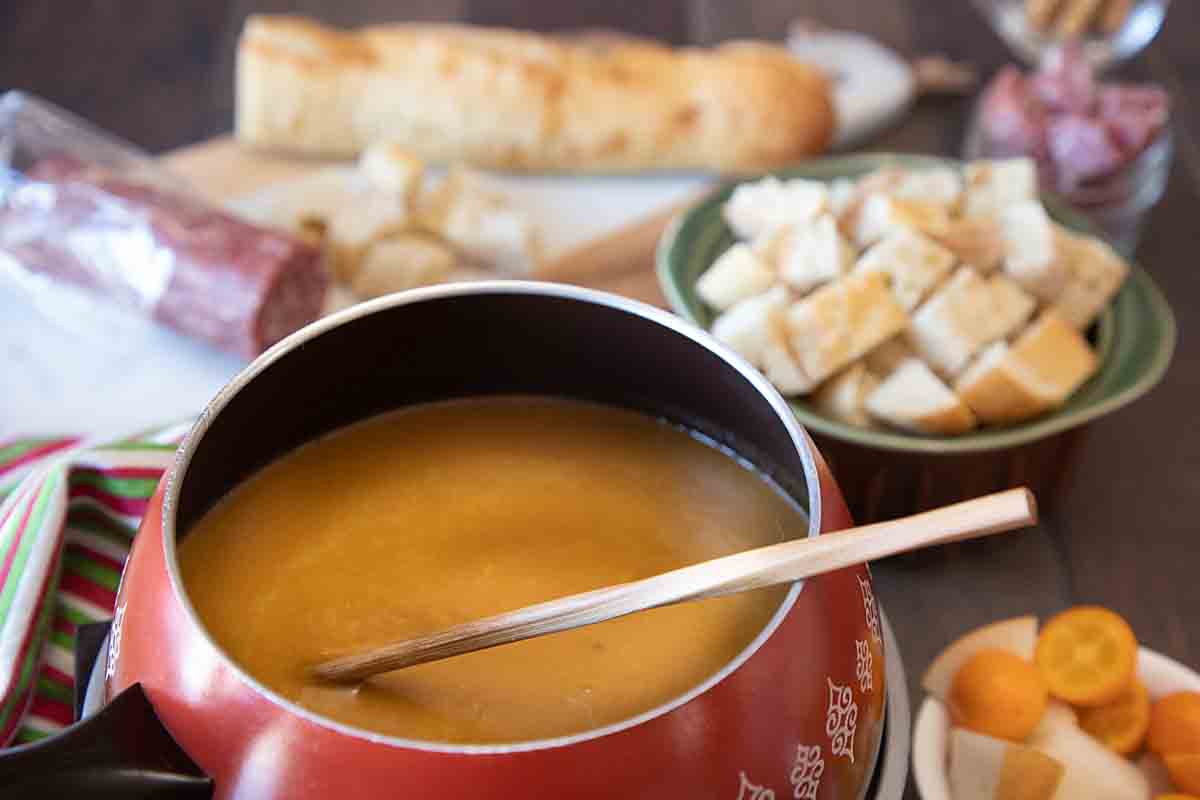 What is Fondue?
Per Wikipedia, fondue is "a Swiss melted cheese and wine dish served in a communal pot… over a portable stove (réchaud) heated with a candle or spirit lamp, and eaten by dipping bread into the cheese using long-stemmed forks." They add that the term "has been generalized to other dishes in which a food is dipped into a communal pot of liquid kept hot in a fondue pot:
Now most often you'll see the classic Swiss fondue with Gruyere, Swiss cheese and white wine. Nuanced and elegant, it brings the essence of Switzerland to the table.
But sometimes you just need to shake things up–and beer and cheese are every bit as compatible as wine and cheese.

Why You'll Love This!
There are lots of reasons to love this recipe–it's:
Fun. Yes this is as close to playing with your food as you're going to get in public!
Tasty. Full of rich aged cheese, tasty beer and your favorite dippers, its a taste delight!
Family-friendly. This is a great way to get kids involved in meal prep. Pre-teens can grate cheese, teens can cut dippers and everyone can enjoy!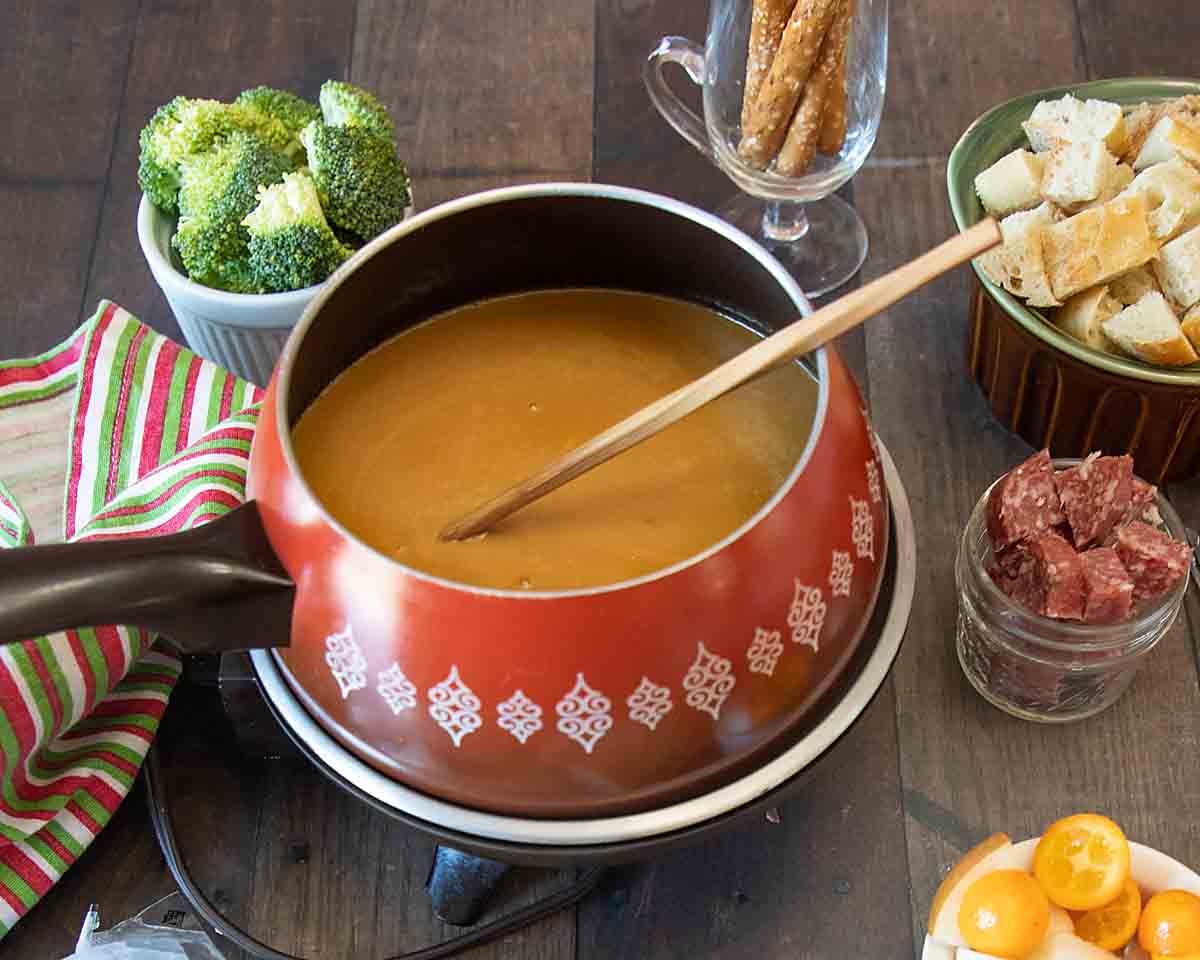 What You'll Need
Ingredient Notes
Garlic, Black Pepper. These add subtle flavor
Beer. Provides the liquid and adds flavor. Reserve remainder to thin fondue if needed.
Gouda, Sharp Cheddar. Provides creaminess and cheesy flavor.
Cornstarch. Helps the beer and cheese come together.
French bread. To cut for dipping
Other dippers such as bite-sized vegetable pieces(optional
Special Tools
Fondue pot. To keep the fondue warm. The right small crock pot may work for Beer Cheese fondue since the temperature isn't super critical (unlike an oil fondue which needs to be hotter than some crock pots will go).
Fondue forks. You'll need these for dipping. Give out extras if you're doing more than one kind of fondue!
Step by Step Directions
Cut up your dippers into bite sized pieces and grate your cheese if needed.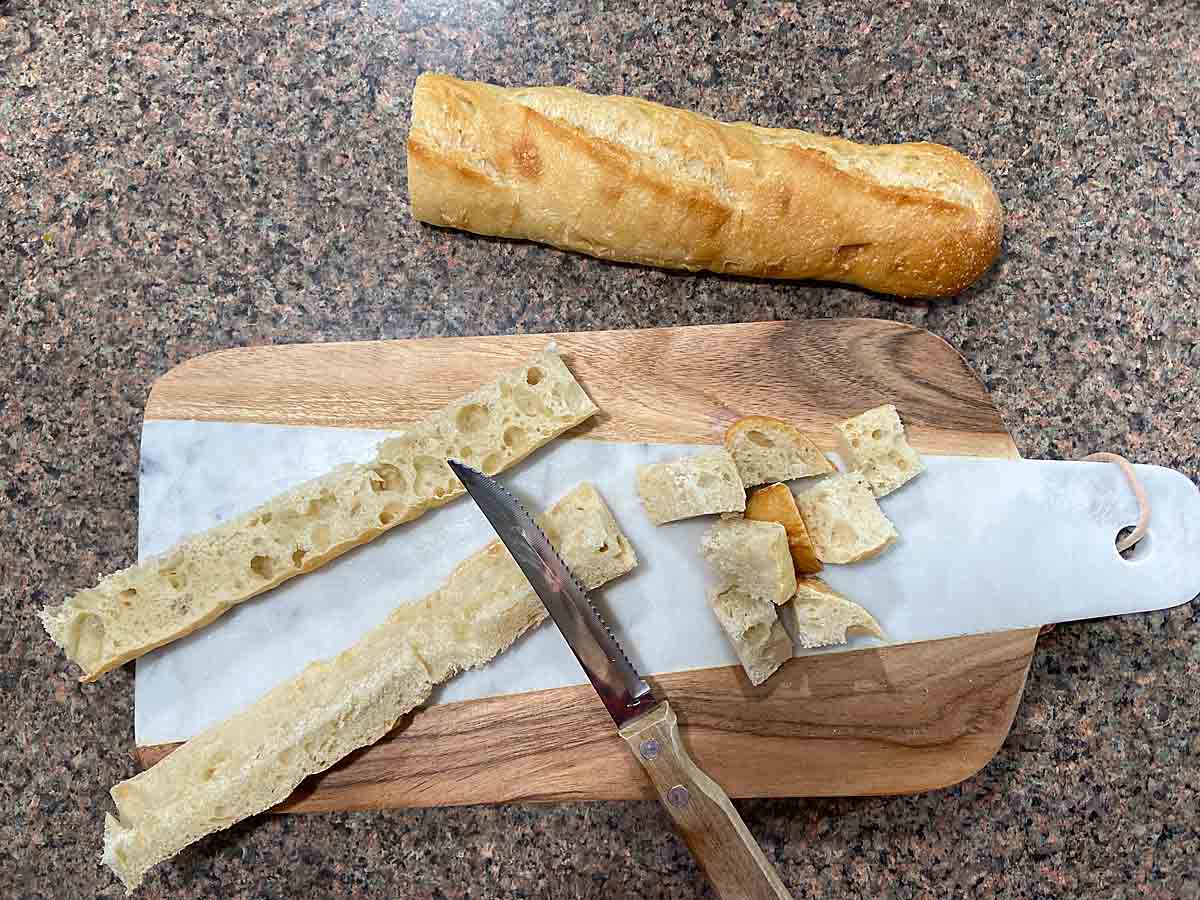 Rub the bottom of a medium saucepan with sliced garlic.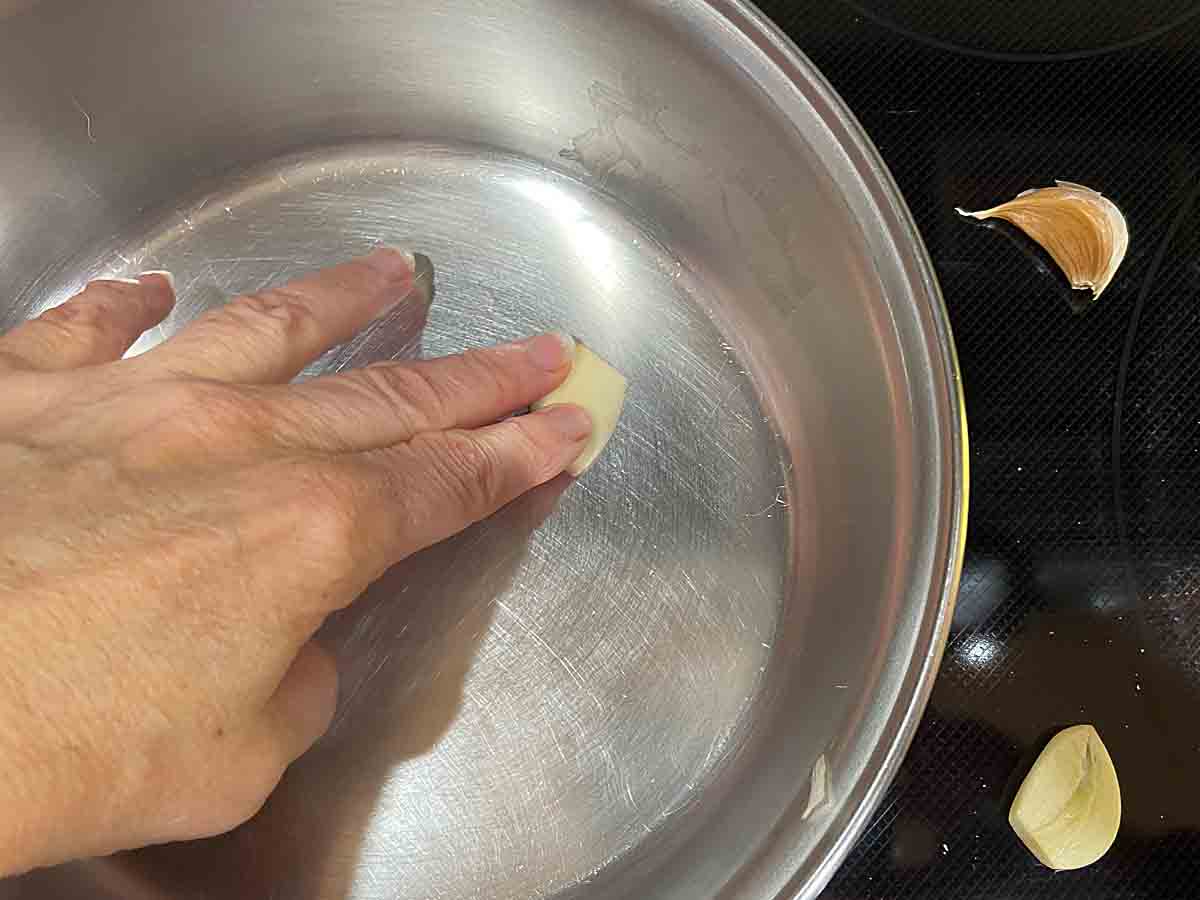 Add the beer, then heat until steam begins to rise from the beer.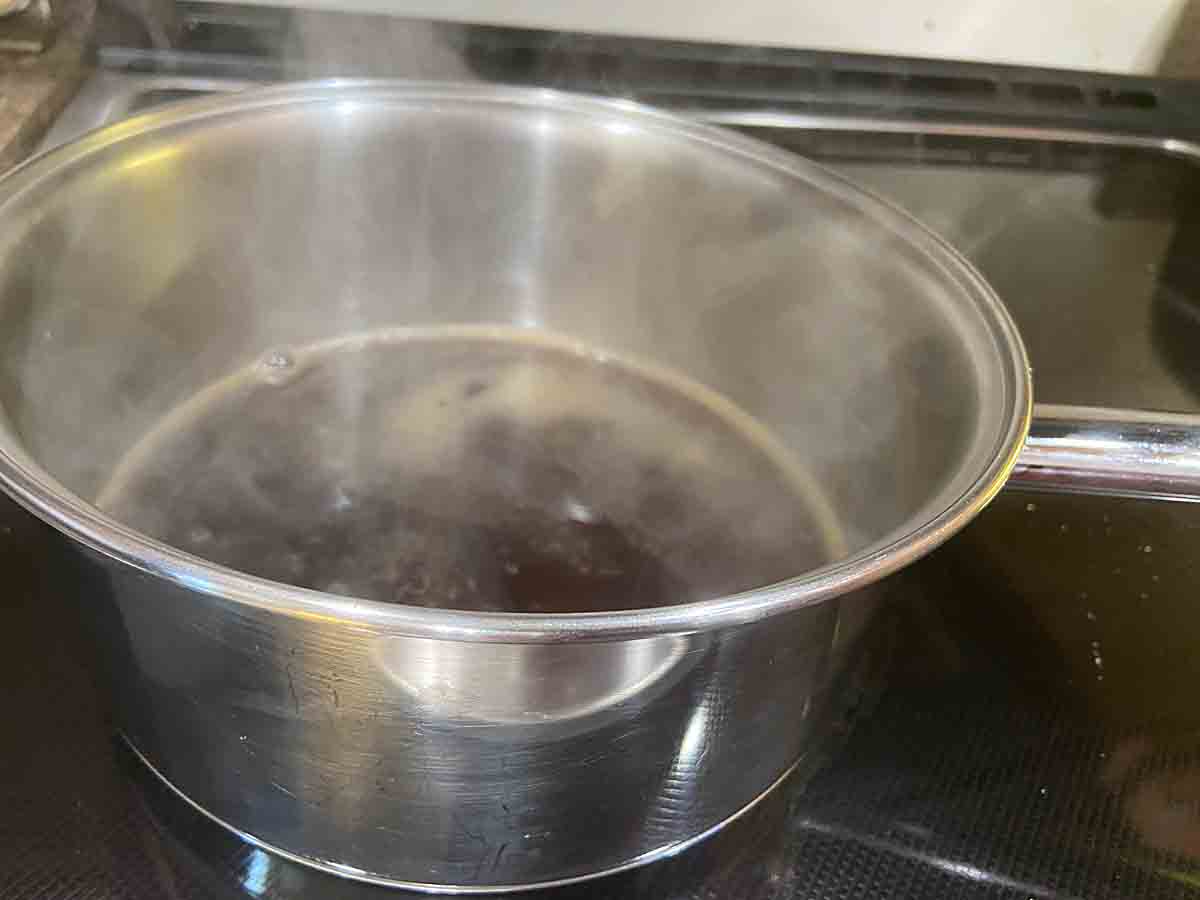 In a small bowl, toss together the two cheeses and the cornstarch.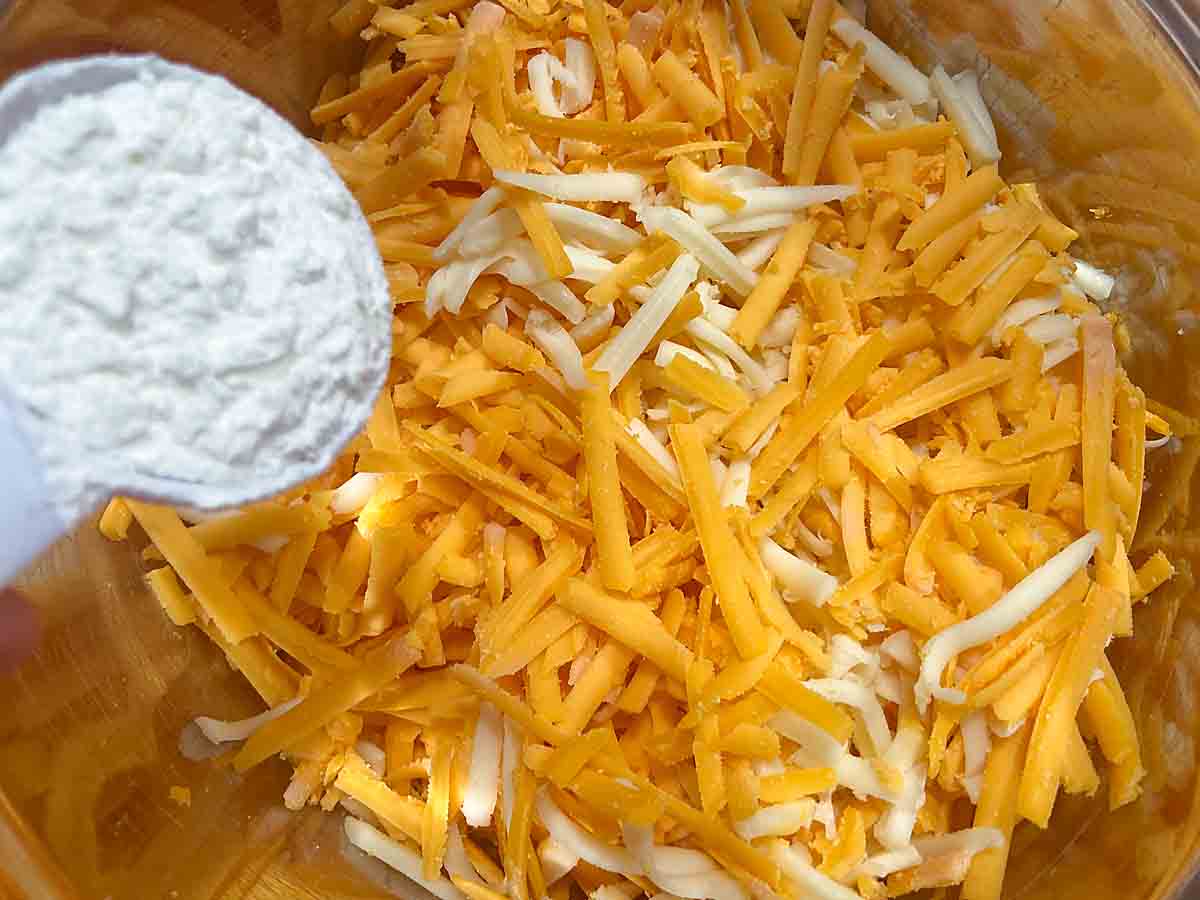 Add cheese by handfuls to the beer and stir in.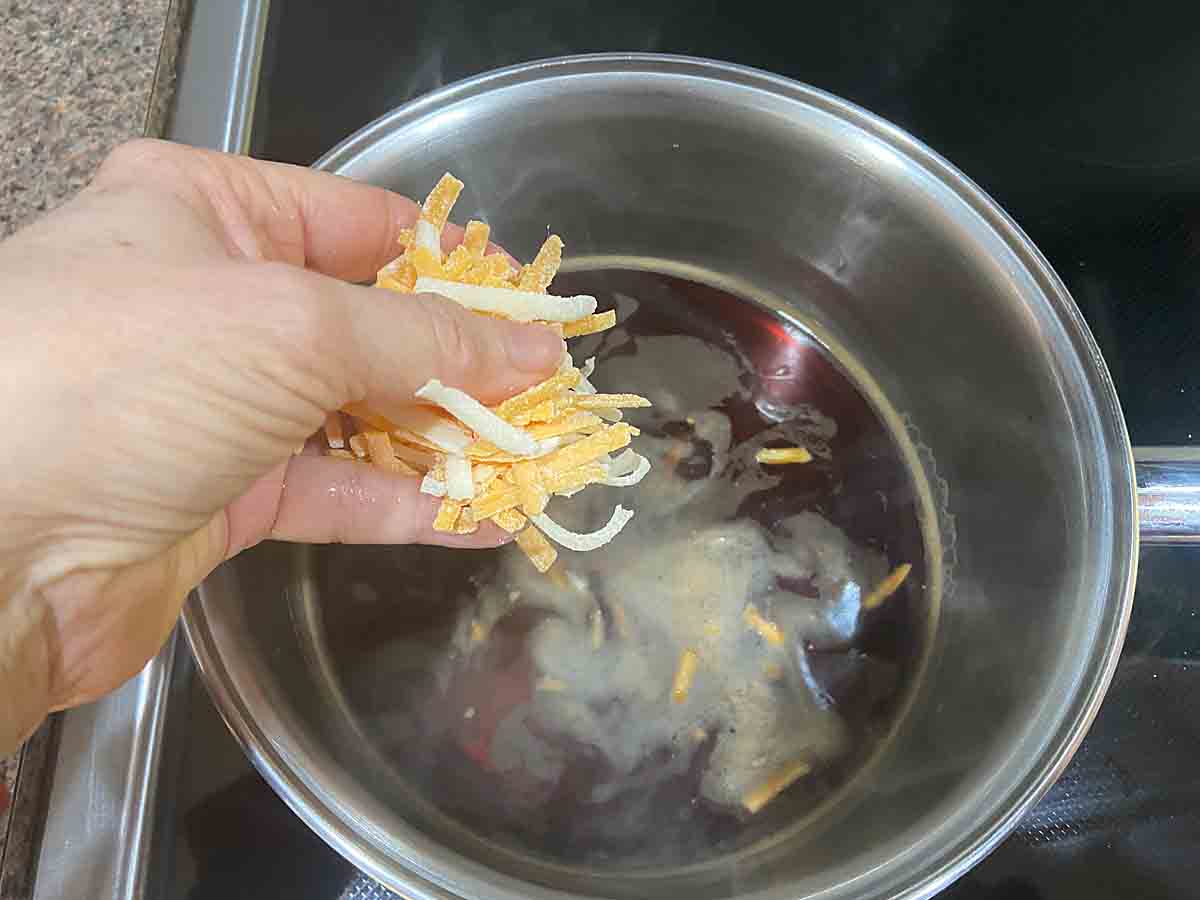 When smooth, transfer the mixture to a fondue pot and serve immediately, accompanied by the bread, and optionally other dippers.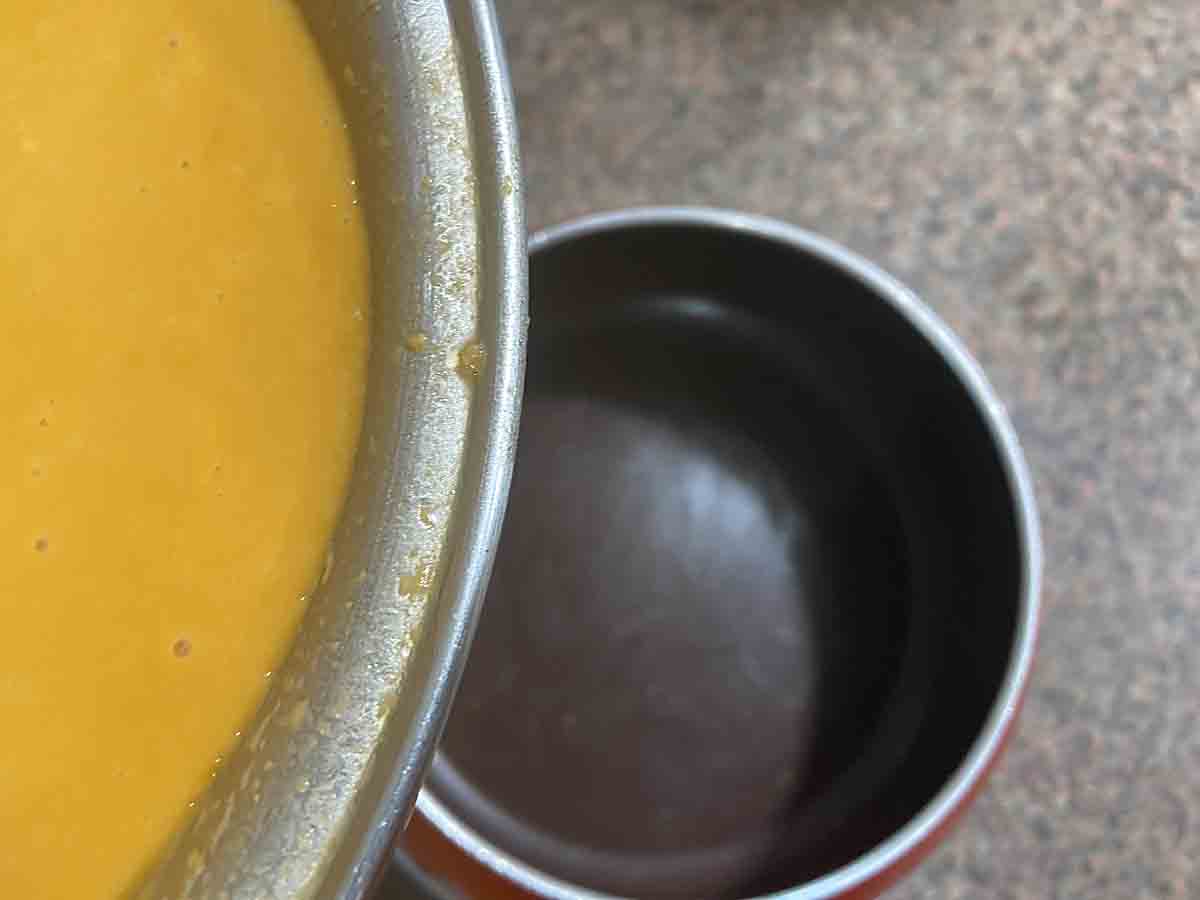 Variations
While this beer cheese fondue is a favorite, there are many other fondues that are just as nice! The most well-known is probably the wine and cheese fondue made with Swiss, Gruyere and dry white wine.
Now besides cheese fondues, I have also done steak fondue in hot oil. Here you cook a bite-sized piece of steak in hot oil, then dip it in a tasty sauce before eating.
There are even dessert fondues. Dip fruit or cake in chocolate fondue for a special treat.
Now of course you're not limited to a single type of fondue at any one event. See "How to Serve" for more on this!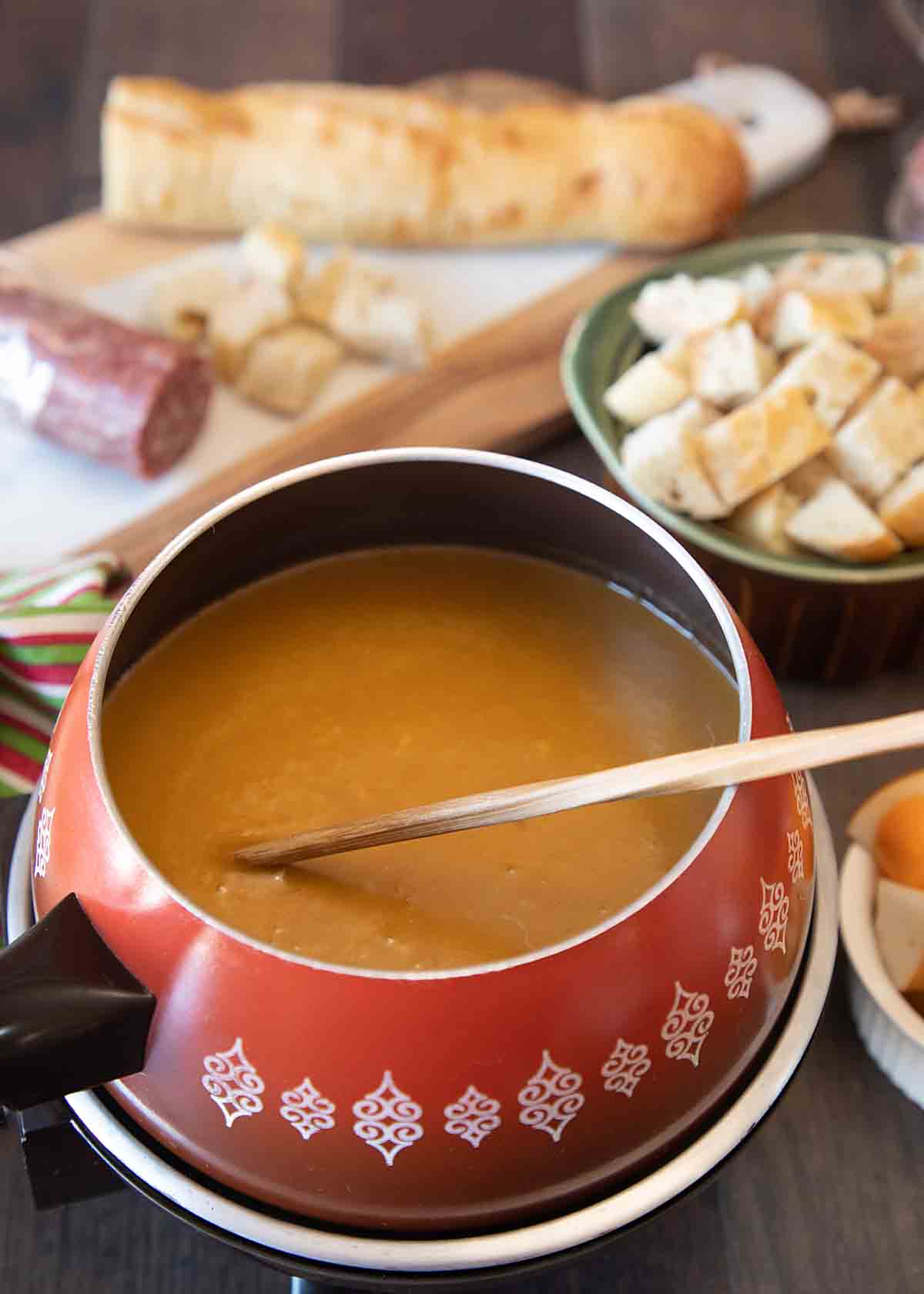 How to Serve
Beer Cheese Fondue can be served as an appetizer or as a meal. I usually like to serve it as a meal since it's so appealing that everyone usually fills up! If you're serving for dinner, preceding with a salad can be a good concession to nutrition!
And if you have enough people, you can offer more than one type of fondue. Consider serving a cheese fondue and a meat / hot oil fondue for dinner, then following this with a chocolate dessert fondue. In that case, try to have extra fondue forks around so people can have more than one.
Types of Dippers
While there are many options for fondue dippers, bread is the gold standard. I like to use a narrow French bread because it has a high crust ratio. This allows me to cut pieces that all have a bit of crust which helps it stay intact through dipping.
Bur the possibilities go far beyond bread. You can use vegetables (raw or steamed until just tender), fruits (though these weren't my favorite with this fondue), meats like salami or even cooked shrimp and fun items like pretzels or pork rinds! Go ahead, get creative! But get the dippers ready early so that's done when the fondue comes off the stove.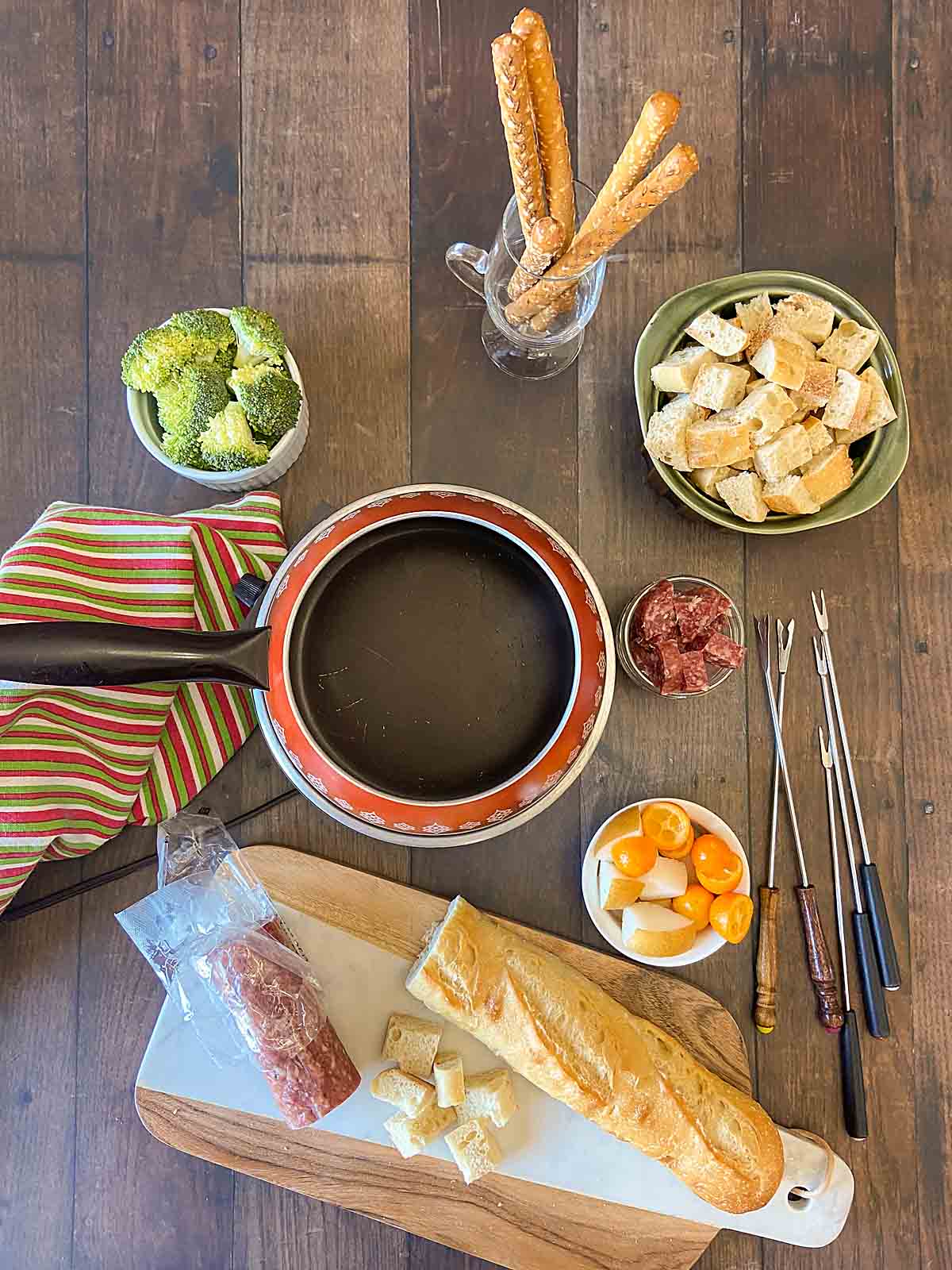 Preparation and Leftovers
I suggest that you get all of your prep work done earlier in the day. Dippers can be cut up (if you do apples and pears, cut them later, or dip in lemon to avoid browning), cheese grated and fondue forks located before meal time. The final prep is super easy and you can do that without missing any conversation with your guests!
I actually made plans for the leftover fondue this time. I was going to reheat it, pour over toast and top with a fried egg. Wouldn't that make a fine to start to the day! Alas there was nothing left.
But it is likely that you'll have some extra dippers when the night is done. Vegetables can be roasted or saved to dip in hummus. Salami is great in salad. Uncut bread can be used for bruschetta, and I plan to make homemade Italian breadcrumbs from the leftover bread cubes.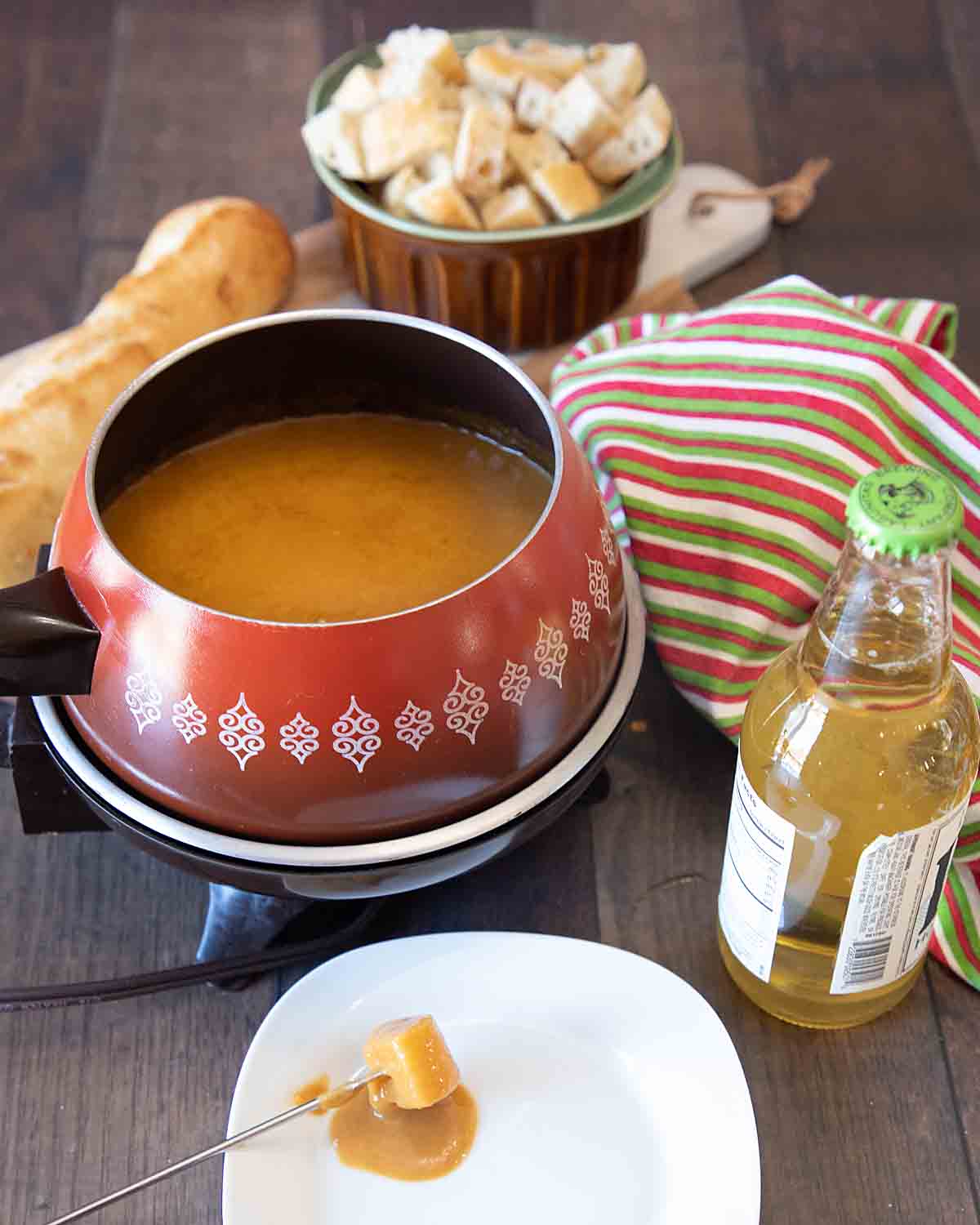 Tips & FAQs
What beer should I use? I suggest that you use a local beer that you enjoy drinking. But avoid dark beer like stout or porter if you want the best color. I used a milk stout today and it's just not quite as pretty. And I know there are plenty of other beers that I would have liked in here.
Now even though most of the alcohol cooks out, if you want this to be 100% alcohol free—or are simply watching your carbs, consider one of the zero calorie "hop flavored beverages" like Hoppy Refresher. That would even make this keto friendly—as long as you dipped broccoli rather than bread!
What if my cheese clumps and separates when I melt it? After making fondue for years without problems, the last time I prepared it, my cheese did not melt smoothly but got clumpy instead. I had been a bit hurried and turned the heat up and neglected my stirring.
But in the now defunct Fine Cooking I read, "Even if you're using the perfect cheese for a dish, too high a temperature or too much heating time can make its proteins tighten up, squeezing out both water and fat. Result: rubbery globs of protein awash in a pool of grease."
To avoid this, they suggested bringing the grated cheese to room temperature first and heating it slowly. I would add stirring consistently, since I think that helps keep the heat even as well. Stirring in a little extra cornstarch can help too.
How do I keep the fondue a nice consistency after serving? There are a few actions that can help keep your fondue smooth and liquid once it's sitting in the fondue pot. First, remind your guests to occasionally stir the cheese while dipping to even out the hotter and cooler areas. Second raise and lower the heat on the fondue pot as needed to keep everything liquid but not boiling. And finally save a little of the extra beer. That way, if too much evaporates, you can stir a little more in.
Retro Recipes
We share Recipes From Our Dinner Table! Join our group and share your recipes, too! While you're at it, join our Pinterest board, too!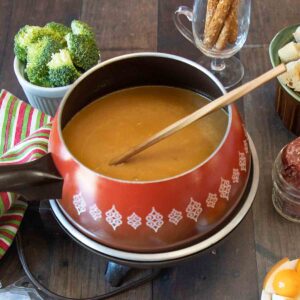 Beer Cheese Fondue
This unusual Beer Cheese Fondue blends sharp cheddar and beer for a tasty treat. Perfect for a fun meal or appetizer.
Ingredients
1

clove

garlic

sliced in half lengthwise

1

cup

beer

(see note for keto sub) Reserve remainder for thinning fondue while serving.

8

ounces

Gouda

shredded

8

ounces

sharp cheddar

shredded

1

tablespoon

cornstarch

Freshly ground black pepper

to taste

1

baguette

cut into 1-inch cubes, ideally with a piece of crust on each

Bite-sized vegetable and salami pieces for dipping

optional
Instructions
Cut up dippers as needed.

Rub the bottom of a medium saucepan with sliced garlic. Add the beer, then heat until steam begins to rise from the beer.

In a small bowl, toss together the two cheeses and the cornstarch. Reduce heat to medium low, then add cheese by handfuls to the beer. Stir continuously until the mixture is melted and smooth. Season with black pepper.

Transfer the mixture to a fondue pot and serve immediately, accompanied by the bread, and optionally vegetables/sausage for dipping. If mixture begins to thicken too much add some of the reserved beer and stir to incorporate.
Notes
This will serve 4 for dinner and 8 or more as an appetizer, or in combination with other fondues.
If you are doing keto or low carb, you can use a zero calorie hop beverage such as Hoppy Refresher.
Nutrition
Calories:
629
kcal
Carbohydrates:
37
g
Protein:
34
g
Fat:
37
g
Saturated Fat:
21
g
Polyunsaturated Fat:
2
g
Monounsaturated Fat:
9
g
Cholesterol:
121
mg
Sodium:
1224
mg
Potassium:
209
mg
Fiber:
1
g
Sugar:
4
g
Vitamin A:
887
IU
Vitamin C:
0.2
mg
Calcium:
867
mg
Iron:
2
mg
I am not a health professional and nutrition data is calculated programatically. Accuracy may vary with product selection, calculator accuracy, etc. Consult a professional for the best information.
Originally published on Apr 13, 2012