Steak Fondue with Mustard Caper Sauce
Valentine's day is coming up. Wouldn't steak fondue be nice for a romantic holiday dinner?
Waaaay back, I always wanted to go out for Valentine's Day. Then baby #1 came along–and with her a bigger, more expensive house. Scratch going out.
Enter homemade romantic dinners for two. At the time, there were lobster tail specials for Valentine's Day in all the grocery stores. I learned that I could make lobster just as well as a restaurant and a whole lot cheaper. Put the kid(s) to bed, pop the champagne, dim the lights and turn on the broiler.
The first year we did steak and lobster (which I never would have paid for in a restaurant) and we rolled out of the dining room, totally stuffed. In future years, it was one or the other–or something completely different. (Okay, a few years we may have just skipped it entirely.)
But this year, I think it's fondue. I've always appreciated the fact that fondue is an interactive meal. "Whose fork is on top of mine?" "No, the red fork is mine" "What are you doing" "My piece fell into the pot" "You know you have to kiss the person next to you then"
Well that last one's a good start for Valentine's Day.
Fondue is actually our family New Year's Eve tradition. Avoid from the drunks, build a fire and fight over the last stringy bits of cheese. Or accuse your neighbor of hogging the dipping sauce.
BTW, the dipping sauce is not restricted to fondue, but great with a grilled or broiled steak as well. In fact that was how we had it the first time! So, for Valentine's Day, or New Year's Eve, or any other occasion, here is one of our favorites.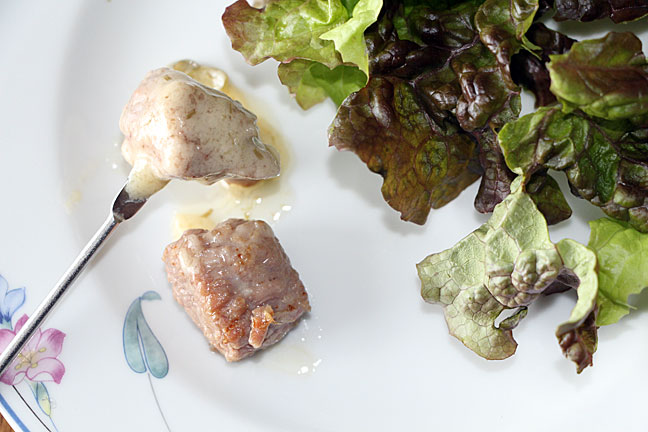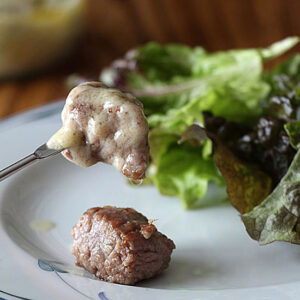 Steak Fondue with Mustard Caper Sauce
A fun and versatile dish, steak fondue works beautifully for romantic dinners or special bigger celebrations.
Ingredients
1

lb

boneless steak

like sirloin or tenderloin

oil for the fondue pot
Dipping Sauce:
1/2

c

butter

1

T

mustard

Dash Worcestershire

2

T

capers incl some liquid

1

T

flour

1/4

c

milk
Instructions
Cut steak into bite sized pieces and refrigerate until needed.

Heat oil in fondue pot. Oil will need to be deep enough to cover meat on fondue fork.

To make sauce, melt 1 tablespoon of butter in small saucepan and combine with flour. Stir until smooth.

Add remaining butter and continue stirring.

Add milk, capers with liquid, Worcestershire sauce, and mustard. Cook until thickened, stirring to keep smooth. Pour sauce into serving dish or dishes.

To do fondue, skewer a piece of steak with fondue fork, then set in hot oil. Cook to desired doneness and dip in mustard caper sauce.
Notes
Steak will cut more easily if partially frozen (or a good kitchen scissors works well too)
Because of the cooking time, we usually use 2 fondue forks per person.
This will serve 3 as an entree but 6 or more as an appetizer