Winter Mulled Wine, Brandy Optional
In much of the US, the frigid weather has sure been a focus lately. School was closed for us again and everyone is ending emails with the phrase "stay warm". Last weekend we made a last minute decision to close our "cabin up north" due to the propane shortage and I am mourning the (temporary) loss of my weekend retreat. All while painfully aware of those less fortunate whose only homes were hit.
In any case, shutting the house down was not how we were planning to spend our Sunday. And just in case you were wondering, packing up every liquid you own (in a last minute panic, scrounging any spare box around) is a b—-. And don't even think about asking how the roads are…
So I have decided that all of this cold and disorder (I almost called the post "Closed for Winter") calls for an appropriate beverage, alcoholic of course. I was thinking of a winter martini, something like the White Chocolate Blizzard I posted for New Year's. But since it's been cold enough to freeze boiling water mid-air (yes we did that test) I wanted something warm. So I'm making mulled wine. With brandy. It's not just for Christmas anymore!
There are a number of mulled wine recipes available, each with their own add-ins and spices. Many use fresh citrus (orange and/or lemon) plus sugar, but I l prefer to sweeten the wine with apple cider and orange juice. It is super easy, adds additional complexity and as a bonus, it allows me to infuse the spice flavors into the juice and add the wine later, preserving more alcohol.
If you've never mulled wine before, be assured that it doesn't require an expensive wine. I have been using a Trader Joe's wine made with organic grapes, but would use their Two, err, Three Buck Chuck in a heartbeat. It makes a fair amount and you can store the leftovers, covered, in the refrigerator, so it is no work the second day.
In doing some background research, I learned that mulled wine is a beverage common to many different countries. . Most of us are familiar with the British wassail (how many carols can you name that mention wassail?) and perhaps Scandinavian glogg, but I also learned of the Netherlands bisschopswijn and Germany's Glühwein–and that's just a start. So if you are somewhere cold, there is probably a mulled wine of one name or another somewhere in your vicinity.
Got cold weather? Here's to a warm and happy winter!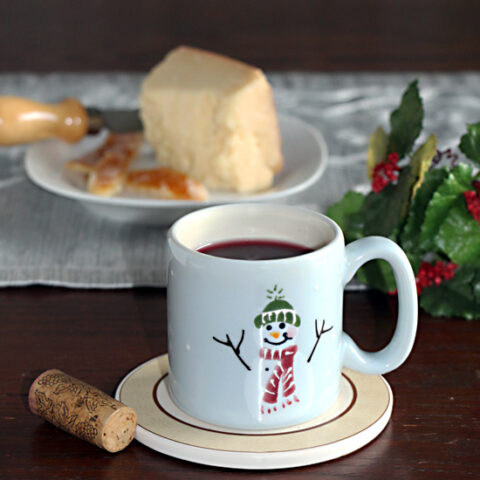 Mulled Wine
A warm and soothing beverage that is great all winter, not just for Christmas.
Ingredients
1 750 ml bottle red wine
1 c orange juice
1 c apple cider, non-alcoholic
3 cinnamon sticks
6 dried cloves
6 dried allspice berries
6 peppercorns
Couple slices of fresh ginger
If desired, brandy to taste.
Instructions
Combine juices and spices in saucepan and heat until just simmering. Hold temperature just below a simmer, steeping spices until juice is well flavored, about an hour. Strain out spices.
Add 1 bottle of red wine and bring temperature back to just below a simmer.
Add brandy as desired to individual serving glasses, then top with mulled wine.
Notes
Leftover wine may be refrigerated, covered, for a couple days and reheated as needed. Calorie count excludes the brandy.

Nutrition Information:
Yield:

9
Serving Size:

1 glass
Amount Per Serving:
Calories:

134
Total Fat:

1g
Saturated Fat:

0g
Trans Fat:

0g
Unsaturated Fat:

0g
Cholesterol:

0mg
Sodium:

12mg
Carbohydrates:

15g
Fiber:

2g
Sugar:

7g
Protein:

1g
Nutrition data accuracy may vary with product selection, calculator accuracy, etc. Consult a professional for the best information.