Savory Meat and Mushroom Galette
I didn't have this savory Meat and Mushroom Galette planned at all.  But the dinner I was thinking about wasn't feeling right… even before I read one of my regular blogs.
This week, Yummy Chunklet made a vegetable galette and commented that it wasn't as much work as it seemed.  This started me thinking that if you made it with refrigerated pie crust and leftover veggies, life would be seriously easy.
This recipe came on the heels of a fruit galette that I tried last weekend.  In the end, the filling wasn't as flavorful as I like and I wanted to punch it up a little before posting about it.  So I already had pie crust on hand.  The refrigerator also held  leftover potatoes from a prior dinner, mushrooms that needed to be used, frozen ground pork and green beans–and the rest is history.
I approached this with caution since cooking without a recipe usually requires some tweaking.  Like 4-6 attempts in a bad week.  But when this came out of the oven the smell was captivating.  After first bites were taken I feared for violence.  Daughter no 2 (who was going out to dinner) proceeded to eat half of her sister's piece.  Before I knew what was happening (yes, I was taking food shots, rather than monitoring) voices were raised and a fork was poised to strike flesh, not food.  All was forgiven when daughter no 2 offered her dad's 2nd piece to her sister as consolation.
Isn't he a nice dad?
Savory Pork and Mushroom Galette
1 galette, Serves 4 (or not)
Ingredients
1/2 lb ground pork or other ground meat
1 T of oil (if needed, see note* in step 1)
6 oz sliced mushrooms
1 medium onion, chopped
2 garlic cloves, minced
1 t salt
1/4 – 1/2 t ground pepper
1 T flour
4 oz broth of your choice (I used chicken)
1 cooked potato, cut in 1/2 in cubes
1 cup fresh, frozen or canned green beans
Single prepared pie crust (commercial or your favorite recipe)
1 egg beaten with 1 T water
Directions
1.  Brown meat.  Remove cooked meat  from pan, set aside, leaving 1 T of fat in pan and draining the rest (*if you use really low fat meat like turkey, you may need to add 1 T of oil at this point).
2.  Sautee mushrooms, onions and garlic in the remaining 1 T of fat.  Season with salt and pepper, tasting to adjust.  Add flour to pan and stir in.
3.  Gradually add broth and continue cooking, stirring until thickened.  Add meat, potatoes and beans to pan.
4.  Place parchment paper (aluminum foil can substitute though may be more likely to stick) in a jelly roll pan or other pan with sides (to catch juices if there is any overflow).  Place rolled out crust on parchment.
5.  Pile filling mixture in center of pie crust.  Fold up sides, leaving a large center opening, pinching and sealing as you go around.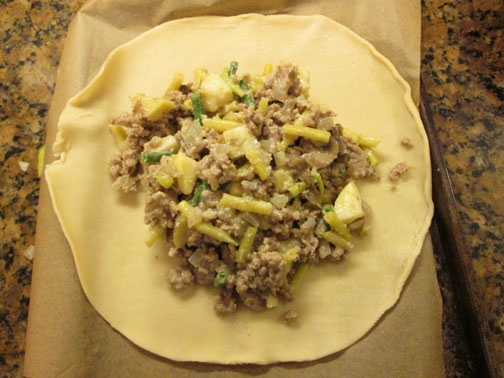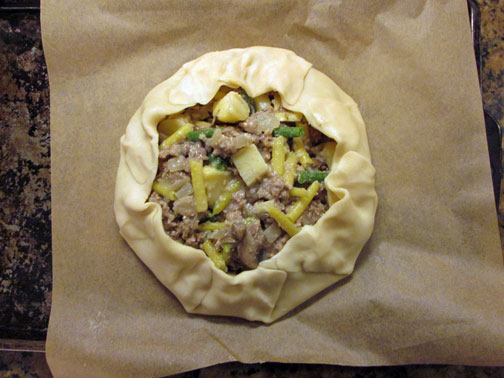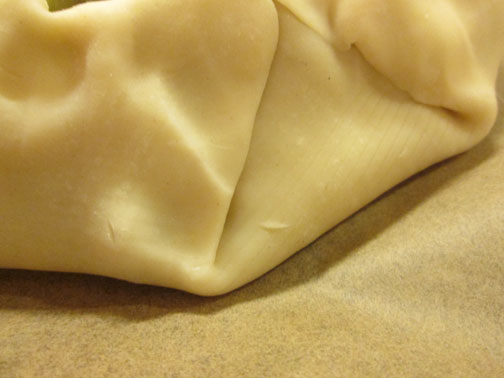 6.  Brush the beaten egg and water mixture on the sides of the galette (for browning).  Bake at 400 for 30 minutes until warm and browned.
7.  Allow to cool slightly before serving.
When I wrote this up, I noticed that some of the measurements are exactly half of normal package sizes (e.g. 1/2 lb ground beef).  In the end I decided that was good.  Next time I'm making two.