Slow Cooker or Dutch Oven Shredded Beef Barbacoa
Slow Cooker or Dutch Oven Shredded Beef Barbacoa has loads of flavor & a little kick. Stuff tacos or lettuce leaves for a low-carb, gluten-free meal.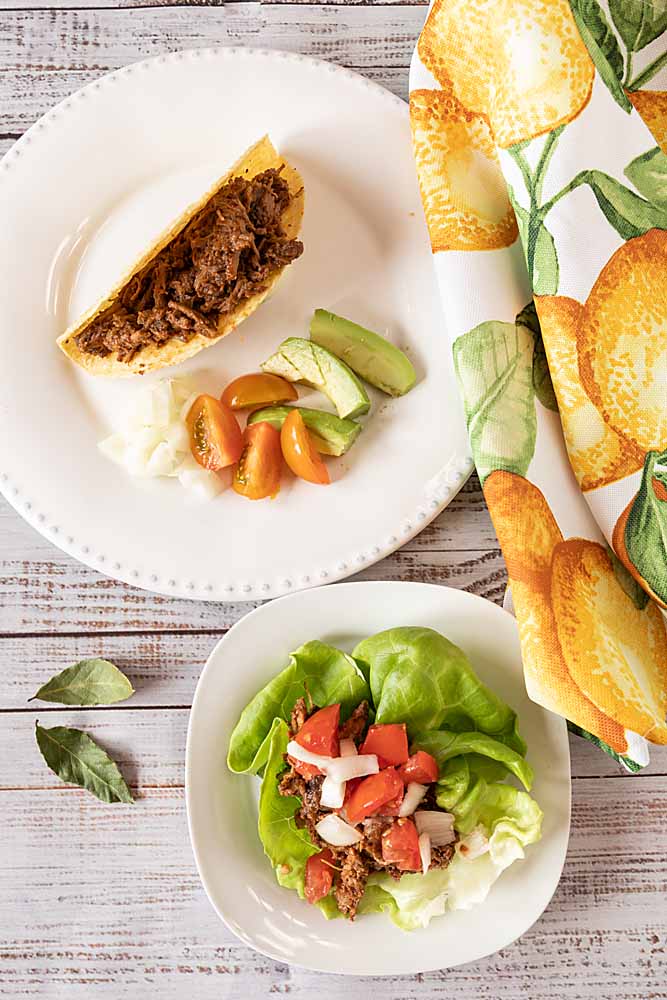 My sister clued me in to this recipe. We both get a quarter of beef every year. And we are both astonished that the quarters seem to have, like 87 chuck roasts. Well, one less today!
I love it when I get to taste a new recipe before I make it. Yes, I wish I could share a bite with you! But will it help if I tell you that this Shredded Beef Barbacoa was a hit in two families?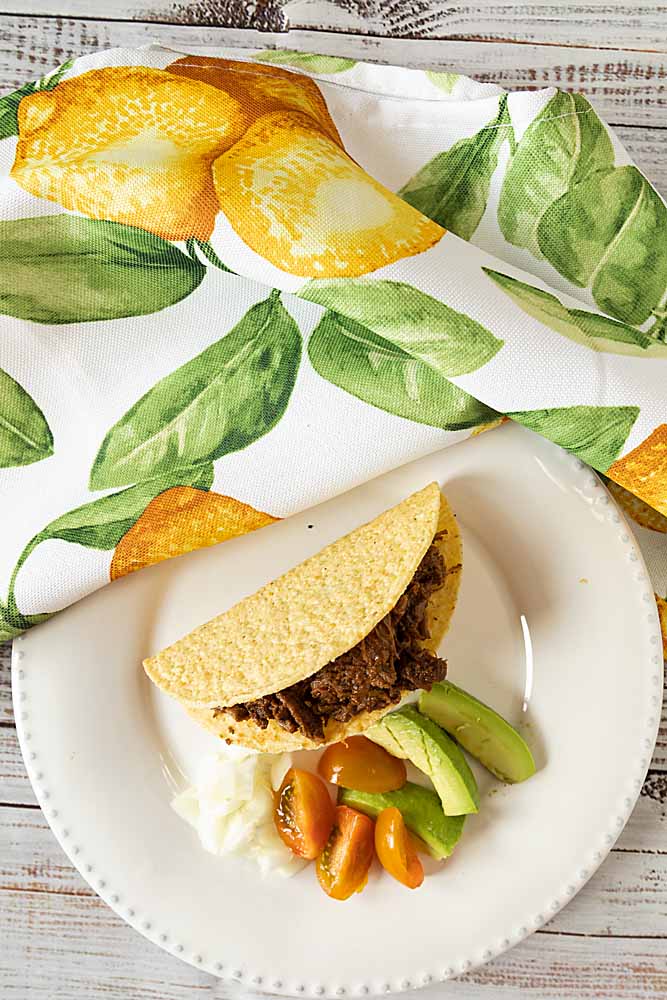 I had never heard of Barbacoa before, so I decided to look it up. Per the Encyclopedia Britannica, Barbacoa is "a method of cooking meat that originated in Mexico… Traditionally, lamb or goat is slow roasted for several hours in a pit that is topped with maguey leaves… seasoning, marinades and spices are often added during the cooking process"
Yum!
Of course the equivalent in a modern kitchen is probably a well-seasoned, slow-cooked pot roast that is turned into shredded beef! Yum again!
The recipe, based on one from The Real Food RDs (my sister is a registered dietitian), was designed for a slow cooker. But staying in my "cabin up north," well, I didn't have a slow cooker. But a Dutch Oven worked great.
I do need to warn you about one thing. The smell of this cooking nearly drove me crazy. So I was seriously excited when it was finally cam out of the oven. My first reaction was that this would be amazing in a Chimichanga. But since I'm still low-carb, it was lettuce leaves for me.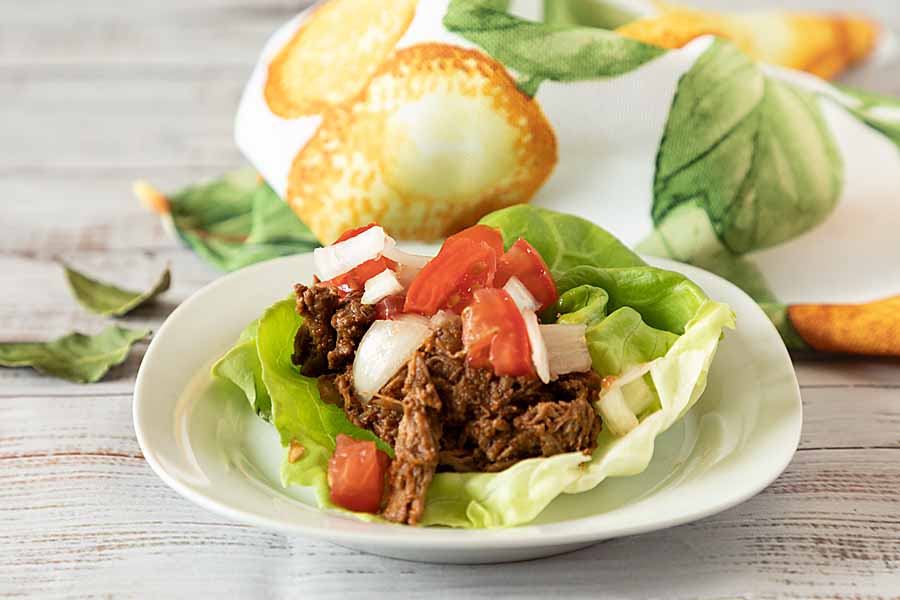 The final product is very versatile and could be used in tacos or buriitos, stuffed into lettuce leaves or used in a rice bowl or salad.
Gotta love versatile!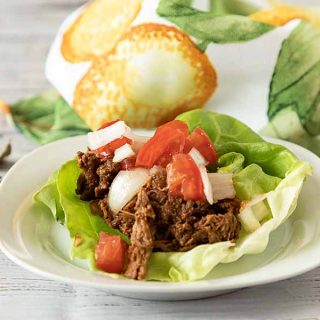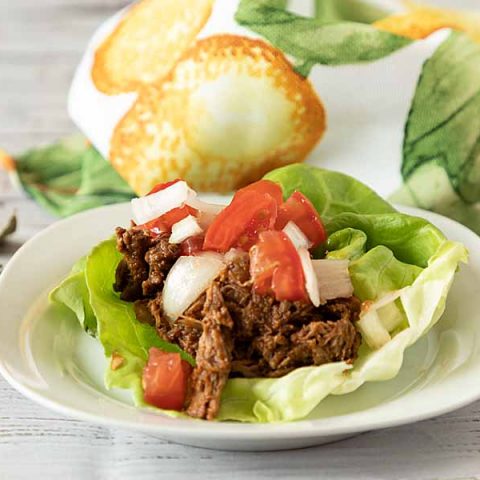 Shredded Beef Barbacoa
Slow Cooker or DutchOven Shredded Beef Barbacoa has loads of flavor & a little kick. Stuff tacos or lettuce leaves for a low-carb, gluten-free meal. 
Ingredients
Optional: 1 T oil

3

pound

boneless beef chuck roast

cut into 2-inch cubes and trimmed of fat

4

cloves

garlic

minced (or 1 ½ teaspoon garlic powder)

3

Tablespoons

tomato paste

¼

teaspoon

smoked paprika

¼

teaspoon

cayenne powder

½

medium onion

chopped

Juice from 2 limes

about ¼ cup

2

Tablespoons

apple cider vinegar

2

bay leaves

1

Tablespoon

ground cumin

1

Tablespoon

dried oregano

⅛

teaspoon

ground cloves

1

teaspoon

salt

½

teaspoon

black pepper

3/4

cup

water or stock
Instructions
Optional first step: Salt, then in two batches, brown beef cubes in oil in your Dutch oven. Deglaze the pan with the water or stock

Place all (remaining) ingredients in the Dutch oven or slow cooker. Stir to combine. Place lid on.

Cook in slow cooker on LOW for 8 hours or HIGH for 4 hours or until meat is tender and shreds easily. If using a Dutch oven, cook at 300 F for about 4 hours until very tender.

When meat pulls apart easily, remove from pan and shred the beef. Discard the bay leaves and stir the sauce in. If there is enough flavorful crust on the pan sides, optionally deglaze with a little water. Add to the sauce and meat mixture and if too wet, return to pan and simmer briefly.

Serve with tortillas or lettuce leaves, garnishing with your choice of chopped tomatoes, onions, avocado, lime, cilantro …
Nutrition
Calories:
465
kcal
Carbohydrates:
10
g
Protein:
43
g
Fat:
28
g
Saturated Fat:
11
g
Polyunsaturated Fat:
15
g
Trans Fat:
2
g
Cholesterol:
142
mg
Sodium:
462
mg
Fiber:
1
g
Sugar:
5
g
I am not a health professional and nutrition data is calculated programatically. Accuracy may vary with product selection, calculator accuracy, etc. Consult a professional for the best information.