Wisconsin Fried Cheese Curds, Pan-fried
Melty on the inside and crisp on the outside, Wisconsin Fried Cheese curds are a classic appetizer or snack. And they can even be pan-fried!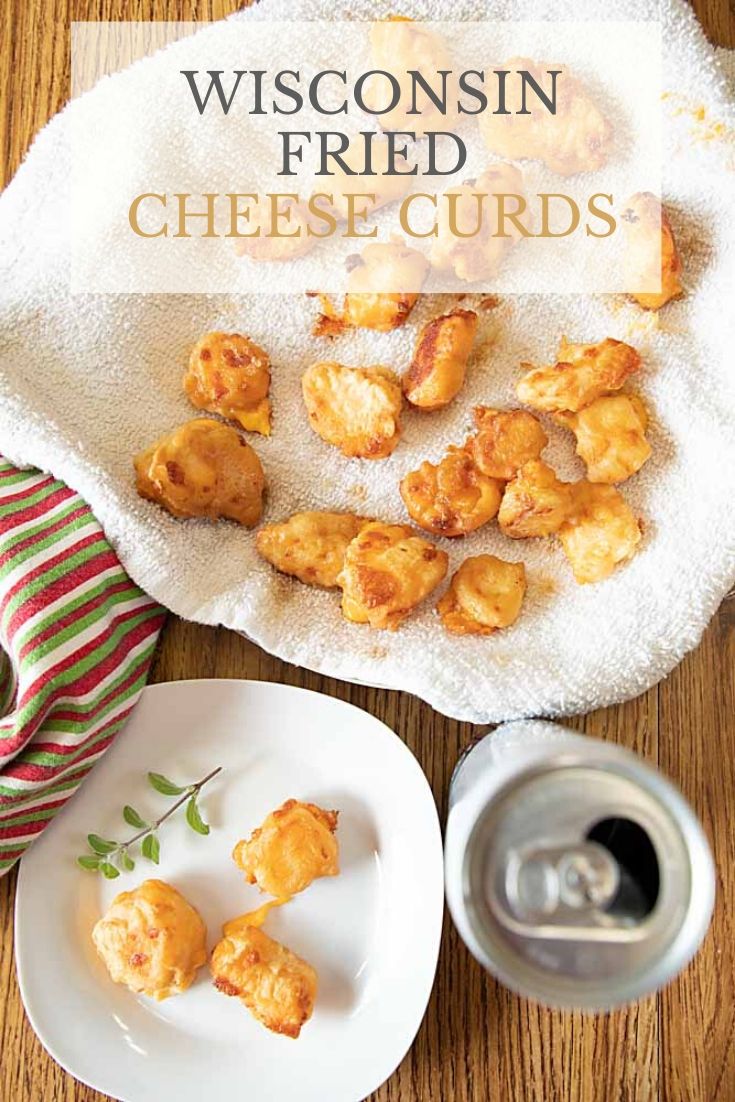 True confession time. This Wisconsin girl had never fried cheese curds before now. Eaten them? Yes. Enjoyed them? For sure.
So when my Sunday blogging group decided to do "Regional Favorites" I knew what I had to do.
What are Cheese Curds?
For the uninitiated, cheese curds are the product of an intermediate stage in the cheese-making process. When milk begins to separate into solids and whey, additional whey is pressed out and the solids are cut into curds. If you want to see how this happens, here is a video link from Discover Wisconsin.
Now if you were making cheese, the the solids would be packed, pressed and aged for more flavor and firmness. But the tasty cheese curds are available earlier for consumption–as long as they are made from pasteurized milk. Cheese made with unpasteurized milk needs to be aged at least 60 days so those curds are not sold.
The best curds are those you get the same day they are made. These squeaky cheese curds are delicious fresh and best at room temperature. Ours rarely last to a second day! But they are also tasty fried–either deep fried or pan-fried.
My Early Experience
It was ages ago now, when I had my first fried cheese curds. Once or twice a year we'd head to the small Iowa town of Wilton, Iowa to visit my grandparents. There was a cheese factory in the two street "downtown" and if I was lucky, my father would suggest a walk to buy a couple bags.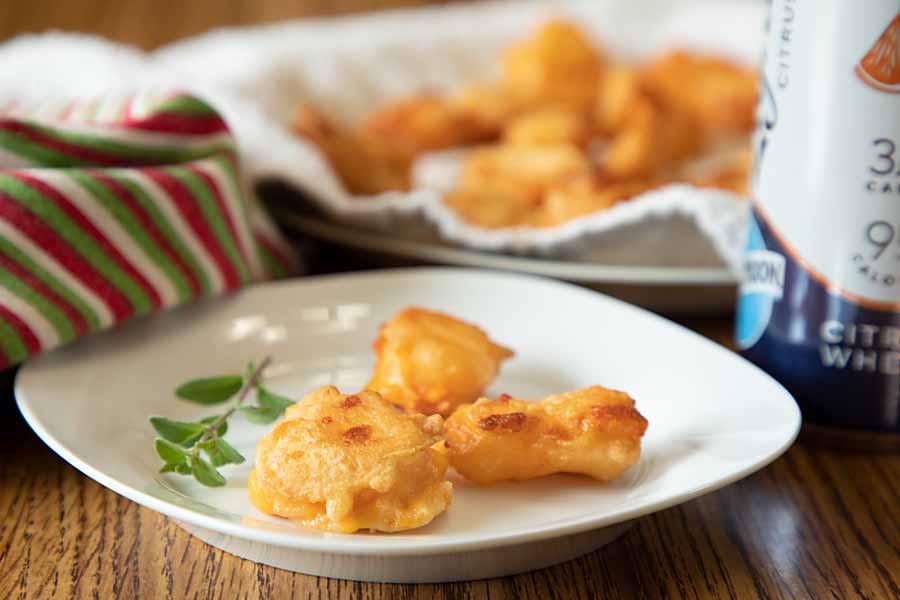 We'd enter the building, pause to watch the cheese-making, pick up some curds, then head over to my great grandfather's house. My great aunts would be there, ready to fry up our bounty. Unlike modern fried cheese curds, they used a frying pan, not a deep fryer, and absolutely zero breading. Melted inside, crisp and golden brown on the outside, they were always a hit!
One day, back home with Wisconsin Cheese Curds, my father decided to give this a try. Unfortunately, our curds melted before they developed a crust—and promptly stuck and burned over the bottom of the pan. He tried again and the next batch worked. Then the following didn't. What?!
We eventually decided this must depend on the type of cheese being made. So we stopped trying to fry them and just ate them plain.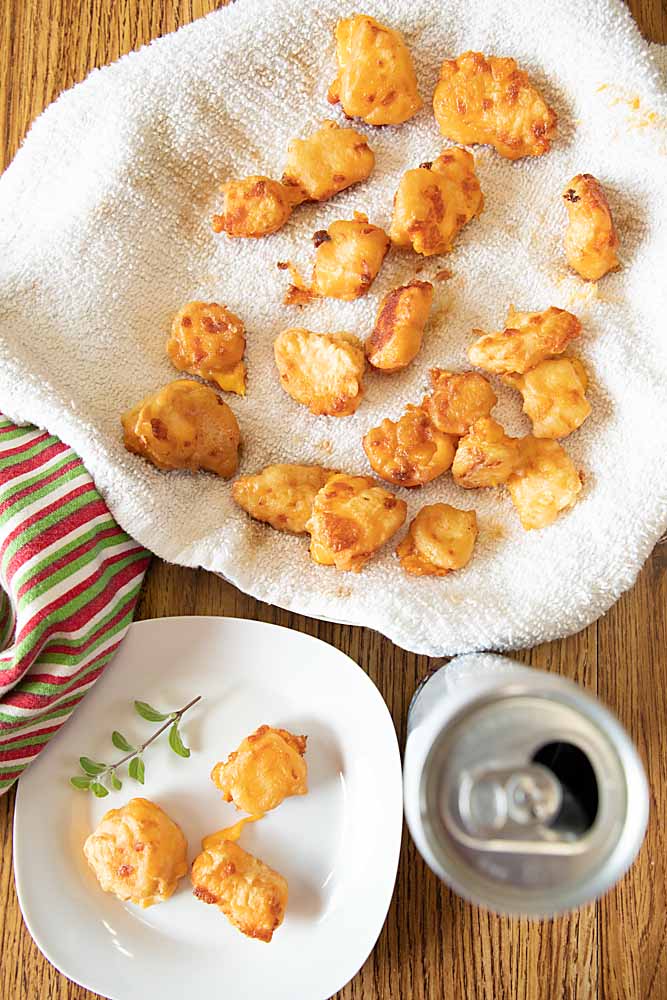 Frying Innovation
Enter the battered cheese curd craze. I don't know who first did it, but once you dunk cheese curds in a batter, they all fry great.
End of problem, except all the recipes call for a deep fryer. I don't own a deep fryer.
You see, that much oil scares me. Even when I do keto.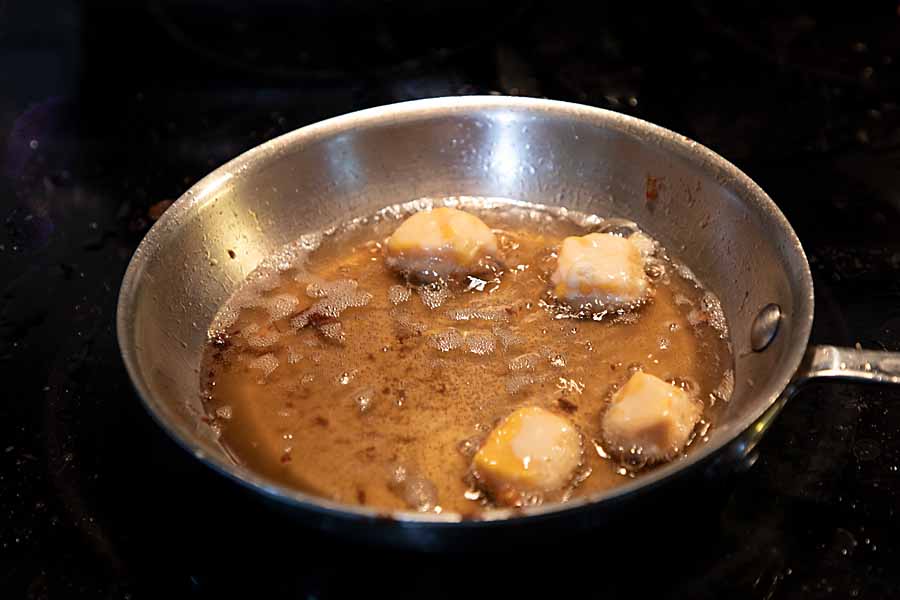 So I went back to my Iowa aunties and their frying pan technique. I used about ¾ inch of oil in my smallest frying pan for best oil conservation. Hooray, a winner again!
Dipping Sauces
While I grew up eating my fried cheese curds au natural, they are wonderful with dipping sauces. You can go the easy route with a commercial marinara sauce (or your favorite homemade) or a ranch dressing.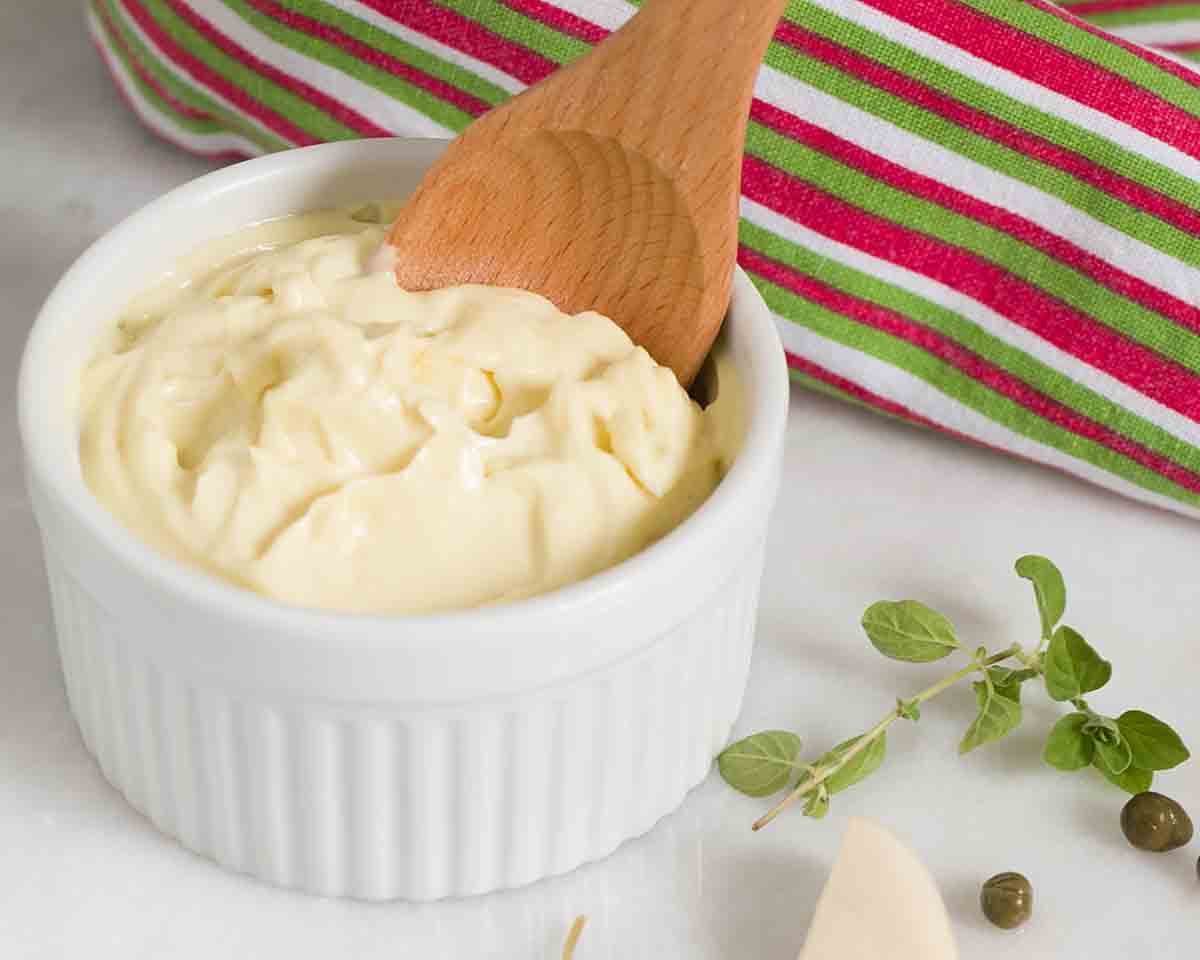 For something with a little more pizazz, consider a bit of spice with a remoulade sauce (mine is super easy). Or for a classy note, your can add some garlic to my 2-minute homemade mayonnaise for a garlic aiioli!
Final Notes
Now I should note that this is a very basic beer batter fried cheese curd recipe. It's really designed to let the melty flavor of the cheese shine through. But feel free to jazz it up if you'd like with some extra spices or flavors–there's more than one way to batter a cheese curd.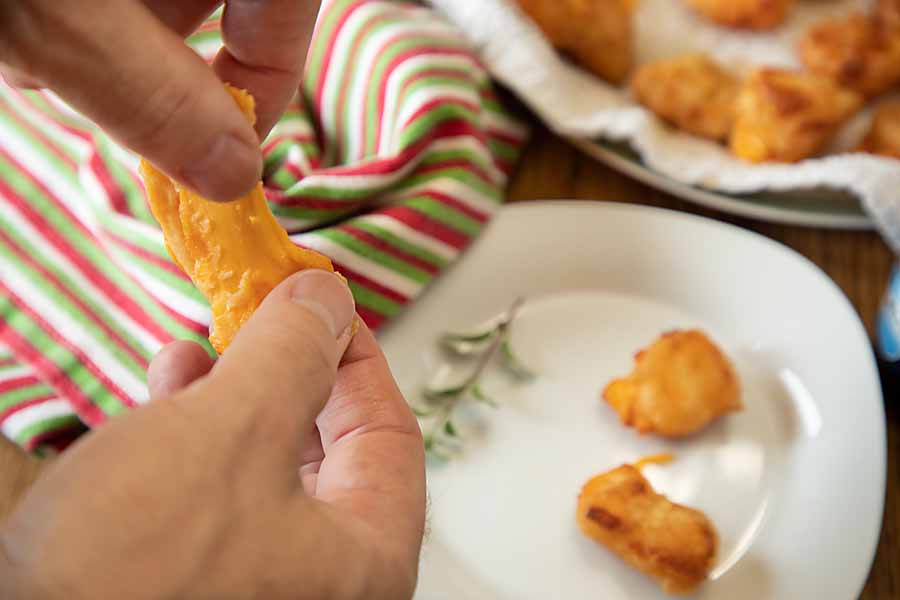 Next, in the true nature of all things fried, I think these taste best if given a good sprinkle of salt right out of the frying pan.
Finally, I hear you can substitute club soda for the beer if you are out of beer or a non-drinker. This is something I haven't tried and can't confirm.
Yes, I am never out of beer. Wisconsin girl here!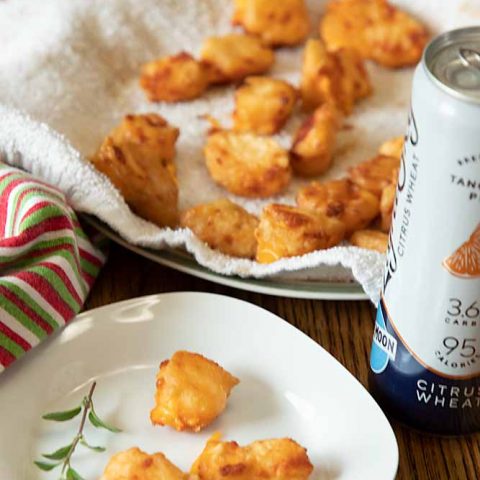 Wisconsin Fried Cheese Curds, Pan-fried
Melty on the inside and crisp on the outside, Wisconsin Fried Cheese curds are a classic appetizer or snack. And they can even be pan-fried!
Ingredients
Oil for frying (see note)
1 pound cheese curds, broken apart
Batter:
1/2 cup all-purpose flour, scooped (see note)
1/2 cup beer (see note)
Salt
1 egg
Instructions
In your smallest frying pan, pour a good frying oil about ¾ inch deep. Heat until a test piece immediately sizzles but doesn't burn quickly (about 350 F)

Whisk together batter ingredients to form a smooth batter. It should be like thin pancake batter so the batter sticks but isn't a thick coating. Add more flour or beer as needed.

Coat the curds in batter a few at a time. Fry the curds until golden, then turn and fry the other side, about 2-3 minutes per side. Place on towels to drain, salt, then cool briefly to avoid burning. Serve while still hot and melty.

Notes
The first time I tried this I fluffed, spooned and leveled my flour. The batter was way too runny and I had to add more flour. The second time I scooped my flour and it came out just about perfect. If your batter is not sticking, try a little more flour.
No beer? I have heard that club soda works too. If you try this, I'd love to hear if it works .
Nutrition Information:
Yield:

8
Serving Size:

1
Amount Per Serving:
Calories:

288
Total Fat:

21g
Saturated Fat:

11g
Trans Fat:

1g
Unsaturated Fat:

8g
Cholesterol:

79mg
Sodium:

453mg
Carbohydrates:

8g
Fiber:

0g
Sugar:

0g
Protein:

15g
Nutrition data accuracy may vary with product selection, calculator accuracy, etc. Consult a professional for the best information.
Other Regional Favorites
We share Recipes From Our Dinner Table! Join our group and share your recipes, too! While you're at it, join our Pinterest board, too!