With shrimp, scallops and halibut (or other firm fish), these mixed seafood kabobs are like decadence on a skewer. No pre-marinade needed.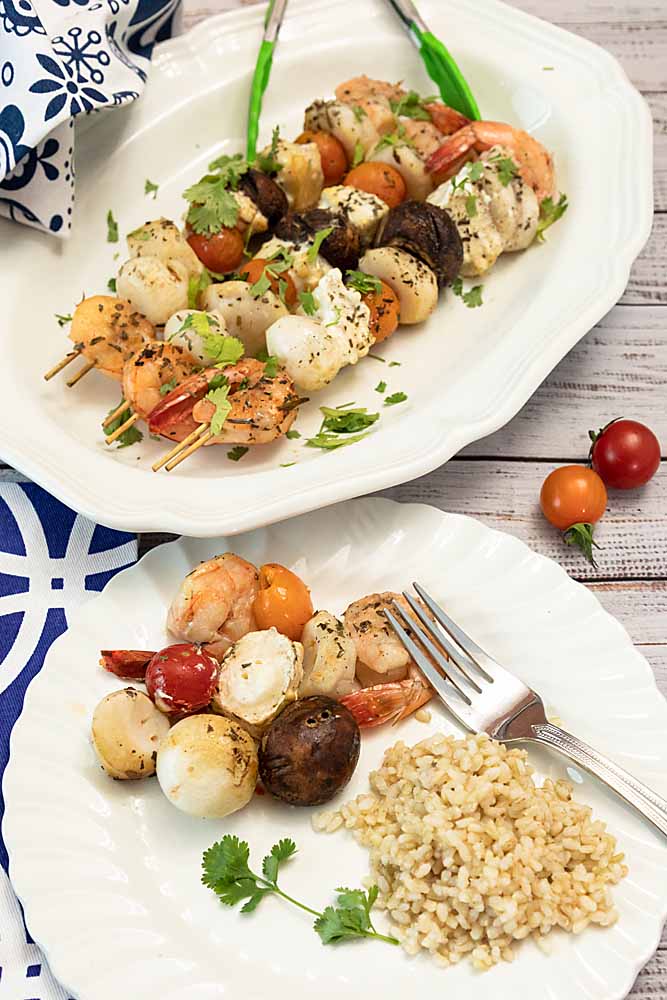 It was one of those times when you wonder… was it really meant to be. But after a series of problems–and a drenching downpour, the seafood kabobs were done. And soo worth it!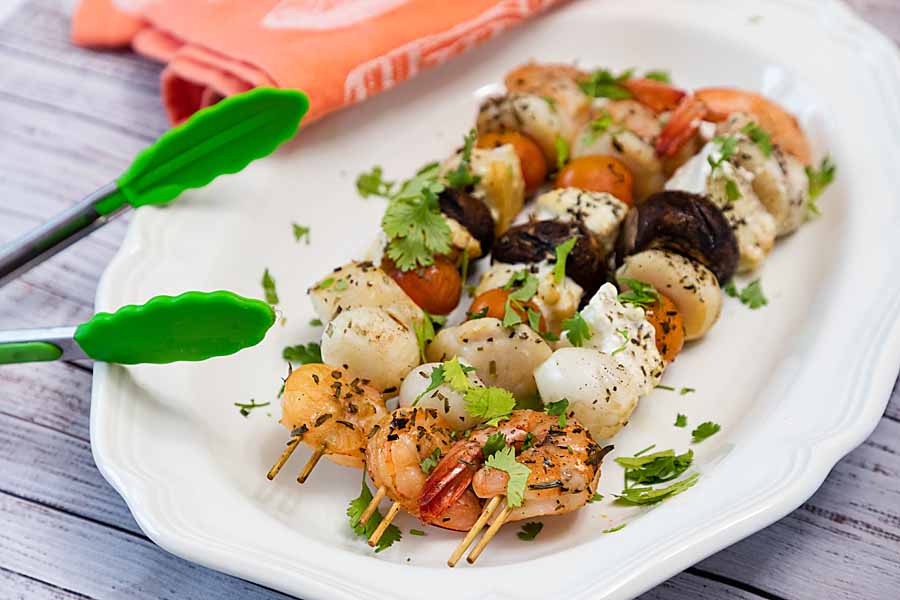 The first concern I had was the fact I'd be cooking on the charcoal grill (which is all we have "up north"). Never mind that I haven't used a charcoal grill in (bleep) years.
I had everything ready when gray clouds moved in and the thunder rumbled in the distance. I consulted the forecast for the lowest risk hour and decided to grill at that time.
Now my husband had warned me that the matches were old and might not light. You can light the matches with a lighter he said. What he didn't warn me is that the lighters might not light.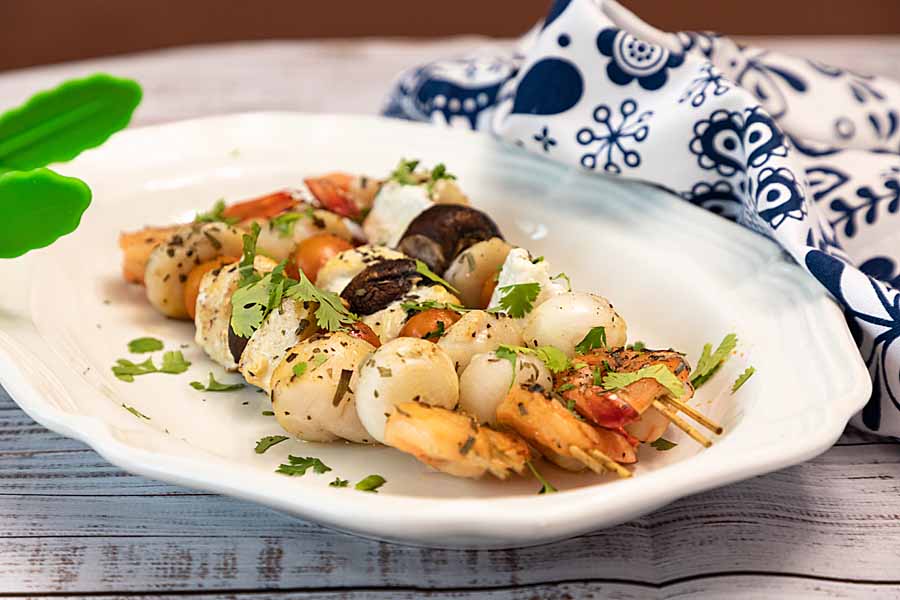 Yes, five lighters later (did I mention my husband's a pack rat?), I had one that produced a strong enough flame to hold as the winds whipped up. Two dozen lighter-lit matches later, I had a faint fire going. I went to build my kabobs while it "matured."
And it started to rain. Yes, the best laid plans…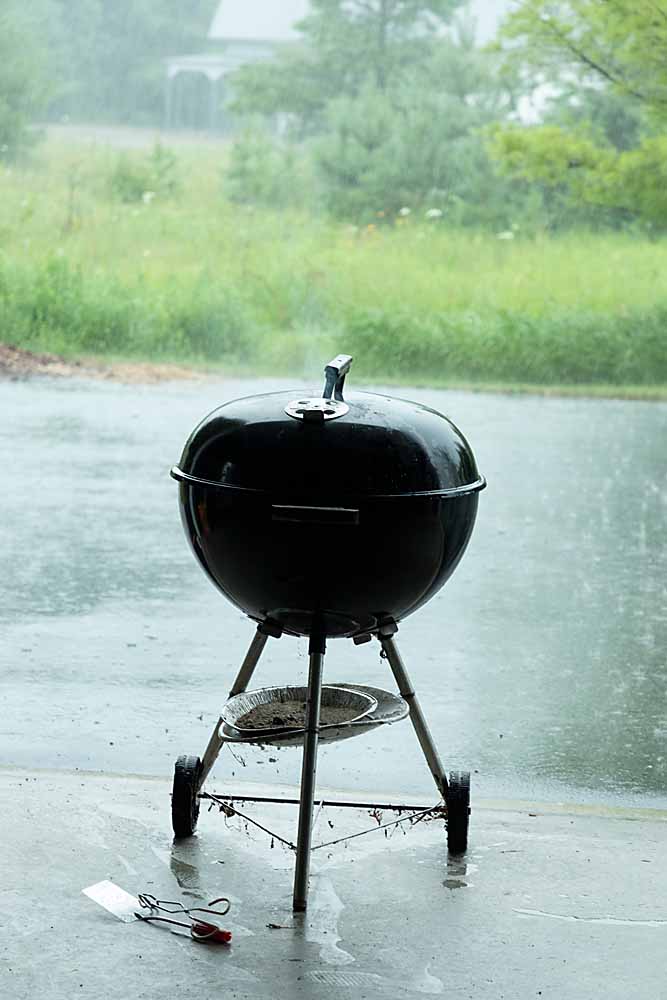 Making Shish-Kabob
Kabob making is way easier than starting a charcoal grill. So if you have gas you are pretty much home free.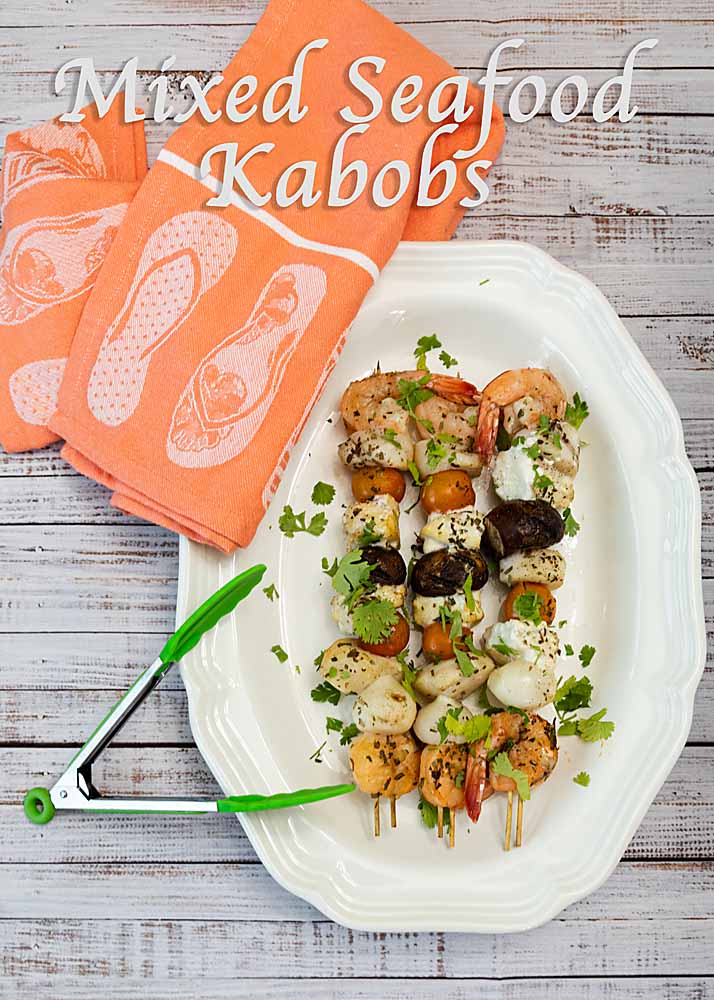 The only tricks are 1) pre-soak your skewers for an hour (plus a few extra in case you measured wrong) to keep them from burning. And 2) use two skewers per kabob. You see, with a single skewer, you risk a shrimp or other component rotating when you flip the kabob. Then it doesn't get cooked on both sides. Not a big deal with sashimi grade fish, but you really don't want to go there with chicken, so it's good technique to build.
Next I like to build a "test" kabob that I use as a model, alternating colors and veggie/meat/veggie/meat. If there are any unmatched "leftovers" they go onto the "extras" skewer(s). For my lunch the next day.
And I almost forgot to mention that I briefly pre-cook my onions a minute in the microwave, so they are tender enough to skewer and easier to eat.
So I lied about no tricks…
Finally, contrary to popular belief, you don't need to pre-marinade your kabobs, simply drizzle and season. Just in case you're busy lighting a reluctant grill.
The Results
In the end the mixed seafood kabobs were delicious. The shrimp and scallops retained their sweetness with a smoky overtone, the fish was meaty and the vegetables succulent. I ate some that night and wrapped the rest up to reheat when my husband came home.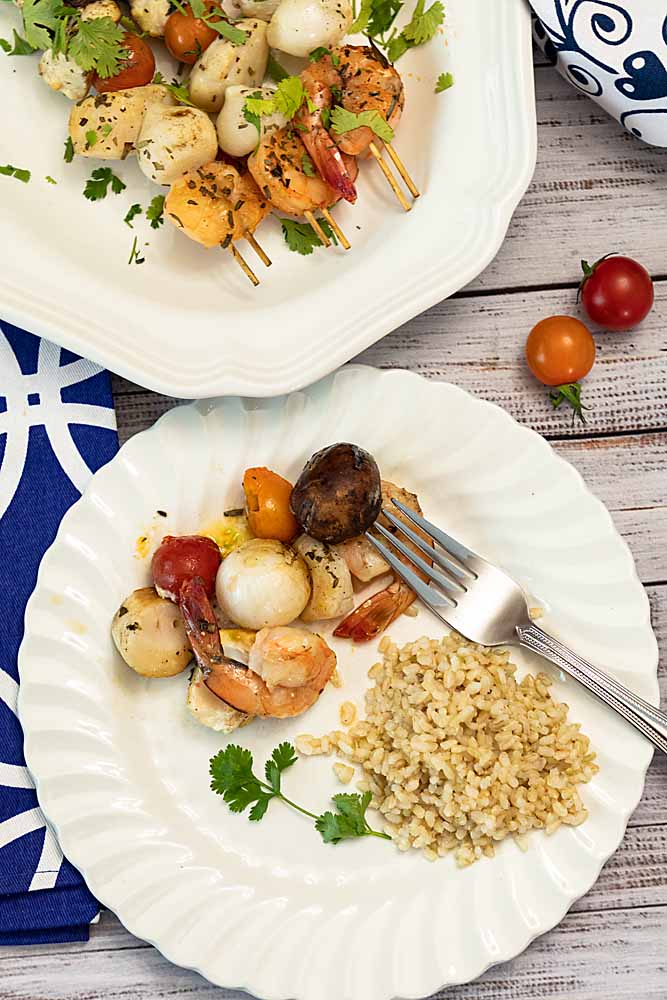 At least I got two (really good) dinners out of it.
Now if you're low on seafood variety, these can still be absolutely delicious with less. Yes, Grilled Shrimp Kabobs can make your day as well!
Happy grilling.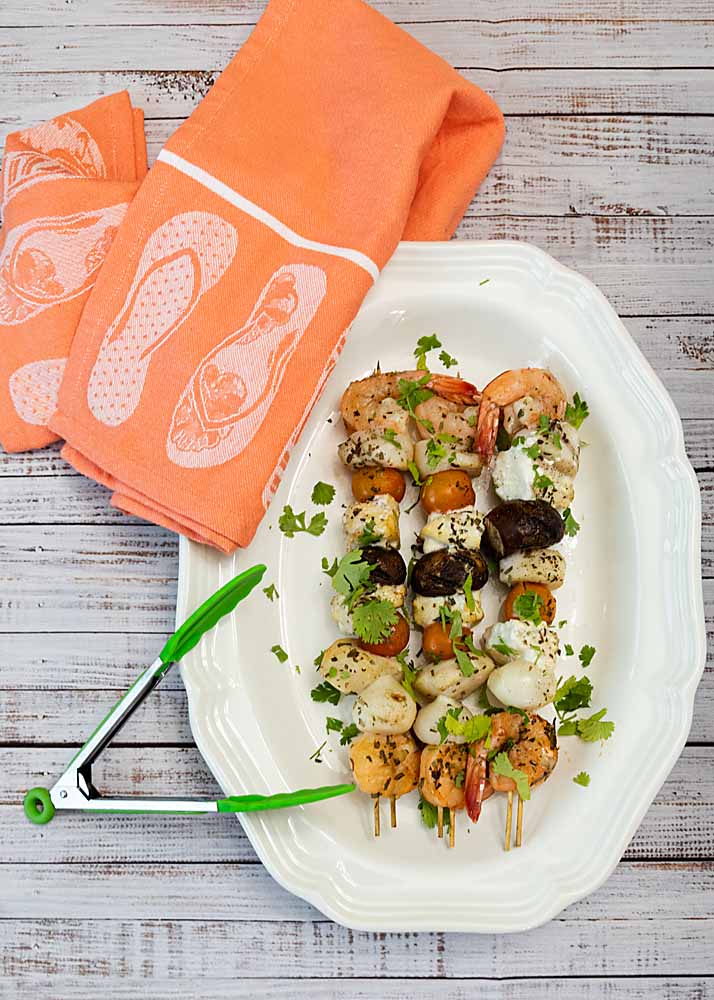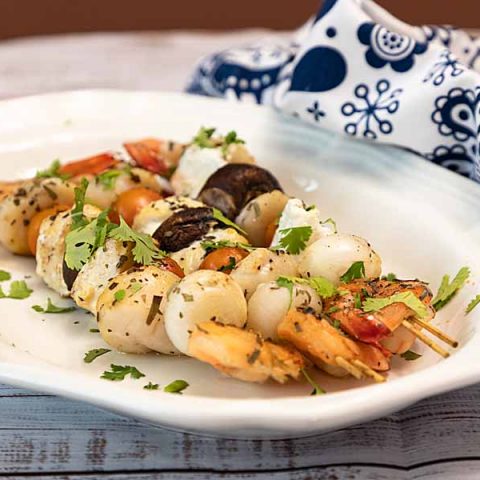 Mixed Seafood Kabobs
With shrimp, scallops and halibut (or other firm fish),these mixed seafood kabobs are decadence on a skewer.  No pre-marinade needed.
Ingredients
24

cherry tomatoes

12

mushrooms

12

pearl onions

1

lb

halibut or other firm fish

24

sea scallops

about 1 pound

24

large raw shrimp

about 1 pound

2-3

Tablespoons

extra virgin olive oil

1

large lemon

1

Tablespoon

dried minced onion

1

Tablespoon

dried Tarragon or Oregano

salt

pepper
Instructions
An hour before you plan to assemble the shish kabobs, soak 26 bamboo skewers in water.

Prep your ingredients. Microwave the pearl onions (unless frozen first) on high for 1 minute to soften slightly. Cut the halibut into 24 approximately 1 inch pieces. Wash the cherry tomatoes and mushrooms. Remove the muscle from the scallops and peel/devein the shrimp as needed.

When skewers have soaked, assemble your kabobs as follows using two skewers per kabob, slip on 1 shrimp, 1 onion, 1 scallop, 1 tomato, 1 halibut piece, 1 mushroom, 1 halibut piece, 1 tomato, 1 scallop, 1 shrimp. Or any order that moves you. Repeat for the remaining 11 kabobs.

Drizzle the seafood and vegetables on the kabobs with olive oil and lemon, then sprinkle with the herbs. Generously salt and pepper.

Grill for about 5 minutes per side, depending on grill temperature and your taste.

Remove and serve immediately. Optionally garnish by sprinkling with chopped parsley.
Nutrition
Calories:
124
kcal
Carbohydrates:
8
g
Protein:
18
g
Fat:
4
g
Saturated Fat:
1
g
Polyunsaturated Fat:
1
g
Monounsaturated Fat:
2
g
Trans Fat:
0.01
g
Cholesterol:
76
mg
Sodium:
376
mg
Potassium:
489
mg
Fiber:
1
g
Sugar:
3
g
Vitamin A:
292
IU
Vitamin C:
16
mg
Calcium:
47
mg
Iron:
1
mg
I am not a health professional and nutrition data is calculated programatically. Accuracy may vary with product selection, calculator accuracy, etc. Consult a professional for the best information.
Grilling for Labor Day
We share Recipes From Our Dinner Table! Join our group and share your recipes, too! While you're at it, join our Pinterest board, too!